SPOTLIGHTS
Katy B - Little Red Review [2]
Posted by David Hayter on 02.11.2014

Katy B is determined to move on from one of 2011's finest albums, but as her sound evolves on Little Red has Katy lost the bold spirit and earthy charisma that made her a star.




Katy B - Little Red

1. Next Thing
2. 5 AM
3. Aaliyah [ft. Jessie Ware]
4. Crying for No Reason
5. I Like You
6. All My Lovin'
7. Tumbling Down
8. Everything
9. Play [ft. Sampha]
10. Sapphire Blue
11. Emotions
12. Still

On A Mission was a triumph. The debut album of a woman head over heels in love with dance music and the solemn, bassy, beauty of South London's Dubstep scene. Katy B might not have been ostensibly eyeing superstardom, but she was rooted in pop tradition. Raised on Rinse FM and taken under the wing of Magnetic Man; she spent her days studying the art of the Pop at the fee-free Brit School and her nights dancing till 5am to London's most innovative sounds.

This addiction to music itself informed her debut album. On A Mission was a novel first stab at directing post-dubstep. Katy kept the scene's aquatic, quasi-minimalist, textures and added a dollop of distinctly 90s British dance music to a seemingly endless array of hooks and melodies. Her debut was innovation incarnate. It foresaw the need for Dubstep to evolve before it became a cliché punchline and blended its (then) cutting edge textures with the deeply personal post-Lily/Amy songwriting trend. The result was the girl next-door dance album: wholly believable, easy to fall for and loaded with banging tunes.

Katy B was never going to stay in one place. Schooled in theory and hooked on the latest trends, she knew as keenly as anyone that standing still is akin to moving backwards. As such, Little Red opens with what could be considered an apology, a mission statement or a rebuke to the inevitable backlash, depending on how Katy's latest album lands. "Next Thing" boldly proclaims: "Now we're onto the next thing, leave them wanting more".

Sure, the track plays as a metaphor for moving between night spots, but the message reads loud and clear: Katy B will not become a caricature or, as Jay-Z put it: "want my old shit, buy my old albums". It's a noble credo that more popstars should embrace. But there are no prizes for trying. This is an attainment business and the new sounds have to rival, even if they don't mimic, the old.

There had been warning signs that Katy B was starting to lose her edge. Her much touted love of dance music and R&B of the 90s could at times veer towards hero worship. Her live sets often came loaded with classic covers and DJ battles that focused more on childhood memories than future visions. Little Red only serves to confirm these suspicions. Katy is careful enough to avoid outright imitation (there are plenty of modernist sonic quirks), but she has completed the transformation from believable clubber-next-door to featureless vocalist.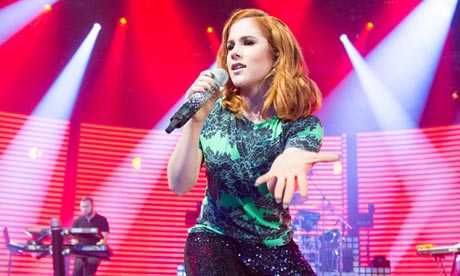 The trouble with even the greatest dance music of the past is that the vocalist (and there were some true standouts) were always subservient to the beat. They delivered the hook, the tone and they merged back into a broader whole (or, more often, dance acts would rotate session singers). Katy B is a popstar with her name, in bold, on the album cover, but Little Red is full of tracks where she is so serenely slavish to the beat ("Saphire Blue" for example) that she fails to make any real impact. This is a serious problem. Blending 90s buoyancy and trance's hypnotic blur with thoroughly modern shimmers and clicks is an intriguing idea, but the results are too mannered as Katy talks in sharply worded generalities.

Her debut possessed an incredible sense of urgency. She was caught in the moment, pulled by the powerful allure of the best music she'd ever heard and a series of thrilling and failed dance floor flirtations. Little Red does conjure similar moments. The fantastic "5am" sees Katy B cutting out her very own space in the pop landscape; echoing Hot Chip sonically, but rooted in her own "last lady on the floor" world. Picking up where "Lights On" left off, Katy is feeding off the last embers of an exhilarating high and needs a lover to make her night complete (to keep the buzz alive).

The trouble is, for every "5am" or "Aaliyah" (another nice mixed metaphor for her professional and private life) there's a terminally bland "I Like You" (possibly the dullest break up song in existence) or "Tumbling Down" (a lyric that's more clever than good). She is more emotionally open than ever before, but her heartbreak and search for love never translates into a truly gutsy or empathy evoking lyric - nor, sadly, a stand out hook.

It might be an impossible critique, but Little Red is far too professional. The beats are expertly produced and silkily controlled, hinting at the past without being remotely retrospective. All the prickly edges have been removed. Complexity has replaced risk and the same is true of Katy's lyrics. The themes are arguably more complex and certainly expressed in a lucid fashion, but they lack punch. "Easy Please Me", one of On A Mission's finest offerings, is amateurishly in its simplicity – the beat spring tightly and Katy couldn't be more direct. Little Red remains anonymously detailed even after multiple listens. There's plenty of clever interplay, but no line that rings as true as "I love bad boy mentality, but I don't want to be visiting no jail".

Little Red is never bad. Katy is too shrewd and, in truth, there are too few risks for failure to be a realistic possibility. Instead, the album needs an injection of pace and desperation (there is nothing here as instantly rewindable as "What You Came For"). "Everything" is too assured and contented – a feeling that pervades across Little Red. Katy B has gone a step too far. Where once she was lost in the mix, struggling to catch her breath and masterfully relating the experience; she now finds herself lost in shuffle.

Damningly, Katy B sounds like a guest on her own album: making beautiful, but unimposing music. In her pomp she could send shivers down spines and warm hearts, now she's committing the cardinal sin, making music that doesn't move people – literally or figuratively. Little Red does so much right, but it's hard to get excited about pop that doesn't, well, pop.

The 411: Katy B is a dance floor addict, who has become lost in the mix on her second album. The ideas and references points are intriguing, but the boldness of youth has receded as Katy offers the streamlined professionalism of a guest vocalist and not the thrill of the popstar. She was always a girl-next-door, but the intimacy that once defined her songwriting has been replaced by the anonymity of distance. There are moments where Katy blends her newly evolved skills with the thrill of moment ("5am", "Aaliyah"), but they are too few and far between. Little Red might be expertly crafted pop music, but it isn't much fun or particularly resonant.

Final Score: 6.5

[ Average ]

legend
comments powered by