SPOTLIGHTS
Shakira - Shakira Review [2]
Posted by David Hayter on 03.26.2014

Shakira has all the good will in the world, but can she translate a likeable personality into cutting edge pop music or does she spread herself too thin on her latest self-titled LP?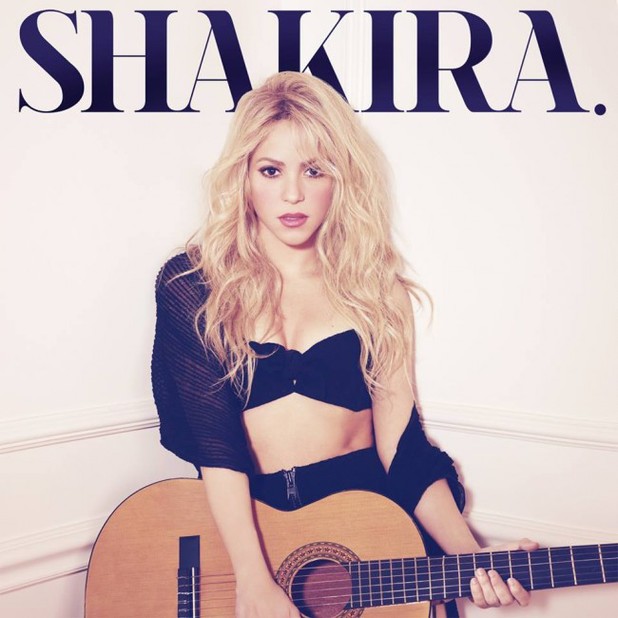 Shakira - Shakira

1. Can't Remember to Forget You - Shakira feat. Rihanna
2. Empire
3. You Don't Care About Me
4. Dare (La La La)
5. Cut Me Deep - Shakira feat. Magic!
6. 23
7. The One Thing
8. Medicine - Shakira feat. Blake Shelton
9. Spotlight
10. Broken Record
11. Nunca Me Acuerdo de Olvidarte
12. Loca por Ti

Is there a popstar more beloved than Shakira? Think about it for a second. Most mainstream stars are met with backlash, either from picky pop tarts choosing between factions (The Beatles or The Stones, Britney or Christina, One Direction or that other lot) or from the self-involved fans of "real music" (whatever that means). Shakira, however, has escaped this bickering. Despite having a celebrity husband (the soccer star Pique) and becoming a judge on The Voice, she's rarely caught up in tabloid scandals and is a magnet for international goodwill.

Of course Shakira has never courted controversy. Her videos may be raunchy from time to time, but she maintains the pleasant disposition of a children's television presenter. More importantly, she's dedicated a substantial amount of her time to working with the poor in Colombia and across South America – the kind of worthy pursuit that earns admiration when carried out without a whiff of a messiah complex or the dark hand of a PR guru.

There's no getting around it: Shakira is impossible to dislike. Then again, while Shakira the person seems refreshingly charming, Shakira the popstar often leaves a lot to be desired. She flirts with brilliance, but falls just short; existing in a twee world of her own making, that recalls the innocent, almost cartoonish, pop of the early-2000s. Her latest self-titled effort is no exception. It's defiantly Shakira – her lyrical tropes trump all – but, in spite of her kindhearted reputation, this record is undeniably cynical.

On the surface it feels focus grouped to within an inch of its life as Shakira covers every imaginable angle. Are you ready for this?

There's a big tub thumping dance-by-numbers effort that tips its cap to Madonna and Gaga ("Dare (La La La)"), a stadium country duet with Blake Shelton, a skeletal indie-folk effort that recalls "Hey There Delilah" and Willy Mason simultaneously ("Broken Record"), two big acoustic belters ("The One Thing", "23"), a towering alt-rockish slow burner ("Empire"), a hybrid that blends a dash of 90s glam with cutesy-pie radio pop ("Spotlight"), a wonderful slither of ragga ("Cut Me Deep") and a really rather brave take on Gotye style indie-infused-melancholy ("You Don't Care About Me").

Surely casting her net that wide is a recipe for faceless anonymity and misjudged failure?




Well, surprisingly no. Shakira might have a whiter than white personality, but her feel good energy and her well establish array of Latin tones do more than add a pinch of personality; they inextricably distort each track. From deep warbles to snatched yelps, those unmistakable Shakira-ism manage to make each arrangement sound both alien and cornily familiar. Thematic or sonic cohesion may be non-existent, but Shakira's sense of self ensures that this album hangs together.

"You Don't Care About Me" is frankly phenomenal, a truly unexpected minimalist effort that blends a disjointed marimba-ish rhythm with wailing and panting noises (a Shakira staple). The Colombian star really throws herself into the verse, injecting plenty of bite into each understated line. The lyrics are the usual blend of mixed metaphors, but the darker tone suits Shakira and the track sticks out like a swore thumb in the best possible way.

The rest of Shakira. is less daring. "Cut Me Deep" is a curious oddity full of West Indian winding and grinding. The arrangement has a self-deprecating quality as the Latin and Caribbean elements get swept away by the Evita-ish duet. It's a theme that recurs, Shakira takes divergent starting points and pulls them towards up-tempo, guitar orientated, pop. Like much of Shakira's core sound, this style of radio ready hit making hasn't been trendy for a decade or more; but somehow, this Colombian gets away with it.

The entire Shakira experience is summed up by the lead single. "Can't Remember To Forget You" blithely back tracks a decade, to a time when feminism was unfashionable and music videos were ultra-glossy and exploitative (well more glossy and more exploitative). When the vacuum packed boy bands and girl groups of the 90s faded, the early 2000s stumbled upon a new modus operandi: talented starlets romping around in swim wear delivering punchy, heavily engineered, pop.




"Can't Remember To Forget You" is a trip back to the world before Amy, Annie and Lily, when popstars sauntered in some kind of fabricated, sexualised, dreamland - the type that exists only in the minds of the advertising executives at Visit Turkey and Virgin Atlantic.

Normally this would leave foreheads buried firmly in palms, but you know what: Shakira is the exception to the regressive rule. There's so much joy and bounce to her gleefully retro-pop that critical faculties are numbed.

The faux-Caribbean spirit, the crunching guitars, it should be abhorrent, but "Can't Remember To Forget You" is a triumph of charisma and straight ahead pop dynamism. The title sums up the stupidity perfectly - no one really wants pop to dive back into the void - but Shakira, as a universal symbol of goodwill and pop gimmickry, not only gets a pass, but a thumbs up.

Elsewhere, the genre hopping does its best to stop the potential rot. The doe eyed acoustic number "Broken Record" is cloying, but, because it exists in isolation, it never has the chance to overwhelm the senses with sickening sugar. However, while Shakira's please all comers approach takes the edge off the album's most grating moments, it cannot hide a plethora of mediocre efforts. "Medicine" should be novel - a country conversion is certainly a left-field choice - but Blake Shelton can't muster anything more that a mild Nashville veneer and some overused arena filling loft.

"23" and "Loca por Ti" are shrewdly put together but struggle to leave a lasting impression; they are almost too polished, like tracks designed to soundtrack as-yet-unwritten montages in afternoon dramas. World Cup 2014 anthem "Dare (La La La)" is symptomatic of this not quite fully realised experience. It's bombastic, nodding strongly in Lady Gaga's direction while riding the kind of dumbed down dance beat Jennifer Lopez has been taking to the top of the charts for eons. In spite of Shakira's innate charisma, it all feels a little hollow; but then you realize, this track is designed to communicate to the drunken milieu in Rio, Natal and Manaus. It's not good or overtly interestingly, but it keeps the brain dead fun coming and will undoubtedly have everyone (myself included) bouncing around Brasilia – like "Waka Waka" without the gorgeous instrumentation (a possible missed opportunity?).

Listening to Shakira. it's clear why Fifa went back to the Colombia star 2014. She doesn't rock the boat and she knows how to communicate to millions, while making each track her own. Shakira gives you the reassurance of the safe choice without sounding anywhere near that dull. With the odd exception, this album represents business as usual for Shakira: unremarkable pop music elevated by an inherent sense of individuality. Call it star power, call it charisma, call it what you want – Shakira gets away with murder and you won't hear me complaining.
The 411: On the surface Shakira's latest self titled effort feels like an exercise in pandering and box ticking. Short of busting-a-rhyme, this album ticks every pop box imaginable, travelling from Nashville to Bahamas with club beats, rock riffs and acoustic frailty. It should feel cynical and off putting, but each new sound somehow gets warped into Shakira's distinct form. Her tropes and vocal ticks triumph and make tired pop trends sound, if not new and exciting, then intriguingly odd. She might belong to a long lost era of oddly inhuman pop perfection, but Shakira's cornball charisma elevates subpar material to surprisingly enjoyable heights. When she has something worthwhile to sink her teeth into ("You Don't Care About Me") and lets some darker lyrics fly, she's genuinely brilliant. These moments are few and far between. but Shakira remains an magnet for goodwill on and off record - whatever it is that makes her immune to ill will in the real world carries over to her music making the cheesy, joyous, the mediocre, intriguing and the good, great.

Final Score: 6.5

[ Average ]

legend
comments powered by