SPOTLIGHTS
Shabazz Palaces - Lese Majesty Review
Posted by David Hayter on 07.30.2014

Shabazz Palaces rip the conventions of hip hop to shreds on Lese Majesty, but is this genuine innovation or artistic postures in lieu of genuine intellect?




Shabbazz Palces - Lese Majesty

Suite 1: The Phasing Shift:

1. Dawn In Luxor
2. Forerunner Foray
3. They Come In Gold

Suite 2: Touch & Agree:

4. Solemn Swears
5. Harem Aria
6. Noetic Noiromantics
7. The Ballad of Lt. Major Winnings

Suite 3: Palace War Council Meeting:

8. Soundview
9. Ishmael
10. Down 155th In The MCM Snorkel

Suite 4: Pleasure Milieu:

11. Divine Of Form
12. #Cake

Suite 5: Federal Bureau Boys:

13. Colluding Oligarchs
14. Suspicion Of A Shape

Suite 6: High Climb To The Gallows:

15. Mind Glitch Keytar Theme
16. Motion Sickness

Suite 7: Murkings On The Oxblood Starway:

17. New Black Wave
18. Sonic Myth Map For The Trip Back

There was a time when Hip Hop struck out against the grand artistic tradition of incessant innovation. After the initial revolutionary breakthrough there was a suggestion that rap should remain strictly tied to the banner of wordplay and minimalism. With A Tribe Called Quest and De La Soul in the rear view mirror, certain very vocal proponents forwarded one specific vision of rap as a narrow, hard, street and densely lyrically phenomenon. Thankfully, while masterful rhymes and clever couplets still abound, the Neptunes arrived on the scene and Hip Hop would not only hurtle forward towards new sounds and new structures, but would stake it's claim to being the most progressive force in the music world.

In some corners of New York the belief still exists that rap (they use hip hop as a dismissive slur) should be more rudimental; like a religion they believe in stricture. Mercifully, the rest of the USA (and the world) has moved on. Today there are simply too many sounds and scenes to ever hope to list. Even New York, the last bastion of the old ways, has its own modernist scene (even it does sound more than a little like drill). Quite simply, Hip Hop has never been this diverse – and yet, amid all this creativity, Shabazz Palaces still manage to sound like alien ambassadors from a future we can't even begin to comprehend.

Make no mistake; hip hop needs this new strangeness. Like rock and roll before it, to remain progressive, the breakthrough sound of the 1980s has to fracture and warp in ways that are difficult to understand, but undeniably thrilling. The ability to change with the times not only ensures a sound's relevance, but increases inclusivity and expands horizons. Shabazz Palaces have taken a huge leap with Lese Majesty. This is unimaginably removed from dense murk of Black Up and completely unrecognizable when compared to Ishmael Butler's original commercial breakthrough on 1993's Reachin' (A New Refutation Of Time And Space).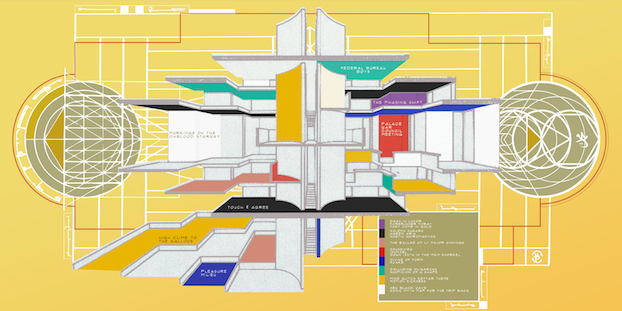 This is not to say there are no sonic links between past and present. The jazz samples of 1993 are reimagined here as otherworldly splintered song structures, while the intimating void that seeped throughout Black Up still informs the eerie soundscapes of Lese Majesty. Shabazz Palaces have, quite incredibly, captured the sound of wheels spinning; this is thought in motion, flashes of half realized ideas floating in the void of the subconscious before colliding with unexpected and at times nonsensical results. Song structures are thrown out almost en mass, verses slide and skip into the foreground with perfect, but not necessarily logical, timing.

There is something wonderfully soothing about Lese Majesty; the record maintains a glorious sense of drift. Are we floating in space? Dreaming? Or perhaps we're simply chilling in zero-gravity on our state-of-the-art spaceship. There is almost no point attempting to analyze the lyrical content of this record. The wordplay is intriguing, but like the song structures at large, they tease – half realized thoughts burst to the forefront only to be overwhelmed by scratchy recordings and seamless samples, never to be heard or referenced again.

Once in a while something vaguely conventional comes into view. "#CAKE" (like lead single "They Come In Gold") manages to muster the appearance of a traditional pop song without ever really making a lick of sense. When Lese Majesty's first really catchy hook in about twenty minutes gives way to an out-of-the-blue female vocal (by Catherine Harris-White), it's hard not to compare Shabazz Palaces to David Lynch. This is the type of art Lynch would be making if he were an 18-year-old black boy in 2014, only Shabazz Palaces are not young men, they're middle-aged and flipping the script on everybody.

There are times when Lese Majesty toes-the-line between artistic mutation and vacant abstraction. "Colluding Oligarchy" wears its amateurism on its sleeve to create a truly haunting soundscape that only serves to highlight how half-arsed and empty its successor ("Suspicion Of A Shape") truly is. There is a danger that as Shabazz Palaces hold aloft a giant neon sign reading "WE ARE ARTISTS, MAKING ART, TAKE US SERIOUSLY" that their audience will rub their eyes and realize that the emperor wears no clothes.




And yet Shabazz Palaces are no charlatans. Lese Majesty is, more often than not, gorgeous. The natural aquatics of "New Black Wave" somehow sit alongside an eviscerated patchwork of a beat to create an enticingly cool whole. Without the logic of Ishmail's 90s releases or the dark intensity of Shabazz Palaces debut, this album lives or dies on its sense of beauty and awe. If you can take the plunge and allow yourself to be completely subsumed by the otherness of Lese Majesty, then the record has the capacity to not only wow, but to provide almost limitless wonder.

How they arrived at such a state is less clear. This isn't weed music and it's certainly not inspired by acid in any obvious sense. Sure it's paranoid and obsessive, but the music is far too relaxed and conspiratorial for cocaine. Honestly, who knows?

Shabazz Palaces have mastered fragmentation; Lese Majesty is an asteroid field of conflicting impulses and demented ideas. No, scrap that, an asteroid field is too dense, too definable; this is space dust floating en masse and in isolation, occasionally colliding, fleetingly forming a union and vaguely functioning as part of a loosely conceptualized greater whole. Moments of beauty and clarity exist ("They Come In Gold", "Ishmael") but to think of Lese Majesty in terms of individual tracks or short suites misses the point entirely.

This is hip hop Jim, but not as we know it.
The 411: Evolution doesn't always follow a straight trajectory. Shabazz Palaces have bypassed all the burgeoning creative fringes of hip hop to fly full throttle through the event horizon. The universe as we know it has been blasted to bits. Small slithers of beats, hooks, verses and vocals survived this digital Armageddon and have been spit out and reconstituted in forms that we recognize, but couldn't possibly hope to comprehend. This is hip hop as space dust; floating, colliding, mutating, retaining a sense of impossible to pin down beauty without ever staying in one place long enough to feel truly whole. Is Lese Majesty a masterpiece or a masterfully executed hoax? Have Shabazz Palaces produced a sonic crop circle with no more meaning than a gust of wind, or is this a work of art that exists outside traditional structures, but is, at some level, undeniable? The answer, more than likely, lies in the eye of the beholder.

Final Score: 8.0

[ Very Good ]

legend
comments powered by