Under the Scalpel 02.11.10: Avril Lavigne, Train, You Say Party! We Say Die!
Posted by Mark Ingoldsby on 02.11.2010

Can Avril Lavigne write a decent song on her own? Does Train know when to abandon a terrible song? And why the hell would someone name a band "You Say Party! We Say Die!"? These heavily biased reviews are brought to you by the sometimes humorous, always heartless guitarist from the rock band A Simple Complex.

"Under the Scalpel: Dissecting Pop Culture One Song at a Time" is a weekly column written by Mark Ingoldsby, songwriter and guitarist for the hard rock band A Simple Complex. Follow the band on Twitter during our hibernation for new recordings, wild photos, and entertaining quotes from our many wild interviews.

Avril Lavigne - Alice (Underground)
Wail Of A Fail



One of this year's most anticipated film's is Tim Burton's Alice In Wonderland. Pop-meets-punk(-poser) Avril Lavigne is one of the many people excited about it.

While working at the Disney offices, reviewing stills to create a fashion line based on the film, Lavigne asked if she could write the theme song for the film. Burton approved, and she immediately sat down at a piano and wrote this song – the first she's written completely by herself.

Two words leap to mind when I think of Lavigne writing a song without having the hands of hitmaking outfit The Matrix shoved up her backside like a ventriloquist's puppet. The first is "uh" and the second is "oh".

Surprisingly, as the song begins, I find the music to be eerie and captivating. Soft, dark percussion and one repeated chord hammered on a piano fill the air. I feel a slight rush of tension, a dash of emotion, and a pinch of pop. Nicely done.

Soon Lavigne begins to sing. It's tolerable. Her voice is unremarkable, yet pleasant.

That is, until the second part of the first verse kicks in. That's when Lavigne bursts into her best recreation of an Alanis Morrisette-style spaz-out session, screaming the line, "I'm freakin' out!!!" like a cheerleader who's temporarily misplaced her Blackberry after being told the quarterback finally answered her text.

As the song progresses, I'm strapped to a chair at a high school talent show, wincing as each note pierces my soul like a rusty machete. Windows begin breaking throughout the room. Cats run for shelter under couches. Dogs howl. Birds scatter from the branches of trees several yards away from my house. I'm being subjected to the wail fail from hell.


Once I've regained consciousness and pulled myself back onto my chair, I try to focus on the song's lyrics. I find they make a perfect match for Lavigne's abominable vocals. Apparently incapable of crafting witty lyrics that paint an interesting picture through creative metaphors, Lavigne's dull dialogue turns out to be a big steaming pile of "Thank you, Captain Obvious!"

I found myself in Wonderland,
Get back on my feet, on the ground,
Is this real? Is this pretend?
I'll take a stand until the end,
I, I'll get by,
I, I'll survive.

Hmm... Maybe I can hire Lavigne to write a song about Pinocchio? I'm not looking for anything clever or intelligent; I simply need some lyrics along the lines of, "I, I'm made of wood. I, I think being a real boy would be good."

Lavigne's fluffy rhymes simply provide an elementary narrative of the story's plotline that leaves the listener saying, "Well, DUH!" Why'd she have to go and make things so UNcomplicated? Pardon me while I yawn so wide my jaw unhinges.

The teaming of Lavigne's painfully unambiguous lyrics with her whiny fits of cacophony amounts to one very weak lead single for the soundtrack to Alice In Wonderland. Hopefully the movie doesn't disappoint like this song does.

And I'm sending her a bill for my new windows.

Rating: ** (2 out of 5)
If You Like: Alanis Morrisette, Ashlee Simpson, Miley Cyrus, Tracy Bonham

PS - I still have hope for the Almost Alice soundtrack because it features a track I am VERY much looking forward to – a remake of a tune from the original animated version of the film named "Very Good Advice", performed by Robert Smith of The Cure.

Train - Hey Soul Sister
"Train-Wreck" Was Almost Avoided



I've got three words for Train and their annoying song: Jason, Mraz, and rip-off.

After a three-year hiatus, Train regrouped to record their fifth studio album. At the suggestion of their new manager, the band teamed up with Martin Terefe – the man who produced Jason Mraz's ukulele-centered record-breaking smash-hit "I'm Yours".

The lead single to the Train's latest album, made with Terefe, is… wait for it… a ukulele-centered pop song! Coincidence?

"Hey Soul Sister" was written when Train frontman Pat Monahan told the Norwegian songwriting team Espionage that he wanted them to write something "INXS-y". We're already off to a bad start. Right out of the gate.

Monahan then added lyrics to Espionage's tune based on what he assumes the Burning Man Festival in California looks like (he's never attended the event). "[Monahan] had an image in his head of what it must be like: all these beautiful women dancing around the fire," guitarist Jimmy Stafford told Marie Claire magazine, "That was the imagery he conjured up when he was writing the lyrics to 'Hey, Soul Sister.'"

So that's two strikes against the song (for those of you keeping score at home).

Soon after, in a moment of clarity, Monahan had an epiphany about the "Train-wreck" this song was becoming, and began applying the brakes. "I was like, 'Man, this just doesn't sound great to me.'," Monahan remembered. Ok, you've realized your mistake. Now trash it and move on, right? Wrong.

"One of the guys [from Espionage] picked up a ukulele and said, 'Hey, how about this?' ... And it made the difference. It made my words dance. It made sense. These words were meant to dance with ukulele and not guitar." Oh goody.

"Hey Soul Sister" is a slightly-more upbeat, somewhat-rockier photocopy of Jason Mraz's "I'm Yours", replacing Mraz's pleasant voice with Monahan's awful yowling, and Mraz's clever poetry with nonsense and stupidity.

"The way you can't cut a rug,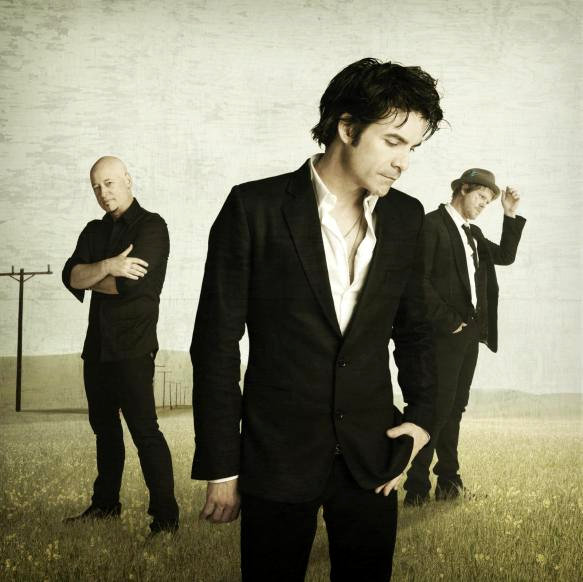 Watching you's the only drug I need,
You're so gangsta, I'm so thug,
You're the only one I'm dreaming of…
Hey soul sister, ain't that Mr. Mister on the radio? Stereo?
The way you move ain't fair, you know."

Responding to the Huffington Post, Monahan said of his lyrics, "Yeah, well, when I come up with lines like 'Mr. Mister' and 'soy latte,' let me tell ya how close they are to being corny and horrible." I couldn't agree more. Close like a car crash.

I realize that the song should be listened to with a sense of humor. Monahan is the kind of guy who, when asked if his lyric that calls cologne "poison" was a statement against animal cruelty, responds with "No, actually, I'm for animal cruelty." So I'm not trying to make a literal interpretation of these goofy words by any means. But at the same time, these lines just suck.

Stafford told Marie Claire, "[Monahan's] lyrics are very open to interpretation." So okay, here is mine: An excited, hairy-chested thug-wannabe tells a black gangsta-wannabe girl, with whom he's in love, that she's a terrible dancer, especially when dancing to 1980s pop rock. Lame.

I've been a casual fan of Train for some time, aware of their enjoyable radio songs like "Meet Virginia", "Calling All Angels" and "Drops Of Jupiter". But this song unfortunately misses the mark. By a long shot.

Rating: ** (2 out of 5)
If You Like: Alkaline Trio, All American Rejects, Dashboard Confessional, Fall Out Boy, Panic! At The Disco, The Get Up Kids

You Say Party! We Say Die! - Laura Palmer's Prom
You Say Aimee, We Say Siouxsie



"Holy Til Tuesday!"

That's the response I got from a friend after passing this song along to her. And I can't argue. "Laura Palmer's Prom" reminds me of a new wave-meets-shoegaze late-1980s Cure B-side with Aimee Mann providing the vocals.

You Say Party! We Say Die! is a five-piece synthpop-meets-indie rock band with strong pop-punk tendencies. The lead single from their latest album is a catchy combination of swirly synth melodies floating over a twangy rock bass line that will make you want to grab some streaky eyeliner and fluorescent leggings. Of course, shaving one side of your head is completely optional, but strongly encouraged.

I was at first curious why this track is named after an incident from the TV series Twin Peaks, especially since I can't make a connection between the song's title and its lyrics. But then I learned that YSPWSD was once asked how they came up with their band name and frontwoman Becky Ninkovic responded with, "There's no one exact reason why" and "There's no universal deep meaning" behind it. That's all I needed to hear. Case closed.

The track's lyrics feel a bit generic as Ninkovic makes a simple plea for some romance using dance metaphors. Not bad. Just ordinary.

"Sing with me tonight,

Love in a room all right,
Dance to your heart's delight,
Dance up a storm tonight,
'Cause my heart needs a love dance,
My heart needs a love dance,
Could your heart use some romance?
'Cause my heart needs a love dance."

Some may wonder how I can like this track, but hate the Yeah Yeah Yeah's song "Heads Will Roll", one that shares a similar sound and feel. Well, I'll tell ya how. And thanks for asking.

Not only is Karen O's voice in YYY's "Heads" like nails on a chalkboard to me, she also has a phony "I don't care how I sound" attitude that feels like something she finally nailed on her 87th take. Plus, YYY's music sounds very "We spent a million dollars trying to sound like a (well-polished) lo-fi, rave-rock band." YSPWSD's music feels a lot more genuine.

What does all this mean for you? If you like YYY's, download this track because it's similar. And if you don't like YYY's, download this track because it's different. Make sense? Good. You're as twisted as I am.

And now that the ban on YSPWSD's bass player entering the US appears to be lifted, you can finally catch them on tour here in the States.

Rating: **** (4 out of 5)
If You Like: Cure (1985-1989), Kim Wilde, MGMT, Til Tuesday, Yeah Yeah Yeahs

Free Download:
1. Sound Proof Magazine mp3
2. Spinner mp3
3. KEXP mp3

comments powered by