SPOTLIGHTS
Hammer of Doom News Report 06.11.12: MegaDave Dodging Rocks
Posted by Robert Cooper on 06.11.2012

News and thoughts on Megadeth's Dave Mustaine getting stoned by the crowd at Metalfest, Slayer releasing their own wine label, actor Christopher Lee announcing a new metal album and more!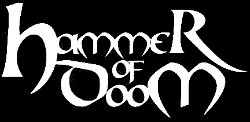 Welcome, metal faithful, to the debut column of the weekly place to quench your thirst for blood, the Hammer of Doom News Report. My name is Robert Cooper, and each week on this column we will be looking at the news from the past week in metal, as well as the album releases from the last as well as the current, and maybe a look at some different stuff in between.

But enough of my yammering, let's start the show with little snippets of news, or what I like to call it, Cries from the Crypt!

Cries from the Crypt

Metallica's Kirk Hammett Says He Has 400 Riffs To Choose From For Next Studio Album.

And Lars has the same drum beat for every one of them.

King Diamond Returns To Live Stage At Sweden Rock Festival.

It's good to have King back after him getting that triple bypass a few years ago.

Fear Factory Vocalist Defends Decision To Utilize Drum Machine On 'The Industrialist'.

He should've kept Gene Hoglan, he's the same thing.

Def Leppard Performs 'Rock Of Ages' On 'The Tonight Show With Jay Leno'.

Not even metal could get me to turn into that nasal voiced asshat.

Drummer Sean Reinert Suffers Injury, Vows To Remain Part Of 'Death To All Tour'.

That's very unfortunate for him as well as the band that has been put together for this tour, but much respect to him for trying to be a part of it still.

Behemoth Frontman Guests On Polish Country Album

Eh, it can't be any worse than St.Anger.

Now that the small stuff is done, let's get to the meat of this feast in what I like to call PSALMS FOR THE DEAD!

Psalms for the Dead



Getting Stoned: YOU'RE DOING IT WRONG!

Apparently Dave Mustaine didn't even have to talk this time to get a crowd violent. Here's a little story about what happens when you're in the wrong place at the wrong time.

According to Venia-Mag.net, Megadeth performed an abbreviated set last week (Tuesday, June 5) at the Metalfest Open Air at Zadar Beach in Zadar, Croatia after members of crowd were flipping off the band and throwing stones and bottles at Megadeth following the cancelation of two of the festival's other main-stage acts.

Although there has been no official statement on the matter, it appears that Dark Tranquility was forced to pull out of the event due to "technical problems," while W.A.S.P. refused to play following a rumored backstage disagreement with Megadeth over other technical issues.

After Megadeth left the stage, a spokesman for the band came on and told the audience, "Guys, Dave's been hit in the head with a rock... I apologize. He's been hit in the head."

The crowd then launched further items at the spokesman, prompting him to also leave the stage.


Wow, that is incredibly beat up. While I can understand frustrations when it comes to bands not showing up to a festival, as last year I didn't get to see In Flames due to them having to drop out because of family matters. While it seems that Dark Tranquility had an excuse for not being able to play, if what is said about why W.A.S.P. didn't play is true, there is no excuse. You don't turn your back on the fans by not showing up to play just because you and some other egomaniac have a spat. Metal is about giving back to your fans for the love of the music, it's about passion, power, and great music; it's not about beefs and money, if you want to get involved with those sort of things, go to pop music, that seems to be a regular Tuesday for those guys.


Return of the King!

I surely didn't know this before I read this news, but apparently, actor Christopher Lee did a metal album a few years ago. What also I did not know, is that a new one has been announced. Legendary actor Christopher Lee, who has appeared in such cinematic milestones as "Lord Of The Rings", "Star Wars", "The Man With The Golden Gun" and "Dracula", has celebrated his 90th birthday by releasing a second heavy metal album.

The singer-actor's first creation, "Charlemagne: By The Sword And The Cross", which won critical acclaim, was more symphonic than the upcoming "Charlemagne: The Omens Of Death".

This may be my inner dork coming out, but the idea of an acting legend doing a metal album, much less, a second one, is incredibly exciting. As soon as I was done reading the news, I sought out a video of him and his band, what I found was some very good stuff, and is definitely a must-listen to your lover of anything that has a bit of cheese to it, especially the video, which is your typical swords and sorcery fare. The band is far too large for me to list, but by what I have found, the album was done with the help of numerous guest vocalists, a one hundred piece orchestra, and two bands.



Teutonic Thrash Incoming!

In what is awesome news for many metalheads around the world, thrash legends Destruction have announced that they are going to be releasing an album this fall to commemorate their thirtieth anniversary. Besides one gigantic flaming bucket of rooster dung that they had laid in the late 1990s, the band has had an incredibly solid output in turns of great fucking thrash. Their latest album, "Day Of Reckoning," sold around 800 copies in the United States in its first week of release. The CD landed at position No. 58 on the Top New Artist Albums (Heatseekers) chart, which lists the best-selling albums by new and developing artists, defined as those who have never appeared in the Top 100 of The Billboard 200. Which is a shame, because by the songs that I have listened to off of the album, it was more than deserving to land on the list, especially when you compare it to metal-lite bands such as Black Veil Brides that land on the list quite often. Below this is the song that introduced me to them.



Mayhem Festival now a little less High

In what is incredibly sad news for stoner metal lovers around the world, the following story came out late last week.

Oakland, California metal band High on Fire has announced that it will be forced to miss this summer's Rockstar Energy Drink Mayhem Festival as frontman and guitarist Matt Pike enters treatment for alcohol rehabilitation. The award-winning power trio (also featuring drummer Des Kensel and bassist Jeff Matz) will put its scheduled touring plans on hold indefinitely as Pike takes the necessary steps towards regaining his health.

"High on Fire would like to thank everyone involved with the Rockstar Energy Drink Mayhem Festival for the opportunity to be a part of this year's tour," said the band in a statement. "We regretfully will have to bow out as our friend and bandmate begins his recovery, but very much appreciate having been asked to be a part of this summer's festival run."

I personally am very disappointed at this news, because I was actually going to road trip 5 hours to the Mayhem Festival, and this band has become a big reason why. But because my friends and I are a bit low on cash, and driving all the way to Atlanta or Washington DC for a festival that has a lot of garbage bands (thanks promoters for screwing NC) just wouldn't fly with us. The latest album by High on Fire was solid on all account by all that I have heard, and it is a shame that they have been forced to pull out of the festival, because it makes the festival that much less diverse. Though I understand that Mr. Pike needs to get better and he can't do that on a large tour where alcohol usage is rampant. Best of luck to him and his recovery, hopefully this will be a onetime deal and he'll become a better person by tackling his demons.



Don't Spill the Blood




In what is definitely an odd story in my opinion, Slayer has decided that Metallica needs competition in the "WHAT CAN WE RELEASE" department and has decided to release their own brand of kitchen apron and coffin to put your new bottle of Slayer Reign in Blood Red Wine. Slayer Reign In Blood Red must have a packaging that does it justice. The label is the cockiest in the wine world and the coffin and apron adds a further dimension to the wine and the thrash metal that SLAYER stands for. The ultimate giveaway, says Sari H Wilholm at Brands For Fans.

The wine, a Cabernet Sauvignon from California, is as uncompromising and tough as the band. After a couple of Seasons in the Abyss, the wine has an undisputed attitude and a soft nose of dark berry fruits with oak and spicy nuances. Good mouth feel with hints of fresh fruit and juicy, smooth tannins. Well structured and rounded with subtle notes of oak, showing true Divine Intervention. Enjoy it while headbanging, riffing or with food, friends and great music. Reign in Wine!

I think what this says is, Slayer puns oooooh! All I have to truly say about this is that after drinking this, you had better feel as angry as Kerry King is, because I swear either that guy has a large little man complex, or he is going to make children that come on his lawn miserable when he gets to be in his 70s.

Happy Hanukkah, you cheapasses.

So since I know everyone is a poor college student on the inside, and some on the outside. I've found a few bands who have some free tracks.

First up is that guy from System of a Down, Serj Tankian. For now, he has a download of his song "Cornucopia" on his website.

Next is from the French metal band (who are complete and total awesome sauce) Gojira, they have a free song available on their facebook page, all you have to do is LIKE the page and it'll take you to the song.

Finally, this one is pretty limited on the amount of downloads, so it may not work for you, but it's a whole album, so you can't really miss up on it. Legendary band (at least I think so) Paradise Lost have released their Greatest Hits compilation, it is entitled 'Lost in Time' and can be downloaded as well as stream at this link right here.

Finally, I have my segment where I look at the albums dropping on this upcoming Tuesday, as well as compile reviews on the albums of the week before. Now unfortunately, all I have is a preview of the releases from last week, but I think it will still be metal enough to suffice. So do not hesitate to enter the realm of new metal, I call it THE TEMPLE OF THE DEAD!



The Temple of the Dead



First is from melodic death/metalcore band The Agonist, their new album "The Prisoner" can be found on iTunes as well as Amazon.com.

Next is US death metal band Chaos Inception with their album, "The Abrogation", it can be found on Spotify as well as for download on Amazon.com.

After that is the new album from Industrial metallers Fear Factory, it is called "The Industrialist", and it is on Spotify, iTunes, and can be bought or downloaded off of Amazon.com.

Fourth is the new album the Satanic masters, Marduk, it is called "Serpent Sermon" and can be found on iTunes, or Amazon.com.

After that is the album from a band that I can't place, so we'll just say it's from The Melvins, "Freak Puke" is what it's called and it can be found on iTunes and Amazon.com.

Next is the new sounds from US grindcore band Phobia, it is called "Remnants of Filth" and can be found on their spotify as well as iTunes, and Amazon.com.

The final album before our album of the week, is from NWOBHM legends Tank, their new album is called " War Nation", and can be found on I think their Spotify and Amazon.com.

The ALBUM OF THE WEEK is *drumroll* "Psalms for the Dead" by Candlemass. It's the final farewell for the doom metal legends and the single "The Sound of Dying Demons" can be found on Spotify, and the album can be found on iTunes, as well as Amazon.com.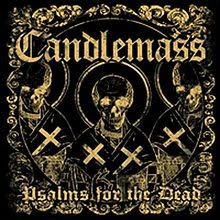 The final part of this column will be me answering any comments left, so please leave some comments. This section is called WHERE THE RUNES STILL SPEAK!

So metal faithful, in the immortal words of Chuck Schuldiner, KEEP THE METAL FAITH ALIVE \m/
comments powered by