SPOTLIGHTS
Music's 3R's 09.08.12: VMAnia
Posted by Nick Krenn on 09.08.2012

From Katy Perry looking good on the red carpet and Kevin Hart's opening monologue to Chris Brown and Rihanna celebrating with a kiss, Frank Ocean's performance and more, 411's Nick Krenn breaks down the Right, the wRong and the Ridiculous from the MTV Video Music Awards!

Hello, I'm Nick Krenn, and I'm bringing you the newest edition of the most impolite 411mania column, Music 3R's, where I examine the Right, wRong, and Ridiculous in music. Before we start, here are some things I suggest you read.

The Love/Hate News Report written by John Downey.

You're really going to need his column in two weeks because I have made the decision to leave 411mania after writing for the site's music section for over a year (consistently, I might add). The choice to leave is really based on me wanting to focus more on my own website that I will plug immediately after this statement. I just want to say thank you to the 411mania upper brass for giving me the opportunity to write for the site. So you guys may or may not see a 3R's after next week's column since the music zone is understaffed as it is. I don't know what the plans are. I do know that after today's mostly phoned in column, I will phone in one more for next week. It's been fun.


You will still be able to catch my writing at Earbuddy.net, a music site that I run outside of 411mania featuring both John Downey and Chris Bell and a slew of talented writers that post reviews on a DAILY basis.


Let's look at some R's that will focus entirely on MTV's flagship awards show; the Video Music Awards. First let's look at the winners.

Video of the Year
Rihanna feat. Calvin Harris -- "We Found Love"

Best Male Video
Chris Brown -- "Turn Up the Music"

Best Female Video
NickiMinaj-- "Starships"

Best New Artist
One Direction -- "What Makes You Beautiful"

Best Pop Video
One Direction -- "What Makes You Beautiful"

Best Rock Video
Coldplay -- "Paradise"

Best Hip-Hop Video
Drake feat.LilWayne-- "HYFR"

Best Electronic Dance Video
Calvin Harris -- "Feel So Close"

Best Video With a Message
Demi Lovato -- "Skyscraper"

Most Share-Worthy Video
One Direction -- "What Makes YouBeautiful"






Boy, this awards show sure got short, and I'm not even talking about the event's host, comedian Kevin Hart. The ceremony was only two hours; cut down from its usual three. I was actually thankful for that considering how tame the overall show was. Performances you ask? Well, I guess Rihanna's opening was decent enough. It was a lot of stage mechanics and typically large performance that you'd see. However, the very best was Frank Ocean's performance of "Thinking About You".

After that performance, I could have saved myself a lot of time and not watched the rest of the show. Some of the ladies looked good though.

Katy Perry, looking good as usual
Where's Taylor?
Jeez, are those Pink's abs?


As I stated earlier, the ceremony was only two hours; cut down from its usual three. However, at the very end, Kevin Hart slipped in a statement about voting that thankfully wasn't as blatant as the P. Diddy hosted ceremony from 2004 that was all Vote or Die Liberal propaganda to elect John Kerry. Now, MTV is subtly telling its younger viewers to tune in to Obama's speech by ending the show in enough time for you to do so. There wasn't even a post Awards show interview program like they've done for years. They just chose to re-air the event.

As far as the awards themselves, since when did 'Best Video With A Message' and 'Most Share Worthy' get added? Wouldn't the Video of the Year already be the most shareworthy? Also, if Nicki Minaj wins Best Female Video of The Year, wouldn't that make her video better than Rihanna's? These awards are nonsense like most awards show. I know that the music labels pay MTV for the winners (Chris Brown wins again, HELLO), but it's never been so painfully obvious. Remember when there used to be diversity and surprise picks. All we got this year was the same shit that gets played nonstop throughout the day on pop radio stations.

One Direction won the most because boy bands are apparently back again. Sorry, but I don't care if they play instruments or not. Their music is horrible. The only direction I want to see them go is jumping off a bridge. It was nice of Katy Perry to bend over and let the guys get a look at some of that cleavage though.



I know one direction I'd go.




It's a shame that MTV didn't have the 'Video With A Message' award back in '97. I would have loved to see Prodigy win for "Smack My Bitch Up". I'm sure that would still appeal to Chris Brown today, who everyone under 21 seems to have forgiven for nearly murdering Rihanna. Seriously, you're teaching a younger generation that domestic violence is okay. Brown kissed Rihanna after her win, which I guess makes that whole face smashing thing just a misunderstanding. Is this an announcement that they're back together?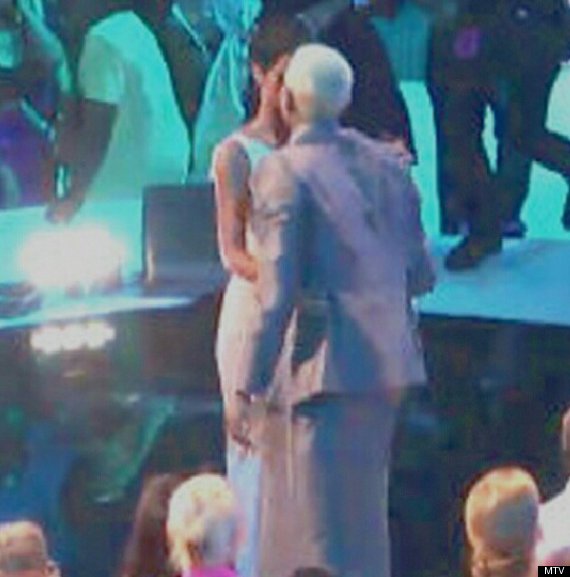 Throughout the night, MTV was sharing what was trending on the Internet while the event was airing. Such amazing things like "Katy Loves Rihanna" for instance were important enough to get airtime longer than Adam Yauch's memoriam. In the past, MTV would have given Yauch a proper 10-minute tribute, showing clips of the Beastie Boys' videos, interviews with him, stuff that he did in his personal life, etc. This year he gets a 15 second screenshot. Didn't this guy help build the network in the '80s, MTV's earliest beginnings? And he gets treated like this?

Then later MTV mentioned that 'RIP Adam Yauch' was trending like he just died this week or something. I'm sure millions of teenage dummies were tweeting 'RIP Adam Yauch' just because they saw the screenshot and didn't know who he was or care, but they tweeted it because he must have been important. Never mind the fact that the only time that trending topic was relevant or tasteful was when the musician originally passed. Now it just seems like a slap in the face by an out-of-touch population.




MTV's had bad luck with VMAs hosts ever since the Wayan Brothers. To be fair, Chris Rock killed at the event so much that he ruined it for future hosts because they could never live up to his standards of mauling the pretentious crowd of musicians. Since then, MTV has been getting safe hosts like Jamie Foxx, Russell Brand (twice for some reason), the year where they didn't have a host, and this year's Kevin Hart. I hear that Hart is a decent comedian. Not really my cup of tea, and apparently I'm not the only one that thinks so.

Hart's jokes were so unfunny that MTV resorted to piping in a laugh track without showing cuts of the audience laughing. Hell, all of the performers and musicians were getting drunk or absolutely trashed at the time and so caught up in their own smugness to realize anyone was on stage. It was very painful to watch Hart. Also, they let him give away the final award of the night. In the past, MTV would have done something controversial – pair a couple of contrasting celebrities. Remember Madonna/David Letterman? Remember Britney/Christina? Why not Kristen Stewart/Robert Pattinson for this year? Or Chris Brown/Drake? Or anything???

No surprises, lackluster performances (other than the GREAT Frank Ocean and the DISASTROUS Lil Wayne and 2Chainz), and a terrible host make this overall show a pass. But it was only two hours though, which robbed me of some precious Twitter jokes. But since there's no election next year, I guess we'll strangely return to three.





Be sure to check us out!





*********************

And that does it for this week. If you want to chat about the stories I covered here, follow me on Twitter @earbuddy or leave me some comments below. Let me know where this column falls under the 3R's – meaning for you to rate it as Right, wRong, or Ridiculous. I promise to change nothing. Be sure to check out Earbuddy for great indie music reviews. Thank you for reading the Music 3R's.

comments powered by