Hammer of Doom News Report 09.10.12: The Sadness Edition
Posted by Robert Cooper on 09.10.2012

News and thoughts on the doctor of Slipknot bassist Paul Gray being charged for his death, Motley Crue's truck tipping over, ESPN having a metal commercial and more!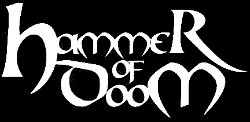 Welcome, Metal Faithful, to the morbid house of metallic wonder, the Hammer of Doom! I, as always, am your metal missionary, Robert Cooper. What have I done this week?, I got the latest Blind Guardian album as well as some Solitude Aeturnus, plus I took a Stats test, but that isn't very metal. I write this as I await the opening kickoff for my Carolina Panthers, but anywho, this week, the high news, low free music trend continues, I also preview the upcoming releases, I respond to YOUR reader comments, and this week's Global Metal song of the week comes from the country that I did a whole project on in middle school, Ecuador!

But enough about my 6th grade social studies, let's get things going with...



THE CRIES FROM THE CRYPT!



Jeff Loomis Doesn't Rule Out Nevermore Reunion
I really would like to see one, Jeff Loomis is still one of the best guitarists around and Nevermore is an awesome band.

ELUVEITIE Parts Ways With Guitarist, Announces Replacement
A guitarist is never easy to replace, hopefully their replacement is a good choice.

Mötley Crüe, Kiss Tour Truck Involved In Road Accident; Detroit Concert Postponed

No one was injured, but the driver was cited with failure to control a motor vehicle.

Litvintroll Bassist Dies On Stage
Apparently he was having headaches before the show, and collapsed twice during it. Many condolences to his family and friends.

Lawsuit Seeks To Stop Counterfeit Rush Merchandise
But then how will we got misprinted Rash shirts!

Former The Obsessed, Pentagram Rocker Vance Bockis Dead At 50
Sad news, I hate when news like this comes, kinda scares me, because he wasn't all that much older than my parents, but sadly, we have lots of death this week, and not the Schuldiner related one, either.

Voivod Signs With Century Media Records
Great news for them, everyone loves some Voivod, and even though Piggy isn't around anymore, I'm sure the band is still great.

glenn Hughes Says 'Afterglow' May Be Black Country Communion's Final Album
I adore this band, but I guess three albums in three years is impressive enough and every band has its' day.

'Satanic' Heavy Metal Concert In Egypt Prompts Police Investigation

Apprently the Muslim Brotherhood says that the venue is in trouble for hosting "Satanic Rock Bands and Events", I guess no matter what religion is in front of you, they will persecute the metal.

Exsanguination Throne Drummer Murdered In Case Of Mistaken Identity
By what I've read, the three men who stabbed him thought he was a guy who taped a friend of theirs a month ago, this is why you don't stab people.

Black Sabbath Tribute Goal Mask Unveiled
I think that it look particularly badass, pictures are below.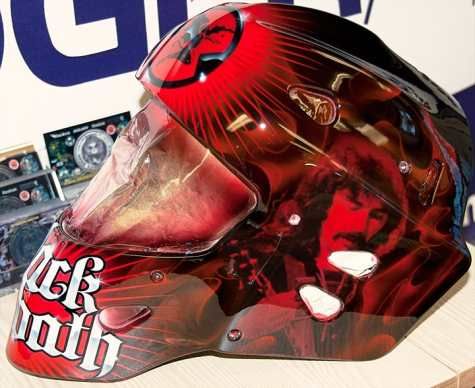 I really want that mask, but you know what else I want, I want....



THE PSALMS FOR THE DEAD!



Conrad Murray Wants his Gimmick Back

So for those who didn't know, about two years aog, the bassist of Slipknot, Paul Gray, died of a drug overdose. Well now, his physician is being charged with eight counts of involuntary manslaughter due to perscribing large amounts of very powerful painkillers to Mr. Gray, who was a known drug addict. Here's the official report

"According to DesMoinesRegister.com, a Des Moines physician has been charged with eight counts of involuntary manslaughter for allegedly prescribing large amounts of narcotic painkillers to patients who later died of overdoses, including SLIPKNOT bassist Paul Gray."

Daniel Baldi, who helped run an Iowa Health System pain clinic, is accused of unintentionally causing the death of Paul Gray by writing "high-dose prescription narcotics to a known drug addict" starting on December 27, 2005, according to charging documents released at the doctor's court hearing today.

The doctor's lawyer, Guy Cook, told DesMoinesRegister.com his client plans to vigorously fight the charges.

"It is unprecedented to turn unfortunate deaths or medical results into a crime against a doctor," the lawyer said. "Unexpected deaths can occur in severe, chronic pain patients, unrelated to medical treatment. This is especially true with patients who are drug addicts or drug abusers.""

As my joke headline said above, this kind of gives me slight feelings of the whole Michael Jackson ordeal, where the doctor that he had was blamed for his death and he got the book. I do think that this doctor that we're talking about today should get the book at him, because it was incredibly, incredibly irresponsible for him to perscribe those drugs that he did to Mr. Gray, who apparently was a drug addict, and everyone knew it. While I do want to say that Mr. Gray should have known better than to take those drugs from said doctor, I know that addiction is a disease and saying no to those drugs that he was given is a lot harder than it would be for someone like me to not take them.

I'm sure there will be more on this story later, and I'll do my best to keep everyone up on what's happening with the guy.



Why Doing Metalcore is Wrong

The band that I have never ever heard of in my life, I See Stars, were arrested on charges for the possession and intent to use hallucinogenic drugs, which is incredibly funny. While I do hate to see a band, and their crew going to jail for the night because they have drugs, this band was called "post-hardcore" by Blabbermouth.net, which I use as a source for some of the news I find, and as soon as I see a name and a classification like that, the metal snob in me wants to hate them automatically, so after listening to two songs, I can say that their music is shitty and they shouldn't have gotten caught with the drugs, or at least they shouldn't have had them on them. Oh well, at least the world had one last shitty band around for 13 hours. Buncha fruicakes, but at least in their band photo, they all match!





A Sad Occurance
"According to WWJ-TV, investigators with the Oakland County Sheriff's Office are searching for a man accused of sexually assaulting a woman at last night's KISS and MÖTLEY CRÜE concert at DTE Energy Music Theater in Clarkson, Michigan.

The woman, a 25-year-old from Orion Township, told police that she was forced into the woods and assaulted by a man around 9:40 p.m. She went home before notifying authorities.

The suspect is described as a white man in his mid-20s, with brown hair and brown eyes. He was wearing cargo shorts and a V-neck shirt.

Anyone with information is asked to contact the Oakland County Sheriff's Office at 248-537-3530 or Crime Stoppers at 1-800-SPEAK-UP."

I don't how have much more to say than I feel terrible for her and I hope they catch the bastard that did this, if anybody reading this(all 10 of you) know anything about what happened and who did, please call the numbers that I have above, you would be doing the world a favor.

Proof That Heavy Metal Will Never Die Vol.6

So in my segment for metal album chartings from the last week, I only have two albums to report on, but HEY!, that's still more metal on the charts than before.

First album was "Dead End Kings" by Katatonia, the album was one that I liked, I didn't think it was anything mind blowing, but it was still solid. It sold approximately 3,200 copies her ein the Us of A, and that was good enough for it to hit No.4 on the Billboard Heatseekers Chart, which is for bands that have not hit the Top 100 of the Billboard 200, it also hit #138 on the Billboard 200, it's good for a band that has been around the block as long as Katatonia to do well on the US charts.

The other album is "Unsung Heroes" by Ensiferum, which doesn't hit the shores of America until almost October ,sadly. It hit NUMBER 3 on the Finnish album charts and it hit No. 15 on the German Media Control chart. I haven't heard but a song or two from their new album, but I can guarantee you that this album will be mind blowing!



Who Isn't A Closet Slayer Fan?

In GREATEST NEWS EVER, ESPN, the worldwide leader in sports, have a new commercial where their football(American football, for you not-Amuricans) analyist, John Clayton is a secret metalhead. I know personally, that I hope to be as awesome as he is portrayed as in this commercial, minus the living at home and the receding hairline.





MERRY CHRISTMAS, CHEAPASSES!



Just like last week, we have no downloads, but I do have 3 streams of music to entertain you.

First up is "True North" by the increidbly awesome Devin Townsend Project, it can't be posted on here, but I can give you a link.

http://soundcloud.com/metal-hammer/devin-townsend-project-true/s-0s17K

Next is "Spiritual Genocide" by Destruction, it is only a small sample, but it's Destruction so it has to be good, as long as it didn't come from the mid-90s.



Finally, is Lord Worm's new project, Rage Nucléaire, with their song "Violence is Golden"

it is another song that I can't post, but it's good stuff so visit HERE!

Now that you have an education on awesome free music and news, step into....



THE TEMPLE OF THE DEAD!



I'm almost not album to finish finding all the albums, so here is just a list, sorry about the lack of music to support the albums.

The bands Amadeus, Cloudscape, Cryptopsy, Elvenking, Vision Divine, Alastor, Enemynside, Vanir, Altar of Oblivion, Khors, Serpentine Path, and Prototype all have albums coming out.

and my PICK OF THE WEEK is the new Hooded Menace!

So out of the albums I talked about last week, the only one I got to listen to was, 'White Hoarhound' by Alunah, it was a fun stoner-y doom-y listen, the songs I enjoyed the most were "Dementer's Grief", "The Offering", and "Oak Ritual I/II".

I also started listened "Voyage of the Damned" by Iron Fire, so hopefully by next week I can talk about that here, but it is absolutely incredible so far.

Now let us travel to....



WHERE THE RUNES STILL SPEAK!




When you talk best guitarist of the Big 4 Danny Spitz has always been a favorite.The watchmaker career he has he went into after being disillusioned with the band after Sound of White Noise along with becoming a born again Christian so it's been like what 20 years. And Crimson Glory never got why those guys didn't get bigger than they did, always dug them. As for Geoff Tate's version for QR.He's not exactly been known for his appreciation of metal/hardrock.I've always thought he was a bit condescending toward the music,fans,genre and those who play it in general so Blotzer,Sarzo,Drover are a bit of a shock.Geoff may be the voice but a good chunk of the heart QR left with Chris DeGarmo in my opinion.


Posted By: guest666 (Guest)

Greetings, guest666,
I had no clue about Dan Spitz's watchmaking career, but as a guitarist, I respect the hell out of him. Crimson Glory are an incredible band, and I think they deserved some of the attention that other bands got in the 80s. I still don't know all that much when it comes to the 'Ryche, but I can take your word for it on Mr.Tate, the dude does seem to condescend quite a bit.

Finally, our GLOBAL METAL SONG OF THE WEEK, comes from Ecuador, the band is a black thrash band and it is called Priorato, off of the album 'Camino al Priorato', and the song is called, "Guerra Interna"



Alright,so if you have any opinions on the column, some genre or country that you want me to feature in the global metal column, or if you just want to talk metal you can e-mail me at themetalcoop@gmail.com, tweet me at @themetalcoop or comment below!

So as usual, everyone have a safe and great week, and KEEP THE METAL FAITH ALIVE \m/
comments powered by