SPOTLIGHTS
Music's 3R's 09.15.12: Running Out of Ink
Posted by Nick Krenn on 09.15.2012

From Rihanna's new tattoo and Pussy Riot possibly going free to Snooki's dream babysitter, Chris Brown's wild parties and more, 411's Nick Krenn breaks down the Right, the wRong and the Ridiculous from the week in music!

Hello, I'm Nick Krenn, and I'm bringing you the newest edition of the most impolite 411mania column, Music 3R's, where I examine the Right, wRong, and Ridiculous in music. Before we start, here are some things I suggest you read.

The Love/Hate News Report written by John Downey.

This is my final column for 411mania's Music Section, but I won't say ever. Who knows, you may possibly see me again one day. However, for the time being, I need to focus on other things like running the GREAT music site Earbuddy.net, featuring both John Downey and Chris Bell and a slew of talented writers that post reviews on a DAILY basis.

Some final THANK YOU's – Jeremy Thomas and Ashish, thanks for bringing me aboard guys and providing me a forum to talk about music the way that I like to talk about it.


With the plugs out of the way, let's head into my final and brutal Music 3R's.



Pussy Riot Could Go Free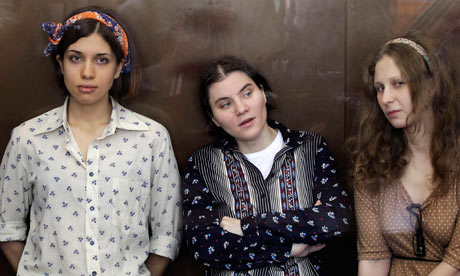 Russian Prime Minister Dmitry Medvedev thinks that the members of punk band Pussy Riot have been punished enough and should be set free from imprisonment. Although, the Prime Minister was "sickened" by their protest (guy doesn't like free speech, you know), he said, "Prolonging their time in prison in connection to this case seems unproductive. The term is very strong. I would even say a terrible burden. I don't want to replace the judge... but the time they have already served is, in essence, more than enough to make them think about what happened, whether it was from their own stupidity or for other reasons."

Pussy Riot's three female members were sentenced to two years in prison on August 17 for abseiling down a wall and set fire to an image of Russian President Vladimir Putin. Their case goes to appeal on October 1st. With the Prime Minister behind them (albeit kind of backhanded), I think the band will likely go free, which should make a lot of bands and hipsters happy. However, I won't be Putin Pussy Riot's music on my iPod anytime soon. Also, I stole that joke from comedian Jeffery Ross be-fore anyone says anything.



Chris Brown's New Tat


Chris Brown came under a lot of scrutiny for his new tattoo that looked an awful lot like Rihanna on the side of his neck. If getting a "Rihanna" tattoo wasn't enough to stir anger among people, the tattoo also seemed to depict a "beaten" Rihanna. Representatives for Brown (the most overworked PR team on the planet) quickly dismissed the claims that it was a beaten Rihanna.

"His tattoo is a sugar skull (associated with the Mexican celebration of the Day of the Dead) and a M.A.C. comestics design he saw. It is not Rihanna or an abused woman as erroneously reported. It is peeling right now."

The representative is reporting the peeling as to why the woman's face looks beaten or abused. Even Brown's tattoo artist, Peter Koskela, took to defending Brown's choice of body art. He said the following to E! News about the artwork.

"I hate when people misinterpret what I do. It was really a blow to me to think that people would think so little of a person that I would actually put a picture of a beaten woman on his neck. That was crazy to me, that he would come to me and say, 'Hey, I want Rihanna's face on me' I would never promote any kind of domestic violence like that. Even if he asked me to do it, I would have bounced right there. I don't do racist tattoos, I don't do gang-related tattoos and I don't do anything hurtful. That is just the motto I live by. The other tattoo artists might, but I just don't."

Koskela added: "The dude is serious about his art. When something inspires him, he wants it somewhere on his body, but he never said why he wanted to get that particular piece. When I did see the picture [of Brown in Vegas] and his head was cocked to the side, it did look like it was rough around the edges. People thought it was a beat-up face, but it takes two weeks to heal because the neck is constantly moving."

So there you have it; case closed, right? Well, not really. Some people are not going to be swayed by the testimony of Brown's representatives or tattoo artist because unlike Brown's healing skin, his domestic incident with Rihanna is still an open and festering wound. Many female fans have strangely moved on and see Brown as a sex symbol once again, but there are quite a number of people who see the R&B singer as nothing but a monster. Maybe he shouldn't get tattoos that look a little too close to Rihanna on an open area such as the next if he's really trying to clean up his image. Otherwise, it just seems as though he's trying to get attention and stir up an angry crowd.



Chris Brown Throws A Wild Pool Party

If Chris Brown wasn't in the news enough already for his new tattoo, he also got a visit from police officers regarding a pool party that was thrown with Rob Kardashian. The party was a pre-Video Music Awards (where Brown took home the honor of 'Best Male Video'). Neighbors complained about noise coming from the shindig, and they also didn't seem to like that a couple was having sex in front of one of the houses. Now I'm sure that only the housewives were complaining about that one, while the husbands were too busy fiddling with their iPhone cameras. Also, residents could not leave due to parked cars, and Justin Bieber was in attendance, which probably means that neighbors were concerned about their teenage girls heading to the event and partaking in debauchery. Film producer Dana Brunetti, a resident of the neighborhood, tweeted the following: Just got horrible news … Chris Brown moved into the neighborhood. The police have already started responding to his parties.

The party was reportedly BYOB; beat your own bitch.

Rihanna's Babysitting Invite…Awkward



I always thought that I would be able to make it without having to reference MTV's "why is this a reality show" Jersey Shore, but lo and behold in my final Music 3R's, I will mention Snooki. Yes, it really is time for me to leave. Gossip site Perezitos (yuck, on the site's name btw) is reporting that Rihanna has offered to babysit Snooki's newborn son Lorenzo. Rihanna filed her job application with the Snookster after a brief but awkward Twitter conversation.

Snooki first tweeted: "Rihanna's We Found Love will NEVER get old to me!! My song for life. <3 <3" Okay, so just a polite tweet that lets Rihanna know that Snooki appreciates her song. Rihanna responded with this tweet: "thank u! Lemme know if u need a sitter". So it's like one of those open-invitation things that you give to friends when you haven't seen them in a long time, 'Hey, we should get together sometime', that you throw out to be nice, but don't really want to be taken seriously. Snooki could have simply retweeted as a common Twitter courtesy, but she wanted to leach off Rihanna just a little bit more, or maybe strike up a new friendship. So Snooki tweeted: "lmao you can babysit anytime auntie".

Now let's dissect this tweet. She begins with "lmao" or (laughing my ass off) to people without the basic understand of TEXT (Internet chat room) abbreviations. So she wants this to come off as 'Tee hee, you're so funny, Rihanna. You're hilarious. Everything you do is great!' Then she throws back the open invite, "You can babysit anytime"; however, when someone answers an open invite with an open invite, it's because they actually want to hang out. Then Snooki finishes with "Auntie" as if she's making Rihanna a part of the family or letting her know that she's a 'friend' and someone who Snooki cherishes. She wants to enter the Rihanna circle.

Rihanna, of course, did not answer back. Girl's got more important things to do than talk to a D-list reality star. But really it is a shame because the two do have something in common, except Snooki has her run-in with a guy's fist documented on video.






Snooki face punch video




Chris Feels Rihanna's Pain


Not to be out-tattooed by Chris Brown, Rihanna got a new tattoo of the Egyptian goddess Isis under breasts to honor her grandmother. According to a source, Brown loved Rihanna's new tattoo: "Chris knows Ri loved her Dolly. He thinks her tat is hot and when he saw it you should have seen his face! I can't describe it but he was like 'ooouch, that hurrrrrrrt.' You had to see his face, though. It was like he was getting inked-up too with her and he felt it through her. They connected like that and shit, it's crazy. But he like the look and know there ain't no pain that would come between Ri and her Dolly."

I think Brown connected the most with Rihanna when he was driving a knuckle-sandwich into her cheek. Brown couldn't be outdone by Rihanna, so he followed up her tat by getting one in the same spot on his body of a fighter jet. Did he get the tattoo just to experience Rihanna's pain? Ahh..maybe the guy is just a creep with an unhealthy attraction. However, the bigger question is what all these tattoos are going to look at when Brown and Rihanna enter their later years, assuming they make it to 60. I'm thinking there's going to be a whole lot of wrinkly, faded regret.






Be sure to check us out!





*********************

And that does it for my Music 3R's run. Be kind to the next guy, whoever that may be.

comments powered by