Hammer of Doom News Report 09.17.12: Don't Mess With the Priest
Posted by Robert Cooper on 09.17.2012

News and thoughts on Judas Priest considering a lawsuit against GAP, Headbanger's Ball being possibly cancelled, Hydra Head Records shutting down, Bon Scott getting a statue in his honor and more!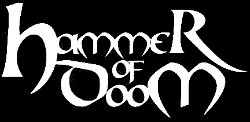 Welcome Metal Faithful, to your one stop shop for metal, the Hammer of Doom. I, as always, am your metal missionary, Robert Cooper, and I've done nothing this week but school, well I did watch my Carolina Panthers win earlier in the day, then it was back to metal and college-y things. For this week, we have a total of one downloadable song, but plenty of streaming songs as well as tons of news and album releases; I also will answer YOUR reader comments and continue the "South of the Border" tour, this week going further into South America with a visit of to Peru.

But enough jibba jabba from this fool, let's all quiet so we can hear...



THE CRIES FROM THE CRYPT!



Anthrax Drummer Wanted To Make 'Worship Music' A Double Album

They might have had enough solid tracks to make 2 albums worth of classic material, but I think one album was enough to get their name out there.

Bon Scott Statue Erection Planned For Late AC/DC Singer's Scottish Birthplace

AWESOME!, Mr.Scott is a legend and every legend deserves a statue, because who doesn't love statues.

Russian Metal Frontman Enters Mayoral Race

I'd vote for him....not like he'd win anyways.

Motörhead's 'Overkill' Remembered In New App And eBook

Classic album and I'm sure it has an interesting story behind it, only costs a dollar too, which is quite nifty.

EDEN'S CURSE Parts Ways With Singer, Seeks Replacement

Apparently they want a "powerful, melodic singer to write the next chapter of EDEN'S CURSE", so if you are that person, go HERE to find out how, as long as you aren't female and are European.

TÝR Signs With METAL BLADE RECORDS

A solid signing for a solid label, Tyr rock!

MÖTLEY CRÜE Singer Breaks Foot At Ohio Show

I hate that for him, at least he can't drive with that foot.

GUNS N' ROSES Selling Used Tour Gear On eBay

It'll show up 3 weeks late.

LED ZEPPELIN Among 2012 Kennedy Center Honorees

Also being honored are bluesman Buddy Guy, actor and director Dustin Hoffman, comedian and television host David Letterman, and ballerina Natalia Makarova; but out of all of these, Led Zepplin is the coolest, of course.

MEGADETH's 'Countdown' Expanded 20th-Anniversary Reissue Rocks Times Square

Somehow an advertisement for their album was on the 126-foot-wide, 47-foot-tall Reuters sign, good advertisment for MegaDave and Company.




I like the sign, I'd like it more if it read from....



THE PSALMS FOR THE DEAD!



A Hydra Slain

As already reported in one of my favorite column to read on a Thursday, John Downey's Love/Hate Music News Report, Hydra Head Records is closing up shop after seventeen years in the business, their head, Aaron Turner, posted an official statement on the label's blog, right HERE. Apparently, they are going to release as many things as they can so that they can pay off their debts to artists and manufactures. After that, they'll bundle what they can together to try to get rid of as much as possible.

When I first read about this, I though, "WHO?", but then after I read their roster, past and present, I found that they had a knack for finding great artists, though when one thinks about it, you're bound to wonder how they have managed to last with the roster of artists that they have, because not many of the artists are really well known and bring in tons of money. According to the great lord and saviour, wikipeida, the bands that they have on their roster that are badass are grindcore band Agoraphobic Nosebleed, the crazy as hell band, Boris, Keelhaul, Oxbow, Xasthur, and Torche. They also used to be the home of such awesome bands Sunn O))) and Eyehategod. I

think that this is just further proof of the fact that much of music publishing is about online access and smaller labels might start to suffer, as seen with this long standing label finally biting the dust(or at least biting it come December), we can hope that through support, they can last for years to come, but sometimes the Cynic in me(not the band, though I wish I were as awesome as Cynic) really makes me wonder how much longer the physical CD market is around.

Here's a Greatest Hit that was released on the label.



Don't Screw With the Priest

For once, I actually do mind a lawsuit. Usually when I see a lawsuit, it's over something stupid, like a woman who sued McDonald's for their coffee being too hot or suing the weather station for not predicting the right weather. This time, Judas Priest are thinking about suing GAP for using a design that looks so oddly similar to their 'Screaming For Vengeance' album cover (the comparison is below).

A quote directly from our favorite Priest frontman states....

"Speaking to The Quietus, JUDAS PRIEST singer Rob Halford said, "Well, it's very naughty of [Gap]. They shouldn't have done that and we're investigating that right now because that's intellectual-property rights. We were never asked [for permission for the image to be used by Gap], [and] neither was our label. Having said that, pushing the legal side of it to one side, it's brilliant, isn't it? To think that something 30-odd years later is still striking enough to be a fashion moment — it's a bit like when the vodka people [Absolut Vodka] did the 'British Steel' label."

He added, "The thing is with artwork is that I don't think that you can underestimate its power. Like, you'll see somebody walking down the street with a CANNIBAL CORPSE T-shirt on, if you say to them: 'Oh, I love that band,' they'll go, 'What band?' And if you say: 'The T-shirt,' they'll probably say, 'Oh, I just like it!' And I think that's great, because again you're making a visual, emotional connection with people; that's what 'Screaming For Vengeance' is doing all these years later."

First off, I must say that whether on purpose or not, it is interesting that GAP has decided to copy a thirty year old metal album cover. Second off, I think that this right here proves what some mainstream outlets do, they like to steal things from metal, and then claim that it has nothing to do with it. I find that kind of dirty, because it discounts metal as well as makes the real thing less recognizable to people who don't know what it looks like, which I think is the point that Mr. Halford makes in his second paragraph.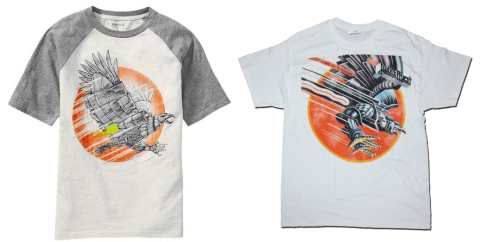 MTV really has no Balls

So in a two part news story, news dropped earlier in the week that according to the bro-tastic Jose Mangin, that MTV was going to finally kill off Headbanger's Ball again, in a fact that I had forgotten, it still was existing on the internet. Jose Mangin said that MTV doesn't care about rock music, which is true, and then says that some day they will pay attention to it again, which I doubt. Then a few days later, MTV said that they were still committed to the Headbanger's Ball franchise, which I snorted at, because if they were committed to it, they would bring it back to TV in some way.

I don't know if anyone else was following the show back in 2007, but that was back when I thought metalcore was cool (and it's not, save a band or two, now fezzes are a different question) and that's what they played a lot of, they also would play a good amount of death metal, which is where I heard my first (and most favorite) Cannibal Corpse song, "Evisceration Plague". It used to be shown on Saturday nights from 11-1, which was great for when I would come home late from marching band competitions and would wind down with Headbanger's Ball. Now eventually, they phased it to 1 hour, and then moved it to 2 am. After they did that move, they would erratically move it around and it would not air for weeks, before airing it at 2 am on Tuesdays, and then it disappeared.

I think it is a surprise to no one that it is and will remain gone, or at least online, because mainstream metal for a lot of people is stuff that I do not like all that much, like Black Veil Brides and Suicide Silence (I gave them both chances, even saw Suicide live, and despised them), and most of their fans are pre-teens/teenagers that wont be watching TV for them, they'd much rather watch the internet for it. Now personally, I'm a bit more old school, where I still like to watch metal things on the television, like That Metal Show, which while sometimes I shake my head at them, they are pretty solid when it comes to actual content. I think shows like Headbanger's Ball are dead for a reason, because anything you could find here in this very column, except I'm not a TOTAL douchenozzle.



Now We Can Stop Our Extreme Metal Bitching

I don't know how many of the ten of you peoples that read this column watched VH1 Classsic's "Metal Evolution", while I have watched a few of the episodes(the thrash episode was good, but "Get Thrash" was better) and enjoyed it, there was a piece missing. I, as well as many, bitched to Mr. Sam Dunn and his people at Banger films about the fact that they don't have an epsidoe to focus on extreme metal, when they have ones for Nu Metal and Grunge. This week I found out why that was, apparently, the people that were paying the bills, thought that death and black metal was a bit too extreme (no pun intended) to do an episode on, so they told the fellas, NO!
Now that I know this fact, I see the mini-series in a bit of a different light, because for a while, I saw it as the guys who ran the show choosing to ignore extreme metal in favor of more money making genres, but now that I know that they couldn't, I feel bad for them.
And for all of you people who want them to do an extreme metal episode, the guys that run Banger films have an IndieGoGo page where they need to raise 175,000 so that they can cover everything for the production. The indiegogo page is HERE


Proof That Heavy Metal Will Never Die Vol. 7

So in the typical section for metal album chartings and where I prove that metal sells worldwide, we have 4 seperate albums to talk about.

First off is "Clash of the Gods" by Grave Digger, it hit Number 29 in Germany, Number 48 in Sweden, and Number 71 in Switzerland. I haven't head the album persoanlly, but I for a fact that they have a great track record and I can't wait to hear the album for myself.

Next up is, the 30th Anniversary of 'Screaming for Vengeance' by Judas Priest, it hit Number 98 on the US Billboard 200, which is phenomenal for a classic band, and one that isn't held in nearly as many stores as KISS, who hit in the 50s with their re-issue a month ago.

After that is some other charts for 'Dead End Kings' by Katatonia, it hit Number 4 in Finland, Number 12 in Sweden,, Number 17 in Norway, Number 21 in Germany, Number 25 in Austria, Number 60 in the Netherlands, and Number 46 in Switzerland. We know that they didn't hit all that high in the US, as we know, but I am throughly impressed at how high they hit around the world, I knew that they were a big band, but they're even bigger than I thought they were.

Finally is some British prog from the UK, Threshold's new album, 'March of Progress' hit Number 28 in Germany, Number 30 in Switzerland, Number 55 in Austria, Number 70 in the Netherlands, and Number 102 in France, which is nothing to sneeze at, congrats to them and all the other bands that are proving that metal is still alive and well.



MERRY CHRISTMAS, CHEAPASSES!



First off is our one download for the week, coming from Cradle of Filth, while I'm not their biggest fan, it is free music.



Next is the lyric video for the debut track off 'Lights Out' by Graveyard, which I have been looking forwards to for ages.



Finally is a solo track Nile drummer George Kollias, it is titled, "The Passage"



Metal News, Free Music, what more do you need?....I think you need a visit to....



THE TEMPLE OF THE DEAD!



So first off, we have 'Down IV Part I: The Purple EP' which is Southern Fried Doom metal from the mighty, Down.

Next is 'Crimes Against Humanity' by Greensboro, North Carolina(that's close to home) Thrash Band, Eugenic Death.

Following is 'Husks' by New Orleans Stoner/Doom Band, haarp.

After that is 'Bites Rites' from Oregon Sludge Metal band, Rabbits

Next are a duo of EPs (Antietam 1862 and Consumed by Death) from Washington, D.C. Death/Thrash band Recently Vacated Graves: True Zombie Metal

and finally the ALBUM OF THE WEEK, this week coming from the madman, Devin Townsend, and his band, The Devin Townsend Project, the album is called 'Epicloud'!



As for what I have listened to from last week, I listened to 'Effigies of Evil' by Hooded Menace, the whole album was superb, so any track from it would be great.

I also listened to Serpentine Path's self-titled album, it was great death/doom and the songs I liked were "Arrows", "Beyond the Dawn of Time", and "Aphelion"

Now that we all have our heavy metal education for the week, let us walk to....



WHERE THE RUNES STILL SPEAK!



"(American football, for you not-Amuricans)"

The rest of the world calls it Handegg, actually.

Posted By: Guest#9206

I'm pretty gullible, so I googled this fact, and since it wont tell me whether or not, the rest of the world calls it handegg, I'll take you word for it.

So this week, we continue our "South of the Border" Tour with a visit to Peru, and "Bicolour Cannibalism"off of the album 'Pururalca' by Ch'aska, they're pretty awesome death/folk metal!



Alright,so if you have any opinions on the column, some genre or country that you want me to feature in the global metal column, or if you just want to talk metal you can e-mail me at themetalcoop@gmail.com, tweet me at @themetalcoop or comment below!

We close yet another column in the immortal words of the mighty Chuck Schulinder!.....KEEP THE METAL FAITH ALIVE \m/
comments powered by