Hammer of Doom News Report 12.17.12: 'Metal is Now a Legitimate Religion' Edition
Posted by Robert Cooper on 12.17.2012

News and thoughts on Rush finally making it into the Rock and Roll Hall of Fame, heavy metal becoming a religion in Britain, Dave Mustaine getting a spider named after him, Scorpions releasing their own Christmas cards and more!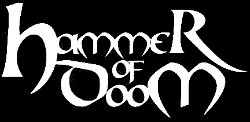 Welcome, Metal Faithful, to the now holy temple of all that is heavy metal, the Hammer of Doom, I, as always, am your metal missionary, Robert Cooper.  Before I talk metal, I want to say that the tragedy that befell Sandy Hook Elementary School in Connecticut is something that really hits me hard, and I, as a member of the 411 staff, and human being, want to give my condolences to all of the families who have lost a member of their family to this tragedy.  It's a damn shame.

With that in mind, I'm going to give you all the metal news you wanted, and didn't want, plus an album drought, new free music, your GLOBAL METAL song of the week, and I answer YOUR comments from last week!!!!

Go hug your families and children, but when you're done, come with me, as we hear....


THE CRIES FROM THE CRYPT!


New Species Of Tarantula Named After Megadeth Frontman

It has been named Aphonopelma Davemustainei. Why the spider was named after MegaDave, I don't know. It's still pretty cool, though I agree with the comments I've seen on the post, should've named it after Jeff Hanneman.

Bret Michaels 'At The Core, I'm Still 100 Percent Rock 'N' Roll'

Because NOTHING is more Rock N' Roll than dog clothing, country, and a bandana to cover your hairline.

Darkthrone To Release 'The Underground Resistance' In February

I need to listen to the newer Darkthrone albums, because apparently they're pretty good black/crust metal. Can't wait for this album, though.

Hungarian Black Metal Documentary To Be Released This Month

It has a shite name, "Attention! Black Metal", but it has interviews with guys from Moonspell, Hecate Enthroned, Bishop of Hexen, and Rotting Christ. So hopefully this will be awesome.

Megadeth Parts Ways With Roadrunner Records

I think Roadrunner did a decent job, because I could find Megadeth in many a Wal-Mart, but I think a company like Nuclear Blast would be better for Megadeth.

Blind Guardian's Official Wine Now Available

If anyone is a heavy metal wine collector, this must be a landmark year for you.

DVD About Former Decapitated Singer Covan To Be Made Available This Week

It features excerpts from a charity concert for him in Krakow and a 40 minute documentary. Covan was gravely injured in the wreck that killed Decapitated drummer Vitek in 2007. He has made many leaps in recovery, but still can't communicate or take care of himself, so the dude has to have 24/7 care. Really sucks, and I send him all my prayers, I know I'm a little behind on that incident, I know Vitek was killed, but didn't know about Covan.

Hecate Enthroned Parts Ways With Singer, Drummer

The band hasn't release an album is ages, and I don't think that this'll help their release schedule, either.

Joe Perry Says Aerosmith May Have Recorded Their Last Album

Nothing lasts forever, besides cockroaches and Madonna...unfortunately.

Lamb of God Frontman 'Disgusted' By Audience's Refusal To Honor Dead Children And Teacher

Apparently, a bit of the fans didn't want a moment of silence and they laughed and talked through the minute of silence. I don't like that, it's supposed to be out of respect, but this is metal, respect is not freely given.

SCORPIONS: Official Christmas Cards Available

AWESOME!, in case you want to send anyone a fucking metal Christmas!

[IMG]http://i181.photobucket.com/albums/x281/obliviongamr/scorpionschristmas.jpg[/IMG]

Winch that jaw up off the floor and listen to...

THE PSALMS FOR THE DEAD!


So...metal is a real religion now...excuse me while I go geek out.

I'm not kidding, this is legitimate. Apparently, there was a push from metal magazines in England to put on their census papers that their religion was metal. Apparently, over 6000 people complied and it is now a bigger religion than Scientology and Satanism in the UK. This, of course, is just pure win, because while it isn't that important that metal has more religious followers than Scientology. But what is important is the fact that I need to become an ordained minister in the faith of heavy metal, because I would have some awesome sermons.

Here's to many years of faithful servitude in the name of the Chuck, the Dio, and the Tony Iommi.



FINALLY!...The Rush has come back to Cleveland!

Just as Michael L.'s comment on here last week revealed, we now have some more awesome rock bands that call the Rock N' Roll Hall of Fame home. We now have the awesomeness that are both Rush and Heart ih the R&R HOF. Though I agree with what Michael said that Deep Purple had a chance, but I guess the sympathy vote was not enough. Now there is also the random issue of hip-hop and pop bands in the R&R HOF. I personally don't like it, and I know for a fact that a pop music HOF or a Hip-HOP HOF would never have Black Sabbath, or Rush, or Metallica in, but in order to get more peoples' interest, they just get as many mainstream acts as they can in.

Now let me look at who we can now bitch about not being in. There are KISS, who should be in, because they are pretty popular, I like their stuff, and were one of the more entertaining live shows. There also are Iron Maiden and Judas Priest who should be in, because they're both fucking awesome. Also, Deep Purple need in!



11 years, and we all still miss Chuck Schuldiner

I promise, this'll be the last time that I do this (or not). But on December 13th, it was the 11th anniversary of the death of Chuck Schuldiner. I don't do this for any other artist, so why Chuck?

First off, I'm a HUGE Death fanboy, and I also love Control Denied. I love almost everything about every song by both bands, I have yet to find a bad song by either band. The dude was a large part in making death metal what it was and is today. I like that he also managed to stay fresh with his work, each album bringing something a little newer that the last. The dude also is one of the greatest guitarists ever, and I don't think many people could argue against that statement either. I'll stop my gushing now, but I just want to point out that Chuck was the bomb. Fuck cancer!




MERRY CHRISTMAS, CHEAPASSES!

I come with awesome music, we get a free download of Ghost's new track, Secular Haze, at THIS link!

We also have the track "Ripping Souls of Sinners" by the band Necrowretch, this song kills!

[youtube http://www.youtube.com/watch?v=NdOgF8bVBqo]

Finally is a track off of the new album by death metal masters, Suffocation.

Headbang all you want, but keep your neck in check as we enter...


THE TEMPLE OF THE DEAD!

THERE STILL AREN'T ANY NEW ALBUMS THAT ARE COMING OUT HERE IN AMERICA, unless I'm missing some albums, but OTHERWISE I RAGE!

Oh well, Just to let EVERYONE know. NEXT WEEK, that's right NEXT WEEK, 411mania and the Hammer of Doom present TOP 50 METAL ALBUMS OF 2012, with a few hard rock albums included, because I love them. There are still lots of albums that I wanted to put on the list, but alas, I could not!

I'll drown my tears in the room...


WHERE THE RUNES STILL SPEAK!


The first, and only comment to get 4 up votes, comes to us from Absolutus

Any metal bands from Poland you can think of? And please, don't put Acid Drinkers or anything like that. I'm thinking along the lines of Frontside.
And if it makes you feel better, fuck Metallica

PatchofKools then said that it did make him feel better, and that Metallica can eat a dick.

BMJ then suggested Vader as a good Polish metal band.

I personally have never heard of Frontside, so I looked them up, and they're a bit metalcore-y for my tastes.  So I don't know if I'll have any good suggestions for you, but death metal wise there is the aforementioned Vader and Decapitated.   Black metal bands that are good from there are Graveland, Mgla, also early Behemoth was black goodness. For the life of me, I can't think of any good thrash bands out of Poland. But I gave my best.

The next comment comes to us from, Michael L

As someone who's been a fan of Rush since the mid 80's (Power Windows was about when I got into them), I am very pleased they made it into the RNR Hall of Fame. I thought for certain that Deep Purple would get the sympathy nod this time, but instead it was Rush and Heart rounding out the rock votes, and kudos to both bands for making it (as well as to all the other inductees---except Public Enemy because rap bands don't belong in a rock Hall of Fame, but that ship sailed a long time ago).

Now people will have to find another band to bitch about--like Kiss, who deserves to be in, as few bands have influenced the over-production of big arena rock like Kiss.

I've already talked about Rush getting in to the R&R HOF, I love it, and the fact Heart got in is pretty awesome as well. I've given up on bitching about rap artists getting in, because they're going to get in anyways. At least Public Enemy had a pretty cool track with Anthrax (at least I liked it). If I were to bitch about bands that need to get in, Iron Maiden and Judas Priest come to mind. Hell, I'm not a huge fan of Def Leppard, but they deserve at least a nomination. I'm the only one who will say this, but hell, if Dave Mustaine weren't such a dickcheese, I'd want Megadeth to have a chance sometime.

Next up are a pair of comments from Ryan Haseldine

Even though all you 'cool kids' hate on Metallica, their first 4 albums will forever remain classics and better than EVERY other Metal bands entire discography. Time to find something else to bitch about.

Funny that STP fired Weiland. He's a great singer but what a douche, how do you get fired from 2 bands?!

I guess the way is get fired from 2 bands is by being a complete and total twat waffle.

As for Metallica, it is the cool thing to bash them, but I don't really feel like they deserve all the hate they get, sure they had that "sell out" phase in the 90s, and St. Anger, and Napster. But they seem like okay dudes and their early stuff is classic. Now it being better than ANY band's entire discography is a tough sell, I can at least 5 bands whose discography can beat their 4 albums. My opinion is that Black Sabbath, Judas Priest, Iron Maiden, Death, and Candlemass's discograhpies can beat those 4 albums easily.

Next comes to us from 411's own Ben Piper

I'm with you, Coop. Anthrax for the win

WOO!

Next to last is a response from Jay El Bee to his calling Metallica going to Spotify.

I did kind of call it although I didn't expect it to happen as quick as it did.

I didn't expect it so soon either, but hey, that's awesome for everyone.

Finally, is from 411 Music mainman Jeremy Thomas on my declaration of his love for Halestorm.

I make no bones about my appreciation Halestorm. :D Although I would say I'm more of a major Halestorm fan than I am "in love" with them, for the record. If only because it's probably kind of creepy for a thirty-six year-old to say he's "in love" with a band fronted and partially named after its twenty-four year-old lead singer.

I just figured it'd be fun to mention the fact that you are such a fan of Halestorm. But hey, a 36 year old in love with a 24 year olds' band is not too bad, at least you aren't a fan of the 1 Direction, right?....right?

This week on the "European Invasion" tour on Global Metal, we go to a small piece of land between Spain and France, Andorra. I didn't expect any bands to be from there, but I found on that seems to be pretty large for such a small band, the Opeth-tinged Persephone. The song is called "The Whisper of Men", off of the album 'Truth Inside the Shades'.



Alright,so if you have any opinions on the column, some genre or country that you want me to feature in the global metal column, or if you just want to talk metal you can e-mail me at themetalcoop@gmail.com, tweet me at @themetalcoop or comment below! Also, I reiterate that is you have ANY suggestions for the Best of 2012 list in albums of bands, let me know, I still havea huge number of albums to listen to, but I'm on Winter break, so there should be no issue.

In the words of the sleeping father of death metal, Chuck Schuldiner, KEEP THE METAL FAITH ALIVE \m/
comments powered by