Hip Hop Herald 01.30.13: Rick Ros' Drive-By, Chris Brown and Frank Ocean's Fight, JT's New Album, More
Posted by Bill Wannop on 01.30.2013

News and thoughts on Chris Brown and Frank Ocean coming to blows over a parking spot, Rick Ross being the victim of a drive-by, Justin Timberlake announcing his new album and more!

Welcome one and all to the Hip Hop Herald. The column will deal with anything related to hip hop whether it be underground, mainstream, or the new-age pop infused rap (you know the stuff Timberlake and Timbaland make). We will cover news, opinions, release dates as well as feature some music and of course videos.

Be for we start, be sure to check out some of our exclusive interviews as well as follow me on Twitter.

Exclusive 411mania.com Interviews
Tech N9ne
Chino XL
Kottonmouth Kings
M.O.P.
Jedi Mind tricks
Evidence
Slaine
Apathy
Tech N9ne
Atmosphere
Saigon
Swollen Members

News
Rick Ross Involved in Drive-By?



Rick Ross had another close call with regards to his health as he was reportedly attacked by gunfire in the early morning of January 28. It is being reported that he was attacked on Fort Lauderdale, Florida's Los Olas Boulevard, near 15th Avenue, when another vehicle pulled alongside his luxury automobile before shooting. Even though Ross and his female passenger were not seriously injured, over a dozen shots were fired at the car, and while accelerating away from the shooters, Ross crashed his Rolls Royce Phantom into a building. No arrests or suspects have been named following the attack.

Ross is at the peak of his popularity and while he is not my favorite rapper, there is no denying that he is a very much in demand artists. It is a scary thought to think that people would be targeting Ross with violence, and with the other health scares he has faced over recent years Ross has had a turbulent year.

In a somewhat bizarre related story, 50 Cent took to twitter after the attack and accused Ross of making the whole story up. 50 stated that since the car did not have visible bullet holes in photos that were released, that Ross made up the whole thing.

"Hahaha fat boy hit the building?lol it looks staged to me. No hole's in da car," wrote Fif.

While making up such a serious story is something that would be in horrible taste, it is something that I could see 50 Cent doing in order to gain mainstream attention. However, Rick Ross has somewhat stayed away from using the media to his advantage and it seems unlikely that he would make the story up to get some press. 50 Cent has been battling to stay relevant in hip hop for the last couple years, and his upcoming release Street King Immortal was recently pushed back again. This really is 50's last chance to show that he is still a threat on the mic in terms of making hip hop music, and while the first single he release "My Life" was good, I don't have high hopes for the release based on his last coupe of major albums he has dropped.

Chris Brown & Frank Ocean Fight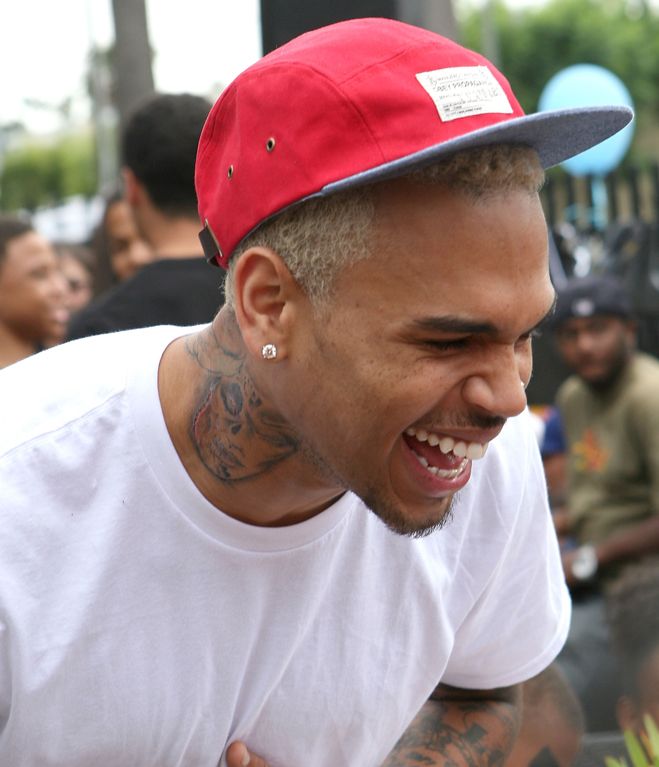 Chris Brown continues to add to his bad boy image, this time getting into an altercation with Frank Ocean in LA. It appears the whole altercation was over a parking spot. Early reports has stated that Frank Ocean approached Chris Brown and said, "This is my studio. This is my parking spot."

The source also claimed that Chris Brown attempted to shake Ocean's hand but that Ocean and friends attacked Brown. The source shared that Ocean confronted Brown but that Brown shoved him away, leading to a fight between the two singers before police arrived on the scene.

Bad blood between Brown and Ocean stems from a past filled with anomisty from both parties. The two were at odds when Chris Brown compared Ocean to James Fauntleroy and Kevin Cossum. Ocean then compared Brown to Sisqo and Ike Turner. While they seemed to move forward from there, the two were linked in a feud again when Brown made comments regarding Ocean's sexuality.

This seems completely insane that a fight would break out between two artists over a parking spot, but I guess when you have R&B divas, nothing is off limits. This is especially trouble for Brown, who is already on probation for the Rihanna incident, so if charges are pressed, he could be in serious trouble.

Release Dates & Album Updates

We have a ton of album updates this week starting with news that Justin Timberlake has announced the release date for his comeback album The 20/20 Experience. In the video for his first single, "Suit & Tie" featuring Jay-Z, Timberlake revealed that his new album will be released on March 19th. This is quite a surprise and in a good way as time and time again artists are announcing release dates for their albums months and months in advance only for the album to be constantly delayed. For JT to release the info that the album would be released in mere weeks, the album is likely finished. Timberlake gave some additional details on the release stating that it will be produced by Timbaland with Jay-Z and Beyonce set to appear.

Additionally T.I. has stated that he has provided JT with some records which he expects will be on the album.

Tip actually revealed the title of one of his collaborations with Timbaland and Timberlake. "I think it's called 'Goodbye Homey,' one of them is, and then there is another one; I did maybe two or three records with them."

Veteran emcee Edo. G has revealed the tracklisting to his latest album, Intelligence & Ignorance which is dropping on February 5, 2013

Guests on the album include Freestyle, formerly of The Arsonists as well as Oh No. The 10-track LP will be released on Envision Entertainment.

1 Done Talking
2 What They Say
3 Power
4 Easy
5 Love I Need Feat. Freestyle
6 Bags & Shoes
7 Give It to Me
8 Can t Wait Feat. Noel Gourdin
9 Change Feat. Noel Gourdin
10 Hold U

While we mentioned earlier that 50 Cent's album has been delayed yet again, 50 took the opportunity to talk on some of the collabs he has on the album. In addition to "My Life," Eminem will also appear on "Champion". 50 also revealed that Chris Brown, Eminem, Dr. Dre, Young Jeezy will appear on the album. 50 spoke about the Chris Brown track stating

"It's a song me and Chris Brown did together, and a DJ produced it, Felli Fel, out in Los Angeles," he said. "It was for his album and he sent it to me and I listened to it, and I was like, what if we put this on my record? I had to finish it for him. Because the DJ was also the producer, he was receptive to the idea."

This album has all the ingredients of being a hit in terms of guests and producers, so if 50 is not able to muster up good sales then the blame has to fall squarely on his shoulders.

Lastly, the super group The Demigodz (Apathy, Esoteric, Celph Titled, Blacastan, Motive, Ryu) have released the tracklisting to their upcoming album, Killmatic, which is being released March 5. The album looks great and should be an instant underground classic!

1.) "Intro" (Giants On The Earth) (produced by Apathy)
2.) "Demigodz Is Back" f/Apathy, Ryu & Celph Titled (produced by Apathy)
3.) "Dumb High" f/ Apathy, Motive, Esoteric, Celph Titled & Open Mic (produced by Apathy)
4.) "Never Take Me Out" f/ Apathy, Celph Titled & Termanology (produced by Teddy Roxpin)
5.) "Just Can't Quit" f/ Apathy, Celph Titled, Motive, Blacastan, Ryu & Scoop Deville (produced by Apathy)
6.) "Worst Nightmare" f/ Apathy, Ryu, Blacastan, Esoteric, Motive & Celph Titled (produced by DJ Premier) ***cuts by DJ Premier
7.) "Can't Fool Me" f/ Apathy, Blacastan, Esoteric, Motive, Celph Titled & Eternia (produced by Apathy)
8.) "DGZ x NYGz" f/ Apathy, Blacastan, Celph Titled & Panchi of NYG'z (produced by Chumzilla) *** additional vocals by DJ Premier
9.) "Dead In The Middle" f/ Ryu, Celph Titled & Apathy (produced by Apathy)
10.) "The Gospel According To..." f/ Celph Titled, Esoteric, Motive, Blacastan & Planetary of Outerspace (produced by Skammadix)
11.) "Raiders Cap" f/ Apathy, Ryu, Motive & Celph Titled (produced by Apathy)
12.) "The Fallen Angels" f/ Apathy, Motive & Celph Titled (produced by Apathy) ***cuts by Chumzilla
13.) "The Summer Of Sam" f/ Apathy, Blacastan, Esoteric, Motive, Ryu & Celph Titled (produced by The Snowgoons)
14.) "Tomax & Xamot" f/ Apathy & Esoteric (produced by Will C.) ***cuts by Chumzilla
15.) "Captain Caveman" f/ Apathy, Celph Titled & RA The Rugged Man (produced by Teddy Roxpin)
16.) "Audi 5000" f/ Apathy, Celph Titled, Motive, Ryu, Esoteric & Blacastan (produced by Marco Polo) ***cuts by Chumzilla


As always the rest of the dates can be seen below:


January 29, 2013
Oh No - Disrupted Ads

February 5
Brotha Lynch Hung – Mannibalector
Joe Budden - No Love Lost
Edo G - Intelligence & Ignorance

February 12, 2013
LL Cool J - Authentic Hip-Hop

February 19, 2013
Inspectah Deck & 7L & Esoteric - Czarface

February 26
Ill Bill - The Grimy Awards
Kutt Calhoun - Black Gold
Trinity (A.G., Sadat X & DJ Jab) - 20 In
Planet Asia and Gensu Dean – Abrasions

March 5
Demigodz – Killmatic [January 2013]

March 19
Swollen Members - Beautiful Death Machine
Justin Timbelake – 20/20 Experience

March 26
E-40 - The Block Brochure: Welcome to the Soil 4, 5 & 6 [March 26, 2013]

March, 2013
Tyga – Hotel California

Delayed
50 Cent – Street King Immortal
Lil Wayne – I Am Not A Human Being 2



Other Recent Announcements
Nate Dogg: It's A Wonderful Life [2013]
R.A. the Rugged Man – Legends Never Die [2013]
Cee Lo – Everybody's Brother [2013]
Goodie Mob – Age Against the Machine [2013]
Kool G Rap & Necro – The Godfathers [2013]



Exclusive 411mania.com Interviews
Tech N9ne
Chino XL
Kottonmouth Kings
M.O.P.
Jedi Mind tricks
Evidence
Slaine
Apathy
Tech N9ne
Atmosphere
Saigon
Swollen Members

http://www.youtube.com/user/kidbillrock



TWITTER
http://www.twitter.com/Bill_411mania
http://www.twitter.com/411mania
http://www.twitter.com/411wrestling
http://www.twitter.com/411moviestv
http://www.twitter.com/411music
http://www.twitter.com/411games
http://www.twitter.com/411mma



comments powered by