SPOTLIGHTS
The Low End Theory Hip-Hop News Report 3.08.13: The Return of Hope Edition
Posted by Tony Acero on 03.08.2013

News and thoughts on Kanye West's latest concert rants, Lil Wayne and Tyga's new album artwork, MTV publishing their latest "Hottest MC" list, Will Smith's lyrics getting him into trouble and more!




It was roughly two years ago, March 10th of 2011, when the first edition of The Low End Theory hit the pages of 411mania.com. Young Buck was facing a possible ten year stint in prison, Kanye was getting denied to a London fashion school, and Nicki and Lil Kim had just started their insignificant feud. In a bit of foreshadowing, our first ever Douche of the Week was actually….Chris Brown. And who better to be the Douche than that fucktard, who got himself into more douchery this past week. So, in a sense, this is our two year anniversary column and as much as I'd like to talk over and over about the growth we've experienced, I've saved that for next week. The good news? Someone's baaaaack….

It feels oh so great to be back on this lovely Thursday! While I've been caught up with the curveballs life has thrown at me, I'm safely making it to HOME base with the people and things that matter to me most. Crystal Hope is my name, just in case you forgot…and boy have I missed this! It's been a while since I've actually had time to sit down and gather my thoughts, but I'm here now and man it feels so good.

A special thanks to Tony & Joseph for holding down the fort and keeping The Low End Theory on Point since I've been M.I.A. Alright, so enough with my blabbering. Let get this show on the road.

Video of the Week
Frank Montana ft. Nicki Minaj - Freaks


It's like wakin up with drool on yo pillow…embarrassing but makes sense



- Chris Brown recently threated a valet over $10, claiming he would "turn this whole spot up" if he didn't get his keys. My guess? He was beatin in bowling.
- Will Smith has finally gotten in trouble for lyrical content, albeit misunderstood content. Looks like Willy never needed to cuss to get a rise out of people, he only had to shoot some b-ball outside of school.
- Ja Rule is set to be released from prison in July of this year. Look for him to release a "hardened black man" album soon.
- Lupe Fiasco and Kanye West have both found that the best way to say nonsensical jibberish is during a concert. So if you're looking for comedy with your rap show, you know where to go…

HERE'S YOUR STINKIN ALBUM COVAS

Some new releases have been…well, released! And I've got em here!

First off, we've got the tight jean wearin, awkwardly short and tiresome Lil Wayne, who will be releasing I Am Not A Human Being II on March 26th.




Looks like the Silence lives within Wayne…ha! I wish…

01. IANAHB
02. Curtains f. Boo
03. Days And Days f. 2 Chainz
04. Gunwalk f. Gudda Gudda
05. No Worries f. Detail
06. Back To You
07. Trigger Finger f. Soulja Boy
08. Beat The Shit f. Gunplay
09. Rich As Fuck f. 2 Chainz
10. Trippy f. Juicy J
11. Bitches Love Me f. Drake & Future
12. Romance
13. God Bless Amerika
14. Wowzers
15. Hello
16. Lay It Down f. Nicki Minaj
17. Hot Revolver f. Dre
18. My Homies Still f. Big Sean

It's an 18 track album that is heavy on guest features. I expect to hate most of it, but I'll give it a fair chance and maybe drop a review on the 411 when it comes out. But Wayne…Soulja Boy? Really?

Next, we got Tyga's Hotel California which is set to drop on April 9th!




In five years, we will look back at the top ten worst album covers, and this will be debated amongst critics everywhere as to just how high on the list it belongs. In case you're wondering…we don't dress like that in California.

For all my Trap fans, we got Gucci Mane's upcoming album Trap House III as he looks for a Summer release with April 15th.




The letters make this shit look majestic, only for Gucci to look just a level above broke. It's his style though, and perfectly befitting of Gucci's style. Not quite sure why we need a gun on your shoulder, though, Gucci…them Atlanta kids ain't tryin to see that.

And for those radio hip hop lovers, I got you, too! Will.i.am will be dropping his fourth solo album on March 26th, #willpower, and we got artwork!




#Do #hashtags #make #everything #better?

Your Turn: Who has the best cover of the bunch? Or are they all failures?



HOT OR NOT?

MTV recently dropped their list of Hottest MC's, and every year this list tends to divide the hip hop world. Of course, the severity of this list loses something each year, as we move further and further away from the essence of hip hop, but that's another column for another time. First, let's look at the list thus far:

#10: Meek Mill
#9: Future
#8: A$AP Rocky
#7: Kanye West
#6: Big Sean
#5: Drake
#4: Nas
#3: Rick Ross
#2: 2 Chainz

Number 1 will probably be revealed by the time you read this, so feel free to discuss. If you know me and my column, you already know that I find half of this list to be crap, and the other half to belong on my NOTTEST MC's list. Of course, Nas is on there to please naysayers, but it's not enough for me. First of all, Future doesn't belong ANYWHERE on this list. Big Sean had a horrible year. Rick Ross is Rick Ross. 2 Chainz, as much as I hate to say it, probably gets a spot just because of his profile. Drake, don't even get me started. 2013 is looking better for him as an MC, though, because – you know – he's actually been rapping and not singing like a kid on Barney. I'll say it right now, if it ain't Kendrick as #1 then the list just loses what little credibility it thinks it has.

I'm not the only one upset about the list, as Kanye took to the radio to complain, claiming that the list is probably basing his placement on his compilation albums (which, in a sense, is kind of a dig to his fellow MC's, don't you think?) and not his body of work. I love Kanye, I really do. I think his asshole antics are awesome, and I think he's got the skills to back it up, but man does he put his foot in his mouth sometimes.
Another UMADBRO nominee is A$AP Rocky, who also went on a little bit of a pat-on-the-back rant:

All my videos are shitting on any Hip Hop video out there. Let's be honest. The reason why everybody is wearing gold again is because of your boy. Everybody's wearing diamonds. I'm the one who made the John Lennon shades with the glasses—everybody wearing it now, you see what's going on now. Come on, who brought gold teeth back? Let's be honest...Honestly, I brought it back in a dramatic way. I made braids hot. Let's get off trends.

Because, you know, when you're trying to decipher who is the HOTTEST MC, you focus on diamond –laced glasses and gold teeth, right? A$AP, sit the fuck down.

Your Turn: If you made your own list, who would be on it?




---


For those that have been following the column for a while, you're most likely well aware of the lovely Ashlee Arika, but few know that her siste, Victoria, is just as hot!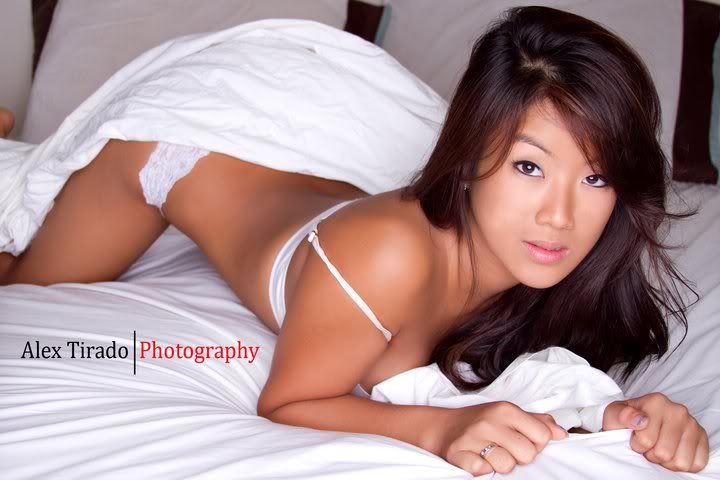 Check out her instagram @msvictoriavu


---


Kanye West
- By Joseph Paige Jr.

Another Thursday has come along and Hip-Hop has not failed on delivering douche worthy material. This week we delve into our favorite bipolar rapper, Kanye West. If you keep up with the latest offerings of World Star Hip-Hop (…I see you watching them twerk videos) you're well aware of Kanye West newest trend of going on long nonsensical rants at his European tour stops. And I kid you not, as I type this column there's now another rant that was posted earlier in the week.

Now anyone who knows me knows that I feel Kanye is highly overrated and thinks he's better as a rapper than he actually is. I'll give him credit where it's due. However, the guy is one hell of a producer! Being that I can care a rats' ass about Mr. Kardashian I did not partake in paying attention into what the man actually had to say. I know what you all are thinking, "Why is he giving an opinion on Kanye's rants when he hasn't even taken out the time to listen to them himself?" Well my answer to that is Kanye has dug himself in such a hole for his "douchery" (I trademarked it) that any argument of his is in my book invalid.



---


As you all may know or remember, I've always had a passion for concerts and shows especially dealing with the Hip Hop world. This March, the 30th to be exact Guerilla Union will be hosting yet another amazing year of Paid Dues! Taking place at the NOS Events Center in San Bernardino, Guerilla Union put together a dope lineup that most have been anticipating. Check it out, and tell me you're not feelin it, I DARE you.




So if you find yourself there make sure you keep a good lookout for the girl going absolutely apeshit for Kendrick & Black Hippy, and make sure you say what up though!

The Low End Theory Team




comments powered by