SPOTLIGHTS
The Love/Hate News Report 03.14.13: Lady Gaga, Taylor Swift, More.
Posted by Gina Bortolussi on 03.14.2013

News and thoughts on Miley Cyrus breaking up with Liam Hemsworth, Lady Gaga's pimped out wheel chair, the feud between Justin Timberlake and Kanye West and more!

Welcome to The Love/Hate News Report, a weekly roundup of six news items from the music scene that I think may or may not change the world.




Lady Gaga's New Ride

LOVE

Lady Gaga underwent hip surgery last month to repair a torn labrum and is now recovering the only way Gaga would (and should), by getting around in a gold and leather wheelchair. Ken Borochov designed the wheelchair after a call from Gaga and came up with a design concept that is nicer ride than most people's cars. I love Gaga's attitude of "Go big or go home" with everything, even a wheelchair. Looks like Gaga will be riding and re-cooperate in style.


Taylor Swift Isn't Getting Your Fan Mail
HATE


Kylee Francescan was throwing out some recycling when she came across a stack of unread Taylor Swift fan mail in the trash. I really hope Tweens don't find out about this and threaten to chop their arms off since they've been known to do some crazy things, but seeing as how the internet exists this story isn't going to stay hidden for long. For them, this is going to be like finding out that Santa doesn't exist (sorry). Here's a statement made by Swift's record company about the incident:

"Taylor gets thousands of fan letters everyday and they are delivered to her management office. After the letters are opened and read, they are recycled. The only explanation for any letters being unopened would be that a small batch of mail that was supposed to be delivered to Taylor was accidentally put with letters headed for the recycling center. We sincerely appreciate Channel 2 bringing this to our attention, and we plan to immediately pick up the mail."

Apparently Swift's management is launching an investigation as to how the letters ended up in the trash. Let me help them out, SHE THREW THEM OUT.

Nicole Scherzinger Wishes She Had Slutted It Up More

HATE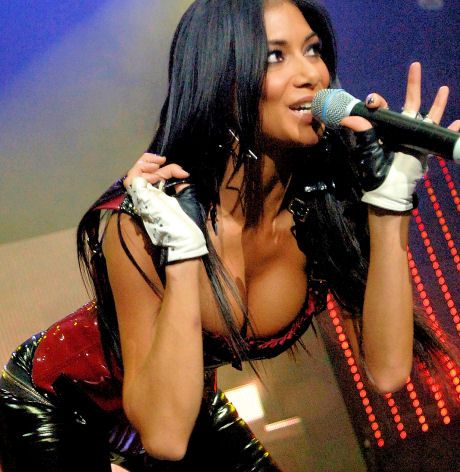 Nicole Scherzinger of Pussycat Doll fame wishes she would have slutted it up a bit more throughout her career to be more successful. Yea, that's why you weren't successful, because dancing in lingerie and swinging on poles wasn't slutty enough. The Pussycat Dolls weren't stripping and humping guys in their videos, but they weren't acting like saints either.

"I come from the most religious family. My grandfather is a priest. And if they support me in all this, and they do, then I'm OK. I'm being sassy and classy; I'm having fun. I'm not coming from a dark place. To be honest with you, I sometimes wish I were sluttier. I'd probably be a lot more successful if I were.
This is such a tough industry, you know. To make it, you really have to sell your soul to the devil… That's probably why I haven't quite reached the top of my mountain. I mean, where's my Tony Award, my Grammy, my Oscar? Why don't I have any of those things yet?"

I can only imagine how hard breaking into the music industry can be, but if Adele and Barbra Streisand can do it without showing a boob, I think there's a bigger reason as to why Scherzinger hasn't won her Grammy yet.


Justin Timberlake Doesn't Hate Kanye West

LOVE






Justin Timberlake killed it as host and musical guest this past weekend on Saturday Night Live. Everyone's talking about Timberlake's changed lyric from "Suit and Tie" which he performed on the show. Timberlake changed the lyric "Aww, s— so sick, got a hit and picked up a habit" to "My hit's so sick, got rappers acting dramatic," taking a dig at Kanye West after West said "I got love for Hov, but I ain't f-cking with that 'Suit & Tie" after Timberlake's song came out. Timberlake said he didn't remember changing the lyrics on SNL when he was on Late Night With Jimmy Fallon and has love for Kanye. Okay, Timberlake, you forgot sure, but props to you for not adding more fuel to the fire…after kind of making the fire bigger.


Rob Kardashian Almost Ruined Rita Ora's Career

HATE




Rita Ora is pissed that Rob Kardashian aired her dirty laundry to fans last December over Twitter. Ora and Kardashian broke up months ago and immediately after, Kardashian went on a Twitter rant and accused Ora of having unprotected sex with 20 men while the two were dating. NOT COOL. Unless she actually cheated on Kardashian, then that's not cool of her, at all, but it seems like his accusations are exaggerated lies made by a scorned lover. Whatever the truth may be, I understand why Ora was upset by Kardashian's words, but I don't know if they were enough to ruin her career. The couple's personal history should have stayed private no matter what, and celebrities really needs to learn what to tweet and what not to tweet.


Liam Hemsworth and Miley Cyrus Broke Up

HATE




Liam Hemsworth was hanging out with January Jones a few weeks ago which sparked rumors of an affair between the two and a breakup between Hemsworth and his ex, Miley Cyrus. At the time of the Jones incident both Hemsworth and Cyrus both denied the cheating rumors, but now Cyrus has been spotted without her fiancé and without her engagement ring. Word on the blogs is that Cyrus is too much of a partier for Hemsworth and Hemsworth likes to look at other women. I liked these two together; I hope that the blogs got it wrong this time. And I hope it wasn't the haircut! (For the record, I really like Miley's new look. She wears it well.).


What I'm Listening To:

It's taken me a little bit to get around to it, but I finally sat down the other day and gave the new Mumford and Son's album, Babel, a listen. There's something about Mumford and Sons' music that comforts me and sucks me in. I love the new album, but I'm a huge fan of their older stuff too.


comments powered by