Hammer of Doom News Report 07.09.13: "Quad Tearing Crab Walk" Edition
Posted by Robert Cooper on 07.09.2013

News and Thoughts on the health of Motorhead frontman Lemmy Kilmister to Metallica playing at Comic-Con and Cannibal Corpse making it into the Buffalo Music Hall of Fame plus I talk a second Big 4 of Thrash and give the album releases for the week!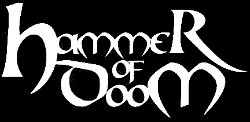 Welcome, Metal Faithful, to the only place more explosive than Michael Bay's house on the Fourth of July, THE HAMMER OF DOOM! I, as always, am your host, the bearded wonder, the man with many cats, your Metal Missionary, and Mr. Fun-Time himself, Robert Cooper. I hope you all had a good holiday here in America. I didn't grill anything or shoot off any fireworks, no, I watched Breaking Bad, ate cereal, and then had a marathon of Kamen Rider Fourze, which had plenty of explosions, since it decided to rain on the 4th. But besides the unrelenting rain, saw "Pain and Gain", wasn't very good, but oh well, at least it wasn't, "Stealth". I hate that this was late again, but I got caught up with some stuff (like visiting a friend of mine, and crying about Anderson Silva losing so stupidly), and couldn't pull this column out in time, but I hope you guys like it a day later than usual.

Anyways, as for the column this week, there was almost nothing for me to talk about, really, in terms of news, I've got barely anything to serve you, I didn't even get 3 topics, hell, there are barely enough free tracks for me to fill that slot. But what I do have, I will promise that it will blow your neighbor's pants off. We've got Motorhead, Megadeth, album chartings, and new music for the week. Plus, I answer YOUR comments from last week, and I continue my Scandinavian tour of Europe in the GLOBAL METAL PICK OF THE WEEK, this week, I visit Finland!

I'm pretty stoked for it, so without further ado, I think you should quiet down so that you can hear...




THE CRIES FROM THE CRYPT!



Coldworker Calls It Quits

I wish I'd have caught them last year, because by what I've heard of their album they have a really nice mix of grindcore with death metal. It sucks to see another quality metal band fall on the field, but I have a feeling the members of this band aren't done with music quite yet.

Metallica To Discuss 'Through The Never' Movie At Comic-Con Then Perform

I'm moderately excited about this movie, I think it's a good move for them to play at Comic-Con, get them some publicity for the movie, what's the worst that can happen......besides Robert Trujillo tearing his quad, Kevin Nash style, doing his crab walk.

Apocalyptica's 'Wagner Reloaded' Kick-Off Streamed Online

I watched a bit of it, while I'm not quite the type for classical, I have a healthy respect for it, and I feel like these guys do a really good job of keeping Richard Wagner's vision and sound.

Iron Maiden's Trooper Beer Hits One-Million-Pint Mark

WOO!, does anyone know if it's any good? I don't drive, personally, but I've always wondered the quality of these beers, so if any one of you guys can tell me, I'd appreciate it.

King's X Fans Cover Cost Of Doug Pinnick's Successful Hernia Surgery

When I saw this, I was thinking that it wouldn't be THAT much. They raised $26,000 between 599 people, that is astounding. Bravo, Metal Faithful, all of you who donated to this cause, I pat you on the back!

Lamb of God Vocalist Randy Blythe Pens Memoir, Signs Book Deal

I would buy this book hardcover, and I've never bought a book hardcover, I am incredibly interested in his thoughts and experiences during this trial process, as well as the before and after. He is a very well spoken man, and I'm cheering him on. I wonder if he'll get some national attention for this? His story is one I could see the mainstream media picking up on.

Todd La Torre Is Confident His Bandmates Will Be Awarded Queensryche Name

I think this would be a pretty easy, you take the judge, and make the judge listen to Geoff Tate's Queensryche, then the new Queensryche album without him. Then do the judging (SPOILER: Geoff would lose that battle).

Motorhead Cancels Remaining Shows On European Festival Tour/ Lemmy says 'We Will Be Back' To 'Kick Everybody's Ass'

This is a follow up to the story from last week, Lemmy needs to heal, because apparently he has a hip injury that has been aggravated as well, so am praying and wishing him to get better. As much as cancellations suck now, I think they are a necessity in the long run when you get a guy like Lemmy, who gives it his all, but is starting to get up there in terms of age. But we all love him, and I can speak for all of us here at 411mania, as well as the Metal Faithful, wish Lemmy the best on his recovery.

Cannibal Corpse To Be Inducted Into Buffalo Music Hall of Fame

I love it when metal gets recognized for something, though they are a weird fit in this Hall of Fame. Considering they are among the likes of the Goo Goo Dolls, 10,000 Maniacs, and the awesome Billy Sheehan, they are an odd fit, but I'm sure they'll bring a Pit of Zombies with them so that they feel like they're at home.

I think more Halls of Fame need to have zombies, speaking of dead things, there is a book I need you to read from called...



THE PSALMS FOR THE DEAD!



Big Four Discussion, again?

I'm not sure if I've ever talked about this on here, I'm sure I have, but this is really the best I can muster this week. Dave Mustaine was asked about who would be in the extended Big 4, he answered that he thinks the fifth member of the Big 4 should be Exodus, which I can dig, because as I've probably talked before about the "Get Thrashed" documentary, and how they went into such detail about how important Exodus were to the early thrash scene, as well as how influental Paul Baloff was the scene in general, and it really helps educate you on the band. So let's say Dave is right, Exodus is #1 in Big 4 #2, where do we put the next 4 bands, and who is the fourth band. We'll have Testament at #2, and Overkill at #3, which I feel is the exact order it should be in. Who is our fourth band? If you want to look at the bands in terms of who is left, I'd have to say that in terms of quality and commercial success, you'd have to give it Metal Church. They haven't exactly reached the heights of the other 3 bands, but bands like Sacred Reich, Flotsam and Jetsam can't cut it in terms of commercial success. Death Angel are the only band that I can really see sniffing this fourth slot. That is really a question that has bothered me for years, who would round our second Big 4? Maybe I gave this question a good answer, but I'm wondering what you guys think, as long as you don't give me something like Machine Head, who aren't really qualified to fit an old school group like this (nor are they truly thrash at heart).



Proof that heavy metal will never die VOL.15 (or was it 16?)

This week we have two albums to talk about, one album is a re-release, and the other a really good album from a Death metal stalwart. So first I want to talk about the re-release Deluxe if Dio's, 'Magica'. While the sales for the album weren't explosive, they were really damn good for a re-release of a newer album. It sold around 1,800 copies, that is a really good number, considering I never saw it in a larger chain store, I'll give it my round of applause for a good number. Now comes the only album this year that I will buy the first week, 'Deceiver of the Gods', by Amon Amarth. I loved the album, and it is pretty good for Top 10 so far this year, and while some people aren't too happy with the album, I say keep complaining, because we need complainers in the world, but I don't think the band is going to do anything differently next time. They managed to sell 17,000 copies and land at #19 on the Billboard 200, which is INSANE, when you consider that they are still a death metal band, and they sold more than Cannibal Corpse, who, while being more extreme, are a bigger name (at least I thought they were, but perhaps I'm thinking in terms of 5 years ago). I'm still incredibly happy that they got that high, I feel like as a purchaser of the album, I helped them get there, which is funny, because I rarely ever buy an album the first week due to the fact I usually don't have much money immediately at hand, so I just wait, but I'd say that this was well worth the purchase. In other countries, they got even higher. Number 3 in Germany, 9 in Canada, 67 in the UK, 7 in Austria, 9 in both Switzerland and Sweden, as well as within the Top 51 of 4 other countries, just a damn good job by Amon Amarth for putting this album out, and an even better job by the Metal Faithful for buying the album.





MERRY CHRISTMAS, CHEAPASSES!



Holy hell, this first song is REALLY good. It comes to us from Dan Swano and Ragnar Widerburg, and together they are Witehrscape. I think I've posted them before, but this was my first real listen in on them, they are great. Here they are with, "Dead For a Day".



Next up is a song that is almost 2 years old, but they now just released the video for it, not much in terms of new music this week, but here is Abysmal Dawn with, "In Service of Time".



Finally, is the video for "Never Coming Back", by Mayhem Festival Tour members, Battlecross



Take in the sounds and sights of the column so far, you good?, alright, proceed with me to...



THE TEMPLE OF THE DEAD!



'War of Worlds' coming to us from Michigan Melodic Death/Thrash band, Battlecross.

'Whiskey Sierra' a new EP by UK Grindcore band, Corrupt Moral Altar.

'Fleshland' by Japanese Death/Doom metal band, Coffins.

'Reign Through Immortality' from Canadian Melodic Black/Death metal band, Erimha.

'Tempest' by California Funeral Doom metal band, Lycus.

'Dead Ends' an EP by Florida Sludge/Doom metal band, Shroud Eater.

'Axe to Grind' coming right at us from Denmark Heavy Metal band, Witch Cross.

So that brings us to the ALBUM OF THE WEEK. So this week was the first week since my return that I didn't have an album that I could say was a big enough name to automatically qualify it for album of the week. I originally was going to go with the new Battlecross, but I decided to give this Sludge metal band from Portland a shot first, and I was happily surprised. The album of the week this week is 'Summon the Faithless' by Lord Dying, it has a pretty sweet album cover to go with the sludgey sound, you've gotta love it!



Here's my Spotify playlist for the week, updated as usual with last week's music.



So once you've finished up your headbanging, because I know you can't help but headbang to this song above, walk with me to the place....



WHERE THE RUNES STILL SPEAK!



So last week we got double the amount of comments than the week before, and I dig that, so keep it up comment section!

Our first comment comes to us from, Michael Link.

The black satan's video is hilarious and is how I look at all black metal bands. Onto a different genre: check out David Benson - a Christian singer that sounds like ozzy and has some pretty doom-laden music.

I see a lot of black metal like that, as well. Not all of it, but when they get to a point of seriousness that is almost parody worthy, then I look at them like I do The Black Satans. I just gave him a listen, he sounds pretty solid, his vocals sound like Ozzy, but I feel like he's trying to too hard to sound like Ozzy, like it doesn't quite sound genuine. But that being said, I am happy that I know of him, maybe I'll run across him again.

The final comment comes to us from, Michael L.

I concur with the lack of some big metal tours touring the southeast US. I live in the Atlanta area, and I really would have liked the chance to see the following tours, which have skipped our part of the country entirely (outside of Florida).

Gigantour
Black Sabbath
Accept/Kreator
Anthrax (Among the Living in its entirety)

I wonder why so many metal tours skip Atlanta, which is a big hub for international travel, with the busiest airport in the US. You would think that they'd want to make a stop there on their way to their Florida gigs.

Hell, I consider myself fortunate that Iron Maiden played Atlanta on the last tour, which was the first time they had done so since the early 90's. Who knows if IM will return on future tours?

It annoys me to no end about how tours skip this section of the country, I swear it's because of the whole bible belt deal. I can't imagine what I've been missing out on in NC compared to Atlanta, because you guys seem to get a lot more traffic than this state does. Though I know Iron Maiden and MEgadeth are playing in Raleigh in September, but the tickets are too much (lawn seats are over $50 last time I looked, YAY unemployment). I think we got Accept/Kreator here in Charlotte, but I'm not positive. It is odd that bands don't stop in Atlanta on the way to Florida, seeing as it'd be a nice break from the bus. Though I do wonder why they always have to go to Florida, I assume due to the scene being much better there.

Before I get to the awesomeness that is the GLOBAL METAL PICK OF THE WEEK, first I must plug a few things, not as many as usual, but just a few. So I FINALLY got out an album review for Melvin's 'Everybody Loves Sausages'. It was like two months in the making and was well worth a listen, I think it's a pretty good read, so go find it HERE!  I also was in the Top 5 this week in the Games Zone, we ranked our Top 5 Games of the 80s, and I didn't get eviscerated by the comment section, so that was a positive, find it HERE!

In terms of podcasting, I was at my usual post on Stephen Randle's Co-Operative Multiplayer Podcast along with Sean Garmer, Jeremy Thomas, and Randle himself.  We talk video games (duh), more video games, anime, metal, video games, and Randle forebades me from mention his or Jeremy's ages ever again. It is below.



This Tuesday, Mark Radulich and I will be tackling the new Megadeth album, 'Super Collider', I don't know if I've ever been just incredibly pissed during an album review on the podcast, but I think this might be the day I am just angry. So if you want to hear a Mountain Dew fueled tirade against that shitstain of an album, tune in to the Radulich in Broadcasting Network or blogtalkradio.com, Tuesday at 9 pm EST.

FINALLY!, The Three Beards, the show where I am a co-host and we talk about anything and everything you could ever care about. Though this week, I was missing, because my stepdad wanted to go see 'Pain & Gain', though sadly, I really wish I'd have stayed home (didn't like the movie), but regardless, go give my boys Kevin and Fletcher, with special guest Jeff the Asshole (ASSHOLE) a listen. I'll be back this week!


So if you survived my plugging spree, I'm here to give you the GLOBAL METAL PICK OF THE WEEK! After our trip to the other home of death metal, we are going to a place where I'm not quite sure their metal identity (because even I get lazy sometimes), so I couldn't quite pin down what to pick out, so I just went with a genre I've been craving. Since I started listening to the new Autopsy right before I picked the band I'd feature, I went with some death/doom. The band that I picked is a fairly new band called Krypts, I really enjoyed the song I'm posting below, and it's off of their new album, that I need to keep an eye on before I forget about it. But enough of my rambling this is Krypts with a song off of their debut album, 'Unending Degradation', this is, "Beneath the Archaic".



Alright,so if you have any opinions on the column, some genre or country that you want me to feature in the global metal column, or if you just want to talk metal you can e-mail me at themetalcoop@gmail.com, tweet me at @themetalcoop or comment below!

So in the words of the Godfather himself, Chuck Schuldiner, KEEP THE METAL FAITH ALIVE \m/

and one more thing before I go....

comments powered by