Hammer of Doom News Report 08.19.13: 'Dale Torborg' Edition
Posted by Robert Cooper on 08.19.2013

News and thoughts on KISS putting their name behind a Los Angeles-based Arena Football League team, Slayer graffiti being called a hate crime, Anthrax naming their official second guitarist and more!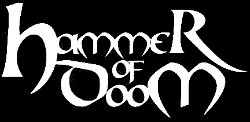 Welcome, Metal Faithful, to the only place less happy than a funeral procession, the HAMMER OF DOOM! I, as always, am YOUR host, the metalhead, corndog, the bearded wonder, Mr. Fun-Time himself, Robert Cooper. This week was probably one of the worst weeks I've had in a long time. Tuesday, I had to put another cat down, this time it was Silky, who was always more of my moms' cat than mine, but it still hurt to have to put her down, fucking cancer, man, it's a heart breaker. I also had problems with college, because I forgot to do FAFSA, like a dumbass, so I'm having to borrow money from my parents to pay for my classes and then pay them back when I get my loans. But on the bright side of the week, beat Castlevania: Lords of Shadow, it was a superb game with a satisfying ending, I also beat Pokemon Blue, who knew that to beat the Elite Four, all I needed was for my Zapdos to get to level 51, and learn Thunder. I also saw Kick-Ass 2, it was okay, nothing amazing, but it was fun.

BUT, enough about me, this week in the Hammer of Doom, we are a tad short on main stories, but I promise you that they are more than interesting enough to hold your eyes to the screen. I also have new releases, lots of them, just not many that are of note. I also will answer YOUR comments from last week's column discussing Five Finger Death Punch, and I go to Moldova for the GLOBAL METAL PICK OF THE WEEK!!!!

I know nothing of Moldova, but do you know what I do know about?, I know a lot about....



THE CRIES FROM THE CRYPT!



Slayer Graffiti Confused With Hate Crime

This is pretty cut and dry, and hilarious, though I wont make fun of the cops too much, they don't know any better. Someone spraypainted a pentagram with Slayer beside it, and what was a vandalism crime got pushed up to a hate crime for a little while, for some odd reason.

Scott Ian says Jon Donais 'Is The Guitar Player In Anthrax'

I'm glad, the man is a really good guitarist, so he deserves the gig. Though I must ask what his future with Shadows Fall is if he takes the spot in this band?

Gene Hoglan On Dark Angel Reunion Rumors: Not So Fast

What this is about is everyone (myself included) blowing the talks between Gene and vocalist Don Doty about getting the gang back together for Festival Season 2014, he said that they are moving slowly, because he is a busy man, so cool down on the excitement.

Metallica Rocks China With Two Sold-Out Shows

I love it when bands and companies make it into China to sell their wares, China really is a red wall sometimes, so it's great that a band like Metallica can get in, and hopefully they wont be the last metal band in, either!

Blue Öyster Cult Founder Allen Lanier Dead At 66

Prayers and well wishes go out to his family, this is a sad lost for Rock N' Roll, Metal Faithful, damn COPD.

Toxik Taps Former Death/Obituary Guitarist Ralph Santolla

I don't think they could have picked a much better guy for the job of second guitarist than the legendary Ralph Santolla. I'm pretty late on these guys, but by what I have heard, they're a damn good band, and I'm excited for this rebirth of theirs, now even more so after this news!

'XXX: Three Decades Of Roadrunner Records' Box Coming In October

Go check out the tracklist online, it's pretty damn solid, until we get to the end with the rock CD, it has Nickelback, talk about an out of place artist on what is pretty much a metal set.

Jason Newsted Joins Megadeth On Stage For Performance Of Metallica Classic, "Phantom Lord"

Just watch, it's so awesome, and I, of course, speak as a fanboy.



Have you finished squealing like a girl yet?...Me neither, oh well, finish squealing and come with me and read...



THE PSALMS FOR THE DEAD!



Next, We Get Dale Torborg!

So this is pretty big news,at least in the sports world, KISS are backing an Arena Football team, and they're putting it in Los Angeles. That's pretty huge shit for the city of LA, maybe not right now, but in the long run, if the AFL team can do decently, maybe it'll speak out to the NFL and they can put a team there, as long as it isn't my Panthers, because if they do that, they can go to hell. The AFL team will be called the LA Kiss, and you can bet your ass that the KISS logo is going to be the main logo for this team. I find it to be pretty damn cool that they are backing this, because I'm a huge sports fan (surprising, I know, consider I have an obsession with metal , Japanese childrens' programming, and science fiction)and I know that the media, as well as the fans of football have been looking for a new team since the Raiders left in 1994.

I do have to calm down from my geekiness to say that while I think this is a pretty cool idea, it could also go REALLY REALLY BADLY! Just remember what happened last time KISS stepped outside of the music realm and left WCW with the greatest superstar to ever grace their ring, the KISS Demon! All kidding aside, he was quite the turd, and I'm hoping not an example of why Gene and friends don't need to get involved in things that have nothing to do with music, or funerals, because that KISS coffin was the coolest thing ever!



God Forbid They Stop Making Music

It's a good thing that I'm late with this column every week (still really sorry about that, Jeremy), because if I didn't look at blabbermouth at 11 pm this Sunday night, you wouldn't be getting this full story here. So the original blurb was going to be about how Doc Coyle has left the band, and I was going to talk about how that stinks, though I'm not a huge fan of the band, I know the guy is a big piece of the band. Then it was announced that God Forbid are done for as a band, and I was like, well, shit, I guess I should bump this up to the main stage now, shouldn't I?

So here it is, what I was about to speculate happened, I guess without Doc, they couldn't on, which happens, I'm sure we've all seen bands that, without that one guy, they'd be done for. I'm not a huge fan of theirs, I kind of missed the bus on them, their 2009 album came right as I was transitioning from loving metalcore to getting into the more traditional genres of metal, so I only heard a few songs of theirs and moved on. It is always a shame to see a band decide to call it a day, even if you weren't a fan of them, knowing that you probably wont be getting anything new that will get you to listen to them. Because nowadays, that's how I really discover bands, you guys have seen my Spotify playlist, you know how much shit I have to get done before the end of the year, so going back and browsing band discographies is a bit hard for me to do. But oh well, I might go back and listen to them now, kind of like how I want to go watch, 'The Sopranos' after James Gandolfini died, to see what everybody was talking about.



Nothing to keep metal alive this week, besides Newested's new album, 'Heavy Metal Music' getting to Number 40 on the Billboard Top 200. Good job, Jason Newsted, I will be getting to your album VERY soon since last week was awful for new releases.



MERRY CHRISTMAS, CHEAPASSES!



First up is a stream of the new song by Joey Jordison's new band, Scar the Martyr,it is titled, "Soul Disintigration'.



Secondly is a download of a song called, "Ghastly" from the newly reactivated Broken Hope. (the download can be found HERE!)



Finally, is a stream of the new Satyricon song, "Our World, It Rumbles Tonight'. It's interesting, tell me what you guys think, Metal Faithful, I know Satyricon have been kind of polarizing for a lot of people lately.



Just don't debate to hard, or else you'll be sent to...



THE TEMPLE OF THE DEAD!



'Anti-Cosmic Tyranny', by Canadian Black metal band, A.M.S.G.

'Apocalyze', by Japanese Industrial Metalcore band, Crossfaith

'The Horizon Went Black' by Finnish Melodic Death/Thrash band, Deviant-Tactics

'Pulse' from Illinois Thrash metal band, Diamond Plate.

'Expanding Towards Collapsed Lungs' by Michigan Brutal Death metal band, Saprogenic

'World of Evil' by Pennsylvania Traditional/Doom metal band, Sinister Realm

'Powerdose' by Finnish Traditional/Speed metal band, Speedtrap

'Colours in the Dark' from Symphonic Metal solo artist, Tarja

'The Elk' from German Black Metal band, Thranenkind

'In Charge of the Scythe' by German Melodic Power metal band, Thunder and Lightning

'In Love There is No Law' by California Stoner/Hardcore/Doom metal band, Twitching Tongues.

'Dark Half Rising' by Finnish Gothic metal band, Unshine

'Alll Uproarious Darkness' by Texas/Georgia Death metal band, Vasaeleth

That brings us to the ALBUM OF THE WEEK! This week it is an import from Italy with the awesome Fleshgod Apocalypse. This new album is titled, 'Labyrinth', and if I may call it before I listen to it, I think that this album will be one of my favorite albums of the year! Now here is to hoping I don't jynx it!



As for albums I listened to last week, I honestly didn't have time to listen to a thing, but I'll make up for it next week, promise!!!

Speaking of more promises, this is a promise that is a given, the Spotify playlist for the week!



I'll finish the promises later, after we enter the room...



WHERE THE RUNES STILL SPEAK!



First comment come to us from JT

".....but they're still an awful, generic, and douchey band. That's the most I'll say unless I get asked why I detest them."

I'll ask why. =)

Ah!, somebody took my bait! I wanted to go on a small rant about Five Finger Death Punch, but decided against doing so without being asked, because I didn't want to piss anyone off or go on and turn of you guys, so thank you for asking. Now I'll be honest, detest may be a bit big on the hatred scale for this band, because I think maybe I'm too harsh on them. I see them as the lowest common denominator in metal, not many songs I have heard from them come across as genuine, and their tough guy with a heart act is laughable at times. I also find their lyrics to be pretty bad, maybe that's because their lyrics are trying to speak to me, and I wont listen, but it just puts a frown on my face at the fact that they don't seem to have much effort in them. I think perhaps another of my problems with them is the same problem I have with bands like Hatebreed, where they're trying to hard to be aggressive and uplifting at the same time, and coming off as lacking in both in my ears. I will give them one thing, though, if I had gotten into them in 2007, when I first really started getting into metal, I might think of them differently, because they spoke to that angry teenager that I was at the time, but I'm not even close to that person, and they don't connect with me at all. If I met the guys in person, I might warm up to them more, I know after I met Jamey Jasta, I didn't dislike Hatebreed as much, because he was so nice, I kind of felt like I should try to like their music. But until that day, I'll close by saying that I think that they're a hard rock band trying to be tough and metal, and not succeeding in my eyes.

The next comment comes to us from comment section veteran, Michael L.

I don't know if you've caught this, but on Bravewords.com, there is a story that a Russian politician is trying to get Sabaton barred from playing Russia, because he believes (or at least is pretending to believe) that the band consists of Nazis based on their lyrics. It just goes to show that stupidity about metal is not limited to the southern religious right.

I didn't catch that, I didn't even catch it on blabbermouth, which I use for news stories, but I'm not all too surprised at this news. Russia seems to have their heads in their asses when it comes to many things, metal included. I don't know what the hell could convince the asshole politician guy to see them as Nazis, like I really can't see anything that would peg them as Nazis. Then again, maybe it's just the fact that they aren't Russian, and anyone who isn't Russian, is a Nazi in his eyes, I don't know. But it's sad that Russia might not be able to get a little Swedish power metal in their lives.

The next comment comes to us from, Alan

I won Fact or Fiction? I totally forgot that I even participated last week. Fun. You are a worthy opponent. We'll do it again sometime. Maybe we can fight over metal in the music zone, although my tastes are quite a bit different from yours because I like Five Finger Death Punch. I am enjoying the new Chimaira, though. It is tons better than their last few albums.

EZ

Damn, I lost to a guy who didn't even remember he was in it! It was great to face you, man, and I would totally love to debate metal with you. Hell, I've wanted to get all of the 411 metalheads and one place and talk metal sometime, maybe somewhere in the future I can whip something up! I doubt our tastes are THAT different, I just don't like 5FDP, some hair metal, and deathcore, definitely deathcore. The new Chimaira brought more to the table than I had expected, so I was pretty happy to have listened to it.

The final comment comes to us from, BobbyYoungblood

I am sorry but I personallly would put 5FDP above Chimeria anyday. I know its all subjective as Pepsi Coke or RC! Sorry had to include RC. I feel like 5FDP has alot of talent in the guitar dept and as a singer/guitarist that where it counts for me aside from the song writing which I think they do a decent job at.

Oh god, why did you bring RC Cola into this? I hate that stuff, it's like low grade Pepsi, mixed with sludge. I do see their guitarists as pretty good, I will give them that, but I think their song writing on a lyrical level to be quite hollow. Though I must ask, do you dislike Chimaira, or is it just that you'd prefer them under Five Finger Death Punch?

Plugs, plugs, plugs, I got plugs to do. In the Movies Zone, I participated in the movies Fact or Fiction, you can find that HERE!  In the Music Zone, I was in the Buy or Sell, Jeremy (HI, JEREMY!) really put me against some shitters this week, but I survived, so you can find that HERE!  And that is all for the written plugs.  Now for the audio ones.

This week on the Metal Hammer of Doom, the Mandated Reporter and I are hopefully going to be joined by 411's own Sean Garmer to review Amon Amarth's, 'Deceiver of the Gods'.  I'm looking forwards to it, and if you are, too, should be around 9:15 on blogtalktadio on the Radulich in Broadcasting Network.  I also was at my usual spot on Stephen Randle's Co-Operative Multiplayer podcast, but we had technical difficulties, so that podcast will  forever be lost to time.  So in its' place, Sean Garmer and I took guest spots on Randle's TWNE After Dark podcast where we previewed Summerslam! You can find that below!



Finally, you should check out my podcast with two good friends, THE THREE BEARDS! You can check us out on itunes (rate/review us, 5 stars please, I'll love you forever), as well as on facebook at www.facebook.com/TheThreeBeardsPodcast!!!!!!!! We talk about any and everything, and are hilarious while we do so,MArk Radulich loves us, and so will you!!!!

Alrighty, Metal Faithful, so here we are yet again, closing the doors on another edition of this fine column. What will I be giving as a parting gift? The GLOBAL METAL PICK OF THE WEEK, of course! This week we continue along the ol' Bloc and travel to a land that I know absolutely NOTHING about, Moldova. Now if any of you, the Metal Faithful, can inform me on some awesome things about Moldova, I'd appreciate it! Now on to the metal, just like all cold places, they have tons of black metal, and that's what I have for you this week. This time it comes in a symphonic package, off of the album, 'The Destruction of Centuries Old Doctrines', this is Advent Fog with, "White Jihad".



Alright,so if you have any opinions on the column, some genre or country that you want me to feature in the global metal column, or if you just want to talk metal you can e-mail me at themetalcoop@gmail.com, tweet me at @themetalcoop or comment below!

KEEP THE METAL FAITH ALIVE \m/

and one more thing before I go....

comments powered by