Hammer of Doom News Report 08.26.13: 'Clerical Error' Edition
Posted by Robert Cooper on 08.26.2013

News and thoughts on Megadeth's new live album getting a release date, Journey's Neal Schon getting into the Oklahoma Music Hall of Fame, the KISS Coffeehouse closing down and more!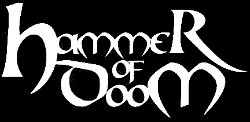 Welcome, Metal Faithful, to the only column on this site more reviled than the Ben Affleck casting choice, THE HAMMER OF DOOM!!!! I, as always, am your lovely host, one of the three beards, the metal missionary, the keeper of the sabbath stones, Mr.Fun-Time himself, Robert Cooper! This past week has been okay for me, started at Winston-Salem State University, my classes aren't bad, but I have a bit of culture shock there, if anyone knows anything about me and then that college, you'll know why. But it's not too bad, made a friend or two, might have snagged a job, saw 'The World's End', it was a great time, a funny movie with a lot of heart to it. I also saw, 'Now You See Me', which was okay, the plot was fun and fresh, but the characters left a lot to be desired.

Speaking of leaving a lot to be desired, the news for the column this week was few and far between, but I'm trying to work with what I can give you. But I do have 3 streams for you, tons of albums to tell you about, I answer YOUR comments from last week, and I take you along the former states of the Red Terror with this week taking you to Romania! I know nothing about Romania....anyone wish to educate me on Romania?

But before you do that, quiet down so I can hear..



THE CRIES FROM THE CRYPT!



Lamb of God Frontman Randy Blythe Releases 'Prague: The Devil Is The Details' Short Film

Very interesting watch, you can view it HERE!

Journey's Neal Schon To Be Inducted Into Oklahoma Music Hall of Fame

That's pretty awesome for him, though I think he should've gotten in before Carrie Underwood, but what do I know about music, right?

Carl Palmer Says He Turned Down Opportunity To Play With Black Sabbath

It'd have been interesting to hear the two parties mixed together, but Palmer's work with Asia came first, and that's understandable, though I still would like to hear the him playing with Sabbath.

Previously Unheard Guns N' Roses Song Surfaces Online, Vanishes

Not a huge news story, because I didn't get to hear the song, but I do wonder if it'll take 10 years to come back out again?

Complete Recordings From Pre-Tiamat Band Treblinka To See Light Of Day

IN a 3 Disc collection, no less! I've not heard the Treblinka demos, but I have heard that they're pretty good, so color me stoked for it!

'Kiss Coffeehouse' To Close In September

Damn, it stayed open for over 7 years, that's impressive for a gimmicky coffee place, sad to hear about them going, but hey, they had a good run!

MEGADETH: 'Countdown To Extinction: Live' Due In September

I don't have the cash to pick it up when it comes out, but I'd be happy to rent it, or something like that. I'm curious to see how Dave can manage the vocals on this album, because I think that he did a pretty solid job of Rust in Peace when they played it not too long ago, so here's to hoping it'll be good!

MPIRE OF EVIL Forced To Pull Out Of RAVEN's North American Tour

Due to a wonderful "clerical error", it makes me cranky when this happens. I was really hoping to see them with Raven in Charlotte, I might even go now, because I would really be going to see Mpire, since I don't know much of Raven. But I guess this is the perfect time to ask you guys, the Metal Faithful, any Raven songs you can recommend me?

Documentary About Syrian Metal Band Netherion In The Works

For anyone who doesn't know, the middle east isn't exactly a mecca (AHA!) for metal, and any metal band that gets out of the country and does pretty well for themselves is a band that deserves infinite praise. Hopefully this upcoming documentary will raise awareness of them and get them a few fans. I know when I heard about, 'Heavy Metal in Baghdad', I went and looked up the band that was in it, and came to like them well, so maybe the same will happen for others when they hear about Netherion.

Watain's 'The Wild Hunt' Tops Official Swedish Album Chart

I've been hearing different things about the album (it's on my Spotify playlist), but the fact that a fucking black metal album topped a chart anywhere is cause for celebration.

While I go get the streamers and corndogs, you get out your hymns and read from...



THE PSALMS FOR THE DEAD!



I hate these headlines, RIP Joey LaCaze

This week has sucked in terms of quality news for me to use this week, it really has, and I hate that I have to talk about another metal musician who has succumbed to the unfortunate disease that is time. Joey LaCaze, drummer of Eyehategod, passed away this past week at the age of 42, which is way too young to die, if you ask me. I don't know how he died, I'm not really worried about that at the moment, as a casual fan of Eyehategod, I'm really sad to see Mr.Lacaze go, beccause by what I've heard of him in Eyehategod, he was a pretty damn good drummer, and by all accounts that I've read over the past few days, he was a really nice guy. Prayers and well wishes go out to his family as they start the healing process that comes with losing a loved one, for he'll be truly missed.



DON'T BE A DICK!

Sometimes, people make me wonder why they even go to a concert, because lots of them just don't know how to behave themselves. Why am I talking about this, you ask? Some dickcheese at the Melvins concert in Vancouver, BC up in Canada decided to throw a plastic shot glass at the one and only King Buzzo. King Buzzo was not please, he took his guitar off, unplugged everything, and said "Fuck you guys", and left. The guy who threw the cup was eventually found and taken by security and identified by Buzzo, who then left in a vehicle. The asshole who threw the bottle was later arrested. Stuff like this peeves me greatly, you pay money to go see this great band, and they play for you, and you pay them back by tossing a cup at them. I think Buzz had all the right in the world to tell the band to pack their bags and go home. That is highly disrespectful, especially after you had been playing for a long while, which they apparently had been. If you were to argue that he was being too thinned skin, I could see what you were saying, but I think after being on the road and playing for so long, you don't put up with bullshit. Just look at Dave Mustaine, he doesn't put up with a single thing, and he can and well tell you off and/or have a temper tantrum if you piss him off. Granted, that might be because he is a bit of a baby at times, but most people know not to fuck with him, because he can AND HE WILL leave. People really need to learn respect, if you feel that aggressive, go jump in a pit, or go punch something when you get home, don't throw cups at people on stage, because that makes you a dick.





MERRY CHRISTMAS, CHEAPASSES!



Coming to bat first is a video for the song, "Dreamscape" by the band Mygrain.



Next up is a full album stream of the new album by Watain, 'The Wild Hunt'.



Finally, is a stream of thee new song by Fates Warning, and it is called, "Firefly".



I was surprised at the heaviness of that Fates Warning song, you know what I'm also surprised at, how many people are in...



THE TEMPLE OF THE DEAD!



'The Poet and the Parrot' by Swedish Hard Rock/Heavy Metal band, Bombus.

'Dead Rising' by Finnish Doom metal band, Church of Void

'Misconception of Hope' by Swedish Death/Grind band, Infanticide.

'The Cancer Within' by Florida Melodic Black/Death/Thrash (damn, metal-archives, make up your mind) band, Infernaeon.

'Earth' by New Zeland Death/Thrash band, Monsterworks

'Power' an EP by California Symphonic Folk/Death metal band, Nekrogoblikon

'Black Masquerade' a Live CD/DVD coming to us from UK rock legends, Rainbow.

'Das schwarze Einmaleins' by German Gothic Folk metal band, Saltatio Mortis

'Future Memories' by German Symphonic Metal band, Secrets of Sin

'Det Personliga Helvetets Spiral', by Swedish Black metal solo act, Svart.

'Icarus' by German Doom metal band, Wheel.

Now we are at the ALBUM OF THE WEEK. This week's is a bit different from what I usually pick, because usually I pick what I am most excited about, this week, this is the only band I've heard of out of all of this bunch. 'Winter Kills', is the new album from California Melodic Death metal band, Devildriver. They haven't quite won my trust over, because I only know them in passing, but you can bet that I'll let you know how the album was next week.



As for what I listened to last week, I finally got to the new Phil Anselmo album, it was interesting, very raw, but I enjoyed it, overall. I also finished up the debut album by Cryptic Forest, it was a great mix of black metal and thrash sensibilities. I also listened to the new album by Fleshgod Apocalypse, I jynxed it, the album did NOT live up to its' predecessors, it was way too much symphonic in the death metal, they tried to hard for epic, and ended up with pretty lackluster. Though the drumming was insane!

Now for the movers and shakers of the metal world in the last week.

-Jason Newsted has signed an administration agreement with Imagem Music.

-Dynazty signed with Spinefarm Records.

-Tad Morose signed with Despotz Records.

-Kyng signed with Razor and Tie.

-Eat the Gun signed with Steamhammer/SPV

Thrilling are the movers and the shakers, but do you know what's even more thrilling?, Coming with me to the place...



WHERE THE RUNES STILL SPEAK!



The first comment from last week comes to us from BobbyYoungblood

R.C. will always hold a special place in my heart as it was the soda they served a the pizza place in the town I greww up in at in the summer after 9 pm as a kid I could get 2 slices and a can of R.C for like a dollar or a dollar fifty depending on how the day was for them.

Chimeria ws just a band I could never get into.They were to "rappy" for me I guess, they always fell into the HeaD PE world with me, or Ill NIno. Which they (IllNino) are cool people, ate with them in a diner in Bayonne years ago and told them strait up that their music sucks but they are cool people, which they laughed.

Ralph Santala also played for Deicide and Iced Earth or quite some time. He is a very underrated guitarist in my opinion. Glad he has a new gig.

God Forbid were another "hometown" band for me and were one of the few hardcore bands I could dig. Idid find the news of their break up kind of funny though as a friend of mine and I were having a good laugh that he is in a GnR tribute band playing at Dingbats in Clifton NJ soon, and we both said why the hell isnt he just playng with GF instead of doing that crap. I guess theres my answer. lol

Damn, dude, that is quite the deal! I don't even think you could get the can of RC for half of that nowadays. Chimaira don't really do the whole rap metal thing anymore, I've not heard their earlier albums, but I do remember hearing about their nu-metal roots. This latest album of theirs does verge on metalcore, ,but it also has many other flashes to it that make it a very good listen. I had a similar experience with Jamey Jasta when he was taking pictures and signing autographs, and the dude at his table was trying to hock Jasta's solo album, I just said as nice as I could that I'm not a huge fan of his work with Hatebreed but love his music with Kingdom of Sorrow, so I'll pass. Jasta just laughed and was like, "Cool, I understand", and signed my poster. Instantly made me a fan of his, and he was wearing a Sodom shirt, so it made me respect him even more.

I agree about Ralph Santolla, every time he lands a gig, it is well deserved.

I never gave them much of a listen, but I might,because I can dig hardcore under the right circumstances. That does probably add more speculation to the pyre, right? Maybe he was leaving God Forbid for his cover band, which would make me laugh, a lot!

Our second, and final, comment comes to us from the man, the myth, the Michael L.

I don't have a problem with the Kiss/Arena Football League connection. Yes we all know Simmons is a greedy asshole who is only about the dollars (and he'll be the first to admit it). However, provided they don't go overboard, this has the potential to be a pretty cool thing. The problem with the WCW/Kiss connection was summed up by the idea of a Kiss demon character. If Kiss had simply done an appearance on a show like many other bands at the time, that would have been OK, but shoehorning in a character to meet some contractual obligation pretty much guaranteed the fans would turn on it.

BTW, I remember tthat the Demon was guaranteed a PPV main event, and I laughed my ass off when WCW put the character in a midcard match against the Wall, labeling it a "special main event attraction." To this day, I'm still shocked that Simmons and co didn't sue for breach of contract.

You do bring a good point. I don't see this football team getting crammed down the throats of the fans like the KISS Demon was, unless ESPN gets on this and turns it up to Tebow levels of coverage. Damn, that is hilarious, I didn't know that WCW out loopholed KISS, I'm impressed.

So before I round out the week in the usual manner, it's PLUGGING TIME! So in my print plugs, I was in the Top 5 in the Music Zone this week, the topic was, Top 5 Worst Songs of the Summer, my list was particularly fun and venomous, you can find it HERE!  I also was in the Fact or Fiction in the Music Zone with Stewart Lange (who gave the greatest answers in history, no joke, I'm still laughing), you can find that HERE!

Now for the meat of my week, podcasting.  I was at my usual seat on the Co-Operative Multiplayer podcast, Randle instituted a scoring system, so now I can tease you with the question of did I win?  You'll know the answer if you've listened before!  You can find it HERE!  I also was on co-host on my podcast with the mandated geriatric reporter, Mark Radulich, the Metal Hammer of Doom (almost named after this podcast).  This week, we reviewed one of my favorite albums of the year (and the only one I'll buy the first week), 'Deceiver of the Gods' by Amon Amarth.



and lastly, I would like to plug the podcast that is the lovechild of three men, The Three Beards! Go rate and review us on iTunes (5 stars please), and go like our facebook page at www.facebook.com/thethreebeardspodcast. This week is fun, because we have Jeff the Asshole (ASSHOLE!) on, and we talk about the Exploding Anus Deathmatch!

Alrighty, Metal Faithful, yet another sun is setting on the Hammer of Doom, but before the night takes hold, it's time for the GLOBAL METAL PICK OF THE WEEK! This week, I'll be taking you further south down the Bloc as we set our anchor at Romania. I know little about Romania (the US education system at work), but I think I found a band that will do a good job of giving you a taste of their folk sound. Buciem are a progressive folk metal band from Romania who weave tales of Romanian mythology and history, and this song here, "Razboieni" is from their album titled, 'Voievozii'. It's a fairly unique listen, for sure!



Alright,so if you have any opinions on the column, some genre or country that you want me to feature in the global metal column, or if you just want to talk metal you can e-mail me at themetalcoop@gmail.com, tweet me at @themetalcoop or comment below!

One final thing, if any of you are in the Winston-Salem area on September 19th, the Marketplace $2.50 Theater off of Peter's Creek Parkway are showing the live Specticast of Dream Theater's Live at Luna Park, tickets should be $10, you should totally come and meet me there, I'm not hard to find, seriously, I'm like 6'2, you can usually see my head above most people.

In the words of my master....master, Chuck Schuldiner,KEEP THE METAL FAITH ALIVE \m/

and one more thing before I go....

comments powered by