Hammer of Doom News Report 09.18.13: 'Epic Quest for BS' Edtion
Posted by Robert Cooper on 09.18.2013

News and thoughts on the possibility of a new Metallica LP, Iron Maiden's frontman being accused of making drones for the US military, Sebastian Bach and Nikki Sixx getting into a war of words and more!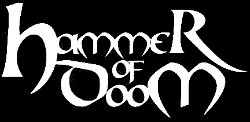 Welcome, Metal Faithful, to the only place more exciting than a Gamestop during the GTA V release, the HAMMER OF DOOM! I, as always, am your host, the man with the plan, the tardy turd, your metal missionary, and Mr. Fun-Time himself, Robert Cooper. My week was pretty eh, I saw 'The Conjuring', and it was a great movie, though the atmosphere was ruined by teenage girls behind me talking about how scared they were the whole time, annoy me to no end. But I did make friends with the people working at the movie theater, so if you're reading this, Kendall, what's up, dude! (also,hi Carly!) But everything else this week was working on homework, or watching the Panthers lose for the second week in a row, it was heartbreaking! Before I move on to this week in the column, if you have nothing to do on Thursday of this week, and have $10 at 7:30 at the Marketplace Theater on Peter's Creek Parkway in Winston-Salem, they're showing the simulcast of the Dream Theater's Live @ Luna Park, so you should totally go and experience the metal with me if you have the time!

But this week in the HOD, we have some news, new music, 2 free streams, answers to YOUR comments and questions from last week, and this week in the GLOBAL METAL PICK OF THE WEEK, we are going to the homeland of wrestling, Greece! And it is only a day late (maybe)

But why worry about my lateness when you can worry about hearing...



THE CRIES FROM THE CRYPT!



Byzantine Announces New Members

A new bassist and guitarist, and their new guitarist is their old guitarist, Brian Henderson, so if you're a fan of their,, rejoice!

David Draiman And Yena Yada Welcome Baby Boy

Good for them, I know David Draiman has been excited about being a dad, so good for him, and Lena, who was a WWE wrestler for a little while, you might remember her since this is a wrestling site!

Robert Trujillo Admits New Metallica Album Got 'Sidetracked'

You don't say! Well hopefully this new album will be better than the last one!

Iron Maiden Singer Denies Manufacturing Drones For U.S. Military

Some dumbass wrote an article accusing Bruce of making drones for the military, which is stupid. The guy seems to be pretty against violence and war, but I guess just like accusing them of devil worship, the mainstream media will probably jump all up on this like there is no tomorrow.

Behemoth's, 'The Satanist' Cover Painting To Include Nergal's Blood

That is probably the most metal fucking thing I've heard in a long time!

U.K. Death Metallers Cancer To Reform For Festival Appearances

They're a band that I'm that familiar with, but what I have heard of them, I adore, so I'm happy that they're back for at least a short time!

Flotsam and Jetsam And Hirax's 'Metal Apocalypse' European Tour Canceled

This fucking sucks, I really like Hirax, and dig me some Flotsam, and apparently due to things beyond the control of both bands, the tour had to be cancelled, which is a shame. Hopefully they'll be able to make it work next year!

Dirge Within becomes The Bloodline

Not the most creative name, but if they feel like it's better representative of what they're playing, and that it doesn't sound like Dirge Within, they have the power to change their name. Though I feel like their name recognition will be diminished a bit due to this choice.

Avenged Sevenfold Singer Responds To Machine Head Frontman's 'Covers Album' Critique/Machine Head Frontman Congratulates Avenged Sevenfold On Success Of Their 'Covers Album'

Roobb Flynn made jokes about how the new Avenged Sevenfold album sounded like other already popular songs, I thought it was funny, and that is all the singer for Avenged Sevenfold took it as such. He thought the guy was funny, but told him to stick to his dayjob. Just guys dicking around, I can't comment too much on the story because I haven't listened to the new Avenged Sevenfold album, and don't plan on it anytime soon.

Down Back In 'Writing Mode' and Have Already Written One Song For Next EP, Says Philip Anselmo.

Happy that they'll be back to writing another EP soon, because I feel that Down is much better than Phil's solo work, as much as I appreciate what he's offering, it's just not as good in my eyes/ears.

Though on an opposite note, something that would be good to my ears would be hearing something from...



THE PSALMS FOR THE DEAD!



NIKKI SIXX: 'Someone Needs Attention To Try And Sell Some Books'/BACH Says He Rehearsed With CRÜE Before Being Asked To Join The Band/SIXX Says It's 'Absolutely Not True' MÖTLEY CRÜE Wanted BACH To Replace NEIL

So does anyone remember the Sebastian Bach thing that I talked about last week? GOOD!, because somehow, this went from a one-off quote, to some epic quest for BS. Last week Sebastian Bach said he was offered the job in Motley Crue, and declined. End of story, right?....WRONG! Nikki Sixx says that it was, 'Absolutely Not True' that has wanted Bach in the band. Then Bach says that he rehearsed with the Crue before being asked, and Nikki still says he's full of crap. I was starting to side with Nikki when Bach said he'd tell the whole story in his book that is coming out, but then I realized that Nikki Sixx has been whoring his book out for what feels like forever at this point. So you know what? I think that perhaps they are both full of a little shit and that the truth lies somewhere between their two stories, because the facts they both present as such are pretty far apart from each other, so there has to be something here that is the truth. Maybe in Sebastian's book the answer will be there, I know one thing, I sure as hell am not going o buy it to find out!




Proof that Heavy Metal Will Never Die VOL.20

First off is news that Sepultura are touring the US with Unearth and Kataklysm, and my reaction is....cool. It's not going to be hitting NC, so I really don't have all THAT much interest in it. But if you're looking to find the dates, go google it! I'm sure they're hitting the usual spots, Florida, NY, Chicago, LA, etc.

But touring news aside, I have little random sales reports from the US. First up is the news that Crossfaith's, 'Apocalyze' sold 1,500 copies in the United States, and I still don't really know who they are, but hey, that's good for them! They did better than Canadian thrash legends Annihilator, whose album, 'Feast' sold 800 copies in the US, which isn't a high number, but then again. that's comparing it to something like Amon Amarth, and that's not a fair comparison, but I'm loving the album so far, so more sales for Jeff Waters and Co is a good thing! One final thing, Kreator's, 'Dying Alive' DVD has cracked the Top 10 for the German DVD charts, making it all the way to #9!!! I love it, though I wonder just how available metal is to people in Europe, so any European readers, let me know just because I'm curious!





MERRY CHRISTMAS, CHEAPASSES!



So there was a stream of the new Ihashn song that I had queued up, BUUUUUUUT, I was late a day so it disappeared on me, so here is a consolation....Ihsahn with Mikael Akerfeldt.

[youtube=http://www.youtube.com/watch?v=KHdCJKWnvRg&w=560&h=315]

Secondly, is a stream of Hail of Bullet's new song, "Pour le Merite", it's Hail of Bullets, it's Martin Van Drunen, it's going to be good.

[youtube=http://www.youtube.com/watch?v=2KiGFsj_RP8&w=420&h=315]

Finally, is a stream of every song on the new Dream Theater album, you can find it HERE!

...trasition...



THE TEMPLE OF THE DEAD!



'Resilience', by French Progressive Traditional metal band, Awacks.

"Ashes of Ares', by US Progressive Power metal band, Ashes of Ares.

'Nations to Flames', by NYC Doom metal band, A Storm of Light.

'Frozen Paradise', by Swedish Melodic metal band, ColdSpell.

'Black Flame', by Japanese Neoclassical Power metal band, Concerto Moon.

'No Rest', by Finnish Death metal band, Corpset.

'Vertikal II', by Swedish Atmospheric Prog metal band, Cult of Luna.

'Invisible, The Dead', by Australian Power/Thrash metal band, Damnations Day.

'...from the GlassVoid', by Ukranian Neoclassical Prog metal band, Dimitriy Pavlovskiy's Powersquad.

'Morbid Ascent', an EP from the awesome Swedish Death metal band, Grave.

'Odori Sepulcrorum', by English Black/Death metal band, Grave Miasma.

'Battle Maximus', from Virginia metal legends, GWAR.

'The Mountain', by English Progressive metal band, Haken.

'The Aftermath', an EP by Finnish Death/Thrash metal band, The Jasser Arafats.

'Up From the Sewers', by Swedish Death metal band, Repuked.

'Aruagint', by Norwegian Black/Thrash metal band, Sarke.

'Satyricon', a self-titled album from Norweigan Black metal band, Satyricon.

'Black Mountain', an EP from Winston-Salem, North Carolina's own sludge metal band, Skullcollector.

'More Constant then the Gods', by Utah Stoner Doom metal band, SubRosa.

'Tetraktys', by Spanish Prog metal band, Time Symmetry.

'Valkyrja', by Faroese Progressive Folk metal band, Tyr.

'Vermis', by New Zealander Technical Death metal band, Ulcerate.

'Dekadenz' by German Black metal band, Urschrei.

'Soma', by Virginia Stoner/Doom metal band, Windhand.

'Perigaia Antahkarana', by Idaho Drone/Doom metal band, Wolvserpent.

That brings us to the ALBUM OF THE WEEK! This week, we've got a big one, in a week full of big releases, this one is one that everyone has been waiting for for years. 'Surgical Steel', coming to us from the legendary UK Melodic Death metal band, Carcass. I am so stoked for this album, and in a year of exciting death metal releases, this one might be the one. So here's to hoping that it wont be like the new Fleshgod Apocalypse...and suck.

[youtube=http://www.youtube.com/watch?v=nSsrKl6HtAw&w=560&h=315]

As for last week's listenings, I listed to the new Gorguts album, and I liked it quite a bit. At first, I was a bit thrown by how avante-garde it was, throwing in lots of atmosphere in, and it was odd, but I got used to it and loved to listen to it. I greatly recommend the album to any death metal fan. I also listened tot he new Evocation covers EP, it was a covers EP.....go listen to it, it's awesome.

Speaking of awesome, I know of an awesome place....



WHERE THE RUNES STILL SPEAK!



Our first comment from last week comes in close to deadline from BobbyYoungblood

It is/was also two things I am/was passionate about as well. I loved my time doing both. It wasn't easy to do either one of them and balance a day job, and a marriage at the time but I did the best I could. Sure it cost me a few day jobs and my marriage but It was a lot of fun though and I am one of the few people in the world who can say that they got to live their childhood dreams. I can't say that my things like getting married at 22 and trying to do all I was doing at the time was smart but live and learn.

I would love to have gotten to see or hear Sab fronting the Crue! I kinda think knowing how he can be it might have been more toxic than Vince up front but man can that boy sing! Hell if I could put a fantasy hair metal band together it would probably be Sab on vox, Sixx on bass, George Lynch on guitar, and Randy Castillo on drums. I think a band with all them in it, with their talent and Nikki's writing would have been unstoppable.

Queensryche will always be Goeff Tate and the boys. He is nothing without them and vise versa. I saw them with Priest back in 05 and they sounded as good as they did in the Mindcrime days and to me that's when they were the best.

Keep up the great work, I enjoy your weekly hard work, and you are an inspiration to my final dream of writing. Not on a website but in another field. Nothing against doing what you do, I just don't know if a website is for me. I'd rather leave it to someone like you who definitely has the talent for it. Never know though, it may be where I end up.

You are indeed a lucky man for living out your childhood dreams, though I am sorry about the marriage not working out, that sucks ass. I do envy you for being able to do music and wrestling, hell, I'm 21, and I feel like I'm missing out on a lot by going to college and living at home, but I think I'm doing the right thing in the long run. Though getting married at 22 is something I could never dream of, I have my head too far up my ass to even think about that.

I would love to see that band, I'm not a hair metal guy, but I know that band would be insane. It's funny that almost every member of that supergroup has had a successful solo career, it's not often you see that. But I think one catch for that band would be their drug use being kept in check.

I actually think they're better off than Tate, I really enjoyed the new Queesryche album, and felt it blew the palty Tate solo album out of the water.

An inspiration?, wow, I'm seriously honored to be one for you! Guys like you are the reason I sit down every week and hammer (pun!) this out, because my people need info, damnit! Writing for a website isn't for everyone, I'm just lucky that I'm on one that will put up with my bullshit (like I'm always late), and there are lots of great writers and podcasters who I can collaborate with when I want to. I think writing on the internet is a great gateway to get you into where you want to be, because there are millions of writers online, but if you're good, you can get someone's attention and you'll go places. Heck, if you want a little corner in this column to do a rant or something every once in a while, let me know, I can try to help you out!

Our next comment comes to us from chris

It's actually kinda nice the Queensryche stuff has died down a bit. Tate and mercs are done touring I guess. LaTorre and the boys put out a good cd(if a bit short)and outsold Tate's less than stellar cd. Hell even the comments on Blabbermouth have dissipated to trickle of what they once were(could be because of the revamped comment section) but still any sort of Tate/Queensryche story was a guaranteed 100+ comments.

We should all just get the money together and go to the PowerProg fest. Could you imagine Coop and his loyal readers(all 5 of us apparently)hanging out listening to some great music.Maybe next year.

He was responded to by saniac

I don't know if I've ever posted here, but I read every week. We're up to 6.

I'm not sure if this is Metal Chris, but it feels like Metal Chris, but if you aren't Metal Chris, I apologize. I find the new Queensryche to be as you said, great, but short, really could have been longer. But I am happy that the crap around them has subsided, blabbermouth had gotten really bogged down by it. I also think that the site redesign has helped their comments calm down alot.

I would love to get a group of readers around and just enjoy metal with all of you guys. Heck, (plug 2 of 3) if anyone in the Winston-Salem area is free on Thursday at 7/7:30, the Marketplace Theater off of Peter's Creek Parkway is holding a simulcast of Dream Theater's, "Live at Luna Park", it should be $10 and awesome. But back to what you and saniac were talking about. When I do slight math, I can think of you two (saniac and chris), Michael L., satanic redneck is usually reading because I see him upvoting comments, Michael Link, armchair theologian, BobbyYoungblood, and usually 411's own Sean Garmer reads every week, so we're up to 8 people, including Jeremy Thomas, who is forced to read this for editing, so that's 9, BAM! We can almost get a football team going at this rate!

The next comment comes to us from, armchair theologian

Damn, that gif never gets less funny.

Blame my best friend Nick Canada, he sent it to me! It's gonna be here until I get bored of it!

Coming up next is a comment from, sewergeek

Bach doesn't when to shut his damn trap.

Yeah, he really doesn't, but I don't see a problem with him talking if he's telling the truth, which is....iffy.

The next comment is an epic from, Michael L.

A huge salute to the people who run PowerProg USA this year. This was the second version of this festival I had attended, as I was at the 2007 version, which featured Sonata Arctica, Threshold, Virgin Steele, After Forever, Primal Fear and Pagan's mind among others. That weekend, the highlight was the closing all-star jam, which featured about two hours of material from all the bands, including Zak Steven (Savatage) in Paul Stanley makeup doing Strutter, as well as a duet by Ralph Scheepers (Primal Fear) and Floor Jansen (After Forever), doing Queen's "Who Wants to Live Forever."

This year, I only attended on Saturday Night (as I had tickets for ROH in Chatanooga on Friday). However, it was one hell of a lineup. I went there to see Sabaton, and they were the usual energetic outfit. The band was even letting the audience decide part of the setlist by having them vote for choices between songs, which is pretty cool, even if it sometimes left some fans disappointed. However, IMO, Sabaton may be on the verge of major stardom--perhaps not in the US, but almost certainly overseas, where they've been raising their profile.

However, the real highlight of the show was Armored Saint. I didn't know much about the band going into the show other than it was the one John Bush was in before Bush joined Anthrax in 93. However, I was very impressed by their set, especially as they faced technical glitches throughout. The worst was when one of the guitarists' wireless signal went out during what was supposed to be an awesome guitar duel for the song "Book of Blood." However, the band played on and the other guitarist took over and turned it into a blistering solo.

Plus, I got the chance to spend insane amounts of money on metal CDs that you can't buy in the US without going through Amazon. And one table had a $5 per CD sale for the saturday show, including all single CDs except for those bands playing at the fest. It gave me the chance to expand my library for Sabaton, Jon Oliva's Pain, Sonata Artica and Threshold.

However, I'm really psyched about next year's lineup, which may end up being the last. Jon Oliva's Pain will be awesome, especially as they're doing Savatage's Streets in its entirety. That alone sold me on the show. But to see Overkill live again? And the Friday night show will be headlined by Stratavarius, which I hadn't heard much of recently, but I did enjoy in the early 2000's. I can't wait for next year's show to come.

He had a response from FUCK

5 Paragraphs.

Who was then responded to Michael Link

2 words - he's got you beat...

First off, yes FUCK, 5 Paragraphs, I'm impressed, too. But Michael Link....that's more than 2 words.....(who are you Paul Heyman?)

Anyways, Michael L, you are the man, I am jealous of you for attending PowerProg USA, but you live in Atlanta, so it's probably not that hard for you to get there. That '07 line-up is pretty solid, and All-Star jams are like the best thing ever!

How was the ROH show? I'd kill to see Sabaton, they're quickly becoming a favorite of mine, and it's great fan interaction to let them make part of the setlist. I think they're on the verge of something, Europe loves them greatly!

I learned of Armored Saint through Dan Haggerty's Mosh Pit column and have loved all that I've heard from them so far, so I'm happy that you dug them, and that they were able to survive technical difficulties, because I know if that would have been ol' Dave, you'd have never gotten anything after that.

AH!!, I love cheap CD tables! I've made my collection through giant lots on eBay, but I had to stop that once I realized that I was pretty broke and should stop being dumb. Because I'm unemployed and shit!

That is going to be awesome, I want to hear all about it when you get back! Stratovarius's new one was okay, especially when you consider that this year is amazing for metal, but they're awesome all the same! Hope you have fun!

So I'll keep my plugs short, I participated in Stephen Randle's Co-Operative Multiplayer podcast last Tuesday with one of my best friends, Hunter Thompson, on to talk video games with us. I didn't get negative points, so that was a new thing! I also was in this week's Top 5, which is Top 5 song named after fictional places, so go look at that once you finish reading this! ALSO, keep peeled tomorrow night (Tuesday 9/17) for Mark Radulich and I reviewing the new Civil War album, "The Killer Angels", at 9 pm on blogtalkradio.com, so please tune in if you can.

Two things to not forget, FIRST, is THE THREE BEARDS! We released two episodes last week because we didn't record the week before, so go look at us on iTunes, as well as facebook at facebook.com/TheThreeBeardsPodcast. Also check us out on 336cast.com!

SECONDLY, remember that if you're in the Winston-Salem area and have $10 and nothing to do this Thursday night. Go to the MArketplace Theater off of Peter's Creek Parkway, at 7:30 for the Simulcast of Dream Theater's "Live at Luna Park", if you show up and talk to me, you'll make my life. I'm not hard to find, I'm like 6'2, 240, with medium length curly hair, and a beard, so there, if anyone here wonders what I look like, there you go!

With the finale of my plugs having passed, that brings us to the true finale for the week, the GLOBAL METAL PICK OF THE WEEK! This week we travel from Turkey (the land of many fowl animals), to a great and ancient land called Greece. So like what I've been doing recently, I've been trying to get folk metal in every week that I can in hopes that I fall on some folk music of the country, and this week, I managed to get both folk metal mixed with one of Greece's greatest metal export, black metal. This band here is called Aherusia, and this is from their new album that came out this year titled, 'As I Cross the Seas of My Soul', and the song is called, "Ε Η Θ (Ελευθερία ή θάνατος), which translates to "Liberty or Death". Give it a listen, it's pretty awesome!

[youtube=http://www.youtube.com/watch?v=ro6OMgo53MY&w=420&h=315]

Alright,so if you have any opinions on the column, some genre or country that you want me to feature in the global metal column, or if you just want to talk metal you can e-mail me at themetalcoop@gmail.com, tweet me at @themetalcoop or comment below!

KEEP THE METAL FAITH ALIVE \m/

and one more thing before I go....

comments powered by