Hammer of Doom News Report 09.23.13: 'Not in the Face, Not in the Face' Edition
Posted by Robert Cooper on 09.23.2013

News and thoughts on James Hetfield looking back at the Metallica/Napster lawsuit and Metallica performing on The Colbert Report, Vince Neil having vocal difficulties with Motley Crue's Las Vegas setlist, an update on As I Lay Dying frontman Tim Lambesis' pending trial and more!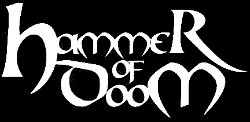 Welcome, Metal Faithful, to the place more wonderful than Walter White's Crystal Factory, THE HAMMER OF DOOM! I, as always, am your favorite metalhead, bearded wonder, metal missionary, and Mr. Fun-Time, Robert Cooper!

My week has been 2 good things buried under a pile of shit. My computer has been shutting down, and might need to go in for work, but that is the least of my worries. On Saturday, my mom and I took our cat Feisty to the vet after she had been vomiting and looking purely miserable, so we took her to the vet. Turns out that she had a tumor in her small intestine that has grown to a size to where it blocked off her stomach, so nothing was getting into it, and when we tried to get it in her, it'd go back up. So we put her to sleep, and honestly, I've been incredibly down since then. This is the third cat in less than 2 months I've had to put down (though my mom had to suffer with me this time, I thank her for that, because it hurt less), with the other two being her sister and mother, both from cancer.

So yeah, awful week, save for two things. Went to the Dream Theater screening that I was talking about, an it gave me a new appreciation of them, it was amazing, even if I didn't even know most of the songs. I also went to a friend's party, we played Munchkin for 2 hours, it was awesome, but yeah, I'll stop whining about my life, metal has to be talked about.

This week in the column, I am in rush mode, trying to get it all typed in less than 3 hours, can I get it done?...you'll find out if this is out on Monday morning! We have news as always, though honestly, the news was so paltry that this is really a (to borrow from the beloved Mathew Sforcina) "MY DAMN OPINION" news column, because that is what the two main stories are! I also have free streams, new albums, responses to YOUR comments from last week, and the GLOBAL METAL PICK OF THE WEEK!, this week, we are Albania bound! I don't know much about this country...

....but do you know what I DO know a lot about?



THE CRIES FROM THE CRYPT!



Necrophobic Frontman's Prison Sentence Reduced

His sentence was originally 18 months, and is now 6 months for, "gross violation of a woman's integrity", as we call it here in 'Murica, beating your wife. If he did beat his wife, he deserves to have his ballbag used at training for a boxing match, because beating a woman, or anyone, really, is detestable, unless provoked. Which I don't see anything saying that it was, especially in the other case of him beating his daughters with his homemade bullwhip. Detestable, if true!

Metallica To Perform On 'The Colbert Report'

I've been meaning to watch Colbert more, and this gives me reason to do so, it'll be this Tuesday, by the way, so set your DVRs, kids.

Vince Neil Says Las Vegas Show Is A 'Difficult Setlist' For Him Vocally

I'm pretty sure singing, "The Wheels on the Bus", with your kids is "difficult" for you at this rate, Vince. Why not drop it an octave? It at least works for The Table!

Bumblefoot said that he, 'Had The Hardest Time' Dealing With Guns N' Roses Concert Tardiness

I can understand that frustration fully, because you look like a jackass without being one because your singer is indeed a jackass. He should flick Axl in the nose, maybe that'll work!

Original Entombed Members Hellid, Cederlund Andersson To Reunite For 'Clandestine' Performance

I'm stoked to hear this, because they'll also be backed by a 65 piece symphony, as well as a 40 piece chorus. That is insane, and I am insanely excited for this, because it's going to be AWESOME!

Amon Amarth Frontman To Play Viking Warrior In 'Northmen - A Viking Saga'

Never has a role been more fitting for a guy in a metal band than this. I'm pretty sure ol' Johan shit a brick when he found out he got the part.

'The Art Of Metal' Book Due Next Month

This book is a must buy for anyone who loves the art that goes with metal, whether it be from an album cover, t-shirt, or something else. This book will definintely be great for the coffe table, at least!

Philip Anselmo Is 'Not Against' Reissuing Pantera's 'Power Metal' Album

Dude!, they REALLY need to reissue it! It's a really good, and not as embarassing for their tough guy image as the stuff before it, so why not do so?

As I Lay Dying Frontman Ordered To Stand Trial In Murder-For-Hire Case And Steroids Found In His Home

Things aren't looking too good for him, and the steroids don't help his case, though I'm no attorney!!

Satyricon's New Album Tops Norwegian Chart

The metal-archives is mixed on this album, as they are for a lot of Satyricon's newer stuff, but I'm hopeful for it, it's going on my massive playlist of metal this week!

I love that playlist, but you know, I don't have everything on that playlist, like the new version of...



THE PSALMS FOR THE DEAD!



TIME TO HAVE AN UNPOPULAR OPINION!

This week James Hetfield (aka THE TABLE) was talking to CraveOnline.com, and in that interview, he started talking about the Napster lawsuit and how he sees it now. To keep it short, because you probably don't want me to post the whole thing, because that would mean that I'm lazy. But long story short, he things that they were in the right, so does Lars, but he talks about how they didn't realize the blowback that they would get from it, and that Lars wishes that he had taken a different approach to it. (the full interview can be found HERE! (thanks to Blabbermouth.net for finding it for me!))

I will admit that I am on the fence about Metallica vs. Napster, and I'm not sure how serious people will take my opinion, because I'm a kid to a lot of people and I wasn't really around for all of it, but hear me out. I honestly think that in the long run, hate it or love it, Metallica were right for the stand that they took. This isn't like Thom Yorke shitting on Spotify, because the bands give their blessing to be on Spotify, so if they miss out on money due to a service like Spotify, they did it to themselves. What Metallica had against Napster was taking things that wasn't yours to give, and giving them to others across the world, and money has been lost. Now for a band like Metallica, it isn't that bad, because they are sitting on piles of it, but if you're a small band, it can be a death knell. I mean, think about it, you're a band, and nobody buys your records, because someone has put them all on the internet for free, and you are unable to stop them, so you have no money, and you can't make a living with music, so you quit. Which is honestly the fans robbing themselves of good content, but I can see why they would take the free music. I know for a fact that when I first started getting into metal, I would download everything I could in an attempt to become knowledgeable on the subject, because I had little money and couldn't do it legally. Though I later went back and bought albums that I loved in an attempt to try and atone for that.

The way it all went down is the thing that I wish could have been handled better, because in suing the corporation, they did kind of hit the little people because it banned them from the site, which sucks, but I guess it's better than paying $10K a song like some people have to do now. I really hope you guys don't shit too hard on me for agreeing with what they did, but in retrospect, I feel like they did what they had to do because they had a voice someone would listen to. Now pirating in general, I'll just keep it short, if it is out of print, or rare, I agree that it is fine to pirate it (411mania does not condone my statements, just figured I'd say that), because it is unrealistic to think that you'll find it, and experiencing the music and spreading knowledge of it is more important than waiting. But if it's say, the new Carcass album, don't steal it, go buy it, because the band needs to money and it's quality, so why wouldn't you honor hard work with pay? I am interested in hearing what BobbyYoungblood has to say, because he was in a band once, so yeah, Bobby, I await your reply to this! \m/



DEVIN TOWNSEND Says He 'Can't Listen' To New BLACK SABBATH Album

This week was thin on news, so here is me addressing more things that I hope I haven't already talked about. Devin Townsend was talking to DeadRhetoric.com about any and everything, and he mentioned how he couldn't listen to the new Black Sabbath album due to the fact that Bill Ward wasn't there and it was distracting him so much that he couldn't enjoy the album. He has that right, it is just his personal feelings, and I wont attack those, because he wasn't being negative, just honest. But this inspired me to talk about the subject of if X member isn't on Y record it isn't band Z. For the most part, this theory is kind of flawed. I'll take the new Black Sabbath album for example, it does make it to where it is not a true reunion, this much I will admit, but to say that it isn't a Black Sabbath album due to him being there is kind of insulting to the rest of the band's output without him. To me, Black Sabbath is Tony Iommi, and the combo of him and Geezer Butler really makes for a true Sabbath album. Bill Ward hadn't been in the band regularly for studio work since 1980, so you mean to tell me that everything else that they did after 1980 isn't Black Sabbath? I'm sorry, I do not agree with that statement. Now let's say, we have Megadeth without Dave, or Death without Chuck Schuldiner (which they are doing, but it's different, it's not a new album), or an Annihilator album with Jeff Waters, they were and are the heart and souls of their bands, and if albums were to be made in their bands without them, then I would agree with the statement that the album isn't true to the band name. While there is merit to the idea that without Bill, the album isn't true Black Sabbath (at least in its' original form), I don't think that it should make you hate the album all together. But yeah, just like last segment, please, in the words of The Tick's sidekick Arthur, "Not in the face, not in the face!". My week was bad enough!





MERRY CHRISTMAS, CHEAPASSES!



First up is a streaming of the new track, "Scream", by Metal Church!



Next up is a stream of the new ong, 'The Age of the Atheist', by Sepultura. It's different than what I was expecting, but I don't quite mind it!



ONSLAUGHT: New Song '66 F**king 6' Available For Streaming

Finally is a dumb little diddly by the mighty Onslaught titled, "66 Fucking 6".



Don't hurt yourself, we still have to walk into...



THE TEMPLE OF THE DEAD!



We're kind of low on metal this week, because I'm going off of wikipedia rather than metal-archives, because computer!

'Murderlust', from Danish Death/Thrash band, Hatesphere.

'The Witchhunt', coming to us from Chicago Death metal lords, Master.

So this week's ALBUM OF THE WEEK should be pretty easy to figure out considering my concert movie going experience from last week, it's the self-titled album from New York Prog metal legends, Dream Theater. I'm REALLY psyched for this album, because the band is still at top form, and the debut track off of the album was nothing short of superb. So here's to hoping it'll be good!



As for what I listened to last week, I listed to a few great albums. The first one was the new Annihilator album, it was great, much better than I expected, and it might even be the best thrash album I've listened to, or at least close to that. then to even it out I listened to my PICK OF THE WEEK from a few weeks ago, the acoustic Katatonia album, and honestly, I liked it better than the original, there was something about the atmosphere of the album that was really heightened by the somber atmosphere that the acoustic instruments brought out, go listen to it, it's so beautiful!

Here's the Spotify playlist for the week, go wild!



But don't hurt yourself, because we still have to go to the room...



WHERE THE RUNES STILL SPEAK!



So the first comment comes to us from the awesome, Michael L.

I'm not sure why you're saying that you hope the new Metallica album is better than the last one, because I liked Death Magnetic. To me, it was a return to form after the mediocre Load/Reload, and the incredibly, absolutely, undeniably shitty St. Anger. IMO, Death Magnetic is the album that could have followed And Justice for All, or at least the Black Album. It was aggressive, but with riffs you could actually sink your teeth into--and while the production wasn't anything to write home about, at least there was production, unlike St. Anger, which is still very hard to listen to, due to the fact that it sounded like it was recorded in a public restroom.

DM is a very solid effort with a good deal of maturity. No, it's not Ride the Lightning or And Justice for All, and it certainly isn't Master of Puppets, but it's a fine piece of work in and of itself. And you can tell the band agrees, because they actually pulled out most of the album for the tour, as opposed to the St. Anger tour, in which they usually only did the title track and Frantic (along with an occassional deep album cut on some nights).

BTW, the ROH show was solid enough, with very good matches at the top of the card (Kyle O'Reily v. Caprice Coleman, Ciama & Cole v. Steen & Elgiin). It was about as good of a throwaway show are you're going to find, and the crowd was pretty receptive, so they might make their return to Chattanooga sometime down the road. I'd prefer they come to Atlanta, to make my drive easier, but as far as I know, Sinclair doesn't have a station there yet, so I'm thinking it may be a while. .

He was then responded to by Jay El Bee...

I don't know if this is the way he meant it but you can hope that next album will be even better than the last. Or maybe he was talking about Lulu, the Lou Reed album that Metallica was on.

Then Michael L replied...

The term "hopefully" seems to suggest that the last Metallica album was disappointing, but I guess it could be taken the way you suggest.

If it's about Lulu, I don't think many people really consider that to be a Metallica album. As you suggested, it's a Lou Reed album, with Metallica as the backing band.

Okay, I'll go ahead and say that Michael L was correct in assuming from my wording that I was bagging on the album, and Jay El Bee was also correct in my intention being that I wanted it to be better, just so that it would be better, not because Death Magnetic was bad. My problem was that I was trying for snark originally, but reigned it back and tried to play the comment straight, so I got a weird middle ground that misrepresented my actual opinion.

I agree with you on Death Magnetic, it was what they should have done after ReLoad, instead of trying to go hard with St.Anger, which was a shit pile. Honestly, if I can ever get ahold of Dan Haggerty for a podcast, I think he and should live riff on the album. So Dan, if you're reading, I am not kidding, we should do it!

I will agree with the maturity angle, as well, because the album did show that they were older and more mature, as well as not being squabbling old women. So there was that. I'm happy your ROH show was good, I hate that I missed them when they've come through NC, though I still haven't forgave them for pulling the Winston-Salem show after I was all amped for it and everything. On a slight backtrack, 'Lulu', wasn't a Metallica album, it was a Lou Reed album with Metallica s his hired guns, big difference!

Our final comment comes from someone who is becoming one of my favorite readers (no joke,no ass kissing, just honesty), BobbyYoungblood

Its all good bro. We were just young at the time to do what we did. We jumped into marriage way to fast but it was definitely a learning experience so to speak. Even though the down fall of our marriage and our relationship falls mostly on her shoulders,we have remained friends after it all. Things just werent meant to be thats all. I dont have time to waste in my life hating her or anything like that like most people would in my situation and with what happened during and after.I can honestly tell you, you are doing the right thing by going to school, and still living at home. Which is though kind of funny considering that evryone assumes all Metal and Wrestling fans STILL live at their parents place. At least you are going to school though so there is a good reason for it. Hell you are 21 man you still have a lot of time to live any or all of your childhood dreams. I'm nearly 30 and I pulled it off already, and I totally believe if I can do it anyone can do it. I'm just an average guy nothing more nothing less.

I grew up on Hair Metal and though I never played it (with the exception of my guitar solos, they were 100% inspired by Hair Metal), I have and always will love it. The super group I spoke of has all the potential in the world to have been amazing if it could have happened but I do agree with most of their drug and drinking issues would ahve most likely screwed it all up. Though I never heard of Lynch having anything more than an ego issue, then again being in a band with Don Dokken would make anyone need to have a huge ego. That dude was freakin nut bar!

I think Metallica hasnt done anything all that great since ...And Justice For All. Everything after that was more of a rock band, not the Metal band that we all knew and loved, that also inspired a million "rip-off" bands after. I know most people would say everything after the Black Album sucked but really that was to me the biggest corperate metal album ever written. Like they were trying to say "hey Elecktra Records we want you to love us and not forget us!!" Which was totally unnessesary considering they were most likely the highest selling artists signed to the label at the time. It was also the first time James decided he was a "singer" which to me was his and their biggest mistake. The dude couldnt carry a harmony if someone double bagged it at the grocery store for him!!

You are definitely an inspiration to me as writer. You take you time every week to churn out articles that arent mailed in at all and put in hard work that many would just say screw it, Im going to just write a couple of quips and put a bunch of videos in and there we go. DONE! You and Steve Gustivson ( probably spelled his name wrong) do some of the best work on this site and are destination reads for me every week. I highly enjoy both of you guys weekly efforts because you guys also dont do the smarmy holier than thou type of writing that has become famous of the internet. I praise you both for your efforts. Also thank you for the offer for a little corner on you article. That is something I am interested in. I will have to email you and discuss that further. Keep up the great work, its the guys like you two who keep me a 411 guy through and through.

Shit, I'm a wrestling fan, a metal fan, and a comic book geek that plays video games, I don't think society thinks I'll ever make it out of my mom's house. But I can understand not wanting to hate your ex, because you are right, life is too short to hate, I find that the only people you should hate are people that you'll never meet, because then you will never get too consumed by it. But I want to thank you for giving me some inspirational words, because I swear some days that I have made a mistake by living at home and doing school, but you are right, I'm thinking too short term, and need to look at the big picture, because someone will still need a vocalist for their band in 5 years, so I can wait!

AH!, I never grew up with hair metal, hell, I grew up with metalcore, which is like hair metal with worse musicianship and the same amount of pop tendencies. I can't do either genre very much, to be honest. There would be many lines of coke off of hooker asses from that supergroup, but I think you may be right about George Lynch, he never seemed to be that bad, besides Don Dokken driving him insane.

I can agree with with you on Metallica, '...And Justice for All' was their last great album in my eyes, but I still like everything else besides, 'St.Anger', but I do feel that they get shit unjustly, because while they did make a very corporate album in the Black Album, I feel like business wise, it was pretty smart on their part. But I will say that quality wise, I feel that both, 'Countdown to Extinction', and 'The Ritual' were much better attempts at making thrash bands more commercially successful.

Thanks, man, even this week, I tried my best not to phone anything in, though I did cut out some of my more strenuous jobs for this in favor of getting it done faster. I don't feel like quips and videos is something that fits me as a person, I'm much more talkative than that. Steve Gustafson is a damn good writer, I'm honored to be in the same breath as him, his Comics 411 column is insane in the amount of work he puts in it! Just let me know when and how often you want your talking corner on here, I'll find a spot for you on here! I'm sure the bosses will like your 411 guy status, and I promise that we will never hire a muscley man to take you out like Paul Heyman does to his people.

Now for short plug section.....I was in the Top 5s in the Music and Games zones last week, go find those here on 411mania! Also go find Stephen Randle's Co-Operative Mulitplayer podcast, because it's awesome, and I lost, as usual. Also go find Mark Radulich on Blogtalkradio.com on the Radulich in Broadcasting Network, because he and I reviewed the new album by Civil War, it was a great album, and a fun podcast, go download it!

ALSO, go download the new podcast by THE THREE BEARDS!! This week is a bit messy with a 6 person podcast, but it'll be a good listen, for sure. Go find us at facebook.com/Thethreebeardspodcast, as well as on iTunes, rate and review us 5 Stars, PLEASE! Also go visit 336cast.com, it's tits!

So now it's time to tie this bitch up, and place it on the railroad tracks, twizzly mustache style! It's time for the GLOBAL METAL PICK OF THE WEEK!! This week, we are going to a smaller country, at least in terms of metal bands I can find, it is Albania! There really aren't many that I can, but I did manage to find one that isn't bad, they ride that fine line between metalcore and death metal, but they do an acceptable job regardless. This band is called Gverr, and this song, "Sprained Instinct" is from their debut album, 'Failed Philosophy'. So check it out below!



Alright,so if you have any opinions on the column, some genre or country that you want me to feature in the global metal column, or if you just want to talk metal you can e-mail me at themetalcoop@gmail.com, tweet me at @themetalcoop or comment below!

So in the words of my favorite metalhead, Chuck Schuldiner, KEEP THE METAL FAITH ALIVE \m/

and one more thing before I go....

comments powered by