Hammer of Doom News Report 10.01.13 'Other Side of the Coin' Edition
Posted by Robert Cooper on 10.01.2013

News and thoughts on Guns and Roses and Motorhead being on a tribute album to Michael Jackson, Slash getting his own burger and Metallica not being able to play Master of Puppets in China plus metal album charting news and much more inside!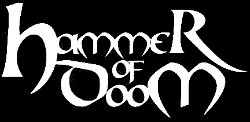 Welcome, Metal Faithful, to the place that got preempted by the Breaking Bad finale, THE HAMMER OF DOOM! I, as always, am your host, the bearded wonder, the metal missionary, the man who knocks (I'm kidding, that's Heisenburg), and Mr.Fun-Time himself, Robert Cooper.

My week this week was pretty solid, the week part of it was eh, just another week, but the weekend part was awesome! I got to go down to Charlotte with 3 of my best friends to go to our best friend's surprise birthday party. It was a great time, and I gave Nick a copy of Into Eternity's, 'Buried in Oblivion', so yeah, if you're reading this, happy birthday, you fuck!

But now onto other things, the column this week was another one with news that was barren, but I think I may of gotten something good for you this week! Besides that, I have some free music streams, new music,responses to YOUR comments from last week, and the GLOBAL METAL PICK OF THE WEEK, this week coming from Macedonia.

But before we get started. I think I should steal something that Sean Comer does, maybe this once, because I can't get this song out of my head. This edition of the HoD is presented by a catchy song that I am ashamed to say is in my head. This edition is brought to you (via Jeremy Thomas), by the Halestorm cover of Daft Punk's, "Get Lucky".



The shame is strong in me, but do you know what else is strong in my ears?...



THE CRIES FROM THE CRYPT!



Original Great White Bassist Lorne Black Dies

Never listened to much Great White, but still, it's sad to lose another metal brother far too soon. Prayers and well wishes go to his friends and family.

Guns N' Roses, Motorhead, Testament, Ex-Iron Maiden Members Pay Tribute To Michael Jackson

This could go really well, or really badly, I guess it's at least worth a listen!

Judas Priest Settles Breach-Of-Contract Suit With Rob Halford's Longtime Manager

Not sure how much the settlement was, but I've heard that Halford's manager was a jackwagon, so it's good that he'll go away now.

Paul Stanley's Autobiography To Be Released Next Spring

Cool, I'm interested in hearing stories of KISS tour fun. It'll all be there since apparently Paul didn't drink on tour, or at least that's what I heard!

Slash Gets His Own Burger

It is from Umami Burgers and features shiitake mushrooms, caramelized onions, American cheese, avocado spread, and wasabi aioli, served with a Parmesan cheese crisp. That sounds good, though the picture they used for the ad was a bit displeasing to the appetite.

Sylosis Members Hospitalized Following Road Accident

Poor guys rear ended a tractor trailer at full speed, I hope that they get better soon and can get back on the road.

Cynic's Paul Masvidal Co-Produces EP For Jim Carrey's 'How Roland Rolls' Children's Book

Jim Carrey is the man, and Paul Masvidal is also the man, so I'm excited that the two of them are working together on something!

Metallica Wasn't Allowed To Play 'Master Of Puppets' In China

I've not ever heard of a band being restricted by a country as to what they could play, and it surprises me that a country can do that. But hey, I guess if you're playing in China, you have to play by their rules!

The Gates of Slumber Is 'Done'

These guys were killer doom metal in a world where pure doom metal is not easy to find, I'll be missing them, but I thank them for their duty in the metal army.

Now that their band has passed, let us read from...



THE PSALMS FOR THE DEAD!



And now, for the other side of the coin....

So if you read last week, you'll remember that I talked about how illegally downloading music is not the best thing for music, and that Metallica were right in what they did, to a point. Well, this week Jeff Walker of the mighty Carcass was talking about how he sees it the other way, and I think this might be a good time to look at the other side of the coin. Here's the full quote from him.

"It can be a positive thing, if people download an album, hear it, enjoy it and buy it. The danger is that there is a hard core of people who download and never buy anything, and that's damaging to the music scene. They're not supporting anybody, they're not supporting the artists as fans. But for the most part, I think it's positive. Because I understand fully why people do it. There's so much music out there; people don't have the money or the resources to buy everything. And also people have probably spent or wasted money in the past on albums that have disappointed them. So it gives people a chance to test something before they buy it. I personally don't think it's any different to hearing music on the radio. But, like I say, it's that hard core of people, who… their attitude is very nihilistic and it's out of step with the idea of what being a fan is about. You shouldn't be trying to damage the artist who's trying to being people pleasure. We're not at war with the audience."

So many true words spoken by this man, because he really covers what I think is the bright side of downloading and listening to music. Because it is true that while there are a lot of assholes who will just blindly download shit and never buy it, most people will support something that is of quality, which is what I do think a lot of people who are so militant against downloading think.

He brings one point that I honestly haven't thought of when defending downloading, the sheer mass of music that is available. I know for a fact that if I only listened to albums that I bought, I would not even be able to do a Top 10 albums for 2013, much less the Top 50 that I plan on doing at the end of the year. It's a very interesting look at an artist who sees the other side of the grass in comparison to guys like Lars Ulrich, who (while justified), were not very supportive of illegal downloading (because it was illegal). But yeah, comment section, tell me what you think of Mr. Steer's opinion on the subject of illegal downloading, I'm interested in hearing your opinions!



Proof That Heavy Metal Will Never Die VOL. 21

Damn, even when I'm late on this column and need to get it in, the metal world manages to give me a reason to be talking until my head falls off. So to start off my reports on album chartings and the occassional tour news. Satyricon's new album, the self-titled one, has sold 1,600 copies in the United States on week one, which is pretty nice for a larger label black metal band (though they aren't really black metal now, at least not like they used to be). The album itself was okay, nothing too amazing, but it had a few tracks I liked, so good for them!

Next up is GWAR's new album, 'Battle Maximus', I liked it, didn't blow me away, but it got me interested in GWAR, which is more than I was before. It sold 3,500 copies, landing it at #109 on the Billboard 200. I can dig that, always good to have good metal on the charts. Also selling a little bit are the band fronted by Matt Barlow, Ashes of Ares. Their debut, a self-titled debut, sold about 900 copies in the US, which is find for a band with a no real brand recognition. The album itself was a bit safe, but Matt Barlow was there, so it was a bit better for that fact alone.

Now for the surprise of all of the albums from the past few weeks, the new album by Carcass, 'Surgical Steel'. It sold almost 8,500 copies in the United States, making NUMBER 41 on the Billboard 200. I was elated at this, because the new Carcass has to be somewhere in my Top 10 for the year, and it deserves every sale that it gets. I personally haven't bought it, yet, but I will as soon as I get the expendable income to do so!





MERRY CHRISTMAS, CHEAPASSES!



Firstly, we get a unreleased track from the amazing Carcass, this is Carcass 's "Zochrot".  It can be found HERE!

Next is a stream of the newest song from, Motoorhead, titled 'Crying Shame.  You can find it HERE!

The final stream for the night is by an awesome band, Hail of Bullets, and the song is called "DG-7".  You can find it HERE!

While it might not be a good night for embedded metal songs, but it is a good night to be in...



THE TEMPLE OF THE DEAD!



'Darkness in a Different Light', from Connecticut Prog Metal legends, Fates Warning.

'South of the Earth', by Maryland Doom metal band, Iron Man.

'Savages', from Brazilian Groove/Thrash metal band, Soulfly.

I think I'm going to swerve everyone, because I have decided to go out on a limb and trust back reviews as well as my own tastes. So I'm not sure if this will be a good pick, but here goes. 'Beyond the Martyrs'from Pennsylvania Traditional/Doom metal band, Argus. Seems to be a pretty powerful effort by them, and I hope we all wont be disappointed.



Here are the movers and shakers for the week
-Pyrrhon Have Signed With Relapse Records

-The Pretty Reckless Have Signed With Razor & Tie

-Destrage Have Signed With Metal Blade Records

Finally, here is the Spotify playlist for this week



Now don't hurt yourself, because we still have to go listen to the place...



WHERE THE RUNES STILL SPEAK!



Our first comment from last week comes from the comment section mainstay BobbyYoungblood

Wow man I really appreciate that you want my opinion on the subject. Back in 1999 or so when it all went down I was against Metallica 100% for it, even though I wasnt downloading music at all at the time. I was just like everyone else who said "screw them! They have enough money!!", then a few years later when I was in a band and doing my thiing I was still in that camp. I would chastise my guitar player at the time saythings like " dude what the hell, you're gonna be pissed if people do that to our music instead of buying our album" and all that. (Trust me, with the way he was if he lost a nickel he would flip out and cry...literally!) Now in the place I am in, I dont have as much of a hatred for it, as I see it as atleast they are listening to the music and hell if they dig the music they will come see ya on tour, and really according to all my buddies still touring that is the only place anyone really makes money anymore. On the flip side of the subject though, Metallica's beef with the whole deal was really because they had a song that was yet to be released by them up there for everyone to hear when they weren't ready for them to hear it. That is something I am still behind, because if I spent months recording something new and it wasn't totally finished and now everyone was hearing it I would be pissed off too. So I guess thats my ten cents on the subject!!

Always look to the long term man. The short term will drive you mad!! I am also a wrestling, heavy metal, comic book geek who plays video games as well, and there is nothing wrong with it at all. Although considering how we are viewed for it and how the 'net likes to pigeon hole us for it there is hope!! I was married to a model which is totally against what we are "supposed to be able to get!" lol. Not that it really matters though in the grand scheme of things.Just keep going the route you are and good thiings will happen. Stay positive, its easier said than done I know but negativity only breeds more negativity and that helps nothing.The music biz isnt going anywhere, and metal will neverdie.

On the Sabbath subject, Tony is the band in my opinion. I still to this day say Forbidden is one of their greatest albums and most wouldnt agree but the riffs were sick as hell on that one, and Tony was the only one from the original line up on that one.

As much as I love Motley Crue, its their fault I ever wanted to be in the music biz, Vince hasnt had a voice in years. Sure he tries like hell but he has been a shell of his former self Id say since the mid to late 90s. Its also not like he really went that high with his vocals either. Now if Mark Slaughter said he was having trouble I would completely understand. The only member of Motley that has any right to complain about anything is Mick Mars for how sick hes been for the last 10 yrs or so, but you never hear him bitching!

To close I do feel for you for having to grow up in the Metalcore generation.Though your assesment of the music is spot on in my opinion. Though it was short man, another great column for the books. Keep it up. When I have something to add or I think of something worthy to say I will take you up on your offer. Thanks again for it.

Of course I'd ask for your opinion, you're a loyal reader who has been in the music business, you have a much better understand of the internal workings than I! That does make sense, and honestly, I had forgotten about the aspect of not wanting music that you are making being released before it needs to be, because it can really make you look bad if that unfinished product sounds bad. As I talked about earlier, I do agree with the philosophy that any listening is good listening, if it the listening was done illegally. Because I've heard the same thing, that on tour is the only place money is earned, since all of the other aspects struggle to break often most times.

Yeah, we nerdier types are pigeon holed, a lot, but as you said, there is always hope. Damn, a model? I'm impressed! (though I'm a bit late on the subject) I'm trying to keep positive, all I really can do! I know metal'll always be around, all I need is a few good band members, and we could make some music, but I have the time to do that later.

WOW, I have never heard 'Forbidden' being deemed the best Black Sabbath album, I personally haven't liked much of what I've heard from it, but that wasn't because of Tony, it was more due to the production being really off, and Tony Martin sounding REALLY tired.

I've never been much for Vince Neil, he's a fine vocalist, but his work outside of Motley Crue is pretty funny. Mick Mars really is the only one of the bunch that does have anything to complain about, you are correct in that statement. Poor guy is really sick, and the rest of them only have themselves to blame for most of their problems.

My door is always open for a guest spot on the column, just let me know. Thanks, by the way, I'm really annoyed to have started with metalcore, but I think it's worked for me in the long run. I'm flattered by your compliment, though it was short, because I was trying my damnedest to get it on before final deadline, which I succeeded in!

Our next comment comes to us from the man, the myth, the Michael L.

Dokken was a fun band, and its too bad that I rarely got to see them when they had their shit together. I did see them at the tail end of their heyday on the 1988 Monsters of Rock tour. However, they were sandwiched between Metallica and Scorpions (with Kingdom Come opening and Van Halen closing), and they were on the verge of splitting up, so the show was tepid at best. I was able to see them a few times for the reunion lineup, and their 95 show was excellent (even if the album was too much of a nod towards the ever-changing rock scene of the 90's). However, once Lynch left again in 97, their live act has pretty much gone stale, especially with Don Dokken's voice getting progressively worse with each tour.

Still, it's a shame that these guys couldn't have gotten along better because they were on the verge of something big, with one of the biggest tours of 88 plus additional publicity from "Dream Warriors" from the Nightmare on Elm Street 3 soundtrack. Just when they needed the extra push to get them over the top to where they were headlining arenas, they broke up, and they've never been the same since, whatever the lineup.

BTW, an underrated album is Don Dokken's 1989 solo effort "Up From the Ashes" which includes a number of songs that would have fit nicely in the Dokken catalog, such as "Crash N Burn" "When Love Finds a Fool" and "Mirror Mirror." I saw that tour live in a small club and it was easily as fun as many of the Dokken shows that I caught.

As for commercial thrash, I liked Countdown when it first came out, but not as much today. I actually prefer Cryptic Writings as a good blend of the more commercial sound and the heavier thrash.

On the other hand, Ritual kicks all ass, and it's a damn shame that it came out about a year or two too late to break Testament into the big time, because Return to Serenity is the type of song that would have dominated hard rock radio and MTV before the era of grunge. IMO, that was the perfect song, with some of Alex Skolnick's best guitar playing ever, both in terms of the riffs, but also the amazing solo. It's too bad that Chuck Billy decided to go with the death metal vox in the late 90's, because they have ruined what could have been some pretty cool albums. I'm glad he kind of got that out of his system once Alex returned, as Formation of Damnation and Dark Roots of Earth are two of the best thrash albums since the genre's late 80's/early 90's heyday (to be matched only by Exodus' Tempo of the Damned).

Finally, I do have to laugh at Vince Neil saying that he can't handle the current setlist for the Vegas shows, since for him, consonants have been an optional part of the live show since the mid to late 90's.

I've never been much into Dokken, myself, now my best friend, Nick, digs him some Dokken, I just haven't really gotten around to them, personally. I remember that they've had a new album recently, but whether or not it was any good is in my knowledge. You've got to just hate those moments in the history of a band where if only one thing had gone different, we'd be talking about them in a totally different light.

That Monsters of Rock Tour looks pretty killer, even though I've never heard Kingdom Come, I have no doubt that the tour itself was pretty fucking killer.

I personally love Countdown, but I'm a big Megadeth fanboy, so my opinion is a bit biased. I love Cryptic Writings, I feel that it does a great job of holding on to the metal that Megadeth has left while taking it to a more palatable for the mainstream audiences. The Ritual is much better than the Black Album, in my opinion, and I think the same thing that you do, that Testament would have gotten much bigger if they had caught on a year or so before grunge hit big. I disagree with you on the death metal vocals, I think those vocals really helped those albums stand out in comparison to most of the former bay area thrash bands that tried to catch Metallica. The two newest Testament albums are by far some of the best thrash since the heyday. I'd thrown in, Overkill's, 'Ironbound', and 'The Electric Age', Megadeth's, 'Endgame', Death Angels', 'Relentless Retribution', and of course, one of my favorite albums in a long time, Anthrax's, 'Worship Music'. That's just the albums coming from the Big 8 of American Thrash (besides Exodus, because I'm still catching up on them).

As I've said before, Vince Neil is just funny to me in general.

(the rest of the comments were just Bobby and Michael talking Kingdom Come and the Monsters of Rock tour, check out last week's comment section for that!)

Now for a short section of plugs. The only podcast I had (that's been released) last week was the whole reason this column was released today was because I was doing a podcast on the finale of Breaking Bad with Mark Radulich and Robert Winfree. So if you want to hear me geek out over the best thing ever that isn't metal. Go find it on the Radulich in Broadcasting Network on Blogtalkradio.com.

Also go check out THE THREE BEARDS! The best podcast ever, when my audio is working! Go find us on iTunes, facebook (www.facebook.com/TheThreeBeardsPodcast), and at the 336cast.com

And with that, we are up to our GLOBAL METAL PICK OF THE WEEK! This week we're continue our magical mystery tour around Europe, this week stopping in Macedonia. They weren't exactly a hotbed for metal, but damn, the band I found is pretty damn awesome, at least judging by the one song that I found. I found a band that plays a progressive brand of Thrash metal, and the band is called Scattered. Give these guys a listen, because I really enjoyed the track below off of their album, 'Introspection', that track is, "Worthy Cause".



Alright,so if you have any opinions on the column, some genre or country that you want me to feature in the global metal column, or if you just want to talk metal you can e-mail me at themetalcoop@gmail.com, tweet me at @themetalcoop or comment below!

KEEP THE METAL FAITH ALIVE \m/

and one more thing before I go....

comments powered by