Hammer of Doom News Report 10.07.13: 'Taste the Blasphemy' Edition
Posted by Robert Cooper on 10.06.2013

News and thoughts on Ministry's frontman writing a comic book, Ozzy Osbourne getting "blown away" by meeting Taylor Swift, Suicide Silence getting a new singer and more!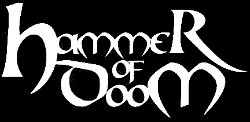 Welcome, Metal Faithful, to the only place more delicious than a Taco bell dinner, THE HAMMER OF DOOM! I, as always, am your host, the metalhead, the man with no plan, your metal missionary, and Mr. Fun-Time himself, Robert Cooper! I bet you're wondering how my week was, well it was a week. I had classes, and papers, and this week is midterms. But I did get to start playing WWe 13, it's awesome! I also started playing Castelvania: Lament of Innocence, it's also awesome! I also picked up the new Carcass album, and saw 2 Guns, Carcass was better than 2 Guns, but they're both of quality.

As for what is in the future for this week's column, we have a surprising amount of interesting news for me to talk about, though there are few new albums for me to list off. But I do have free streams, as well as responses to YOUR comments from last week, and the GLOBAL METAL PICK OF THE WEEK, this week, we visit Kosovo. I've never been to Kosovo....

...but I have heard....



THE CRIES FROM THE CRYPT!



Nachtmystium Mainman Arrested On Theft Charges

Sucks for him, though I was hearing around the grapevine that the dude has stealing problems, so maybe it's good that he got caught. I don't want to bury a guy on alleged acts, but that's what I've heard.

Ozzy Osbourne 'Blown Away' By Meeting Taylor Swift

That's cool, Ozzy, but did she know who you were?

Mustaine Says There Is A 'Very Big Chance' Megadeth Will Perform Entire 'Youthanasia' Album

I love, 'Youthanasia', but I'm not sure how well Dave will be able to handle the album vocally. I've heard him do, "Train of Consequences" on a live CD in 2004, and it was awful. But here's to hoping it'll be better!

Brutal Truth And Bastard Noise Team Up For Split Release

I know Brutal Truth are pretty solid, does anyone know of Bastard Noise?

Suicide Silence Gets New Singer, New Singer Leaves All Shall Perish

DAMNIT!, WHY CAN'T THIS BAND LEAVE! I was at least starting to not mind them now that I knew they'd be gone, but NO, they wont leave! FUCK!!!!!

Al Jourgensen Creates Comic-Book Series, Becomes Super Hero

Does he fight criminals with the power of bad music?, If that were the case, that new Ministry album would lock up every criminal in New York, easily.

Guitarist Kirk Windstein Exits Down

I hate to see him go, but more Crowbar is better in the long run! He's being replaced by Bobby Landgraf of Honky fame.
Igor And Max Cavalera To Form 'Metal Version Of The White Stripes'

Oh lord, I hope Igor is going to do more on the drums than Meg White!

Kirk Hammett Says 'Lulu' Is Some Of The Best Stuff We've Done

HAAHAHAHAHAHAHAHHAHAHAH, oh boy, that was a good funny, Kirk.

But do you know what ISN'T a good funny?....



THE PSALMS FOR THE DEAD!



Taste the Blasphemy!

Remember how last week I talked about Slash getting a burger of his own last week? Well, this week I get to talk about a burger that is 1. much more delicious sounding, and 2. much more controversial. Who'd have thought that it'd be branded after everyone's favorite occult rock outfit, Ghost! Wonder what the hell is so controversial, let me give you the quootes from the source (blabbermouth.net is my source)

The "Ghost Burger" — a 10 ounce goat and beef patty made with a red wine reduction and topped with an unconsecrated communion wafer — has offended some people because they believe that it's in "poor taste" to have a communion wafer on a burger.

"In the spirit of our undying reverence for the lord and all things holy, we give you the Ghost which we think is a fitting tribute to the supreme blasphemous activities carried out by the band itself," reads a post on the Kuma's Corner Facebook page.

Luke Tobias, the director of operations for Kuma's Corner, admitted to the Chicago Tribune that "people have been kind of upset" about the burger, but added: "The thing with this is, the communion wafer is unconsecrated, so until that happens, it's really just a cracker."

"It's not a commentary on the state of religion or anything like that," Tobias added. "It's literally, 'We like this band; we think what they do is cool.'"

The "Ghost Burger" costs $17 and is served on a pretzel bun and includes braised goat shoulder, aged white cheddar cheese and Ghost chile aioli.

Jeff Young, producer of the Catholic Foodie blog, told the Chicago Tribune: "It's not the Eucharist, but it's still symbolic. For us as Catholics, the Eucharist is more than a symbol, it's a sacrament. At the same time, it doesn't mean that symbols aren't important. … It is a mockery of something that is holy. The same thing could be said of the band itself."

Well, I can definitely see why people are a little peeved about this, because it is sort of blasphemous. Granted, I am not Catholic, so maybe this is a little more than a little blasphemous! But honestly, it doesn't bother me that much, they're pretty much paying tribute to the band by being blasphemous, much like the band.

I do wonder how long it will take them to remove this burger from the menu, because I am sure that they are under quite a bit of pressure to do so. Not that I know anything about the religious makeup of Chicago, but I have a feeling there are a lot of Catholics up there. I could see it now if somebody decided to put a cross, Jesus and all on a hamburger down here in North Carolina, they'd be trying to get the guy in the electric chair! All of the religious back and forth aside, is anyone else really impressed by how much detail they have put into this burger? Goat meta in the burger (for Satan), red wine reduction (like communion wine) used to make the burger?, and the wafer?, everything is laden in symbolism! It even has goat should, ghost chili aioli (that is going to be hot), and aged white cheddar (maybe they;re using that to symbolize.......I got nothing) to top it all off. Even though it's $17, it sound magically delicious, and damn, I'd like to eat it, even if I'd go to hell for doing so!



Proof That Heavy Metal Will Never Die Vol. 22

I'd like to start by saying Metallica releasing a soundtrack for their new movie is pretty damn brilliant by them. Why do I say that? Because it managed to make it all the way to Number 9 on the Billboard 200. I don't think any of their other live albums have done that, if I remember things correctly! So yeah, good move by them!

Speaking of live albums, Megadeth's, 'Countdown to Extinction' Live CD landed at Number 119 on the Billboard 200, not too shabby for them! I haven't heard anything from it, but I have heard that Dave sounds a lot better on this than he does on more recent live outings, because they downtuned the guitars!

Finally, the awesome new Dream Theater album made it in the Top 10 on the Billboard 200! It landed at Number 7, which is always impressive, a top 10 album, I think that they've made higher before, but still great for them!





MERRY CHRISTMAS, CHEAPASSES!



Starting off, we have a re-recording of the Paradise Lost classic, "Gothic", coming from an album of the same name. IT sounds REALLY good!



Next up is a new Deicide track that sounds really good! This is, "In the Minds of Evil", off of, 'In the Minds of Evil'.



Finally, is a pretty solid song by Trivium, the song is titled, "No Way To Heal", give it a go below!



You know what else we should give a go?, A trip to...



THE TEMPLE OF THE DEAD!



So this week, we have almost nothing in terms of bigger releases coming out, I think we have two. O would go look into the deep cuts for the week, but I have midterms this week.

'Black is the Colour', by German Symphonic Metal band, Arven.

'The Monster Within', by Swedish Melodic Death/Thrash band, Degradead.

'Resilient', from German Power/Speed metal legends, Running Wild.

That brings us to the ALBUM OF THE WEEK! This week it's coming from Finnish Melodic Death metal band, MyGrain. Their new album, 'Planetary Breathing' seems to be as awesome as their last one, and I'm REALLY looking forwards to hearing it! Hopefully it'll match up to the quality of some of the best albums of the year!

I have gotten halfway through the new Dream Theater album, I've greatly enjoyed it so far, those guys can play like noone else. Once my computer gets worked on, I'll be able to listen to more of the newer albums while on my breaks at school. But until then, I'll just have to listen to my copy of, 'Surgical Steel', until it explodes!

Now for the movers and shakers!

-Machine Head Have Signed With Nuclear Blast Entertainment, which is an offshoot of Nuclear Blasst Records.

The Vintage Caravan Have Signed With Nuclear Blast Records

And here is my wonderful Spotify playlist for the week!



Don't snap your fingers, or snap your neck too hard, because we still need to go to the place...



WHERE THE RUNES STILL SPEAK!



First up, is a comment from Cyberalienfreak

Nice to see DT on your playlist, though I was hoping to see a review of the new album - maybe next week ?? Looking forward to checking out the MJ covers, as I suppose you really can't hate that. I'm happy to hear that a new Ayeron album is in the works too, though I'm not sure if you're a fan. I started listening to the project recently and have found it to be pretty good.

I gave it my usual one sentence review above. I'm really lazy about reviewing albums, I have like 5 that I still need to do, it's sad how backed up I am. But I agree about the MJ covers album,it just might work. I am not a fan of Ayreon's yet, but it's just because I haven't really listened to much of their music. I should remedy that sometime!

Next up is a comment from the always present, BobbyYoungblood

Dude the idea of a "metal" MJ ablum has BUY written all over it!! Cant wait to hear it. Sabbaths Album Forebidden has so many great hidden gems on it like"Rusty Angels" that always made me go back to it over and over again. I bought it at Best Buy when iwas like 11 or 12 on a whim and never regretted it once.

Thanks for the kindness bro. I can actually say my ex wife and then the two girls I dated after were also models. One did import car modeling with Tila Tequllia back in the day and then the last one did alot of goth magazines over in Europe and places like that where that culture is much bigger. I learned after all these, expect the car girl who is a really awesome chick, to never date models. Always a headache. Lol Especially Never date a model who is also an identical twin!! My ex wife and last girl were and they are the most dificult to deal with. But yes my friend there is hope!! Lol hell man when you are ready for your band hit me up. I drive down and play guitar for ya. Always looking to jam out.

I emailed you about your offer last night. If my idea works for ya email me back and let me know. Great work again man. Keep it up, it keeps getting better weekly. Also give Dokken a full on chance. You wont be disappointed at all. Don has a great vocal range, and George is by far one of the greatest axe slingers to ever touch a stringed insturment. Hell Ive had a couple of buddies after me to do a Dokken tribute band because although I sang in a thrash/death metal band with my vocals being from lows like Chris Barnes and highs like Alexi Lahio I can actually sing exactly like Don Dokken! Lol who would have every thought that!! Lol

I have heard, "Rusty Angels", and I agree that it is a great song. I think it was a good pickup, especially considering now it is a bitch to track down.

Damn, dude, you were one model away from Connect Four. I've heard models are really high maintenance, any truth to that? Oh sweet Christ, identical twins?...that sounds like the starting of something bad. But I'll keep that in mind, once I find a drummer, and a bassist somewhere down the road. Because vocals are all I can do!

I'll have to give Dokken a go sometime soon, since I report about them so much! NICE!, I have pretty much the same vocal range as Mikael Akerfeldt, I do a really good imitation of him. His guest spot on Ihsahn's, 'AngL', album is awesome, because he sings in it, and it's really fun to alternate between his growls and Ihsahn's screams in the chorus. Oh course, I do this scream/growl back in forth, by my, in public! Looking forwards to getting your corner set up on here soon, buddy!

Final comment string comes to use from WTF

Actually had to check and see if Di'anno was the Maiden dude on it and yep...he's singing Bad.....more interesting is Jericho from Fozzy doing Dirty Diana and Testament doing Thriller...this will be a train wreck that I have to purchase.

He was responded to by, the man, the myth, the Michael L.

The MJ album looks interesting. I'd love to see a metal vocalist do a take on "Give In To Me" which is an underrated song from Black or White. I know Three Day's Grace did a version of that song on their last album, but I think it would sound awesome coming from someone like Geoff Tate in his heyday, or perhaps Doro Pesche or Tarja.

But I've gotta hear Chuck Billy doing Thriller. It would be the most fun of a train wreck since I caught an all-ska tribute to Duran Duran, or an all industrial tribute to Metallica.

BTW: I wonder if Paul is going to write about the women he slept with in his biography. Because we all know how much he and Gene hate to discuss their sex lives.

Who was responded to by BobbyYoungblood

I never really got all the Tarja love. I never thought her voice was that great or that she was all that attractive, now Doro on the other hand, lol! Or two of my underrated faves Saraya, and Femme Fatale. Of course there is always the gorgeous and extremely talented Kimberly Goss of Sinergy!

Starting this off, I would buy this album too, WTF.

I need to hear Chuck Billy doing Thriller, as well, it sound too good to be bad! But I didn't know there was an all industrial tribute to Metallica, that sounds bad, not that I love industrial all that much, but it still sounds bad. I thought Gene and Paul loved to talk about their sex lives....or am I getting them confused with other rock stars?

Finally, I haven't heard much of Tarja's voice, only Nightwish I've listened to is from the 2nd singer. Her attractiveness varies from picture to picture, but I find her attractive. Kimberly Goss....oh what Alexi let get away!

Short plug session, Mark Radulich and I did a podcast on Ministry's, "'From Beer to Eternity', the album was awful, the podcast was not. So go check it out on the Radulich in Broadcasting channel of blogtalkradio.com. I also was on Stephen Randle's Co-Oprative multiplayer podcast, it was fun, and videogames were discussed, go check it out on his spreaker page.

Also a little editorial for the Metal Hammer of Doom podcast, I will be stepping into the hosting chair for the rest of the month, so on October 15th and 29th, I am free to review any new metal album with anyone who wants to participate! So if you're free that night around 9 or 10, let me know so we can talk which album to review, among other things!

Final plug!, THE THREE BEARDS~!, the greatest podcast that YOU should listen to! We talk about any and everything you could ever want to hear about. So go find us on iTunes, facebok (at facebook.com/TheThreBEardsPodcast), and on 336cast.com. We're pretty damn nifty!

So for this week's GLOBAL METAL PICK OF THE WEEK,we are taking a magic carpet ride to the land of Kosovo. Originally, I was going to skip Kosovo, because metal-archives had no bands listed for Kosovo. But youtube came through! I found the band Troja, who are Albanians from Serbia who live in Kosovo, and since they identify themselves as being from Kosovo, rather than Serbia, my choice is made. I dig their sound, they sound like a more hard rock tinged classic metal band. So here are Troja, with their song, "Amaneti i Clownit", from the album, 'Amaneti i "Clown"-it



Alright,so if you have any opinions on the column, some genre or country that you want me to feature in the global metal column, or if you just want to talk metal you can e-mail me at themetalcoop@gmail.com, tweet me at @themetalcoop or comment below!

KEEP THE METAL FAITH ALIVE \m/

and one more thing before I go....

comments powered by