Hammer of Doom News Report 10.15.12: 'Jello Mouth' Edition
Posted by Robert Cooper on 10.15.2013

News and thoughts on Judas Priest frontman Rob Halford's announcement that he'll be on The Simpsons, Bill Ward getting surgery for Diverticulitis, and more! Plus Nightwish announces their new lineup!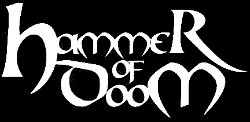 Welcome, Metal Faithful, to the place where the Mountain Dew is plentiful, the HAMMER OF DOOM! I, as always, am your host, the metal missionary, hobo jesus, denim Dan, and Mr.Fun-Time himelf, Robert Cooper. I bet you're wondering how my week was? Well, I'll tell you! My week was decent enough, I got my midterms tackled, and am on a five day vacation. I went and saw, 'You're Next', and I highly recommend it,it was a great movie. I also found a Neon Genesis Evangelion shirt at the local thrift store, so it was a good week overall.

As for what's going to be in the column...I have news, new album, free streams, a section of the column written by one of you own, Mr. BobbyYoungblood, as well as responses to YOUR comments from last week, and another trip in Europe to a new country in the GLOBAL METAL PICK OF THE WEEK!

I know that it's exciting, just like I'm excited to hear...



THE CRIES FROM THE CRYPT!



Ex-Nightwish Frontwoman Anette Olzon Says, 'The Whole Comparison Between Singers Is A Bit Sad'

There is truth to her words that it is sad that a band with a new singer can't stand on their own without a comparison to their work with the past singer, but I feel like that is just human nature.

Legendary Black Sabbath Drummer Bill WARD Undergoes Surgery For Perforated Diverticulitis

I know diverticulitis is no joke, just look what it did to Brock Lesnar. So I hope Bill gets well soon!

Vixen Guitarist Jan Kuehnemund Dies

I'm really sorry to hear that she has passed, and moreso now that I know that it was cancer. I send many prayers and well wishes to her friends and family as they mourn.

Lars Ulrich Is 'Proud' Of 'Lulu', Says Album 'Will Age Well'

I'm sure he said the same thing about 'St.Anger', he'll be wrong this time, as well!

Rob Halford To Guest On 'The Simpsons'

Good for him! I still wont be watching it, becaue quite honestly I gave up on The Simpsons many years ago.

Nightwish Announces New Lineup

Their replacement singer is now their full time singer, Floor Jansen is officially in the band, boys and girls!

Zakk Wylde Halloween Costume Now Available

Oh boy!, now I know what I'm dressing as for Halloween. I'm even bringing jello for me to put in my mouth so my singing sounds authentic to the costume.

Skeletonwitch 'Unfit' For Disney, But Fit For A Wedding

So they can't play at the House of Blues, because of Disney, so on the date that the concert they can't play at is, they're going to be playing a show in California where a couple is getting married on stage during Skeletonwitch's performance. Pretty fucking metal if you ask me!

Slayer Hopes To Include Jeff Hanneman-Penned Material On Next Album

I would hope so, anything they could find from him would be gold, I'm sure.

Speaking of gold, many golden things are inside...



THE PSALMS FOR THE DEAD!



Take Notes, old bands!

There wasn't any huge news this week for me to really talk about, so I decided that maybe it's time for another column where I just kind of rant, or even just talk about something someone say in an interview, because why not?

Chuck Billy was talking to Australia's Loud magazine, and he was asked if Testament looks at newer bands for inspiration for new albums, or if they just use the same old well of inspirations and Chuck said this...

"We get inspired by what's going on today, and new, up-and-coming thrash-style bands. They've been influenced off us, and they're creating their own sound and style. And it's kind of like a full circle; take a little bit of what they're doing today and putting it in our music. I think that's what actually keeps our music not sounding like a 30-year-old band, and sounds still kind of fresh and modern."

When I read this, I knew I had to talk about it, because I have always wondered this question. Do old bands pay attention to new ones?, or do they not pay much attention?, and now I know! This is probably why Testament have been one of the best band in terms of quality output in the last decade. They manage to stay fresh and fairly current. I also think that more bands need to do this, look at newer stuff and at least keep that in mind when they write new stuff. It does make them sound more modern and less like a bunch of old guys, which admittedly does have some charm to it. Sometimes, going back to your roots works, hell, Bill Steer of Carcass did an interview where he talked about for their new album, they drew upon the same pool of influences. That is fine, because they have plenty of great ideas from the years they haven't been together to draw off of, but some bands do need that new shot in the arm. He also proves that not all bands need to find new influences, because sometimes doing what you've always done is great. But sometimes, it does help to keep up with the times. I'm not saying that a band has to sound totally different, but I do like it when they try to at least be more up to date on their sound, especially if they've been doing the same thing for a while. I think that maybe even sometimes a mix of their classic sound a few new tricks can make a classic. But with all of this being said, Chuck Billy is the man!



"The Greatest Band You've Never Heard Of", by
BobbyYoungblood

The first band to grace this section is Finnish Folk Metal band Ensiferum. Started in 1995 by guitarist Markus Toivonen, bassist Sauli Savolainen, and drummer Kimmo Miettinen, the band has had an ever changing line-up with only Markus remaining since its inception. It took the band, whose name in Latin means, "Sword Bearing", only 3 demos to get signed to Spinefarm Records in 1999. They have a very original approach to their style of music, which not only has the inclusion of acoustic guitars, and harsh and clean vocals, but also the rarely seen in metal, the dulcimer!! Their break through of sorts album was 2004's "Iron", which included a phenominal cover of Metallica's "Battery". They have spent the bulk of their years touring the Europe Metal Festival Scene with friends and former label mates Children of Bodom, and after 13 yrs they left Spinefarm Records and have recently signed with American label Metal Blade Records.

Lets hope this can finally give them their chance to break out to an American Audience. While they may look like a bunch of 12 yr olds up on stage, if there ever was a band that could make you want to grab your battle axe and storm off to war, it would be none other than Ensiferum! Take a listen to the title track from 2004's "Iron" and enjoy!!



(here are my thoughts on the band)

Ensiferum are a band that I have come to love over my few years of admiring folk metal, as well as death metal. I came to discover them after listening to the iHeart Radio app on my Kindle, and went and bought an album of theirs soon after. After listening to that album, I fell in love with them, I loved all of the instruments that they managed to incorporate in their songs, as well as the catchy folk beats that they had in the middle of their awesome metal. I really hope that they can return to form following last year's album, because it honestly was a step back for them, but time will tell!



Proof That Heavy Metal Will Never Die Vol. 23

We have a lot more news in terms of album chartings than I thought we would. Starting with the new album by Fates Warning, 'Darkness in a Different Light'. It landed at Number 41 on the German charts, Number 90 on the charts in the Netherlands, and Number 162 in the US. Not bad for a band who hasn't released an album in nine years!

Next is the new album from Soulfly, 'Savages'. It reached Number 84 on the US Billboard charts, which is only 2 less than last year's album. I would hope for them to go higher with each album, but making similar sales numbers in back to back years is nothing to scoff over.

Thirdly is the debut album from Slipknot drummer Joey Jordison's band, Scar the Martyr. It reached Number 129 on the Billboard charts, which is respectable, I thought maybe Slipknot's marketing wouldn't give him a bit of a rub, but I guess it was not meant to be. And on a final note, the new album by Broken Hope sold 1,000 copies in its' first week! I'm tickled over this fact!





MERRY CHRISTMAS, CHEAPASSES!



First up, is the first song by A Perfect Circle in nearly ten years, and it is my first real exposure to a new song of theirs. The song "By and Down" can be found streaming, HERE!

Nex up, is a stream of the title track off of Skeletonwitch's new album, 'Serpents Unleashed'.



Finally, a stream of the song "Enlightning Strikes" by Nocturno Culto's new band, Gift of Gods, has been released, check it out below!



I found that song enjoyable,you know what else is enjoyable? A trip to...



THE TEMPLE OF THE DEAD!



'Grand Blood', from Boston Death N' Roll band, Doomriders.

'Degraded by Sepsis', by Italian Grindcore band, Exhumer.

'The Conscious Seed of Light', by Pennsylvania Technical Death metal band, Rivers of Nihil.

'Vengeance Falls', from Florida Metalcore band, Trivium.

That brings us to the ALBUM OF THE WEEK!, It comes to us from one of my favorite bands, as well as one of the best live experiences I've ever had. Portland, Oregon's own Stoner Metal outfit, Red Fang, with their new album, 'Whales and Leeches'.



I listened to very little metal this week, because I had midterms, and my computer got sent to be repaired, so even while writing this column up, I couldn't even listen to metal due to this damn netbook being a netbook.

It's frustrating, but if I bitch about it too much,you wont be able to hear the the voice in the place...



WHERE THE RUNES STILL SPEAK!



First comment from last week comes to us from the man who has already shown up in the column already, BobbyYoungblood!

I am starting think Kirk might be thinking Metallica is winding up and he wants to start to make a career in stand up comedy. Thats about the only thing I can think of by calling LuLu anything but an attempt to beat out Weird Al for Best Comedy Album.

Yes, Sir they can to be somewhat high maintenace if you dont find the right one, which really are few and far between. As I had said 1 outta 3 was "normal" but that one also wasnt an identical twin so that may have something to do with it. Also some advice, if they are with said sister and complaining to you that people are or trying to hit on them, DO NOT say to them "well what do expect, it two beautiful girls..." because their response will always be, " OH, You think my sisters hot!?!" And it doesnt matter that they look EXACTLY ALIKE!!! lol.

Part of me likes that the burger joint you have been writing about is doing these special bugers, its kind of cool, but I feel like as you basically said, its going to come back and bite them in the ass. You cant really do much anymore with out offending someone in this day and age. Its pretty sad that we live in such an overly P.C. world as we do.

Weinstein leaving Down is going to be a tough road for them in my opinion. As great of an artist as Phil and the boys are I feel alot of the soul of their music came from KIrk and its going to be hard to replace him in that band, and I am not familiar with Honky so I guess I will check them out to see if it works. I have been a huge and long time supporter of Down so I hope it doesnt change or de-rail their sound all that much.

Forbidden has become difficult to find and that really kills me as I lost that and my entire CD and Record collection in Hurricane Sandy along with my home, car and evrything else I owned. It is one album though I am trying to find again, as well as Hear N Aid on Vinyl! That was one of my prize pieces too. I also Agree about Ms. Goss that it does depend on the pic for her, but that voice of hers definetly makes up for any bad "angle" she can have and yes what was Alexi thinking! Then again the dude pretty much has the pic of any chick in any crowd as most seem to find him "pretty" lol

Great column again this week sir, and dont forget to let me know when youre ready to do your band, if I dont drive down to ya from NJ, there is always the wonderful internet and the ability to send you the music that way!!

You might be correct, though I am thinking that the people that loved Lulu were the guys in Metallica, and Lou Reed. I'm thinking the only reason the Metallica guys were so gung-ho about the greatness of this album was because they were so psyched from making an album with their hero Lou Reed that their opinions have become skewed.

That made me laugh, a woman bitching about how her near clone was hot in your eyes, I guess that is when you hope and pray that you can charm your way out of it.

I get annoyed by things being overly P.C., because I am very un-P.C., but I can agree with people getting bad about this, because religion is a very hairy subject. But I still think that they need to either grow a sense of humor,or at least ignore it.

Windstein leaving Down is a big blow to them in my eyes, because they were already producing less music due to other projects, so I am wondering how many gallons of creative juice they have left in the tank. But I guess time will tell.

Damn,dude, after reading that you lost all of your shit in Sandy, I just felt down, because that's awful. I really hope you can rebuy some of your past treasures, and shit, if you have any specific albums that I might have, I might send you some, I have plenty of CDs that you probably could use more than me, right now. Alexi is very pretty, isn't he? That's been one of things about CoB I had to look past, because I'm not as huge a fan of "pretty" boys in death metal.

My band will probably be a ways away, I'm not exactly in a hotbed of metal, but I'll keep you posted.

The second, and last comment from last week comes to us from, Michael L.

So, is Megadeth going to do all of their albums live from Rust in Peace forward? If so, then they'd better expect a maximum of 133 audience members per night when they get up to Risk. On the other hand, I like the idea of seeing Youthenasia live, because I actually preferred that album to Countdown to Extinction, which I thought was hit and miss. Plus, they don't do that much from Youthanasia live these days. However, I would really love to see them do Cryptic Writings live, as that was a perfect mix of Megadeth's classic 80's thrash and the more mainstream sound of the 90's. Seeing them do some of those songs live again for the first time in over a decade and a half would be awesome.

I picked up the new Dream Theater album a couple of weeks ago, and it's a good album, albeit one that takes a few listens to really get what they are doing. One thing they've done more of this time around is focus on coherent songwriting, and offered up fewer epics and less wankery. In fact, there is only one true epic on the album, the closer, and it's an interesting 20 minute song that might take a few more listens, as it's even less accessible than usual. However, it has its moments. On the other hand, songs like The Enemy Inside and The Bigger Picture are instantly accessible, while Behind the Veil has some interesting guitar work. Plus, the whole album has a good feel, thanks to the return of John Myung to the forefront, as his bass sound is much more prevalent than it has been in quite some time. If you like DT, go ahead and check this album out--if not, then this is certainly not the album that will change your mind.

I think they're only going to be playing successful albums all the way through live. Though I would love to see the tens and tens of screaming fans watching them play Risk live. I think Cryptic Writings would be a great live album, since I find it to be criminally overrated, especially when you consider some of the shit that was coming out in 1997 from thrash bands.

The new album really made me love Dream Theater, because before, I had only been a casual fan of theirs at best. I found a lot of the album to be very accessible and addictingly listenable. The closing track was an epic, for sure, though it will need to be listened to a few more times before I love it like some of the opening songs.

For the most part, all of my plugs for this week come from the Radulich in Broadcasting Network on blogtalkradio.com.

Last week, I recorded the long long awaited second episode of the Sentai Rider Podcast, my best friend Hunter and I discussed the final two episodes of Kamen Rider Wizard, and it was a great time, go listen to it.

I also was on the Co-Operative Multiplayer podcast on Stephen Randle's spreaker page. We talked about everything besides video games, on the video game podcast.

This week, I will be having a call-in edition of the Metal Hammer of Doom podcast where I go solo while talking about the career of one of my favorite bands, Death. Tune in, or call in, at 9 pm EST this Tuesday night.

Finally, check out THE THREE BEARDS, the greatest podcast in the history of podcasting, find us on iTunes, 336cast.com, facebook, and now on the Radulich in Broadcasting Network!



So to continue the European tour that has been going quite well, we travel to the small country of Montenegro. There were a total of 6 bands on metal-archives from Montenegro, so the pickings were slim, but I must say, that even out of a country with 700 bands, this one is still a great one. This band here is called Placid Art, and they play a style of death/doom metal that is more atmospheric in nature. Give them a listen! Here is the song, "Wrath of the Sun", off of their debut album, 'Rainbow Destruction Process'.



Alright,so if you have any opinions on the column, some genre or country that you want me to feature in the global metal column, or if you just want to talk metal you can e-mail me at themetalcoop@gmail.com, tweet me at @themetalcoop or comment below!

In the words of my hero, and yours, Chuck Schuldiner, KEEP THE METAL FAITH ALIVE \m/

and one more thing before I go....

comments powered by