Hammer of Doom News Report 10.23.13: 'Sad But Snoop' Edition
Posted by Robert Cooper on 10.23.2013

News and thoughts on Nirvana being on the ballot for the Rock N' Roll Hall of Fame along with KISS and Yes, Marilyn Manson appearing on Once Upon a Time, Justin Bieber singing a Metallica solo and more!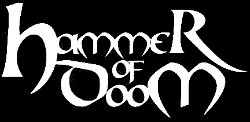 Welcome, Metal Faithful, to the much push backed, and very metal column of good, the Hammer of Doom! I, as always, am your ragged run host, the metal missionary, the Everstone holder, and Mr.Fun-Time himself, Robert Cooper. I'll bet you're wondering how my week was?...Well, it was good for the first half, played video games, got some papers done, ate brisket, watched the Panthers win, and won at fantasy football. These past few days have been shit, though, so that is why this is later than usual. Though first, a public service announcement...

ATTENTION: THE HAMMER OF DOOM IS MOVING TO TUESDAY'S. SO IF YOU ARE WONDERING WHERE I AM NEXT SUNDAY NIGHT/MONDAY MORNING, I TOLD YOU HERE!


...So this week in the column, we have a bit of news, not many new albums or comments, free streams, and a GLOBAL METAL PICK OF THE WEEK!, this week coming from the wonderful nation of Serbia!

It's cold there, almost as cold as...



THE CRIES FROM THE CRYPT!



Marilyn Manson Joining Cast Of 'Once Upon A Time'

The once, "most scary man in the world", is now going to be a voice on the Disney owned show. Oh how the times change!

Hate Eternal Parts Ways With Drummer

He's leaving to go pursue his education and establish a career for himself, and more power to him. You rock, Jade Simonetto.

Annihilator Involved In Bus Crash

It seems that everyone is crashing their buses now, but honestly, I just hope everyone is okay!

Gary Holt Will 'Probably' Record Solos On Next Slayer Studio Album

I always assumed that after Jeff died, he would be, it'd be kind of stupid to have anyone else do it. Because 1. he's covered for Jeff over the past few years, and 2. having Kerry do all the solos would get boring very fast, as much as I love Kerry.

Varg Vikernes To Be Tried For 'Inciting Racial Hatred And Exalting War Crimes' But Trial Is Postponed

I hope he's found innocent, while he was a racist asshole on the internet, how many of you reading (and me writing) would be in trouble if dickery on the internet was a chargeable offense. This is still a mess, and I hope he gets off.

Ensiferum Drinking Horn Now Available

I want to get one...just so I can drink Mountain Dew out of it and FEEL LIKE A MAN!

Kirk Hammett Says iTunes, Streaming And Social Networking Have 'Destroyed Music'

Two out of three, I can understand, but Social Networking? I feel like that has made music that much better, because you can discover more music, interact with more people, and even chat with the bands over social networking, which you weren't able to do so easily before social networking. Am I wrong?

Sacred Mother Tongue Calls It Quits: 'We Spend All Our Own Money To Come And Play For You Guys'

Reading the announcement as to why they're quitting breaks my heart. I've never listened to the band (I'm getting to them eventually), but I know that the music industry is a bitch, and as they said, they didn't ever recoup many of their losses, and the line in the announcement about it feeling like charity I can understand. I hope their final tour with Voodoo Six goes well for them, though!

Justin Bieber Sings Metallica's 'Fade To Black'

This isn't as bad as I thought it'd be, but I still want the Justin Bieber to get hit by a transfer truck. At least it wasn't as bad as Snoop covering, "Sad But True".



While I get those shivers out of my spine, you read from...



THE PSALMS FOR THE DEAD!



Time to bitch about the Hall of Fame next verse, same as the first!

So it's THAT time of year again, boys and girls (who am I kidding, what girls read THIS column), it's time for every rocker to bitch about the nominations for the Rock and Roll Hall of Fame. Who could the wonderful rock icons be who can get in this yeah?

The nominees are The Paul Butterfield Blues Band, Chic, Deep Purple, Peter Gabriel, Hall & Oates, KISS, Link Wray, LL Cool J, Nirvana, N.W.A., The Meters, The Replacements, Linda Rondstadt, Cat Stevens, Yes, and The Zombies.

First off, I would like to at least commend the R&R:HOF people for including KISS, because I don't remember them ever getting nominated before, but good for them getting nominated. But with that being said, let me get the obvious complaint out of the way, the fact that artists that are no way Rock N' Roll being nominated, and probably getting in before a band that is in a more traditional sense, a rock band. Groups and guys like LL Cool J and NWA (though I love me some NWA, they are awesome, especially that one time Dusty fought Ric Flair) don't belong in this HOF. I'm not trying to diminish their accomplishments, but when "Rock N' Roll" is on your award, I think they have to be a least a rock act. Neither of those artist are remotely rock. Perhaps this would work if they just went ahead and changed it to the "Music Hall of Fame", because that is what it has become. You can't fucking tell me that Madonna gets in before Metallica or Jeff Beck if this were based on Rock N' Roll credentials, not pop music credentials. But there is my rant, I know you know that it was going to be there, but it'll be here next year, too. So get used to this.

But now on to the rock acts that are on the list, at least the ones that I know that are heavier than classic rock

-The Paul Butterfield Blues Band, I think this is year two of them being nominated, I don't see them getting in yet. Though I don't know much about them, they just got into the Blues HOF last year, so it'll be a little while for them to get in on the general HOF. So...chances: SLIM

-Deep Purple, I wanted them to get in last year, they missed it, I'm not sure if they'll get the popular vote this year, due to Yes, KISS and Nirvana being up for the award, but I'd love for them to get in. So....chances: SOME

-Peter Gabriel, he also did plenty of prog rock to go with his more poppier outputs, I'd like to see him in, but I'm not quite sure if his solo work has the people behind it's induction that his work in Genesis did. So maybe next year. So....chances: SLIM

-KISS, if anyone gets the popular vote like Rush did last year, it'll be KISS. Their fanbase is still insane, and I could see plenty of people voting them in purely out of spite for the R&R HOF. They deserve it, too, with the amount of money they've made, and the quality music they've put out, I think they finally need to take their spot on the musical throne. So....chances: HIGH!

-Nirvana, do I even have to argue for them? While I find them to be overrated, I still respect what they did for the music industry, and they had lots of good music. Oh, and they sold a bunch of t-shirts to kids who've never listened to them. So...chances: NO BRAINER, THEY'RE GETTING IN

-Yes, this is the only band that I can really say will challenge KISS for the popular vote crown. They had a HUGE movement last year to get on the ballot, it was led by John Brabender, who was the senior media strategist for Rick Santorum's presidential campaign; Tad Devine, who worked on John Kerry and Al Gore's political campaigns; former NBC president Steve Capus,and former Director of the White House Office of Political Affairs, Sara Taylor. That is a silly amount of powerful people working to get this band in, and I think they might be able to do it. So...chances....High!

All in all, I can see this being a pretty solid year for rock bands, at leas heavier or progressive rock bands, getting in. Nirvana is a lock, and we're bound to get either Kiss, or Yes in, so that would be a two pretty big bands, and we might get both. So we'll just have to see. Though if LL Cool J gets in, and we only get Nirvana, I may be quite cross with the voters, for sure!



Buried in Oblivion, with Michael L.

Since I gave BobbyYoungblood a chance at his own little corner, I felt like it would only be fair to give Michael L. a share of that corner on an alternating week. Here, Michael L will be talking about overlooked albums/bands, and this first one is an album that I don't know quite that well, because just like a lot of people. I have overlooked it, but here is Michael L talking about the Testament black sheep, 'Souls of Black'.

Testament: 'Souls of Black'

Sandwiched between two more well-known albums (Practice What You Preach and Ritual), this is somewhat of a forgotten work by the Bay Area thrashers. Its' sales were relatively weak compared to what they had done before, and even the band was disappointed with their efforts, feeling that they were rushed to get the album out in order to go back on tour, opening for Judas Priest and Megadeth.

However, this is a pretty good album on its own merits. It falls short in comparison to New Order or Ritual, but it is a collection of songs that are fairly accessible, while still retaining the band's thrash roots. There are some nods to mainstream metal with the groovy title track, as well as the ballad "Legacy." However, there are some all-out thrashers such as "Face in the Sky" and "Falling Fast." Plus, Chuck Billy would give another solid vocal performance by delivering the songs with fury while avoiding the growls sounds that became part of his repertoire in the 90's and beyond. Perhaps he was holding back by avoiding some of the screams that were part of Testament's early years, but that works for the feel of this album. However, the real star of this album is drummer Louie Clemente with some great beats, particularly in "Absence of Light." "Malpractice." and "Seven Days in May." In fact, I'd go so far as to say this is the strongest drumming performance on any Testament album.

The only major weakness of the album is the production, which could be much fuller. The sound seems to come across as a bit thin, and not as up-front as you would expect. It's better than Practice What You Preach, but it seems as if the crunch of the guitars should be much more prevalent, rather than getting a bit buried in the mix.

Despite that weakness, Souls of Black is still a worthy addition to the catalog of Testament, and one that any of this band will enjoy hearing, and perhaps hoping they would bring back more of this album in their live shows.

Finally, the album cover is about as awesome as anything the band has ever done. You can't get much more metal than five robed figures floating over darkened sea, with the primary figure carrying a bloody heart. That is just too cool for words.





MERRY CHRISTMAS, CHEAPASSES!



First up is Leif Edling's band Avatarium with 'Boneflower'



Next up, is Tad Morose with 'Millenium Lie'



Finally is a new by,Ayreon titled, 'The Theory Of Everything'



Bang your head, don't break your neck, or else you'll wind up in...



THE TEMPLE OF THE DEAD!



So I didn't have the time to look up many albums for the week. Most of the ones I looked up come out next week.

This week we have only one ALBUM to talk bout so here here is the ALBUM OF THE WEEK! 'Aftershock',by UK metal legends, MOTORHEAD!!!!



I didn't get a chance to listen to anything new this week due to personal hoopla, and my netbook not being great for music listening, but next week I will start my trek to finish the 600+ songs I need to finish before the year ends!

And with that cue of the epic music, I beg you to follow me to the place...



WHERE THE RUNES STILL SPEAK!



I had absolutely no responses last week, which is fine. The comment replies I had got fucked up by my netbook screwing up the bolding of everything. But hopefully this week will be better! My laptop should be back by next week's column!

In terms of plugs, go check out the Radulich in Broadcasting Network below. That is where my hour and a half long Death retrospective is, I did it solo, tell me what you think! That is also the home of my two other podcasts, The Sentai Rider Podcast, where Hunter and I talked about the last two episodes of Kamen Rider Wizard, featuring Decade. It also syndicates THE THREE BEARDS! The greatest podcast you know you want to listen to, which is also on iTunes, podcast pickle, and 336cast.com!



Finally, we are at the last stop on this train ride to hell with the GLOBAL METAL PICK OF THE WEEK! I wanted to keep going around Europe, so this week, we are going to a former Soviet funhouse called Serbia! They have a lot of black metal there, which should be little surprise. But I decided to forego the black metal once again to bring you some doom/thrash, I love doom thrash. So this is by a band called Äàæä (Which means Rain in Serbian), and off of their self-titled album comes the song, "Áóêòå Ìè Ðàíå Êðâšó Çàïàäíîã Ñóíöà" (Which means, My Wounds Burn With The Blood Of The Western Sun). Pretty damn killer title for a damn killer track, check it out below!



Alright,so if you have any opinions on the column, some genre or country that you want me to feature in the global metal column, or if you just want to talk metal you can e-mail me at themetalcoop@gmail.com, tweet me at @themetalcoop or comment below!

KEEP THE METAL FAITH ALIVE \m/

and one more thing before I go....

comments powered by