Hammer of Doom News Report 10.30.13: 'Evils of the Fog Machine' Edition
Posted by Robert Cooper on 10.30.2013

News and thoughts on Metallica playing in Antarctica, Vince Neil possibly appearing on Celebrity Apprentice, Slayer continuing on without Jeff Hennemen, fans at a Deicide concert getting attacked with a boxcutter and more!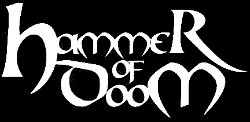 Welcome, Metal Faithful, to the house of the butchered and bearded, the HAMMER OF DOOM! I, as always, am your host, the man with many cats, one of the Three Beards, and Mr. Fun-Time himself, Robert Cooper!

I'll bet you're all wondering how my week was? It was pretty good, I got my first piece of fan mail, got my laptop back in time for podcasting fun, got some presentations done, watched some Kamen Rider Kiva; and went and saw, We're the Millers, the movie was plenty funny, though the whole allure of Jennifer Aniston stripping kind of fell flat on me, she's attractive, but not exactly high on my, "celebs I want to play a stipper" list. But oh well.

As for the column this week, we get a free download, some metal news, tons of new releases, including a trifecta of new thrash bands! I also have answers to YOUR comments from last week, as well as a continuation of our European invasion of the GLOBAL METAL PICK OF THE WEEK!

Hold that excitement all in so that you don't release....



THE CRIES FROM THE CRYPT!



Lou Reed Passes Away At 71

Sad news, I know that the music world is really broken up about this, sending prayers and well wishes to his friends and family!

Vince Neil Rumored For 'The Celebrity Apprentice', It's News to Him

I love it when celebs get asked question based on rumors, and they respond with, Por Que?

'Cooking Hostile With Phil Anselmo' Creator: 'We Couldn't Have Asked For A Better Response'



WATCH THIS, that is all I have to say!

Paul Bostaph Says Slayer Is Honoring Jeff Hanneman By Continuing Without Him

He makes a good point, I think fans like myself see if differently, but I honestly never worked with Jeff, and the dude might have wanted the band to carry on without him, so maybe carrying on is honoring him.

All Shall Perish's Mike Tiner Says Band Had No Choice But To Fire Singer

Read the whole story HERE!, but my reaction to this is one long question. So you mean to tell me that if a singer joins another band, he isn't allowed to show up with the other band for a year? What the fuck is that?

Metallica To Rock Antarctica

True story, via Coke Zero and it's a contest, if you're from Latin America....KHAAAAAAAAAAAN!!!!!!!!!!!!!!!!!!!!!!

Metal All-Stars Tour MESS!

Within a week, the Metal All-Stars Tour went from, "OH GOD, THAT LINEUP!", to a joke. Someone somehow got word out that they were gets names like Tom Araya, and Marty Friedman, when there was no info to prove it. It is fixed now, but damn was that a mess to try and find all the news stories to get a full idea of the story!

Evile Launches Lead-Guitarist Search

"If interested, please send any links, videos, photos and biogs as well as a brief statement about yourself to: evileguitarist@gmail.com."

That's what it says, you can read, and if you can play guitar (BOBBYYOUNGBLOOD, I'M LOOKING AT YOU!) submit your statements!

Speaking of BobbyYoungblood and statements, read from the fifth page in...



THE PSALMS FOR THE DEAD!



Fan's Throat Cut During BROKEN HOPE's Show In El Paso/30-Year-Old Man Arrested For Allegedly Slashing Three People At BROKEN HOPE/DEICIDE Concert/BROKEN HOPE Guitarist Calls Out DEICIDE's Glen Benton After Being Kicked Off Tour/Glen Benton's Side of the DEICIDE / BROKEN HOPE Drama Sounds Very Reasonable

The Joker is Amused

I was doing my usual run of the metal news sites in preparation for the column this week when I found that Deicide and Broken Hope were like half of the news stories, so upon further investigation...oh sweet lord, do we have tragedy and hissy fits.

To start with what is actually important and truly newsworthy; at a show featuring Deicide, Broken Hope, and others, 3 fans were slashed with a knife at the show, including one getting a throat slash from ear to ear, by a 30 year old man named Jesus Ortega, and he has been charged with 2 counts of aggravated assault, and I hope they throw the book at him if he is indeed the man who attacked these people. Nobody goes to a metal show expecting a boxcutter assault, and nobody should ever have to worry about that. Prayers and well wishes go out to the victims and their families.

Now that we have the important stuff out of the way, now for the he said/he said. Broken Hope were booted off of their tour with Deicide ,why is that? It'll all depend on who you talk to! Guitarist Jeremy Wagner of Broken Hope said that they had to put up with Glen Benton's bitching and ultimatums, and even let them use their bass rig on multiple shows, even though he fucked with the setting after they asked him not to. He also wouldn't let them use their smoke machines and other things, and he even lost their bass cables. To sum it all up, Wagner said, "Glen Benton is a lazy, jealous, jaded, ungrateful, unprofessional, egomaniacal bully. He menaces everyone from bands and fans, to promoters and booking agents." So that's his side of the story. Now for the other side.

Glenn Benton gave a much shorter message, this was in an interview, he said.

"It was ultimately due to "rock star bullshit" that Broken Hope got kicked out, violating the protocols of a support band. Claims of the band trying to take the headliner's parking spot, traveling in busses while every other band was in a van with a trailer and taking all the catering money for themselves were made by Benton. There were protocols that they chose not to follow, disrespecting all the other bands on the tour."

Also, the reason he asked them not to use the smoke machine was because it bothered his respiratory system. So this all boils down to the words of two men, and I'm sure the truth is somewhere in the middle. It's a shame that everyone can't get along in the world, but we're all human and people clash all the time. Maybe they can kiss and make up some other tour!



"The Greatest Band You've Never Heard", by BobbyYoungblood

This week, BobbyYoungblood is going to be talking about a band that I have never heard of in all of my short years of loving metal, Arcade. So here is, ENJOY!

---------------------------------------------

What do you get when you mix Cinderella drummer Fred Coury, and Ex-Ratt vocalist Steven Pearcy?? None other than 1991's Glam Metal Super Group Arcade!! Their first album released in 1993, not only featured the face of pron star Mimi Miyagi, but also hits "Nothin to Lose" and "Cry No More" which both went to #29 and #27 respectively on the Billboard Rock Charts. Their sucess and more than likely the Cinderella connection, landeed them the opening spot on Bon Jovi's 1993 World Tour!!. Also 93 saw them land a strange spot on the Milwalkee Metal Fest stage. 1994 saw the release of a second album simply titled A/2 showed a change in sound to heavier dircection, but still sold well with upwards of 20,000 copies. 1994 was also the year the band decided tocall it quits with each member moving on to their other respective projects. In 2000 the band released a live album suprisingly titled A/3, which was made up of old tours. In 2006 the band announced a re-union tour, which would have given alot fans a new and old the chance to catch te short lived band, unfortunately the Ratt re-union took over the plans. Can we really be mad??? Next time we feature a member of this band, with an also semi-unknown history!! See you all in few......



------------------------------------

Proof That Heavy Metal Will Never Die Vol.24

I have a short bit of metal album charting news to lay upon you. It's kind of ironic that I'm running this column this week, considering one of the albums I'm about to talk about, I missed one of these albums due to netbook shenanigans, but have no fear, it is now on my Spotify playlist to finish the year! The album I's speaking of is, Death Angel's, 'The Dream Calls For Bloood', which sold 5,400 copies, and reached all the way up at Number 72 on the US Billboard 200. I've not listened to it, but I'm really looking forwards to some killer thrash if their last album was any clue as to what they are going to put out.

The other album that has charted in the US is the new album, 'Vengeance Falls' by Trivium. Now I'll admit that I've been a bit hesitant of their music, as well as the music of Shadows Fall. But because one of my best friends loves them (HI JOSH, YOU FUCK!), I gave them a shot, and I enjoy their music. Turns out other people like their music as well, because they reached Number 15 on the Billboard 200, not too shabby, guys!



MERRY CHRISTMAS, CHEAPASSES!



First up, is a track off of the new Warbringer album, this song is titled, "Black Sun, Black Moon" and can be found HERE!

Next up, is the song "Crown of Thorns", by Kill Devil Hill.



NOCTURNO CULTO's GIFT OF GODS: 'Enlightning Strikes' Song Available For Free Download

Finally, is a free download of Nocturno Culto's Gift of Gods new song, "Enlightning Strikes", get it below!



Get your free music?, GOOD!, now walk with me to...



THE TEMPLE OF THE DEAD!



'The Theory of Everything', from Netherlands Prog Metal band, Ayreon

'III: The Rommel Chronicles', from Netherlands Death metal lords, Hail of Bullets

'Revolution Rise', by LA Traditional Metal Supergroup, Kill Devil Hill

'Cold River', by German Stoner/Doom metal band, Mountain Witch

'The Mediator Between the Head and Hands Must Be the Heart', by Brazilian Metal legends, Sepultura

'Serpents Unleashed', by Ohio Black/Thrash band, Skeletonwitch

'Chemistry of Consciousness', by Oregon Black/Thrash band, Toxic Holocaust

'IV: Empires Collapse', by California Thrash metal band, Warbringer

That bring me to the ALBUM OF THE WEEK!, this week it comes to us from former Emperor frontman, and producer of amazing music, Ihsahn. I am incredibly excited to hear, 'Das Seelenbrechen', after the greatness that was 'Eremita'. Here's to hoping it lives up to my hype and delivers!!!



As for the movers and shakers of last week!

Wrestler Ultramantis Black's band named after himself has Signed To Relapse Records

Ex-Killswitch Engage Singer's Devil You Know Have Signed With Nuclear Blast Entertainment

Finally, I only have made it through one album so far this week, and it blew my socks off, it was the new Argus album that was my album of the week a few weeks back. I knew I made a good choice in putting that there! Listen to it if you haven't already, it's heavy metal bliss! It will be in my playlist below, have fun!!



I know it's exciting to see my playlist after it was missing from last week, but don't get too antsy, we still need to go to the place...



WHERE THE RUNES STILL SPEAK!



Alright, so last week we got 200% more comments than the week before, so we're doing well!

The first comment comes to us from the man, the myth, the Michael L!

A few comments on the R&R Hall of Fame:

This is a pretty good list of those that are being given consideration for induction, with Deep Purple, Yes, Peter Gabriel and Kiss, along with Nirvana. To be honest, i would take the first four and leave Nirvana out, if only because it's a bit too early.

IMO, bands should not be given the slot in their first year of eligibility, not when there are so many other bands that have not made it. As much of a fan of Metallica as I am (particularly old-school), even I have to acknowledge that their selection in 2009 was too soon.

BTW, I had the good fortune of living in the Akron area that year, when the induction Ceremony was held in Cleveland, and thus I attended the ceremony, and it was a good one. It was particularly cool to see Jason Newsted play with the band for one night, and Lars' comments about how many other bands deserved to be there before Metallica (I think he mentioned Kiss, Deep Purple, Iron Maiden and Judas Priest among others). It would have been cool to have seen Run DMC perform live, but they chose not to out of respect for their fallen DJ.

Back to this year's crop:

Nirvana: Certainly deserves it, but not for another few years.

Deep Purple: I would have thought they'd get the sympathy vote last year, as their keyboard player passed away not long before the votes for the induction were closed. Perhaps this year might be their shot, but I can see them being passed over again.

Peter Gabriel: Also deserves it for a great body of solo work over the years. Maybe.

Yes: I could be wrong, but I think this is the second or third time they were up. I can't see Yes and Gabriel getting it this time around, so my bet is for Yes to represent the pro-rock genre.

KISS: Deserves it for the way they revolutionized live shows, particularly rock concerts. More than anyone, they turned the concept of a live concert into a spectacle with pyro, massive light shows, performers flying over the crowd, breathing fire and spitting up blood. These guys certainly deserve to be in the HoF, and the KISS Army will do everything it can to get this band inducted.

LL Cool J/NWA: Enough has been said about non-rock music making it into this Hall of Fame, but neither of these bands deserve it. At least Run DMC had a good rock crossover with their cover of Walk This Way. The Beastie Boys started as a rock/rap outfit and even Public Enemy has incorporated a lot of rock into their catalog (including taking part in an Anthrax cover of Bring the Noise). But neither LL Cool J nor the NWA are even remotely connected to rock music, and to have either one of them beat out any of the aforementioned acts would just be embarrassing.

I totally agree about Nirvana going too early, I've never been big on them, not that I dislike them, but I always found them to be a bit less than their reputation suggests. But I know they have a huge fanbase, and are influential, so I see them getting first ballot treatment, for better or worse. I'm also a huge Metallica fan, and I don't think they should've went in first thing, there are other bands, especially ones that Lars mentioned, that I think should have gone first.

You're really lucky on that, must have been great to see Newsted with Metallica one more time!

I agree with everything you said, including the stuff about NWA/LL Cool J, no place in a rock hall of fame. I still say they should just change the name of the damn HOF,solves the problem right then and there!

Final comment comes to us from, zero2dash

Does anyone know who the 'fart gif' band is? Just curious.

I do not know who they are, BUT I know where to find the video this gif came from!



So for this week on our fun jaunt around the metal world, as we tour around Europe, and land in the country of Boznia and Herzegovina. I know nothing about the place, but damn if I didn't find a gem in this country full of black metal bliss. Enter one Daddo Oreskovich, who is the main man in the one man instrumental band aptly named, Daddó! He has a great mix of progressive song writing and shred, give him a listen, he has impressed me greatly!



Alright,so if you have any opinions on the column, some genre or country that you want me to feature in the global metal column, or if you just want to talk metal you can e-mail me at themetalcoop@gmail.com, tweet me at @themetalcoop or comment below!

KEEP THE METAL FAITH ALIVE \m/

and one more thing before I go....

comments powered by