Hammer of Doom News Report 11.05.13: 'Get Me A Shovel' Edition.
Posted by Robert Cooper on 11.05.2013

News and thoughts on Metallica claiming to be fans of Justin Bieber, Motorhead postponing their European tour due to Lemmy's ailing health, Slayer explaining why Dave Lombardo isn't in the band anymore and more!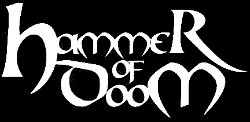 Welcome, Metal Faithful, to the land of Mountain Dew and honey, the HAMMER OF DOOM! I, as always, am your host, the beardo, the king of the grey islands, Mr. Fun-Time himself, Robert Cooper! I'll bet you're all just itching to know what I dressed as for Halloween, well, I dressed as Dan Pearce from Dan's Toku Rants, and the picture is terrifying, but I still giggle at it. Though Halloween wasn't super eventful, though I did get invited to a party by the Winston-Salem Anime Group, and it was tons of fun!

But as for the column this week, it may seem a bit short, but I have lots of work to do, and so little time! But regardless of that excuse, I do have all of the past week's metal news, as well as a bit extra in terms of streaming. All of this before I get to a bit of new album releasings, responding to new comments, AND taking you all on a tour around the world with the GLOBAL METAL PICK OF THE WEEK!!

So without further ado, quiet your voices, and listen for...



THE CRIES FROM THE CRYPT!



Avenged Sevenfold Singer says, 'We Have So Many Eerie Similarities To Metallica'

He says that they're similar because they lost a member at a important time in the band, and their latest album is being compared to the Black album. I laugh at this, because those two facts alone don't warrant the use of the word eerie. Sure, losing a member sucks, but bands lose people all of the time, and some bands release commercially palatable albums, it doesn't make them Metallica.

Broken Hope And Deicide Make Amends For Death Metal Solidarity

So after the shit slinging, they've made amends and are friends again. I guess even in metal, you can turn the other cheek!

Fred Durst Developing TV Show Based On His Life

Is he doing this show for the nookie, too?

Eyehategod Announces New Drummer

I think it might be a bit soon, but then again, they have a job to do and great music to make, so best of luck with them and Mountain of Wizard's drummer Aaron Hill behind the kit!

Rush's 'Clockwork Angels Tour' To Receive Theatrical Premiere

Mark your calenders, November 18th at 7 pm is when this starts, be there, or be square!

Kerry King Says 'Fans Aren't Ready' For Gary Holt To Contribute Material To Slayer

I call total bullshit on this, I know as a fan I'm more than ready to hear Gary Holt helping write songs for Slayer. He's been in the band for a few years now, at least give him a shot, it's not like he's some unknown. Though I guess they'll have enough songs written by Hanneman and King to make up the new album, I'm still game for Holt.

Tom Araya: Why Dave Lombardo Is No Longer In Slayer

What it boiled down to was Dave kind of like hired help, and once he went public with his issues, he goofed, and Tom doesn't see him coming back.

Bleeding Through Frontman asks, 'Is It Ever Going To Be Enough?'

His band will be done after this tour they are on, but I encourage you all to go find his message to the fans and media where he talks about his frustrations with the media, money, and fans who talk trash about the band. IT's really heartfelt and makes lots of good points, so go seek it out!

Motorhead European Tour Postponed Due To Lemmy's Health

Damn, I'm really starting to worry about Lemmy, his health is starting to get worse, but I really hope he gets healthy. I'd hate to lose another legend so soon.

With that morose note, read with me from....



THE PSALMS FOR THE DEAD!



.....Guys, just stop talking!

*sigh*....I knew this would be the news story for the week as soon as I saw it. I'm sure most of you have heard that Metallica have admitted that they were Beliebers, which means that they are obsessive teenage fangirls of Justin Beiber. It was not a smart move in terms of metal cred, because they have taken quite a shot in the kneecap in terms of their already ailing metal credibility. So here are the quotes from their interview with Q magazine...

Frontman James Hetfield replied, "Are we Beliebers? Yes." while drummer Lars Ulrich offered: "Is it possible to have respect for him without being a Belieber? I think the kid's really talented and obviously to go through what he's going through at that early age must be a mindfuck. So the fact that he still goes out there and does it, I admire that and I think he's super talented, so I guess I am kind of a Belieber. If he likes 'One', and Liam Gallagher likes him, OK, there you go."

Bassist Robert Trujillo added: "As long as he stays out of trouble, I'll be a Belieber."

I'm going to approach this first as someone who understands what they mean, and then I will approach this as a metalhead. So first, I understand what they're saying, they're saying that they don't mind him, and even respect his vocal talents, and I think as fellow "musicians" (I use the quotes for the Beiber side of the equation) they see him as someone who they have nothing against, I guess they don't want to trash him. Though I like Lars' approach the most, because I think he knows the term Belieber holds a lot of fanaticism to it, and doesn't want to be lumped with that. So now that I've defended them somewhat (I really end up defending them on here, don't I?) , here is a short rant.

While I understand having a respect for him because you like his talents, what substance do you really see in his music that shows those talents, or makes you give him respect? Because I sure as hell haven't seen it. I know Metallica has mellowed in their old age, but fuck, these were the guys who used Kip Winger's picture as a target on a dartboard, am I really supposed to believe that these guys hold him in really high regard. Jesus Christ, Justin Beiber is pretty much what I see as everything wrong with a lot of my fellow youth, and his image and music stylings are something that I look at as a huge issue with the music scene that is around nowadays. It's incredibly manufactured and polished to the point of disingenuous soullessness. Lyrically, the dude is awful, though I doubt that he writes anything himself. Nothing that Justin Beiber does deserves the praise of Metallica, unless, as I said, they have just mellowed that damn much, so much, that they have lowered themselves to throwing blind praise to some 19 year old punk in need of some major criticism. But what's done is done, and Metallica have said plenty of dumb things lately, so maybe this is just par for the course. But if they keep talking like this, I might need to go borrow HHH's shovel and bury them already!



Digging up the Hidden Gems with Michael L.

Honestly, I have never listened to much of Kix, sure I've heard of them and the fact that they're kids tested, mother approved, but beyond a few songs, I've never been much into the band. So I guess move me a seat, Metal Faithful, I want to sit with you guys and learn from one of your own in the man, the myth, the Michael L.

----------------------------------------

Kix--Midnight Dynamite

I've always considered Kix to be a hidden gem from the hair metal era. Actually, they were part of the first wave of hair metal bands, a wave that also included Quiet Riot, Ratt and Motley Crue. But unlike those other bands, Kix never quite got the kudos they deserved, perhaps because they did not come from the LA scene, but instead from Baltimore. However, from their 81 debut, they did an excellent job in presenting a straight-forward metal sound, but one that clearly wore its AC/DC influences on its sleeves.

The band began to came into their own with their third album Midnite Dynamite, which is a very good mix of classic AC/DC rock and roll and the rising second wave of hair metal, which would produce luminaries such as Cinderella and Poison. The opening title track starts with a riff pretty much stolen from "High Voltage" before slamming into the main tune. "Bang Bang (Balls on Fire)" is a great midtempo track, while "Layin' Rubber" is about as good of an up-tempo song to cruise the highway as there has ever been. And yes, the album does have the typical hair metal ballad in "Walkin' Away" which works about as well as many of the ballads of the time, and might have helped get more mainstream attention only a few years later when it seemed as if every other hair band was getting a # 1 hit based on their tender ballad.

As for the musicians, they are very good, with a solid dual-guitar act in Ronnie (10/10) Younkins and Brian (Damage" Forsythe, with a number of excellent riffs that sounded great for the time and still hold up today. But it is vocalist Steve Whiteman who is the true workhorse of the band, with a good deal of power—albeit not that much range. Yet with these songs, range isn't necessary, as he's able to carry the music, whether it's a tender ballad or a blistering anthem.

Anyway, this is a band worth checking out if you're into the 80's hair metal scene. They're not particularly original and their lyrics are cringe-worthy at times. However, they are quite good at what they do. I'd say Midnite Dynamite is their best album, but you can't go wrong with anything that they've put out (although Cool Kids is relatively weak compared to the rest).

Here's a link to their 2013 performance from Baltimore's M3 Festival, which includes two songs from the Midnite Dynamite album: "Layin' Rubber" and "Cold Shower."

----------------------------------------------------



Proof that Heavy Metal Will Never Die Vol. 25

Starting out everyone's favorite segment of the column, we'll be looking at Ayreon's new album, 'The Theory of Everything'. It placed at Number 3 on the album charts in The Netherlands, which is great! I haven't listened to the album yet, but I know the band has a great track record, and one of my favorite vocalists, JB Christoffersson, as well as Genesis's Steve Hackett, so I'll be digging into it sooner rather than later.

Motorhead is next on the sales wagon, they sold a silly amount of metal with their new album album, 'Aftershock'. he heavy metal icon of Lemmy (and pals), made the Top 10 on the album charts in Germany, Finland, Norway, Switzerland, Austria, and Sweden. The album also sold 11,000 copies in the US to make it to Number 22! The album itself is a pretty good output from an incredibly consistent band, so go give it a look if you haven't already.

Finally, is a nice little blip with Metal Church's new album, 'Generation Nothing' which sold 600 copies in the US, which is pretty solid. Hopefully once they start a world tour they'll be making even more money!





MERRY CHRISTMAS, CHEAPASSES!



First is a song from the album that the Hammer of Doom comment section was excited about, the Michael Jackson metal tribute album. Here is Chuck Billy doing "Thriller".



Secondly is a new lyric video for the Deicide song, "Thou Begone".



Third up is a sludgy, doomy bonus track off of the new Red Fang album, this song is titled, "Black Water".


Finally, is a new Rhapsody of Fire song called, "Silver Lake of Tears".



Who loves the epic cheese? I know I do! But do you know where there is no epic cheese? In....



THE TEMPLE OF THE DEAD!



Damn, last week, we had a litany of metal releases, but this week, we have next to nothing.

So the one non-album of the week is, "Death Will Reign" by California deathcore band, Impending Doom.

Now is time for the ALBUM OF THE WEEK! I know that I'm pretty happy about this one, 'Tres Cabrones', coming to us from, THE MELVINS!!! The Melvins are plenty of fun, and I am looking forwards to the newest output from them!



Now before I post the Spotify list from last week, I must talk about what I listened to. I listed to the new album by Red Fang, I enjoyed it quite a bit, it was what I was wanting from them, and while it wasn't as good as the Argus album from the week before, it was still pretty solid. I also listened to the new Death Angel album, it was a nice piece of thrash, which is something that is truly lacking from this year's releases, though I haven't listened to every thrash album, I've yet to get any that blow me away like Testament, Overkill, and Kreator did last year.



There's the Spotify playlist, don't forget to bang your head, but first remember to follow me to the place...



WHERE THE RUNES STILL SPEAK!



Our first, and only, comment from last week comes to us from BobbyYoungblood

Haha dude ive never even listened to Evile before, I guess I could check them out though. Who knows...

I can honestly say I never heard of Arcade either till about 2 yrs ago but they were a great band. Hope you dug it. I think youre gonna really dig the band that comes next man.

Wasn't sure if you play much thrash, but you're one of the few guitarists I'm acquainted with, so I figured you'd at least like to know!

I did enjoy the little bit I heard, and I can't wait for what is next!





To put a nice bow on this column, I take you to the wonderful land of Croatia for the GLOBAL METAL PICK OF THE WEEK! I don't know all that much about Croatia, besides Mirko Cro Cop, I know about him! So again I forwent all the black metal that litters the eastern European lands for another genre that I have quite a bit of love for psychodelic-tinged stoner metal in the band Stonebride. So here are Stonebride with the song, "To Follow", off of their debut album, 'Inner Seasons'.



Before I put the tape on this seemingly abbreviated edition of the Hammer of Doom. I feel I should plug some things! I was in the Top 5 here in the Music Zone, which is NOW on Sundays so that my ass gets things in on time (or at least closer to on time).

As for podcasts, check out the Co-Operative Multiplayer podcast Saturday nights at midnight (which is Saturday going into Sunday) on Stephen Randle's Spreaker page, we occasionally talk about video games there.

Finally, go check out the Radulich in Broadcasting Network, it's pretty much where all of my podcasts are located! You have the Metal Hammer of Doom, which featured me hosting while talking with Sean Garmer and my friend Calvin about Dream Theater. Then you have the Sentai Rider Podcast, which is your home for all things tokusatsu, including Kamen Rider, Super Sentai, Power Rangers, Ultraman, Shougeki Gouraigan, and perhaps even some Godzilla. Hunter (one of my best friends), and I looked at Kamen Rider Wizard as a whole last week, so go check that out (especially on facebook at facebook.com/Sentairiderpodcast) . Lastly, listen to The Three Beards, which is also on 336cast.com, iTunes, and facebook. Thankss!




Alright,so if you have any opinions on the column, some genre or country that you want me to feature in the global metal column, or if you just want to talk metal you can e-mail me at themetalcoop@gmail.com, tweet me at @themetalcoop or comment below!

KEEP THE METAL FAITH ALIVE \m/

and one more thing before I go....

comments powered by