Hammer of Doom News Report 12.03.13: 'Awakening from the Turkey Coma Crypt' Edition
Posted by Robert Cooper on 12.03.2013

News and thoughts on Metallica letting their fans pick their setlist and Journey sending money for relief to the Philippines, plus the Animated Adventures of GWAR and much more inside!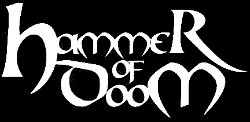 ANNOUNCEMENT!, IF YOU ARE INTERESTED IN HAVING YOUR THOUGHTS AND OPINIONS INCLUDED IN THIS YEAR'S HAMMER OF DOOM TOP 50 ALBUMS OF 2013 LIST, TWEET ME, EMAIL ME, FACEBOOK ME, OR ANYTHING OF THAT SORT SO THAT YOU CAN LET YOUR VOICE BE HOLD. JUST TELL ME WHAT ALBUM YOU WANT TO WRITE ABOUT (it can be as short as a sentence) AND I'LL PUT YOUR NAME ON THE LIST OF PEOPLE TO BE LOOKING OUT FOR IN TERMS OF CONTENT. Though if the album isn't on the list, there might not be a spot for you, but regardless, I really want to hear y'alls (southern English FTW) opinions on the music this year, so email me at themetalcoop@gmail.com, tweet me @themetalcoop, facebook me at faceboook.com/CoopVideInfra. Looking forwards to hearing from you, but without further ado...let's start the show!

Welcome, Metal Faithful, to the much anticipated, rarely duplicated, and fully assertated, the HAMMER OF DOOM! I, as always, am your host, Robert Cooper. And I must apologize profusely for my absence in the past few weeks, I have pretty much been trapped in a giant web of papers and presentations as my semester winds down at WSSU. But I have picked up a game or two in my time away, and also have written like 6 papers. But I am here to give you the metal news, albeit not fully up to date, because most of this column was written last week, I just kept getting caught up and couldn't finish it, so next week will be where you get fully caught up.

But enough talking, I'll shut up so that you can hear....



THE CRIES FROM THE CRYPT!



Journey Donates $350,000 To Help The Philippines In Aftermath Of Super Typhoon Haiyan

This is absolutely wonderful of them to do. I know their current singer is from the Phillipines, so the fact that they did this is just awesome. I really hope that everyone in the Phillipines gets better, it'll take a while, but I hope they all get better.

Journey's Neal Schon Set For Massive Pay-Per-View Wedding

This is absofuckingloutely the dumbest fucking thing I have heard in quite a while. I know his wife was a Real Housewife and all, but fuck, why would you make your wedding a PPV affair.

Lostprophets Singer Pleads Guilty To Attempting To Rape Baby

Fuck this guy, just fuck his ass with the business end of a rake. I know before that I decided to not crucify him before he faced trial, but now that he has, I am pretty much condemning him to musician hell.

Ozzy Osbourne Says Black Sabbath Reunion Didn't Contribute To His Relapse

I'm not quite buying that, because his explanation of being stuck in hotel rooms and having time on his hands is due to the reunion. I'm just happy that the guy is back to being sober, and I'd personally like him to stay that way.

Tony Iommi says, 'I Don't Know If That Would Be An Anticlimax If We Wrote Another Album'

I kind of feel like it would be one. I mean, sure, I enjoyed the album like many others did, but I'm not sure if the rule of diminishing returns would set in if the band keeps releasing new albums. But we'll find out in the future, I'm sure.

Rush's Alex Lifeson says, 'We've Committed To Taking About A Year Off'

They damn well deserve it, that's for sure!

Former Marilyn Manson Guitarist Daisy Berkowitz Battling Stage-Four Colon Cancer

This is heartbreaking news, I hope that he battles as hard as he can and lives through this, because cancer is no joke.
Nachtmystium Is Over, Says Blake Judd

I just got into them, as well. Maybe they'll come back at some time, but hopefully, by then Mr. Judd will kick his habits and build back some goodwill that he's lost over the yeras.

Funny or Die Debuts 'The Animated Tales Of GWAR' Featuring 'Weird Al' Yankovic

This is so fucking great, watch it below!



After you finish with that, read with me from...



THE PSALMS FOR THE DEAD!



I'm down for this!

So even though I was gone for a few weeks, I still never really got many stories that I could elaborate on past a sentence. Well, the whole attempting to rape a baby thing could get me typing for days, but there are only so many ways I can say, "This man should be beaten, and his dick smashed with a brick", without starting to get angry and redundant. So here I am with something that I feel like is really interesting, and could be really fun. SO news came out last week that Metallica (or as I call it, The Table and friends) have announced that for some shows in Europe next summer, they will be letting the fans pick their setlist. I though immediately that 1. this was a great idea, and 2. Why the hell have they not done this before? It's an ingenious idea, and while it has been done before, I know that it has, I'm just surprised that they have not done this sooner. So the next question is, WHAT DO YOU, the Metal Faithful, THINK THEIR SETLIST SHOULD BE?

It's only 18 songs, so that is a pretty small amount of songs to pick from such a great discography. Keep in mind that the last slot is for a new song, so pretty much it's 18 songs. I don't see 'The Ecstasy of Gold' as a song on the list, so that is already covered. After that, I have it going...

1.Hit the Lights
2.Dyers Eve
3.Battery
4.Phantom Lord
5.Ride the Lightning
6.Seek and Destroy
7.Frayed Ends of Sanity
8.the Four Horseman
9.Fade to Black
10.For Whom the Bell Tolls
11.Leper Messiah
12.Blackened
13.Eye of the Beholder
14.Enter Sandman
15.Master of Puppets
16.Creeping Death
17.One

That was honestly a REALLY hard list for me to write, because some songs belong on a Metallica setlist for good, list Fuel, but there are others that have to be on a setlist, because they wouldn't be played otherwise like, Leper Messiah, and Eye of the Beholder. I'm very interested in seeing where this goes, so comment in the section below what songs you think would work in a Metallica setlist, and maybe we can have our first official Hammer of Doom Metallica setlist...or something silly like that.



Hidden Treasues with Michael L

Here is another little column written up by well known, and respected, member of the 411 comment section, Michael L. I honestly was surprised to see an AC/DC album being sent to me, because usually, their albums are all well recognized due to them being a band that are so easy to get into, as well as them having a deal with Wal-Mart. But now that I think of their discography, I don't tend to think of this album, so I have to say that I agree with them being on this little section. So without further ado, here is Michael L with another great cut of, Hidden Treasures.

------------------------------------------------

It's a bit odd to be considering an album that went platinum a "buried treasure" but the term fits when Flick of the Switch is compared to the multi-platinum success of their previous three outings (Highway to Hell, Back in Black, and For Those About to Rock We Salute You). And it would be a departure of sorts from the big sound of the previous three efforts, which is no surprise considering the band decided to produce the album themselves. And the result is an effort to strip the sound of the band away from the big production of Jeff "Mutt" Lange and focus upon what mattered the most: the music. The end result was a fun collection of ten songs, ranging from the anthemic title track and "Bedlam in Belgium" to the sultry groove of "Deep in the Hole" and "Nervous Shakedown" to the up-tempo "Landslide" to the raucous closer "Brain Shake." As is typical with AC/DC, you're not going to find any surprises here—just good old-fashioned rock and roll the only way that AC/DC can do it: loud and furious.

------------------------------------------------



Proof That Heavy Metal Will Never Die Vol.26

First up this week is Ghost with their new covers album, 'If You Have Ghost', managed to reach all the way to number 87 on the Billboard 200. I'm not very surprised at this news at all, since Ghost have really started catching on with a lot of the more mainstream metalheads. I'm all for this, because I find them to be pretty solid, while still having enough charm to make up for their gimmicky nature.

Next up are the sales figures for the re-release of, 'As the Palaces Burn' by Lamb of God. It sold a very nice 6,400 copies to land at number 64 on the Billboard 200. Not much more to say about that than I'm glad that metal i on the charts.

Up next on the docket is Stryper's new album titled, 'No More Hell to Pay'. My initial reaction when I saw this news was...."There's a new Stryper album?". Turns out that it's pretty solid, and it sold 9,600 copies to land at number 35 on the Billboard 200. I'm legitimately surprised that this album solid this well. I don't mean to sound like an asshole, but I thought Stryper would stay an 80s band for the most part, but lo-and-behold, I am wrong. Good for them, and I might look into this album if I get the chance.

Now for news that annoys me, but still it's sales. The new album by Five Finger Death Punch (*groan*), has sold 77,000 copies to land at #2 on the Billboard 200. This still annoy me to no end. Maybe I'm an elitist, but I really dislike this band. I find them to be the douchiest, most creatively bankrupt band to hit it big since Limp Bizkit. The fact that they have sold many records within the span of a year is also something I see as an ill omen. Because what if this is like the Harry Potter movies? Harry Potter's final book was split into two movies, and after it's success, fucking everyone has been doing it. I'm afraid that more mediocre bands are going to try this in order to make more money and continue touring. Though I will give them some respect by saying that it isn't easy to sell that many albums, and that I'm happy that they're successful, though I say this as a human being, and not a fan of them.





MERRY CHRISTMAS, CHEAPASSES!



First is Hecate Enthroned with, 'To Wield the Hand of Perdition'.

[youtube=http://www.youtube.com/watch?v=uUwlbUkMvzY&w=420&h=315]

Next up, is Saxon with an acoustic version of 'Frozen Rainbow'.

[youtube=http://www.youtube.com/watch?v=4CJwkDjtzKM&w=420&h=315]

Finally, is Majesty with 'Banners High'.

[youtube=http://www.youtube.com/watch?v=uGL5w0ODSgw&w=560&h=315]

Next up on the docket is a visitation to....



THE TEMPLE OF THE DEAD!



I really hate to cut this section short, but even after two weeks of absence, I haven't had the time to go in depth on waht albums are being released. So I guess if I'm going to be giving an ALBUM OF THE WEEK, it'll be the one album that I am truly looking forwards to from the past few weeks, the new album, 'In the Minds of Evil', by Florida Death metal icons, Deicide. I have never been a huge fan of theirs, more due to just the fact that I haven't gotten around to them than anything, but I am really excited for this album, because the first two cuts I have heard from it were stupendous.



Can't forget about the Spotify Playlist for you guys to listen to!



Now don't hurt yourselves, because we still need to go to the place....



WHERE THE RUNES STILL SPEAK!



Funny thing, while everything else here is heightened by the fact that I missed a week, but this section, not so much.  We only have two comments, and the first one is coming right at us from one of my favorite commenters, as well a contributor to this very column, BobbyYoungblood.

So what did you think of Vertex???

I was excited for it when I saw who was in the band, sadly, I did not find the band to be very much to my liking. It sounded like Dave Mustaine joined an industrial band, with middling results. But still enjoyed reading the write-up, buddy!

Final comment comes to us from JoshSyvertsen

"smell of Rogaine and a Waffle House bathroom..." You win the internets for the day good sir!

*bows* Much thanks, I'd like to thank the Academy, my mom, and Bret Michael's plunging hairline.

Before I start to wind down, I'm skipping the usual GLOBAL METAL section for something a little more festive. I know I'm a bit late, but I was totally going to find a song about Thanksgiving,but that was a no-go. So here is a band from Turkey. So here are Crossfire, with the song, "The Forsaken", off of their album, 'Aggression Treaty'.

[youtube=http://www.youtube.com/watch?v=Gacl9FEtp64&w=420&h=315]

Alright,so if you have any opinions on the column, some genre or country that you want me to feature in the global metal column, or if you just want to talk metal you can e-mail me at themetalcoop@gmail.com, tweet me at @themetalcoop or comment below!

HAPPY BELATED TURKEY DAY AND KEEP THE METAL FAITH ALIVE \m/

and one more thing before I go....

comments powered by