Hammer of Doom News Report 12.17.13: 'King Diamond Equals Quality' Edition
Posted by Robert Cooper on 12.17.2013

News and thoughts on Joey Jordison leaving the drum position of Slipknot, the 2014 Grammy nominees for the Hard Rock/Metal Category, KISS winning the fan vote for the Rock and Roll HOF and more!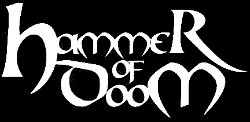 Welcome, Metal Faithful, to the one place on this website where the words Anal Cunt are met with excitement, the HAMMER OF DOOM! I, as always, am your host, metal missionary, podcasting fiend, and Mr. Fun-Time himself, Robert Cooper! I'm sorry for being late again, guys, it has been a rough past month for me, I've been getting blitzed by school like you wouldn't believe. But good news is that I passed, so I am free for the month! I also had a birthday on the 3rd, and nothing too great happened, but I'm now 22, so go me.

Before I start the talk of this week's column, I'd just like to briefly address the people who bitch at me every week I do a metal oriented list on the 411 Top 5. I can understand your annoyance at the fact that I am ignoring far more successful and popular acts in favor of picking bands that some of you don't care about, or have even heard of. That being said, metal is my passion and my obsession, and me including it in a Top 5 list should really be a foregone conclusion at this point. I care very little for the more popular acts, they aren't my thing. To close, all of the people who claim that there are too many closeminded metalheads on the internet, ad this site in particular. I'm fairly open-minded, all things considered, and I am THE only metal writer on this site, I just happen to be one of the few who help Jeremy out and contribute to his column. Sorry to rant, but I felt that it should be said, and I thank you all who are still reading, it means a lot to me!

As for the column this week, even though we missed a week or so, the news still hasn't been THAT great. Save for a news story or two. I have no new albums to tell you about, because honestly, there are none! But I DO have replies to YOUR comments from last column, as well as Christmas songs instead of GLOBAL METAL...just because!

Ignore my reasoning and listen for...



THE CRIES FROM THE CRYPT!



Legacy X Supergroup To Release Debut Album Via Frontiers Records

This band is a supergroup consists of Joe Lynn Turner on vocals, Carmine Appice on drums, Blue Murder bassist Tony Franklin, and Night Ranger guitarist Jeff Watson. Hopefully, it'll be pretty solid, I don't know much about the bassist or the guitarist, but Carmine and Joe Lynn.

Lamb of God Partners With Specticast For Distribution Of 'As The Palaces Burn' Feature Film

I hope my local theater gets this in, because I am very interested in seeing this, and I'm not a huge Lamb of God fan.

Metallica Sets World Record By Performing Concerts On All Seven Continents In Under A Year

Couldn't have happened to better guys.

Carcass, The Black Dahlia Murder, Gorguts To Join Forces For 'Decibel Magazine Tour'

I'm so fucking stoked for this, sadly, it will be coming nowhere near my area.

Candlemass To Perform Entire 'Ancient Dreams' Album At Roadburn Festival

WHY CAN'T I ATTEND THIS?...FUCK!!!!!!

Hammerfall To Return In 2014

I think we metalheads have to look forwards to a lot next year, this is one of these things. I love Hammerfall, though I am looking forwards to hearing more from them.

Former & Current Members Of Nine Inch Nails, Limp Bizkit And Blink-182 Are In A Band Now

WOO, are they playing some douchecore, because I feel like Blink 182 and Limp Bizkit screams douche if anything does.

Metallica's Orion Music + More Festival To Take Next Year Off

Seems that they're putting it on the burner so that they can tour Europe over the summer, it's fine by me, give the festival a rest.

KISS Wins Fan Vote For Rock and Roll Hall of Fame Induction

I had always kind of assumed that they were going to be the band that the fans voted on, but I thought maybe Nirvana would have more mainstream people. But no matter, I'm just happy that another metal band is in!

Avenged Sevenfold's 'Hail To The King' Animated Series Released

When the fuck did they get an animated series? Why the fuck did they get an animated series?

Brian May Still Discovering Unheard Freddie Mercury Material

And may him continue discovering things until the end of his days, because Freddie Mercury is a god.

Speaking of gods, pray to your own and read with me from.....



THE PSALMS FOR THE DEAD!



My excitement wants me to hold it back, bro!

The biggest news of the past few weeks to me has to do with what is more or less the most inconsequential award show of the year, the Grammys! That's right, it's already that time of the year, the time of the year the bullshit ruling bodies have their very own award shows so that they can fellate one another with praise! But in all the bullshit, we get the Metal/Hard Rock Performance of the Year Grammy! The one that is best known for Metallica losing to Jethro Tull. I also know it for MegaDave losing every single year! But the nominees are....

-Anthrax with their cover of AC/DC's "TNT".

-Black Sabbath for "God Is Dead?"

-Dream Theater for "The Enemy Inside"

-Killswitch Engage for "In Due Time'

-Volbeat (featuring King Diamond) for "Room 24"

That is a VERY impressive list, if I do say so myself. I actually liked every album that the songs here went along with, so I am pleased. Unlike last year, where I felt that Halestorm was pretty much the ringer to take it, and they did! I perhaps would go with something other than Anthrax since it was just a covers album, but that's my only major issue here. I'd have chosen something like Amon Amarth, something a little more death oriented, but I know that's probably not going to happen. I can be happy that they didn't choose Megadeth this year, because as the biggest Megadeth fan that I know, I can say that 'Supercollider' deserved no recognition on any list other than a worst of list!

As for who I see winning this, I think that it's going to be either Black Sabbath or Volbeat. Black Sabbath are the favorite to me, because their return was very well received. But Volbeat are still incredibly popular, and I could see them swooping in to take the crown. I'm by no means a huge fan of them, I find them to be very repetitive, especially the singer, who is a unique mix of Danzig and James Hetfield, but that is the ONLY tone he has, it rarely deviates, and I find it hard to listen to more than a few songs of theirs at a time. But this song does have King Diamond on it, so I will allow it! I personally would like to see Black Sabbath take it, my second pick would be Killswitch Engage, because I loved their new album and would like for them to win a Grammy with Jesse Leach as their singer.



The Knot Lets One Slip!

In news that kind of surprised me on the surface, Joey Jordison has left Slipknot. Hard to believe, I know. Here is their statement on the matter...

"To our Maggots and fans around the world,

"It is with great pain but quiet respect that, for personal reasons, Joey Jordison and SLIPKNOT are parting ways. We all wish Joey the best in whatever his future holds.

"We understand that many of you will want to know how and why this has come to be, and we will do our best to respond to these questions in the near future.

"It is our love for all of you, as well as for the music we create, that spurs us to continue on and move forward with our plans for releasing new material in the next year. We hope that all of you will come to understand this, and we appreciate your continued support while we plan the next phase of the future of SLIPKNOT.

"Thank you, The 'KNOT"


As I said, at first, I was honestly a bit surprised, because he had been with the band since their inception, and has been with the band through thick and thin. But when I started to think about it, maybe this break that they've had just kind of told him that he didn't need to be in the band anymore. I liken it to doing an activity, let's say going to the bar with your buddies every Friday after work. You go there every Friday for years until people get busy for a month or so and you don't go for a little while. You find other things to do, you maybe find something else to do and realize that you are fulfilled doing those other things rather than going to that same bar. I think that maybe that is what happened to Joey with Slipknot. That's just my speculation, but they've not been SUPER active as of late, sure, they do some touring and whatnot, but for the most part Joey has been doing side projects like Scar the Martyr. I'm sad to see him leave the band, but I doubt they'll have a problem finding a replacement for him. They're a huge band, and they probably have plenty of guys sending them shit trying to audition already. Besides, they have like 4 drummers already, right?



Proof That Heavy Metal Will Never Die Vol.26

Coming up first on the docket is the new album by rock heroes Boston. Their new album, 'Life Love & Hope' managed to make it up to Number 37 on the Billboard 200. I think that's pretty damn cool for them, honestly, I didn't even know Boston were releasing new material, but then again metalheads have been hearing that line for years, so it's no surprise that I didn't know.

Next is Saxon with their orchestral/acoustic album, 'Unplugged and Strung Up'. It sold a mere, yet still solid 500 copies. I say those two things because they aren't exactly big in the US, and while 500 is still not a HUGE number, but still happy for them, they're a killer fucking band! On the other side of the coin Black Sabbath's, 'Live... Gathered in their Masses' DVD entered the US DVD charts at number 2, so that's something!

Finally, is Deicide's, 'In the Minds of Evil' sold 2600 copies in the US. Do I have any damn clue where that is on the Billboard charts? No, because blabbermouth didn't say, and I use them as news, for better or worse! But the album is pretty goddamned great, if I do say so, myself!





MERRY CHRISTMAS, CHEAPASSES!



First is Cynic with, "The Lion's Roar". It was a bit softer than I wanted, but I love Cynic, so I'm praying the album this came off of is great!



Next is GRAND MAGUS with the title track off of their new album, "Triumph And Power". I wasn't a big fan of the guitar tone of the song, but everything else was what I wanted.



Finally, is ICED EARTH with their new song 'Among The Living Dead'. You can download it HERE for free! (with an email, of course)



I'm really excited for next year, but I'm also excited for....



THE TEMPLE OF THE DEAD!



I'll just be pretty damn honest here, I have not looked at any new albums, and the ones I have looked at haven't done much to interest me. December isn't a big month for things that aren't cinema and consumerism. I'm gearing up for the start of something I have been training for since the beginning of the year, the Top 50 Metal albums of 2013. If you thought last year was a tight race, this year is insane, and REALLY big on death metal. So make sure you are here next week for that, I can't wait to see the reactions, because while I do have lots of big albums, there are also some smaller bands featured, and I honestly can't wait to see how my list shapes up as I finish the 20+ albums that I want to before I feel comfortable creating any sort of list.

Speaking of lists, here is the 2013 playlist so far!



Remember boys and girls, don't hurt your ears too much, because you still need to hear the cries from the place...



WHERE THE RUNES STILL SPEAK!



First comment from last column comes to us from Jed

My personal Metallica set list, in chronological order. I picked two songs off every album, save for Kill 'Em All (can't stand that album) and two covers:

1. Fight Fire With Fire
2. For Whom The Bell Tolls
3. Master Of Puppets
4. Disposable Heroes
5. To Live Is To Die
6. Harvester Of Sorrow
7. Enter Sandman
8. The God That Failed
9. Ain't My Bitch
10. 2x4
11. The Memory Remains
12. Carpe Diem Baby
13. St. Anger
14. Frantic
15. That Was Just Your Life
16. The Day That Never Comes
17. The Small Hours
18. So What?

I'm honestly surprised you don't like 'Kill 'Em All'. Why don't you like it? I know all albums have a person who dislikes the album, but I've never heard a complaint about it from anyone before. If I were to pick two songs from each album it be Hit the Lights, Seek and Destroy, Creeping Death, For Whom the Bell Tolls, Master of Puppets, Orion, Eye of the Beholder, One, Enter Sandman, Sad But True, Ain't My Bitch, Bleeding Me, Fuel, Unforgiven 2, Frantic, St. Anger, The Day that Never Comes, Cyanide, Am I Evil?, and finally, Breadfan!

Next comment is from, Michael Link

'why would you make your wedding a PPV affair.'

because women and gay men with no lives need something to watch until the next twilight movie comes out...

That is true, plus, I did forget that his future wife was on the Real Housewifes, and almost every woman I have seen on that show is vapid and self-absorbed, so putting your wedding on PPV is no surprise.

The next comment comes to us from the man, the myth, the Michael L.

It's a cool thing that Metallica is doing a bunch of shows where they let the fans pick the setlist. You know what would be even cooler? If they did a decent tour of the US while they're at it? It doesn't have to be one of those marathon year long treks they often do when they release a new album--but at least give the fans in the US 4-6 weeks worth of dates.

As for what songs they should do, I'm hoping the fans get creative, so that we don't just see a rehash of their biggest songs. I'd like to see some more adventurous choices, like Outlaw Torn, Unforgiven 2, The Struggle Within and Call of Khutulu--or possibly some of their lesser known covers like Astronomy or The Wait.

BTW, if I chose the setlist, here is what I'd pick:

Blackened
The End of the Line
Ain't My Bitch
Sanitarium
The Memory Remains
No Leaf Clover
The Four Horsemen
Anesthesia/Whiplash
For Whom the Bell Tolls
The Outlaw Torn
Nothing Else Matters
Creeping Death
Master of Puppets

Encore 1
I Disappear
Disposable Heroes
Enter Sandman

Encore 2
Through the Never
Seek and Destroy

This represents a solid cross-section of their career, with an emphasis on their 80's material. The only album not represented is St. Anger, but nothing is really worth putting up (Frantic comes close, but I couldn't really fit that one in).

I never thought about adding in Encore songs...damn, that'd have made the list making at least a little bit easier. Damn good setlist, though. I agree, I'd like for the European fans to give them a setlist with songs that they hadn't seen in a long ass time. St. Anger wouldn't make my list, either, but I also wouldn't have thought to put Through the Never (even if their movie was named after it), or I Disappear. Though I find Bleeding Me to be stronger than The Outlaw Torn, but I enjoy them both all the same. Though you have to wonder how many fans voting are your, "Enter Sandman is the best song ever", sort, as well as your, "Everything after And Justice sucks", people. I think that would make a weird setlist indeed.

He also got a reply from dj_bollocks

I'd definitely want some tracks I personally haven't heard live before...

Stone Cold Crazy, The Prince, Trapped Under Ice, Breadfan, I Disappear...

I wouldn't mind Frantic and St Anger in there...

You'd have to have One, Master of Puppets, Enter Sandman, Creeping Death, Nothing Else Matters, Battery, For Whom The Bell Tolls, in there...

That leaves me 4...

Dyer's Eve, Am I Evil ?, Whiplash and Damage Inc

My perfect Metallica set ? Not far from it...

I forgot ALL about The Prince, but beyond that, that's a damn good setlist, just don't post any videos of, "I Disappear" online without their permission!

Now it's time for the GLOBAL METAL PICK OF THE WEEK! I'm going to take the rest of the year off when it comes to trekking Europe, but don't worry, it'll be back after the turn of the year. Instead, how about we get a little Christmasy with the metal I'm picking. I'll admit that there are a large amount of picks for me to make, but I will find something, damnit!

And found something, I did. You know how people like to sync up music with their Christmas lights and make it all fun. Well here is something that I find to be pretty damn awesome, if I do say so, myself. Here is a guy who deserves a fucking metal with his own Slayer Christmas light show!



Alright,so if you have any opinions on the column, some genre or country that you want me to feature in the global metal column, or if you just want to talk metal you can e-mail me at themetalcoop@gmail.com, tweet me at @themetalcoop or comment below!

So without further ado, I'm going to go podcast, and you guys KEEP THE METAL FAITH ALIVE \m/

and one more thing before I go....

comments powered by