SPOTLIGHTS
The Savage Animal 01.08.14 First Impression of Kid Cudi
Posted by Mikey MiGo on 01.08.2014

Looking for the hidden gems in today's diluted world of Hip Hop? We all are. In the 378th edition of The Savage Animal Mike listens to the studio albums of hip hop artist Kid Cudi. This, another top 10 movies of 2013 list, a review of The Frozen Ground and more!


"Top 10 Movies of 2013": I have not seen nearly enough movies in 2013. For someone who prides themselves on seeing new movies and taking in the art of film, I've really slacked off. I've probably only written about forty reviews this year of current movies. In the past I've done upward of 150. I'm not sure if it's that I've gotten really busy this year, less interested in movies, or if 2013 just sorta sucked.

I'm going with 2013 sorta sucking.

I'm a normal dude. I'm not a film expert. I'm just a dude with a love for movies who likes to ramble. I've not seen some of the biggest and most talked about movies. Some have been due to lack of interest and some have been because the production companies are pussies and put movies out just as the year ends. If a movie is good enough to be an award winner then it's good enough to release in a more accessible time. I've not seen Nebraska, Wolf on Wall street, Anchorman 2, Inside Llewyn Davis, Her, Gravity, 12 Years a Slave, her, Fast and Furious 29493, Before Midnight, Fruitvale Station, Grudge Match, and like ten more movies that I should have.

Movies I considered for the list, but didn't make it are:
Blue Jasmine, Coffee Town, The World's End, Clear History, Pain & Gain, Out of the Furnace, and Rush.
Blue Jasmine was really good, but it got really tiresome as it kept dragging on. It's just over an hour and a half so that's a problem. The performances rocked, but the pacing and main character's dialogue was obnoxiously annoying. It was a letdown for sure. Coffee Town was a really solid comedy movie that should have gotten a lot more attention. Clear History was an HBO movie and was great, but it felt like a surreal episode of "Curb Your Enthusiasm". I was really surprised by how enjoyable and fun Pain & Gain was despite so many bad ingredients about it. Then there was Rush and Out of the Furnace. Both were outstanding movies, but didn't connect with me enough to make them all that memorable. Both are fine pieces of art and film yet lacked something to pull me in.

10. CBGB

Alan Rickman owns the world in this movie. He plays Hilly Kristal, the owner and founder of the famous rock club CBGBs. The movie follows his journey from being a struggling slacker businessman with a lot of dreams to trying to grasp the reality that he's actually living in one. He ends up buying a small dive bar and it becomes THE place to be in the 70s. I'm a huge fan of the mid to late 70's rock scene in New York. I love the Talking Heads, Iggy Pop, Blondie, the Ramones, Patti Smith, and all of the awesome bands that came through. In a wrestling comparison, it was like ECW of music.

9. The Place Beyond The Pines

You watch movies and expect a certain storytelling style. When the traditional style is abandoned it's always interesting to see how the writer and filmmaker will handle it. In this movie, it works. What happens is unexpected, but you don't miss a beat. Before you know it, it all makes perfect sense and ties together one HUGE story. The tone and narrative could be critiqued, but I appreciated it. There was a cautious dryness to a lot of it. The direction is great, the acting is spot on, and the viewing experience was enthralling.

8. Jackass Presents Bad Grandpa

I did not expect much going into this movie. It's about a grandpa and a grandson, who may or may not love each other, going out there and causing a scene where ever they go. It sounds substance-less, but that's where it gets me. Even in this strange experimental format of a movie, they find a lot of heart and sentiment in the mix. They really pulled it off. This kind of movie could have easily been a big lame bore or an obnoxious Jackass cash-in. It's not. It's something different and something better.

7. We're The Millers
There haven't been a whole lot of good family road trip comedies on an R-Rated level of content in a LONG time. It doesn't ride too hard on up-to-date pop culture references and the sound track isn't full of super current Top 40 hits so I think it'll be easy to watch and enjoy five years from now. That's a big deal to me. A lot of good R-Rated comedies cram in so much in-the-moment pop culture that you watch them a year or two later and the references and music feel really outdated. This movie feels timeless.

6. Enough Said

Julia Louis-Dreyfus stars as a middle aged woman who is sorta just adrift in life. Her daughter is leaving home and she's alone and is a chiropractor for a living. She goes to a party and gains a client and meets a man. The man is a bigger guy who is also alone and looking. They go out and gradually start to really appreciate each other. Things are all good and well until she finds out that her new client is problematic to the blossoming relationship. It's a good story with a lot of heart. It's not a big popcorn movie or lots of laughs, but it'll make you smile. What more can you ask for?

5. The Iceman

Michael Shannon plays Richard Kuklinski, a man who made his living as a henchman for the mafia. He kept it from his wife, played by Winona Ryder, and his kids. The kids were great and Ryder was stunning. She doesn't get the credit she deserves. She's always in interesting roles and does her part well. She could very well be my all-time favorite actress now that I think about it. Overall the cast was just stellar, but Michael Shannon was ridiculous. He just played the perfect thug. He was genuinely intimidating and was just batshit crazy. Come award season he should be nominated for best actor. He was that good. The movie has good pacing, looks dauntingly old school, and a damn good cast.

4. The Way Way Back

It's a "coming of age" story where a timid kid gets stuck going to a local pool while on vacation with his mom and his seemingly future step-dad. At the pool he "comes out of his shell" and start to develop his own personality and grows some balls. This is all thanks to the change of scenery and the awesome cast of characters that worked at and hung out at the pool.

3. American Hustle

I had a hard time with this movie. It's just too good for its own good. The storyline and content is just so hokey that you want to write it off. You can't. It's so well acted, well timed, and so enjoyable that you just have to accept it's awesome and want to see it again. That's how it worked for me. I went into it with some laid-back anticipation because of the cast and the fact that it's a David O'Russell movie, but I ended up becoming so enthralled in the movie that I found myself thinking about it days after first seeing it.

2. This Is The End

It's easily one of the best comedies of the year, but it's also going to be one of those timeless comedies that show up on whatever the equivalent of basic cable will be in twenty years. It's just a damn good movie. It's a bunch of famous actors that we've all come to love and appreciate over the years hanging out as crazy hybrid versions of themselves. The world ends and they're pretty much on their last legs during the apocalypse. Hilarity ensues.

1. Now You See Me

Jesse Eisenberg, Woody Harrelson, Isla Fisher, and Dave Franco play magicians of various skill and fame who are brought together for huge magic stunts. Along with these folks is Mark Ruffalo, a cop who is trying to figure their heist out plus Common, Michael Caine, Morgan Freeman, and Melanie Laurent. Elias Koteas shows up in a cool cameo and Conan O'Brien even appears! That's a whole lot of awesomeness. The movie has a surreal feel to it, but is still grounded in a bit of logic and reality. The twists and turns are fun and it's really worth watching and checking out. It's NOT "Inception" but I think that's a good thing. "Inception" is a great movie, but so is this one. The main difference is that this movie doesn't take itself too seriously. It tells a fun story in a smart and interesting way. Pop some corn, sit back, and enjoy the ride.


Here's to 2014 being even better!




---
First Impression of Kid Cudi


Day and Night… It's that time again. Every few weeks I'll take a few hours out of my life and listen to an artist's entire studio discography. The only hook is that it has to be an artist that I'm not too familiar with and one that has three to six albums. This allows me to experience something new, hence the whole "first impression" part and allows me to take in their entire body of work in pretty much one long sitting. Sometimes I find new bands that I love and add to my personal musical lexicon and other times it's hell for three hours. Regardless, I give my honest first impression in almost a free form train of though. That said, sometimes my thought process derails.

Why Kid Cudi?
Why not Kid Cudi? I've heard one or two of his songs and thought they were good. I don't know why I never dove in to a full album of his. He's popped up in a few acting roles and seems to be a cool guy. I'm sure he has something interesting to say and can say it in an interesting way. At least that's what I'm hopeful of. Regardless, I'm going to take a listen to Kid Cudi's three studio albums.


---
Man on the Moon: The End of Day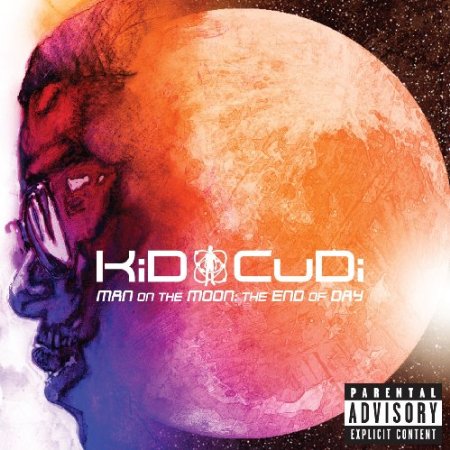 (2009 – 59 minutes) - Kid Cudi's debut album is probably the one I'm most familiar with. A few of the singles were hard to avoid, but I really don't think I've absorbed it enough. This album is divided up into five acts so I'm assuming a theme or narrative will be here. The album starts off with "In My Dreams (Cudder Anthem)". It's a slow burning, tripped out, soulful track. I really enjoy the programming and production on this song. I honestly wasn't expecting something this layered. My optimism and interest is higher now. After some ranty stuff, we go into "Soundtrack 2 My Life". It's a tight tempo'd tune that bounces through Cudi telling a bit about his backstory. A light chatter of "A,B,C" and "1,2,3" is echoed as the beat kicks in on "Simple As...". The melody has a little bit of a reggae-pop vibe going on. The chorus is riduclously addicting. "Simple as that for your simple ass" is going to be in my brain for a while. The song ends with an outro that basically brings up to another "act" in the album. "Solo Dolo (Nightmare)" starts off with an eerie and gloomy build up. Cudi chimes in with a chanty delivery before it breaks. I like music and the way the vocals are delivered, but the words "solo dolo" just don't connect enough. It's weird, but it's off-putting for some reason. I'm going to have to warm up to it. "Heart of a Lion (Kid Cudi Theme Music)" is awesome. The thudding base carries the tune, but Cudi's rhymes are pretty outstanding on this track. I'm really surprised I've not heard this song used in promos and commercials. It's money. It's a cool track and it has an easy marketability side to it. I just like it a lot. There is a lot going on in "My World", but the drop beat is the coolest part. It's just a steady beat that pulls you in and out. The one track I've heard the most from this dude is obviously "Day 'n' Nite". It's a bad ass track. There is no nice way of putting it. If I hadn't heard this song I would not have done this column at all. The melody, the beat, the lyrics, and the whole production is just spot on. The opening for "Sky Might Fall" is big and has an 80's vibe going on. It breaks down with some smooth organ synths. At first I wasn't too into it, but it ended up being a pretty cool tune. The track "Enter Galactic (Love Connection Part I)" is a funky song using a futuristic metaphor about hooking up. I know my description makes it sound a little strange, but it's a fun song that's pretty hard to not AT LEAST nod your head along with. The opening tones of "Alive (Nightmare)" rock. It swivels into another pretty decent head banger. It's not the best track on the album, but it's not horrible at all. You forget about it quickly because "Cudi Zone" has some great intro production that drops into Cudi letting loose with a great flow. "Make Her Say" is great. The weird GaGa sample is used better than most of the actual gaga tracks I've heard. Then we get drops from Kanye West and Common. What more can you ask for? This track takes a lot of really great ingredients and buts together one of the most interesting tracks I've heard in a while. I really got lost in the wandering splatter of magic that happens in "Pursuit of Happiness (Nightmare)". The song sweeps you right up into it's almost lullaby-vibe. Band MGMT and Ratatat get involved and add their respective vibes to the song. This is another one of those songs that I feel that I should have heard before now. I WILL say that it sorta reminds me of the Kotton Mouth King's "Tangerine Dream". I didn't expect to be referencing KmK today, but regardless… I dug this song a lot. The album wraps up with it's final "act" of two tracks. The first up is "Hyyerr". It's a slow track that's all soulful. It's not a bad song, but it comes and goes without really pulling me in. The album closes up with "Up Up & Away". I'm fairly sure I've heard this one before. The guitar strums and music behind it gives Cudi a totally different vibe than the rest of the album. Lyrically it's good and I DO like the music, but it just took me out of the vibe that the rest of the album just set up for me. Strange. This was a damn good debut album. I appreciate the man's creativity and chances he's taking with his art. I'm all about the vibe he's putting out there. It's not perfect. I won't get too gushy on it. There were some tracks I loves, some tracks I dug, some I thought were interesting, and then some forgettable stuff. If this 15 track album was cut down to like 12, I'd have been just as into it if not more. I've always heard he was awesome, but this kind of proves it. I'm really interested in hearing the next two albums. It'll be hard to hit the peaks of this one.

---
Man on the Moon II: The Legend of Mr. Rager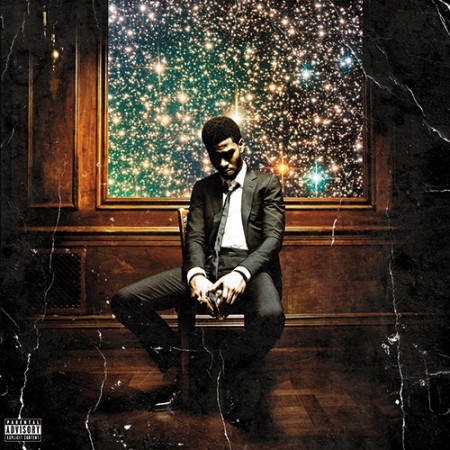 (2010 – 62 minutes) - After an impressive debut, the sophomore drop starts off with "Scott Mescudi vs. the World". Off the bat, eyebrows get raised when I see it features Cee Lo Green. Which, if you're an Outkast fan, you know could mean good things to come. Cee Lo is one of those perfect "featuring" performers. The song sounds familiar. The production is top notch on my cheap headphones. It's just not grabbing me. I can clearly hear it's well done, but the hook is weak. "Revofev" drones though. I got lost in the music and really didn't get into the narrative until it was almost too late. We jump into a new portion of the album with a track with Miss Mary J. Blige called "Don't Play This Song". It's a trippy track that takes your ears in at least a million different directions. It sways you back and forth through a swirl of ranty rhymes and melodious tenders from the voice of voices that is Miss Blige. Great shit. This builds right up into the groove of "We Aite (Wake Your Mind Up)" that has a hint of Reznor-like industrial anticipation as it slowly builds towards to the next track…"Marijuana". Obviously, a love song. This song is almost hilarious because it's a straight up love song talking about the love of weed. It's almost explicit in his passion. It's obvious that Kid Cudi is in love with his bud. God bless this man. The smooth ass guitar solo is the icing on the cake of this song. Tremendous. We go right into "Mojo So Dope". It has a strange sample that thuds into the awes of the loop. Cudi pops in with the break beat and goes on a tangent about how his mojo being so dope. The mid tempo party popper "Ashin' Kusher" is potentially my favorite track on this album so far. It hits the marks and takes things in a weird trippy cool area. I don't get how this wasn't a big single. It's catchy as shit and cool. The pseudo-rock out of "Erase Me" is admittedly kind of awesome. It's a crazy take on a break up song. Kanye drops in with a verse that proves how effortlessly sharp he is and can be. Nice track. The next one though builds up like it's going to be the best thing EVER. Seriously the hype intro on "Wild'n Cuz I'm Young" lifts you up, but it breaks into some weird cyber-chant-voodoo sounding shit. At this point, you're all in so you're just taken on the trip. This song feels like the best parts of Nyquil. This tranquil-cyber trip vibe carries on with "The Mood". The production on these tracks is stellar. Tripped out hip hop like this comes and goes, but the quality is undeniable. We jump to a new vibe on the album with "Maniac". It's a sprinkley drop of melody over some creative chaos. It gets you pumped up, but never takes you out of the glazed out daze the album has you in by this point. "Mr. Rager" is a song about partying. It's not a crazy party popper, but just a casual build up song that goes on the process of the party people and what's in their heads. It's a cool sounding song, but it never really goes anywhere fast enough to engage you. Mary J. Blige RETURNS! This one on "These Worries". It has a daunting rise, a hit of green, and the groove hits. There is a swampy swoon that pulls you through this song and through the great vocals of Blige. She's almost hidden in the layers of what's going on in this song. It's almost too much. "The End" is a funky groove. It's a track about paranoia, stress, and dealing with the random hassles of street life and how people get into bad situations they promise to never do again. The final act of the album kicks off with "All Along". It's a down tempo song with a nice musical accompaniment. It's one of the most pleasant songs I've heard on the album. We jump into the spirally strange twirl of the tune of "Ghost!". I like the melody because it's so weird and interesting and the vocal delivery is different you want to keep listening, but I don't necessarily know if I like it or just want to see where it's going. The album closes out with "Trapped in My Mind". The opening loops are tight as we get staticy delivery from Cudi before the beat breaks into a something a bit more trip-hop directed. The song feels distant and sorta just patters along until it fizzles out. This album was not bad at all. Was it as good as the debut? No. Did it have to be? No. It was a different vibe. That first album was more of a party popper and this one felt more like an introspective look at the party people and kind of like the private pre-gamer. First album is a club popper, the second album is a house party soundtrack. Not the movie, an actual house party.

---
Indicud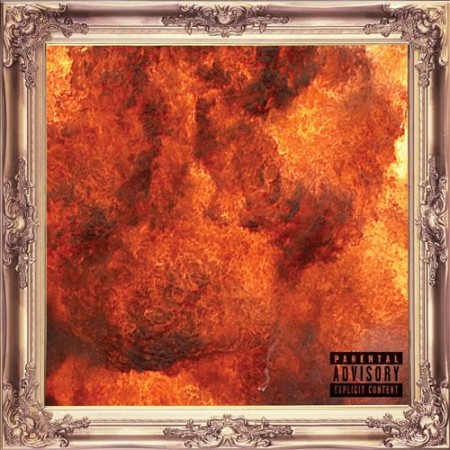 (2013 – 71 minutes) - The third and most recent Kid Cudi album starts off with "The Resurrection of Scott Mescudi". It's pretty much an industrial track. It sounds like something Trent Reznor would be proud of. Needless to say, I'm a huge fan of it. Next up we have "Unfuckwittable". It warps into a brooding doom-hop track. Cudi distantly rips the vocals out from a guttural place. This sounds a bit like the Saul Williams stuff. Like a lot. I liked that too, but this sounds like it could have been on the same album or an outtake. It's only comparable though, its own thing once it all unfolds. Trippy as fuck. We go into "Just What I Am", a song that I'd describe as slacker anthem. It's not an arena rocker, but it's a song that captivates the senses. The spaced out robot chanting "I need to smoke" in its distorted glory sounds like something we all hear in the back of our heads at some point in the day. Some people ignore it and some don't. Safe to say "Cudi don't." Father John Misty appears on "Young Lady" and nothing too awesome happens. I seriously couldn't tell you anything about the song two minutes after it goes off. Bummer. "King Wizard" brings some life back to into my ears. It's a booming tempo with a steady beat and catchy as shit chorus. The production on this track is especially nice. "Immortal" is next. It lost me again. It was a fun head nodder, but I don't think it'll be in my head at all come an hour from now. I know I had my issues with the first one, but "Solo Dolo, Part II" isn't the same. This time we get Kendrick Lamar and a flat-out, point-blank,straight-up killer. This track is a bitch slap of awesomeness. The beat and rapid fire smoothness makes it a song that raises the heart pressure up and takes you on a mouth drying odyssey. Up next is a track I was excited to get to, "Girls" featuring Too Short! Yes, THAT Too Short! It's not the popper I was hoping for. It's still got a bit of a darker dub vibe going on. Short does his thing. He comes and drops his vulgar gold, but the song just doesn't do it for me. I love the title of "New York City Rage Fest", a tune that is more of a surprise than anything. It's a short beat-driven instrumental snippet that gets a good drum solo going on top of a really engaging production. By the end of it, you realize you're dancing to it. Nice trick. Well played, Cudi. Well played. I wasn't into "Red Eye", but I bet others are. It was too "top 40 radio" for my liking. It felt forced. The way female vocalists are being featured in rap songs is becoming cliché and unfair to the awesome vocalists like Haim. She can do so much more. "Mad Solar" is a sonic drip. It's produced like a champion. The layers of interesting samples, beats, and tones really complement each other. RZA killed it on "Beez"! Holy shit. The beat comes in like a smooth ass sniper as RZA drops one of the best verses in a long ass time. The dude spouts off gems like "I will eat a zombie!" then I figured we'd move on, but no. He comes back on with it and keeps the bar lifted. Solid stuff. "Brothers" brought my energy back up and got me moving around. King Chip and A$AP Rocky do their thing and add some nice flavor to the mix. "Burn Baby Burn" stands out. It's an interesting song. Another one of those "I'm not sure if it's awesome, but I want to hear where this is going" songs. It doesn't go anywhere too awesome, but it was surely worth the three minute listen. "Lord of the Sad and Lonely" goes into a cyber-reggae snap out. It's almost too much to take in because it all just comes at you with blunt trauma. That would have been a good track title, "Blunt Trauma". Next up is "Cold Blooded", the party popper I was waiting for. It's got an darker tone going on, but there is a distant party track hidden in there. The lyrics pop off with a bad ass track about being cold blooded and basically just not giving a shit. I don't think I could dislike this song if I tried. You just can't resist the strut of this jam. One of the strangest songs I've heard in a long time has to have the over nine minute long "Afterwards (Bring Yo Friends)". The song features King Chip and Michael Bolton. Yep, THAT Michael Bolton. The song is a moody electronic trip where Bolton comes in what songs like samples. It's just a trip to hear someone say "Pump it up" in a song where Michael Bolton is pouring out his soul. This song is an epic journey. It takes you through many little places and never really bores you. I don't know if I'd go out of my way to listen to it again, but it was pretty fun for the one time. The album wraps up with "The Flight of the Moon Man". It sounds like a horror movie at start. It has an eerie and dark tone and doesn't leave that sentiment. It feels like a track you'd hear when like someone if being transformed into a monster. It's a really cool throwback instrumental to close it out. This album was a different vibe. It didn't have the same weed vibe. It felt a little more tripped out and cosmetic for my liking. I appreciate the chances and growth he made though. I'll check this album out again in the future, but for the most part felt like it built up a lot of cool aspects that never paid off. That said, solid art.

---


THE VERDICT
(2009 – ) - Kid Cudi is a ground breaking artist. In today's hip hop landscape he's blazing trails and mountains of marijuana. He's not just a normal braggadocios or flamboyant rapper. He brings freshness to the table. You can tell what the guy is up to. He smokes, listens to music that gets in his bones, and he just has a chilled out and peaceful vibe. He's not someone to fuck with, but still someone anyone would want to party with. I was thoroughly impressed with the dude. His writing was creative and I LOVE the production. He takes hip hop into a more industrial dub area that most rappers sleep on or if they approach they start putting on some kind of weird pseudo-goth thing. Cudi is Cudi. The first album was outstanding and a great pop off. It got people listening and put him out there, but as you listen to the next two albums you really get to see inside the guy's head. The first album had the most energy, the second LP was more tripped out and subdued, and the most recent/third drop was from what seems a darker and more frusturated place. There is something of value in all of this. He's not making as catchy releases as the first album on the latter two, but who said he has to? I am going to relisten to these albums at least a few more times and wait for what the dude does next. I'm officially on board the Cudi train.

What is YOUR favorite Kid Cudi album?



---
WATCH THIS!?
"Mike Goodpaster's Unpaid Programming"
---
"The Frozen Ground"


I don't have a "favorite actor". I love film and television, but I can't definitively say that one actor is my all-time favorite. If I had to narrow it down, John Cusack would be in the top of the contenders. I'm also a fan of Nicolas Cage. I don't see all ten movies he releases every year, but he's consistently entertaining and good. These two come together in this under-the-radar thriller based on a real story and written and directed by Scott Walker. The supporting cast sees Vanessa Hudgens, 50 Cent, Katherine LaNasa, Radha Mitchell, Dean Norris, Kurt Fuller, Kevin Dunn, and a slew of other familiar and talented performers. This movie is dark. It's tone is just bleak and the story pretty much jumps right in. It's about a creepy serial killer who was on a rampage in Alaska. For 13 years he'd almost ceremonially murder young women. The movie gets into a young 17 year old escaping his torture and trying to work with a cop to take him down. It's not as cut and dry as that, but it's a plot you have to experience unravel to really appreciate. It's a well written story that engages the viewer for an uncomfortable ride. It keeps you on the edge of your seat and the movie flies by. Nicolas Cage is fun as the detective on the search and John Cusack is awesome as the psychotic freak that was Robert Hanson. Cusack doesn't get to go in this direction very often so it was a pleasure to see his demeanor crumble like it does. He was a real villain. He's not an over the top Batman character or a Die Hard one-liner type. He's a real person who has the capability to take lives and do horrible things. It's just unsettling. I recommend this movie, but it's not one you'd want to rewatch over and over. I'll watch it again in the future, but not so soon. Still trying to shake off some of the "ick". B+


---
"Worst Case Scenario" is a new take on the concept of "fantasy booking". For years professional wrestling fans would spend endless hours of thinking up the coolest things that could happen. Why waste the energy? This only leads to high expectations. "Worst Case Scenario" flips that. Instead of looking through rose colored glasses, let's take a bi-weekly look at the worst possible scenarios in professional wrestling. I'm not going to be malicious or anything too mean, but I will not refrain from letting my brain come up with the worst possible shit I can. Sadly, it seems the writers and producers of mainstream TV wrestling and the mainstream iPPV level indies are doing the same thing but charging us for it. And now…



"Wrestling With Super Powers!"


The WWE is trying new things to be more appealing to children. It's their big demographic. They have made millions of dollars catering to the PG era of children. As they grow older the product has to mature. It's just a natural progression.

The problem is that things aren't how they used to be. The Attitude era would NEVER fly with the moral police out there shutting down anything considered "taboo" or "offensive". The WWE would have to mature in a different way. They'd have to go after that teenager demographic to really capitalize on the fan base they've been grooming for the past ten years.

So yeah… the WWE gets super powers.

They would have to tape RAW two weeks ahead of time, but the WWE would start to institute SPECIAL EFFECTS. The Undertaker can shoot lightening from his hands, Daniel Bryan grows goat horns when he gets fired up, Randy Orton grows scales when stalking down a RKO, John Cena makes people explode with a single punch, Ryback EATS people, and Stephanie McMahon shoots fire from her eyes.

It goes on and on. The Champion gets special powers. Each wrestler would have their own "signature powers", but certain gimmick matches would allow for special "upgrades".

To make it safe for the fans, they'd have a force field surrounding the ring… obviously.

It would be like a bad B-movie, but you know, even worse.



---

"The Secret Life of Walter Mitty"

I don't get too into Ben Stiller. For some reason the dude just rubs me the wrong way. Based on what I know about him and his appearances I generally like him as a person but the majority of his comedies don't work for me. His more artsy dramatic side is something I wish he'd explore more of. The movie "Greenberg" comes to mind and his work in "Royal Tenenbaums". When Stiller emotes, it works. This movie looks like a great balance. He plays an office worker who lives in his own head. His fantasy life and world is epic and creative and a great escape. His character's love interest is played by Kristen Wiig, but the movie also features the likes of Adam Scott, Patton Oswalt, Shirley MacLaine, and even Sean Penn. It's got an all-star cast and I can't help but think how good this movie is going to be. Surreal escapism in a good movie is hard to find. If this movie lives up to half its potential, it could be the best movie of the year.


---
That's all for now! This was a nice change up. I rarely ever do a "First Impression" of a hip hop artist. Too many have let me down to ever want to let my guard down enough to take in a full discography. Cudi proved good and left me impressed so that'll change in the future. To be honest, I wrote this like two months ago and forgot about it until now. I just have a lot on my plate right now. I thought leaving my place of employment would let me rest A LITTLE, but it's the opposite. I'm officially in bad ass work mode. I'm waking up way before I should be and putting in way more hours than should be possible. I'm not burning out, I'm just on hyper drive. I'm tightly wound and unleashing with tireless grace and intense focus. Yikes. Up next is a look at the couple of videos that Sleater-Kinney put out and then I get all "crazy old man" on you and share my gripes about current music in not just one column but in a two part bitchfest extravaganza! After that we get into February with a look at the album covers of Common and then a weird look at some of the quirkiest mannerisms is music. So basically… "big things poppin". Until next time… Have a Great Week!
comments powered by