Hammer of Doom News Report 01.16.14: Top 50 Metal Albums of 2013 (#10-1)
Posted by Robert Cooper on 01.16.2014

From Amon Amarth's Deceiver of the Gods and Carcass's Surgical Steel to Darkthrone's The Underground Resistance and more, 411's Robert Cooper counts down the top 10 metal albums of 2013!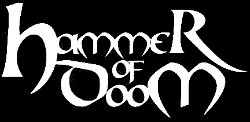 Welcome, Metal Faithful, to the only place more fun than a barrel of monkeys, the HAMMER OF DOOM!!! I, as always, am your host, podcasting fiend, metal missionary, and Mr. Fun-Time himself, Robert Cooper! This past week has been a pretty solid one for me, as it was mostly me playing video games and watching anime movies and The Wire before school started this current week. I must say that I have seen some fine anime in my day, but the movie Summer Wars is probably one of the greatest pieces of anime I have ever watched. The characters are multidimensional, realistic, and very likable, and everything in the movie happens in a fashion that isn't too unrealistic for the universe it's in. I think it can be safe to say that I may have fallen in love with the movie, but that happens.

Anywho! You guys don't care about that sort of stuff, you care about the metal, and that's what I have for you this week. There is still no news this week as all of the time I would spend doing that was taken writing my Top 10 list, but have no fear, I will be giving a "best of" the past 4 weeks of metal next week as a way to get this column back to normal. I do have all of the new albums that have come out over the past few weeks to make a nice transition between 2013 to 2014,as I'll be moving into that after I give my Top 10 albums of the year. So with only a slight delay, let's quiet down so we can hear...



THE CRIES FROM THE CRYPT!



Next week will be big, stay tuned, metal boys and girls!

While you stay tuned, don't forget to read from...



THE PSALMS FOR THE DEAD!





TOP 50 ALBUMS OF 2013!



Here it is guys, the whole reason I have spent a solid hundred plus hours of listening and thirty plus hours of writing to bring you. This is the TOP 10 METAL ALBUMS OF 2013. Now before I get into some albums that I couldn't get to through the year, I just want to say that while I think my opinion is a good one and that my list comes after lots of work and thought, it is still just a personal opinion piece. If you think that I have the wrong album at the top, or that I don't know what I'm talking about. That is fine! I respect your opinion, just as I expect you to respect mine. So here goes nothing metal faithful, it has been an honor!

Some albums are ones that I couldn't fit into my listening schedule due to one thing or another, and while I feel like that makes my list to be not definitive, it does make for interesting prospects when I do my Top 100 albums of the Decade list come 2020.....right? (if I manage to survive here that long, it would be a miracle) So some of the albums that I missed were...

-'The Last Spire' by Cathedral

-'Sister' by In Solitude

-'Old Mornings Dawn' by Summoning

-'...Like Clockwork' by Queens of the Stone Age

-'Winterborn' by Wolfheart

-'Sunbather' by deafheaven

-'Skull' by Evile

'The Wild Hunt' by Watain

and -'Arrival at Six' by Sorcery

So with no further delay, let's get it on!

10. Amon Amarth- 'Deceiver of the Gods'

This is probably one of the least surprising picks for anyone who knows me or is a fan of this column. Because for the most part, I have gushed about this band like they're the second coming of Odin. When this album came out, I actually went out and bought it, which is pretty impressive for me, because it's very rare that I actually go and buy something brand new on the week that it comes out, because I am usually lacking on funds, especially once it comes to summer time, but I managed to scrounge up the little bit of money and pick the album up from Best Buy. It turned out being exactly like I thought it would be, I count Amon Amarth as one of those bands who rarely do anything outside of what they're expected and I still don't mind that (along Motorhead, Toxic Holocaust and AC/DC). This album does a great job of representing what Amon Amarth do, which is give some pretty great melodic death metal filled with growling, yet poetic lyrics telling stories of Norse mythology and battle in the North. I think one thing that put this album over the rest of the great death metal releases for the year was the inclusion of Candlemass vocalist Messiah Marcolin on the song "Hel", which had a lot doomier vibe to it than the rest of the album. I think another song that deserves a mention before I go is the lengthy epic. "Warriors of the North", it tells a great story of warriors who have grown old and still have to battle to fight for their homes, pretty fucking metal story. There also are songs about Loki, which are the reason for the name of the album, and I feel like those songs weave a pretty good story. This album is an Amon Amarth album, not my favorite, but it's up there among their best, give it a listen if you want a little Odin in your life!

Best Tracks: "Deceiver of the Gods", "As Loke Falls", "Blood Eagle", "Hel", "Warriors of the North".



9. Civil War- 'The Killer Angels'

There aren't many albums that I am aware of as the year starts, I like that about metal, it makes for great surprises as the year goes on and you get excited about who is releasing what, and it always feels like an adventure. Civil War's new album was one that I knew was coming out from the top of the year, and knowing who they had in the band, I was incredibly stoked for this album. This album has the four members of Sabaton who left the band in 2012, as well as the bassist from Hell Patrol, and the singer for Astral Doors, which sounds like a winning formula to me. The first track, "King of the Sun" started, and I found myself headbanging on autopilot, which is always a good sign for an album. I think one of my favorite things about this album are the lyrics. If Iron Maiden has taught me (or my 11th grade history teacher, Mr. Everhart (he is the reason I'm as big a metalhead as I am)), it's that a little bit of history in your lyrics never hurt anyone. I shouldn't be too surprised, because most of this band comes from Sabaton, who write songs about history, battle, and tanks, lots of tanks. They cover topic such as Saint Patrick, Napoleon Bonaparte, and my favorite thing for bands to sing about, the American Civil War. I was a Civil War reenactor with my dad for well over ten years, and even got to be in the battles for a few years until I turned 18 and stopped going due to college and whatnot. I can always relate to those songs because I feel a connection to those battlefields and battles for some reason. Beyond that, I feel like this album is every example of what power metal does right, catchy riffs, soaring vocals, and interesting topics on lyrics. So give this album a look if you love power metal, or history class. A special thanks to Brian Rocha for hooking me up with this album, and I apologize for not reviewing it when I got the album!

Best Tracks: "King of the Sun", "Saint Patrick's Day", "I Will the Universe", "Brother Judas", "Gettysburg".



8. Suidakra- 'Eternal Defiance'

I'll be honest, out of all of the albums on this list, this was the one that I had to go back to the most to remember what to say about. The reason being is that this one came out in May, and unlike a lot of the albums left on this list, it didn't hit me with any fanfare, and it was just on a random week. But I have a rule on my metal spreadsheet (yes, I spreadsheet everything with metal) that if I attach a certain grade to it, even if I don't remember the album that well, there must have been a reason. So I went ahead and hunkered down and listened to the album again, and I can't understand why I had forgotten about it, perhaps it is due to the volume of the albums I've listened to (it's pushing 125), but that is little excuse. This album is almost a death metal version of the next album on my list with there being lots of folk flourishes in the album, but the album still has a distinctly death metal feel to it, and I feel like there are things in here that put a lot of albums to shame when it comes to the amount of variation in sound this album has pulled off. There are your typical death metal gallops and riffs, but there are acoustic passages, lots of female vocals, folk instruments, and symphonic elements that help the songs meld together a little better, making it a much more cohesive album as a whole. I've heard from others that this album is par for the course for Suidakra, but seeing as I have little experience with the band, that must mean that Suidakra are one of the best bands around, because this album was great, and listening to it more than once will make for an even more enriched listening experience.

Best Tracks: "Storming the Walls", "Beneath the Red Eagle", "The Mindsong", "Dragon's Head", "Damnatio Memoriae".



7. Thrawsunblat- 'Thrawsunblat II: Wanderer on the Continent of Saplings'

I want to start this by thanking Keith Bynum from facebook for reminding me of this album, because I would have totally forgotten about listening to this one if it weren't for him. I came in to this album knowing only one thing about this band, but that one thing was a great thing, though! Joe Violette, who is the guitarist and vocalist for this band played all of the guitar, bass, and piano parts for Woods of Ypres's last album 'Woods 5'. That album is probably one of the albums that if I redid the Best of 2012 list this year, it would be in the Top 10, because the more I listen to the album, the more I fall in love with it. This band does have a very similar feel to them to Woods of Ypres, which is one of the highest honors I can bestow on a band. While Woods takes black metal and mixes it with doom metal (especially for those later releases), Thrawsunblat has a very vivid and beautiful folk sound to this album, and it's best highlighted by what have become my two favorite songs off of this album, and perhaps the breakout songs of the year for me, "Goose River (Mourner's March)", and "Maritime Shores". Those songs are beautiful and wonderful, and very catchy. This album does a good job of taking those folk elements and marrying them with black metal. I feel like the two genres are very complimentary, because when done right, I feel like black metal can exude a lot of feelings towards nature and oneness with the earth, and folk metal does the same thing. I feel like this album is one of those albums that need to be listened to by fans of black metal, or even those who like folk metal, because it is an experience that is rewarding for the mind and soul, there are moments where your hairs will stand up on your arm due to the ferocity, but there are other moments where you just sink back into yourself and contemplate life. It is one of those albums that does so many different things tonally, and I am thankful that I listened to it.

Best Tracks: "Once Fireveined", "Goose River (Mourner's March)", "Maritime Shores", "Borea (Pyre of a Thousand Pine", "I Am the Viator".



6. Argus- 'Beyond the Martyrs'

This is one of the bands that I took a total chance on by naming them my album of the week. A lot of times, I'll just pick a bigger album by a bigger band, or mabe something that I am just personally excited about. But there are other times where I have nothing and I just have to look at the options and pick what I think has the most potential. So scanning through the albums the week this came out, I couldn't find much, but then I found this band and saw their genre, which was listened as heavy/doom, which bodes well, usually. Then I saw the reviewsfor their last album, and all three of them on metal-archives were shining, so I took a chance on this album. I must say that this was one of the greatest musical leaps of faith I have taken. The opening track, 'By Endurance We Conquer' started up, and I knew that I was in for something special. The opening had some nice melody to it, and then the track kicked into high gear, and we were on. I felt like I was listening to an album that came out from the 80's, it had that feel and it felt like something special. There is a certain amount of energy required for albums like this, and I feel like the band managed to encapsulate what is needed to make a great mix of traditional sounds and doom metal. The doom does show up when it's needed, and I think that it compliments the more uptempo, traditional metal incredibly well, and it shows in every song. This is another one of those albums where Ihave songs to recommend, but there isn't much of a wrong choice, here, they have managed to put together something special, and judging by the reviews for their last album, that is nothing new for this band. Here is to hoping that their next album can match this tall order that they have here.

Best Tracks: "By Endurance We Conquer", "The Hands of Time are Bleeding", "Trinity", "Four Candles Burning", "Cast Out All Raging Spirits".



5. Witherscape- 'The Inheritance'

Some albums, you know as soon as you hear the first song, you are in for something that will be remembered for a long time, this album was one of those albums. I knew about Witherscape through articles talking about them on blabbermouth, and as soon as I saw Dan Swano's name attached to this, I knew that we were in for something special. While I am not a disciple of his, what I have heard of his music, I can say that I regard it as some of the best death metal that I have heard, and after hearing the song "Dead for a Day", I found out that he had a warm and soothing singing voice. That is one of the things that are employed by this band that help this album reach above the clouds and towards the sun. What I didn't hear much from that song was HOW damn progressive this album, and trust me, there are some really nice prog metal moments, and they just add to the web that this band has weaved. They mix some traditional death metal elements with progressive metal, and clean vocals, which does a great job of dividing the emotions in this album. Just look at the song "Dead for a Day", the singing fits the more lyrics that speak for a man that is sad, and the growls fit more for the angrier side of the man's psyche. Couple the vocal deliveries with the great guitar work of Ragnar Widerberg, and you have something special. Though I am surprised that I haven't heard of Ragnar before, because he more than proves his mettle on this album as he gives us a performance that hits upon so many tempos and tones, it is absolutely wonderful. If you are a fan of prog, I think you'll like this album as long as you can handle the death metal elements. The same goes for death metal fans, if you can handle the long song times and some of the quieter moments, I think that you'll be better off for it.

Best Tracks: "Mother of the Soul", "Astrid Falls", "Dead for a Day", "To the Calling of Blood and Dreams", "Crawling from Validity".



4. Thrudvangar- 'Tiwaz'

Black metal is one of those genres that I find myself liking, but never truly loving, I guess it's because I don't tend to find as many black metal albums throughout the year, and the overall bleakness that the genre inherently has doesn't seem to fit my everyday like thrash or death metal does; but I find that when a black metal album is truly great, I find that it has more potential to win me over than a great death metal album does. It's a situation where the ceiling is higher than a lot of metal genres, because while the everyday black metal album doesn't tend to strike me much, a great black metal album is one that can easily top my favorites list. This album has a lot of those elements that tend to win me over with a black metal album, a more full production does help, because while I love that trash can production that we get with early Burzum and Darkthrone, a more full sound tends to have a great impact for me. I also love the use of the acoustic guitar to help bring in some melody to everything. I think the term viking metal probably suits them pretty well, because what they're doing does remind me of what I had heard from Bathory's 90s albums, and while I am no expert on that band or the era of the band, I think the same things that I like from there are present here. The aforementioned acoustic guitars really help bring this album out into something special, and while I don't understand German, the lyrics do sound good at least with the music. So while this isn't the best black metal album of the year, it is a easy to listen to album that has a lot of great musical moments to it.

Best Tracks: "Tiwaz", "Sonnenwende", "Frei", "Heimat", "Abschied"



3. Darkthrone- 'The Underground Resistance'

Coming into the year 2013, I had no clue as to how Darkthrone sounded in the year of 2013. The only Darkthrone that I knew was from the early 90s and played black metal, very raw black metal, at that, so I was interested in hearing what this sound they had now was. So the album comes out, and it's not on Spotify, which is how I keep my music organized. A few months later, I get the offer to review the album from Brian Rocha of Fresno Media, and I was tripping over my words as I responded yes. Well, I got a physical copy of the album and never reviewed it, which makes me a dumbass, but I have a lot of podcasts and schoolwork, so I shouldn't have said yes in the first place. But I did get a hold of this album, and I popped it into my car CD player, and I was blown away. This sounded like Darkthrone threw their old albums in a blender with a few punk albums and blended until smooth. I was absolutely blown away, they still had that black metal bite to their guitars and the overall atmosphere, but there were many other elements at play. They had a lot of punk and speed to their overall song progression, and the vocals were more varied than I had ever expected to hear. There are the more gravely yelled vocals, some King Diamond-esque falsettos, and then some vocals that are closer to singing than anything, I find it hard to describe them. I find the vocals to be very reminiscent of Tom G. Warrior from Celtic Frost. The songs on this album are actually pretty long, as well, there are only six tracks, and they clock in at a bit over forty minutes. The songs are given lots of time to air out and breath, and I think that is how the songs should have been approached, just when something gets a little tired, they switch it to another speed and keep going, and I find there to be a lot of charm in that. This album is a monolith, and is anchored by a monolithic song in "Leave No Cross Unturned", it is a tremendous song, and well worth the price of admission. With that being said, this album is something special, and it really makes me want to go and listen to the other Darkthrone albums after they changed their sound.

Best Tracks: "Dead Early", "Valkyrie", "Come Warfare, the Entire Doom", "Leave No Cross Unturned".



2. Orphaned Land- 'All is One'

Have you guys have had an album that you were so excited for, that you counted down the days to it? That was this album for me, no joke! This was the first time that an Orphaned Land album had come out that I was around for, and I was going to relish in that fact and celebrate it. The first song, "Our Own Messiah", came out and I liked it quite a bit, and I was pretty psyched. Then the video for, "Brother" came out and I couldn't stop singing along with the song, and it was a very sad story, but I kept singing along with it. This album was very different than a lot of the past albums that the band have released, all of the other albums they have released have come with a lot of death metal and progressive elements to it. I see Orphaned Land as one of those bands that are like a swiss army knife, they have a lot of different instruments and elements that they can call upon and employ when they need to. This album seems to have lessened that tool box, at least for this album, and I'll admit that I found it to be a bit of a disappointment, because I found songs like "Ocean Land" to work so well because they mixed the middle eastern folk sounds with heavy riffs and a switching off of singing and screaming brought a lot of impact with them. But luckily for us fans of the band, while the death metal elements are mostly gone (except for in the song "Fail"), they have upped the folk metal elements in their music, and added a lot of symphonic backgrounds that make the album have a much more epic feel to it. Sadly, there is not much of a concept like they have had with the past albums, but this album is a bit more connected by theme rather than content. I feel like this album is them taking their title as ambassadors between the Muslim, Jewish, and Christian religions seriously. With that, they tell many stories about how there should be unity between people, and telling stories of sadness and conflict that arise from a lack of that unity. In my mind, those sort of lyrics are the ones that I can get behind, I love it when a band takes an album to try and promote something positive, because even though the metal community can be toxic and we're seen as very angry, I think that the metal community is more like a brotherhood than we'd like to admit sometimes. Overall, there is a passion and connection that is shared by us all, and I feel like albums like this, positive ones that are striving for social change, are ones that represent the true hearts of metalheads.

Best Tracks: "All is One", "Brother", "Let the Truce be Known", "Through Fire and Water", "Fail", "Children".



1. Carcass- 'Surgical Steel'

Here it is everyone, my top pick of the year, and it's really the top pick of a lot of people on a lot of websites, and with good reason. Before this album came out, I was convinced that Orphaned Land would have the top spot on this list come early January, because that album took my fanboyish expectations and met them in a way that I didn't expect. Then this album came out, there was a TON of hype behind this, and after hearing the free download of "Captive Bolt Pistol", I was excited for this album! So I finally decide to listen to this album, I'm in the hall outside of the band room at WSSU (where I always joke that I'm the only white guy there), and as soon as "1985" ends and "Thrasher's Abbatoir" starts, I dropped my jaw, and couldn't stop talking about how this album was going to be amazing. Ignore the fact that I am probably the only metalhead on campus, I couldn't help but talk and talk about this album. So by the time I finished this album, I started it back up again and listened to it all the way through again, because I was SO floored at what I had listened to. This album is one of those where no song is a weak link, sure, I have my favorites, but there are no weak songs on this album. It's like they took the best elements of their prior albums and melded them all together to make one giant mount of execution. There are some great riffs, ones that you will find yourself air guitaring far after the album stops. There are also some sections that fit really well with their 'Heartwork' era work, but then you have stuff that hearkens to earlier albums like 'Necroticism' and 'Symphonies of Sickness' albums. I think this album has rocket shipped Bill Steer into the list of one of my favorite guitarists of the year list, because he does everything on this album, lays down killer solos, gives great riffs, and even has some really nice pieces that are of a quieter sound. The track that I think deserves the most praise is the finale, 'Mount of Execution', it is a study in building up constantly to a finale and letting it erupt like a volcano. It starts slowly, and then proceeds to give a driving beat that ends up with a meaty, heavy passage that then goes off into a chorus that sounds like you're climbing a Mount Everest covered in bones. It finally all peaks with an awesome solo and then a faster version of what we got before ending with a great guitar showcase. Songs like this are the reason why I listen to metal, say what you want about hip hop, country, pop, all of that, finding a song like this in those genres would be nigh impossible. It's something that metal gives that those genres don't have, and I am thankful that metal is so diverse that we can get an album, hell, even a song as good as this. With an album this special from a band that has been gone for 17 years, we managed to receive something as great as this song. But it's not all about this song, no, this album is a thing to behold, it is one of those albums where every song feels like it belongs on a greatest hits album, and if you picked any song on this album as your favorite, there would be little complaint. Take an hour our of your day, take a chance on this album, it is THAT damn good. Start at the beginning, start at the end, start at the middle, I don't care, just listen to every song and rejoice at the greatness that you have just heard.

Best Tracks: "1985", "Thrasher's Abbatoir", "A Congealed Clot of Blood", "Noncompliance to ASTM F 899-12 Standard", "The Granulated Dark Satanic Mills", "Captive Bolt Pistol" ,"Mount of Execution".





MERRY CHRISTMAS, CHEAPASSES!



So I don't have any new free music for you this week, that'll be coming next week. But I do have the master playlist for my Best of 2013 countdown that also includes every album I have listened to this year and my favorite songs from all of those albums. It's the culmination of 12 months of metal, and I hope you guys enjoy!



With that being said, follow along to...



THE TEMPLE OF THE DEAD!



'Heen Yadhar Al Ghasq' coming to us from Saudi Arabian Black/Folk metal band, Al-Namrood.

'Mechanism of Decay' by French Thrash metal band, Exorcizer.

'Ravenous Plague' by Netherlands Death/Thrash band, Legion of the Damned.

'Xenon' from Illinois Industrial Death metal band, Mechina.

'Interrogate', by Brazilian Brutal Death metal band, Metacrose.

'Upon the Darkest Season', by Swedeish Black metal band, Nazghor.

'Bringers of Disease', an EP by Finnish Thrash metal band, Nuclear Omnicide.

'High on Metal', an EP from Swedish Traditional/Thrash Metal band, Under Attack.

'The Last March' by Brazilian Death/Thrash band, Warcursed.

'Essence of the Land', an EP by Chicago Blackened Death metal band, Warforged.

That brings us to the ALBUM OF THE WEEK! It's a bit of hangover from last week's Top 50 column as the band Mechina are back with the sequel to their album, 'Empyrean', with the album, 'Xenon'. They play an Industrial Death style that is dipped in some metalcore, and if this album is anything like the last one, we are all in for an epic and spacey adventure!



With 2013 buried and 2014 on top of its' grave, come with me to the place...



WHERE THE RUNES STILL SPEAK!



Our first set of comments is actually a string of comments that start with a question from Andrew Nguyen

Out of curiosity, did you take a listen to Alter Bridge's Fortress album?

and that was responded to by mblund_3118

But Alter Bridge aren't exactly metal. They're more hard rock.

Which was all wrapped up by JackOfClubs

Based off of his previous lists and his column, i doubt he even recognizes Alter Bridge's existence.

Hi fellas, no I never listened to that album, I remember that it came out, but I beyond that, I didn't think about it twice. Too much metal for me to listen to, and I don't really see Alter Bridge as a metal band, BUT I do acknowledge that they exist and that they seem like a solid band, just a bit off my radar.

Our next comment comes to us from, cap18k

Holy grail is a great band, but I'm a little surprised that you like the second CD better then the first. But hey to each their own, They are both great.

They really are, I have to thank big tours that bring along smaller bands, because that's how I found them! I kind of look at Holy Grail's two albums as a smaller version of which album by any of the Big Four is your favorite. Just like with Holy Grail, if you pick one album over the other, can't blame them, because the other choice is still great.

The final comment from last week comes to us from Alan

"Things like this are why I don't have an inherit distaste for the sing/scream chorus/verse structure that metalcore uses, because it can be effective, but I do admit that in metalcore it gets tedious after a while."

So can listening to someone attempt to clear their throat for an hour and fail. At least I think that gets tedious. And be careful with your labeling. A lot of metalcore bands don't sing. Melodic metalcore (or Swedecore) bands do. I would think you'd like some metalcore bands but you're a metal snob so the more pop-oriented side of the genre (at least in its more simplistic musical structure) doesn't seem to appeal to you at all. The sub-genre is pretty dried up these days but go back about 8-9 years ago and there was some good stuff being recorded. Anyway, as you were...

I can't tell if you're messing with me or are dead serious, because I almost feel like you're offended at the fact that I'm not much for poppier metal, but I'll discuss that in a second. Yes, attempting to clear the throat is tedious after a while. What I meant was that I found the whole sing on the chorus, scream on the verse thing to be pretty good in execution, but the fact that a lot of bands feel like they HAVE to do it, and for little reason other than to do it is tedious. You're right on labeling, that was my mistake. Though for me, I find the whole singing and screaming thing to be a staple of most of the metalcore bands that I know. I actually like some metalcore bands a lot, I actually had Killswitch Engage in my countdown the first week and admitted that while metalcore as a genre is appealing to me less, I find myself liking bands like Trivium and Shadows Fall even more now than I did then. I also love all of Killswitch Engage's music, find All That Remains to be a great band up until 'Overcome', and like a lot of As I Lay Dying's stuff. I know I don't come as that, because I focus more on newer music, and just as you said, the well has run dry for the genre as a whole, and I feel like it hurts bands like All That Remains to keep releasing subpar albums. I don't like pop oriented stuff very much, it doesn't suit me, because pop music isn't my thing, and I don't like the two mixing, I just don't. But I don't get where you find me to be a metal snob, granted, I don't think you meant any offense by it, but the term metal snob is a very loaded one in the realms I am in, and it is mostly used negatively. Now if you didn't mean it that way, I do apologize for even taking offense, but I've have worked very hard to be open minded and accepting of things I usually wouldn't try and respect others opinions, which is not what a metal snob would do, if I were a metal snob, I'd have used the term false metal ten times in this column, but I haven't. I don't like metalcore or hair metal all that much, but it's just a personal taste thing, beyond a few bands that I personally despise for my own reasons, I have no problem with anyone liking any bands, and I will say that the only genre you will ever see me actively not try is deathcore, because that genre just makes me angry. But I do thank you for clearing a few things up genre-wise for me, and I am sorry to get rambley and defensive, but I value your opinion as a fan and a co-worker of sorts! That being said, will you accept my olive branch of one of my favorite albums of all time?



That is pretty much it for this week's Hammer of Doom. The GLOBAL METAL PICK OF THE WEEK will be back next week, so here I will be leaving you my favorite song from last year's #1 album to send us off for this year.



Alright,so if you have any opinions on the column, some genre or country that you want me to feature in the global metal column, or if you just want to talk metal you can e-mail me at themetalcoop@gmail.com, tweet me at @themetalcoop or comment below!

Before I go, I see this as the Wrestlemania of this column, even though it's technically the new year and I should be focusing on 2014, but I feel like my year isn't complete without delivering this. I put more than 30 hours into these columns, which is by far double what I usually do, so I just want to thank you from the bottom of my heart for reading this, as well as supporting me throughout the year, even though I disappear random weeks and am rarely on time. I also would like to thank the bossman Ashish, Larry Csonka, and most of all Jeremy Thomas for putting up with the fact that I am the most tardy freelance employee in history. I also would like to thank Bobbyyoungblood and Michael L for sending me things to put in this column, as well as all of my facebook metalheads (Metal Chris, Demonic Doug, Raven, Tim the Pissmaster, Larissa, Arcana, and the rest of you), my best friend Nick for being the man, Mark Radulich and Sean Garmer for being my metal partners in podcasting crime. You can also facebook me at facebook.com/CoopVideInfra, I only give that once a year, so take advantage of that, I'm fairly friendly.

Looking forwards to what 2014 brings (though it's already 2 weeks in) and KEEP THE METAL FAITH ALIVE \m/

and one more thing before I go....

comments powered by