Hammer of Doom News Report 01.30.14: 'Not as Cool as Jethro Tull' Edition
Posted by Robert Cooper on 01.30.2014

News and thoughts on Black Sabbath's Grammy win, Jeff Hanneman being ignored during the show's 'In Memorium' segment, Motorhead being forced to cancel their tour due to Lemmy's health and more!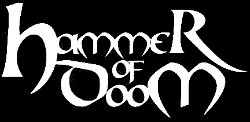 Welcome, Metal Faithful to everyone's favorite two trick pony on this website, the HAMMER OF DOOM! I, as always, am your host, bearded wonder, metal missionary, Mr- Fun-Time, and the one deemed "Deep Cuts", Robert Cooper! This week for me has been just a normal one. I actually wrote a poem that impacted my instructor so much that she's decided to include it into her dissertation, so that's a pretty cool thing. I also have been introducing her to metal culture and trying my best to integrate it better into things that have to do with African-American culture, makes for interesting discussions.

Speaking of interesting discussions, this week is one that has some great news, but really, it's all about the Grammys. For once, I feel like we have some things to talk about that are both relevant and interesting in the grand scheme of metal. There also are a few new releases, some free music, and the GLOBAL METAL PICK OF THE WEEK!

I'm stoked, are you? If so, quiet down so that you can hear...



THE CRIES FROM THE CRYPT!



Lamb of God's RANDY BLYTHE Won't Be Thinking About Playing Heavy Metal 'For A Good Long While'

I can fully understand why. The dude has been through a ton over the past few years, and the road can be quite a grind. I just hope that he has a restful break and that we get the best Randy Blythe that we can get in the studio afterwards.

At the Gates Announces New Studio Album, Label Home

Their new album will be called 'At War With Reality' and will be released by the end of the year by Century Media Records. I'm REALLY excited about this, even though I might get let down, I'm still excited.

Geoff Tate And Former Bandmates Request Three More Weeks To Hammer Out Queensryche Settlement

I'll let you guys know how this goes in three weeks...oh boy, exciting stuff!

Lacuna Coil's Cristina Scabbia: I Don't Consider Myself 'Hot'

I do! Her actual point was that 'Hot' to her was a personality thing rather than looks, which is awesome, as a guy who looks like a caveman, going for personality is always a good thing.

Motorhead's Rescheduled European Tour Canceled

This is pretty much all due to Lemmy's health, and while I hate that they have to cancel a tour, I'm pretty sure that we can all agree that missing a tour is much more important in the long run if it means that Lemmy can get better.

Lostprophets Singer Ian Watkins To Appeal Length Of His Prison Sentence

I know why he's doing it, but seriously, there is no real point. They found him guilty, there was little question as to if it was the right decision, and I think he should serve his time, simple as that.

Century Media Co-Owner Oliver Withoft Dead At 49

Real shame that he the world is going to be without him, while I never met the guy, the bands that he and Century Media have signed and promoted have made a huge impact on me as a listener of music, and I'm sad to see him go.

Machine Head Sued By Former Bassist Adam Duce

Well, that escalated quickly.

Global News Video Report: Are Black Women Who Love Heavy Metal Discriminated Against?

You guys be the judge, I find this very interesting, if you guys are interested in me talking about this in full, I can next week!



So now that we have that social justice peace out there, turn to page 8 in...



THE PSALMS FOR THE DEAD!



Still not as exciting as when Jethro Tull won...

So the Grammys happened this past Sunday. As usual it was a mostly empty affair that featured awards, celebs, and the music industry fellating itself. I really couldn't tell you who won besides Daft Punk, that Lorde chick, Led Zeppelin, and who I'm about to talk about, BLACK SABBATH! If Led Zeppelin winning didn't clue you into something, I think Black Sabbath winning has reaffirmed that fact that for the rock side of things, the Grammys are, and have been for a while, all about making up for lost time. While Black Sabbath do deserve the award they won with a great song like, "God Is Dead?", this is their first time winning for a studio track. They won back in 2000 for a live version of "Iron Man". Though this year they finally gave metal back it's award, the two years prior to this one lumped hard rock in with it, and predictably, the hard rock bands won. Before that, though, the award has been dominated by much older bands, with the exception being Slipknot in 2006.

Though I love all of the old bamds, Judas Priest won with a cover of a song decades old, and Motorhead won with a Metallica cover. Hell, Slayer won with two years straight with songs from 'Christ Illusion' (Final Six was from the special edition, but still), and Metallica won no matter what they put out. While those bands are great, I feel like the mainstream really doesn't know jack shit about metal in the modern age. Sure, they've nominated bands like bands like Killswitch Engage, Dragonforce, Shadows Fall, and even Cradle of Filth, but have they let any band like that win? It's been well over 10 years (besides Slipknot) since we have had new blood with this award, we can blame it on the fact that the people running the awards know jack all about the genre, and we'd be right, but there is still a point where some new blood needs to be injected into the husk of a body. Though if Megadeth won, I wouldn't complain, considering Dave's 0 for 9 so far.

In other news of things that matter to me but not the outside world, metal was snubbed once again in the Grammys, though this time it was actually kind of offensive. Every year, they do an "In Memorium" segment where they pay tribute to all of the musicians that we have lost over the past year and just give them a final goodbye. Turns out Jeff Hanneman was not important enough to make their segment. Neither was Clive Burr nor Jan Kuehnemund of Vixen. I know that this is much more about mainstream appeal and again, patting yourself on the back, but it's things like this that really make metal as a whole feel unwanted and ignored. Though I know most prefer it that way (and I really do), but I think that things like important members of mainstream metal bands that also have won 2 Grammys deserve at least SOMETHING in the tribute. I found it tasteless and unfortunate, and while I shouldn't expect anything more from a society that awards Lil Wayne anything, I do.

Finally, in something kind of cool that I missed. Metallica played "One" and were accompanied by Chinese Pianist Lang Lang. It'd not every day that you get to play with a world renowned pianist (not that I'd know, I'm not a huge piano guy....but was it THAT obvious?). Reports from the show range from "it was good" to an overwhelming, "it sounded like they were playing over one another", and "that was shit". See, I was totally going to watch the performance, but I can not seem to find it. So what do you, the Metal Faithful think about the performance? I missed it, but if it was so good or so bad that I have to find it, I can probably pull it off. Oh well, at least this year's Grammys had at least something I could talk about.



Video: METALLICA Performs 'One' With Chinese Pianist LANG LANG
/METALLICA's ROBERT TRUJILLO: It Was Our Manager's Dream For Us To Connect Musically With LANG LANG



MERRY CHRISTMAS, CHEAPASSES!



Starting us of are Black Label Society with their new song 'My Dying Time'.



Next is something really cool from a band called Vampire.  This is a song called "Howl from the Coffin" and I REALLY dig it, they sound like old Celtic Frost.  Find it HERE!

Finally are Nocturnal Breed with the song "Speedkrieg".



So after two smaller bands and a big band releasing free music, step in the place new music is, that place is...



THE TEMPLE OF THE DEAD!



'Wizard's Spell', by Norwegian Black/Thrash band, Black Magic.

'Into the Black', by UK Thrash Metal band, Fallen Fate.

'Kaleidoscope' by progressive rock/metal supergroup, Transatlantic.

'Redemption', by Norwegian Gothic Metal band, Where Angels Fall.

'Ouroboros', by Mexican Melodic Black metal band, Yatrogeny.

That brings us to the ALBUM OF THE WEEK! This week it is coming to us the absolutely awesome German Power Metal band, Primal Fear. Even in a week full of great releases, this would get precedence over the others, so here they are with their new album, 'Delivering the Black'.



LAst week, I only listened to one album, and it was the new Iced Earth album. I found it to be pretty good, had a few songs that were filler, but overall had a lot that reminded me of their classic stuff, which is a damn good thing. Still one of my favorite bands and I'm happy that they're on a good streak of great music (with 2 albums).



You can snap your fingers to this song, but please don't snap your neck, or else we can't go to the place...



WHERE THE RUNES STILL SPEAK!



The first comment comes to us from naturebilly

That whole thing involving Jason leaving Metallica was due to James' alcoholism at the time, the guy was getting so paranoid about everything, there is no logical way that Echobrain would have been seen as a legitimate threat to Metallica. I'm sure that Lars and Kirk felt the same way. But Hetfield was so messed up, he couldn't see things cleary.

I agree, it seems to me that James is actually a pretty cool guy now, but watching the "Some Kind of Monster" documentary, he seemed like a real paranoid dick, as well not a very nice person to be around, and it came out in that documentary, but it seems to me that now that he's not drinking much that he has calmed down. Echobrain was no threat to them, but James was being a bitch, so Newsted suffered for it, ultimately.

The second, and last comment from last week comes to former 411mania metal columnist and guy that I infinitely respect, Dan Haggerty.

"I try to be a guy like Dan Haggerty was for me, he kept me coming back to the music section and taught me a lot!"
I can't let that go by without saying 1) Thank you - it's good to know the work and madness helped others, and 2) your doing an excellent job. This is harder than it looks. Keep the horns high and the faith alive my man.

You're more than welcome, I really jumped on during your 90s retrospective columns and they've really shaped what I look for in metal. Your praise means a lot, as well, because it really is tough some weeks. While mine isn't all opinion like yours (I do get some padding through current releases and news), it still takes a lot of time and motivation. But I will continue to keep the horns high in the air and as long as I breathe, the metal faith will stay alive! \m/

Before I get to the GLOBAL METAL PICK OF THE WEEK...some plugs. Check out the Radulich in Broadcasting Network on blogtalkradio.com. There you will find the podcast almost named after this column, the Metal Hammer of Doom Podcast, where this Tuesday at 9 pm EST we will be reviewing the new Iced Earth album, 'Plagues of Babylon'. Also remember to check out the SENTAI RIDER PODCAST! (we can be found at facebook.com/Sentairiderpodcast) where we talk all things tokusatsu (Power Rangers, Kamen Rider, Super Sentai, Ultraman, maybe even Godzilla). We HOPEFULLY will have two podcasts coming out this week after a few weeks off due to scheduling and internet problems. Speaking of problems, I'm on the shelf on the Three Beards for now due to poopy audio problems, but I'll be back sooner or later. ONE FINAL PLUG, remember to tune in at midnight on Saturday night for the Co-Operative Multiplayer Podcast, it's hosted by Stephen Randle and manned by Sean Garmer, Daniel Anderson, and myself. We talk video games, among other things, so give us a look!



Popular Pop Culture Internet Radio with

Mark Radulich

on BlogTalkRadio


That brings us to the GLOBAL METAL PICK OF THE WEEK. I don't remember going to this country for the European Invasion segment of the column, so here we are in the country that ironically doesn't have Hippos, Hungary! I decided to go with something kind of weird but cool, and not in English. So here are Hungarian Psychedelic Folk metal band, Virrasztók with the song "Rózsa Sándor" off of the album, 'A Halál Színei'.



Alright,so if you have any opinions on the column, some genre or country that you want me to feature in the global metal column, or if you just want to talk metal you can e-mail me at themetalcoop@gmail.com, tweet me at @themetalcoop or comment below!

KEEP THE METAL FAITH ALIVE \m/

and one more thing before I go....



and one FINAL thing...HEY RANDLE, I have an orange cat, too, am I doing the whole using the cat at the end of my column thing right?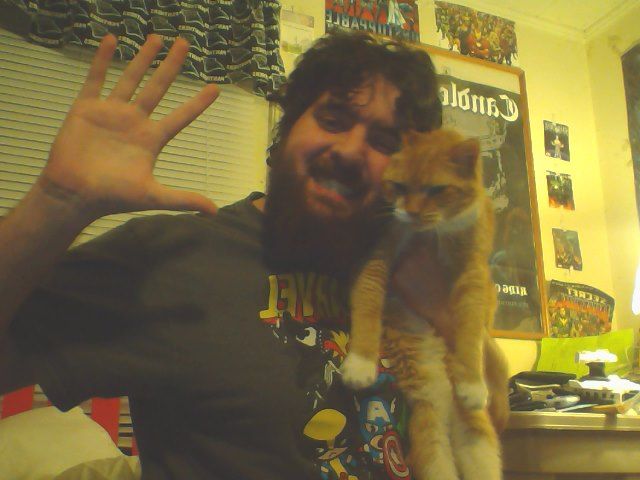 comments powered by