Hammer of Doom News Report 2.06.14: 'Country Crue' Edition
Posted by Robert Cooper on 02.06.2014

News and thoughts on James Hetfield calling Metallica's Orion Festival a failure, Motley Crue announcing their retirement from touring, Prince Harry being a fan of thrash metal and more!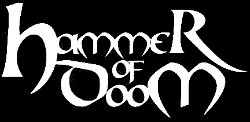 Welcome, Metal Faithful to the only column more exciting than the past Super Bowl, THE HAMMER OF DOOM! I am your host, metal missionary, Mr. Fun-Time, someone who is kidding about the Super Bowl being good, and the man called "Deep Cuts", Mr. Robert Cooper! My week hasn't been that interesting, did schoolwork, saw a Vince Vaughn movie, and played tons of Castlevania and Pokemon.

AS for the column this week. It's actually a lot of writing by me this week, I know I write a lot anyways, but this time I decided to take two topics to task, rather than my usual one. There also are responses to your comments last week, an all-star line-up of free music, new albums, AND the Global METAL Pick of the Week.

I'm excited are you excited? If so, shut up and list to...



THE CRIES FROM THE CRYPT!



Prince Harry Is Reportedly Fan of 'Hardcore Thrash Metal'

It's good to hear that some of the royals have a great taste in music. This came from McNulty himself, so it has to be true, right?

LG Petrov Led version of Entombed is now called "Entombed AD"

The regular Entombed name is being used by Alex Hellid, Nicke Anderson, and Ulf Cederland, who were the original instrument section for Entombed and they are going to be performing the album 'Clandestine' live and are using the name, I guess because they are all 3 founding members of the band, or at least they played on the debut album, which is close enough.

I Am I Members Quit 'Due To Internal Struggles And Ongoing Issues Within The Band'

I guess Z.P. Theart really was the problem in Dragonforce. I think some people were thinking that Dragonforce were assholes to him, thus he left, but I'm beginning to think that his attitude was the thing that caused his departure.

Metallica's Kirk Hammett Is 'Totally Down' For Making A Guest Appearance On Next Exodus Album

I'd be down for it, it's not lot Metallica are releasing anything new for a while.

Conquring Dystopia Featuring Nevermore, Cannibal Corpse Members: Debut Album Being Mixed

The only reason I'm reporting this is because Jeff Loomis and Alexis Webster are in a band together....let that sink in for a second!

James Hetfield Says Orion Music + More Festival Has Been A Financial 'Disaster'

He blames it (for the most part) on the fact that the rock/metal scene in America is a scene where there is not much of a willingness to get a big show out there and make it worthwhile. I do agree with him somewhat, that people don't go out of their way and travel far and wide here like they do in Europe. BUT, I think a blabbermouth commenter hit the nail on the head in saying that comparing Europe and North America is really apples and oranges. Because the way he put it is that Europe is a lot of smaller countries, where as North America (especially the US and Canada) are massive countries that take forever to traverse, so you aren't going to find people traveling as much because the country is just so damn big!

Iced Earth's 'Plagues Of Babylon' Reaches No.49 on Billboard 200 and Sells 6,300 Copies

I was going to have the usual metal column about this, but I feel like I have more important things to talk about. Regardless, congrats to Iced Earth, this album was great, and I feel like bands like this deserve any and all of sales and accolades that they can get!

Lars Ulrich Says New Metallica Album Will 'Definitely' Not Be Released Before 2015

Didn't they JUST say that it would be out this year? Or was the news that they were recording the album this year? I give up on reporting this, at least until next time there is news!

I may give up on Metallica's new album, but I wont give up on reading from...



THE PSALMS FOR THE DEAD!



Looks like they're.....Motley Through.....*cue the "Wont Get Fooled Again"*

The biggest news in metal this week comes to us from a band that I like to make fun of, yet I respect quite a bit! So Motley Crue are officially retiring, at least from touring. That's right, the day has finally come, and unlike bands like KISS, it's official! The reason I say that is because they signed a "Cessation of Touring Agreement", which in English means, ONCE 2015 HITS, YOU'RE DONE!

Their final tour will consist of at LEAST 72 tour dates and they will be supported on all of those dates by the legendary (and not related to me at all...though my grandma's name is Alice Cooper) Alice Cooper! While I probably wont be attending the tour due to the fact that while I'm a casual fan of the Crue, I am in no way a big enough fan to spend any of my nonexistent money to go see them. Something that I do find humorous about all of this is being announced while they try to promote a country tribute to Motley Crue that includes the wonderful conglomerate of genius that is Florida Georgia Line. If you don't know who that is....consider yourself lucky, fucking douchey country music.

So now that we know that the band is hanging it all up, the next question that came was what are the members of the band going to do since they wont be touring. Mick Mars said that he'd be doing a solo album and writing a book. Nikki Sixx said that Sixx A.M. would become his main project. Though he also revealed that he thinks that the band will release "one, two, maybe four songs at a time". This is a decent idea, admittedly, though last time it was done they released a song so shitty that I deleted it from my mom's HD, that's right, it was so bad, I deleted it from someone else's hard drive, and it was free! No news from Vince Neil or Tommy Lee, but I think drinking will be involved somewhere! In all seriousness, thanks for the memories Motley Crue, including that one time on VH1 Classic where I said, "Those guys look stupid, but they are pretty heavy".



Swiss Man Dies After Stage Diving At Suicidal Tendencies Concert

Originally this was just going to have a sentence worth a reaction from me, but then as I thought more and more about the situation at hand, I felt like it needed to be looked at a bit deeper than I originally was going to. I'll go ahead and give you guys as much of the story as I know. (credit to Blabbermouth.net)

According to the Solothurner Zeitung newspaper, the 28-year-old Solothurn man dove off the stage into the audience during the January 22 show, which was headlined by SUICIDAL TENDENCIES and featured additional performances by TERROR, STRIFE and EVERGREEN TERRACE. "Unfortunately, crowd members failed to properly catch him and he fell to the ground," said Pipo Kofmehl, head of the Kulturfabrik Kofmehl venue in Solothurn, where the event took place.

At first, it looked like a harmless incident. "A security guard responded immediately, helped the young man and our emergency unit reacted as well," said Kofmehl. The 28-year-old was seen walking around shortly after the fall and he reportedly washed his hands and expressed a desire to go home. "Our team decided, however, that he should immediately seek hospital care," Kofmehl added.

Apparently, that's when complications occurred. The 28-year-old had an epileptic seizure, according to Kofmehl, and died on Friday (January 24) at the Bern University Hospital.

Really tragic, the guy decided to stage dive, the crowd didn't catch him, and he hit his head. I have no doubt that this has happened to at least one person reading this article, because people do stage dive at times,and not all the time do people catch you. As I said before, this is truly tragic, and while it is as such, it was probably bound to happen due to jumping from a few feet into a crowd of people with the biggest risk being nailing your head on an unforgiving floor.

I guess that begs the question to be asked if stage diving should be banned from shows. I think I might have touched upon it with the whole Randy Blythe ordeal in 2012, but admittedly, I was thinking with my heart more than my head at the beginning of that. I know it's one of those things like moshing that are ingrained into the culture and history of the genre, but unlike moshing, stage diving is a lot more dangerous. With moshing, you can either be running into one another or throwing punches and kicks, but those can be dodged, and if things get too rowdy, it can all be stopped. Stage diving is dangerous because you are throwing yourself onto people that may not even know that you're about the jump, or don't want to catch you and/or don't want to get kicked in the face; not to mention that the penalty for missing is a severe concussion, if not something worse. I figured that I would at least ask what you guys, the Metal Faithful, think. Should it be banned? Perhaps it should at least be discouraged? Or do you think that it's not that big of a deal, and overall this is an isolated sort of thing and is like a rare lightning strike?Stage diving is a dangerous thing, and while nothing tends to go wrong when it's done, things like this do happen My opinion is a the two last ones rather than the first, but if anyone here disagrees, I'm more than happy to listen to your arguments.





MERRY CHRISTMAS, CHEAPASSES!



First on the docket is the new song, 'Burning Heart' from the awesome Iron Savior!



Next up is an album that I'm REALLY looking forwards to in a few weeks, the new album by Hatriot. Here is a song from it titled, "The Fear Within".



Finally is a track off of the new Behemoth album, 'The Satanist', here is "Ora Pro Nobis Lucifer".



I'd say we had an all-star line-up here this week for cheapasses, so with that being said, come with me to...



THE TEMPLE OF THE DEAD!



'The Satanist' coming to us from Polish Black/Death Metal Icons Behemoth.

'Ghost Empire', by German Metalcore Band, Caliban.

'Steelcrusher', by Israeli Death/Thrash band, Hammercult.

'Djevelmakt', by Norwegian Black Metal band, Kampfar

'Death By Burning' by German Sludge Metal band, Mantar.

'Antagonize', by Netherlands Symphonic Death Metal band, Mayan.

'From Crotch to Crown' by Netherlands Brutal Death Metal band, Prostitute Disfigurement.

'Terrestrials', a joint effort between US Drone Metal band Sunn O))) and Norweigan Ambient (is that where they fall?) band Ulver

'Hydra', from Netherlands Symphonic Metal/Rock band, Within Temptation.

That brings us to the ALBUM OF THE WEEK! It's an album that is releasing stateside this week and I am SO excited for it. It is the new album from Swedish Traditional/Doom Metal band, GRAND MAGUS!!! I was in love with their last album, 'The Hunt', and it is time for the great Grand Magus to take the throne in the name of power and glory.



I listened to many albums over this past week. Including the new Stormwarrior album that ranks VERY high on my Top albums already. There also were really good albums from Legion of the Damned, Alcest, Al-Namrood, and Mechina. So ANY of those albums, go look up, they're REALLY good.



Don't hurt yourself because of metal, BUT come with me to there place...



WHERE THE RUNES STILL SPEAK!



The first comment from the past week is coming to us from DoubleAgent74

The Metallica Grammy performance--and I think all the others--are up on Dailymotion. I listened to about two minutes of it and decided that the S&M version of "One" was better.

I couldn't find it on dailymotion, BUT I did find it on youtube, though it was translated into a foreign language. The song remained intact, though. Thee S&M version was far superior, and I feel like that version is one of the songs that didn't work as well with the symphony as some of the other songs.

Next up is a comment from Alan

The Metallica performance was okay. They really didn't integrate Lang's pianowork into the arrangement. It was pretty much the song as usual with a couple spots stretched out so Lang could make that piano his bitch.

Yeah, James sounded a bit shot, but I expect that nowadays. It felt like it was an impromptu thing, which it wasn't, but Lang's piano work almost sounded like he was trying his best to sound like he fit in the show, but didn't practice all that much. AS you said, it was really just the regular song with a few sections opened up for Lang's stellar pianowork. When he got to do his own stuff, he sounded amazing, he just didn't gel with Metallica all THAT week.

Finally is a comment from the man, the myth, the Michael L.

From what I've seen the Grammys have been especially protective of their performances, as a number of the videos from Youtube had been taken down within days. I did catch Metallica's One briefly and it makes St. Anger look like a work of genius. It was as if Metallica and the pianist either decided to make this song as unbearable to listen to as possible, or did not do any rehearsal whatsoever, because they were both doing their own thing. Metallica was doing a pretty decent version of the song, but the pianist was off doing his own thing, irrespective of the song's content. One can sound good with a pianist, but only if that musician is actually in sync with the song-which wasn't the case here. Hell, I'd rather listen to the overrated U2 song One (which always puts me to sleep) than this version of a Metallica classic.

That they are, I don't think I saw a single official performance from the Grammys on youtube. But I totally agree, it was grossly out of sync, not to mention that Lang wasn't often audible, and when he was, he almost distracted from the guitars. I wouldn't say that it was St.Anger bad, very few metal albums are, but this was not exactly the best foot forward Metallica could have put! I'll also take the U2 song, I don't hate them, but I certainly don't like them, so yeah, I'll take that suffering with you, man!

So before we get to the GLOBAL METAL PICK OF THE WEEK. Make sure to check out the Radulich in Broadcasting Network on blogtalkradio.com for all of your podcasting needs. Be sure to check out the Metal Hammer of Doom next Tuesday for our review of Throwndown's new album (trust me, I didn't pick it), and also remember to check out the Sentai Rider Podcast! We'll have a new episode coming out on Saturday where we start out catch-up on Kamen Rider Gaim. Go like us on facebook at facebook.com/Sentairiderpodcast, we talk all things tokusatsu and look good doing it!

Also make sure to listen to Co-Op Multiplayer every SAturday at midnight, we'll be on the Wrestling 2 the Max page, I think, but I'm not sure. It's awesome regardless, we talk video games....usually. So yeah..time to finish up!

So I think I finally finished up Europe, except I honestly do not remember doing the British Isles, so why not February the month where my European Vacation takes a British Invasion! That was clever, right? So that means for the GLOBAL METAL PICK OF THE WEEK, we're going to the United Kingdom. I know that I tend to use a lot of folk metal in this section, because I find that it's unique no matter where you go. This time, you're going to get something that has a few tinges of folk metal in it, but for the most part it's just BLACK METAL~!!! So here are are UK's own Old Corpse Road with the song, "The Crier of Claiffe", off of the album, ''Tis Witching Hour...As Spectres We Haunt This Kingdom.



Alright,so if you have any opinions on the column, some genre or country that you want me to feature in the global metal column, or if you just want to talk metal you can e-mail me at themetalcoop@gmail.com, tweet me at @themetalcoop or comment below!

KEEP THE METAL FAITH ALIVE \m/

and one more thing before I go....

comments powered by