Hammer of Doom News Report 02.25.14: 'Canadian Snub' Edition
Posted by Robert Cooper on 02.25.2014

News and thoughts on a reality show about the new KISS themed Arena football team, Dave Mustaine leaving the Soundwave Tour, a traffic circle in Poland getting named after Slayer guitarist Jeff Hanneman and much more!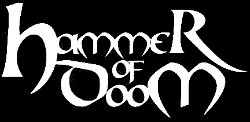 Welcome, Metal Faithful, to the greatest column since my last column, the HAMMER OF DOOM! I, am your host, the metal missionary, podcasting fiend, and Mr. Fun-Time himself, Robert Cooper! First of all, I want to apologize for being absent for the past 2 weeks. A lot of really weird things happened internet wise and this column has been rewritten at least once,and that is why I'm giving you 2 week old news, because I've worked so damn hard on this, you guys deserve to read it. All I've done in the past two weeks is have a girl stop talking to me, play lots of video games, do a bunch of schooling, and sleeping.

As for the column, after much ado, there is a decent amount of news, free music, (at the time) new albums, and responses to YOUR comments from the last column, as well as the the GLOBAL METAL PICK OF THE WEEK, this week coming from the land of Ireland!

Now grab a beer and gather round, but not to loud because we need to hear...



THE CRIES FROM THE CRYPT!



Entombed Among 12 Artists Selected As Inaugural Inductees In Swedish Music Hall of Fame

Pretty awesome for a metal band to get inducted to a national HoF, though my first question is which version of Entombed are they inducting?

Unscripted Series Focused On Inaugural Season of 'LA KISS' Coming To AMC

I'm a football fan and I've always been interested in what it takes to make a winning football team, so I'll probably be giving this at least a few episodes.

Traffic Circle In Poland Named After Late Slayer Guitarist Jeff Hanneman

This is probably the coolest and most metal thing in the history of all that is cool and metal.

Behemoth's Nergal: 'The Majority Of Death Metal Bands From The USA Are So Generic, They All Sound Perfect'

He was talking mostly about the technical death metal bands, and while I do agree with him somewhat, I don't feel like it's an issue that is exclusively plaguing US bands, there are a lot of European bands that suffer from the same problem.

Glenn Hughes And Jason Bonham Launch California Breed

This is the remnants of Joe Bonamass leaving Black Country Communion, while I hate that he's gone, I love his solo work so I understand. But I am still excited for this because Glenn Hughes is awesome on all accords.

Protest the Hero, Gorguts, Anciients Among Juno Awards Nominees While Voivod gets Snubbed

I think it's bullshit that Voivod got snubbed and the band that got in over them wasn't even metal, apparently. I still pick Gorguts because they're awesome and their past album was great.

Metallica, Rob Halford, Motorhead, Scorpions Featured On Ronnie James Dio Tribute Album

This is one of those albums that every metalhead needs to own, just for the amount of great bands that are here. We also get a Metallica medley, and everytime they do a medley, it's something amazing.

Megadeth Pulls Out Of Soundwave Festival After Dave Mustaine Fails To Get Apology From Promoter After Promoter Blames Dave for Newsted Getting Pulled

This is a whole bunch of ego and complaining and while I think Dave does actually have some merit here, at the same time, I don't care who is right or wrong, it just sucks either way.

Speaking of things that don't suck, how about we read from....



THE PSALMS FOR THE DEAD!



TRIVIUM's PAOLO GREGOLETTO: Why There Will Never Be Another METALLICA

So in a week where there was news that could easily be talked about for a little while with no problem, I decided to go with news that wasn't newsworthy, at all,but instead had a quote and a talking point that I could squeeze discussion out of. So a few weeks ago when this was written, Paolo Gregoletto of Trivium was interviewed by stereoboard.com and had an interesting thing to say.

Stereoboard.com: When TRIVIUM first arrived, you were commonly tipped to be "the next METALLICA."

Paolo: It's hard to pick bands out and say, "They're going to be the next IRON MAIDEN! They're going to be the next METALLICA!" I've thought about it and I've realized that every band is heading on a certain path, and I think the bands that will be left will be the ones who concentrate solely on writing the most honest music and who take it to that next level live. I think there are bands out there, and I include TRIVIUM with those, we want to push ourselves on our records, and we want to push ourselves live. The rest of it is just up to people connecting with it. People can't expect another IRON MAIDEN or METALLICA because those bands built upon what came before them and created their own unique thing. METALLICA are a once-in-a-lifetime band, and for anyone to reach that bar is impossible. Everyone just does their own thing, and it'll be those bands that'll succeed.

I want to start my response by saying that I totally agree with him. Though my answer is a lot less artistic than his. I think that he's saying that the bands that follow the hype and decide to follow the path of an established band wont make it because they aren't following their own path. That is something that I completely agree with, if you strive to be someone else rather than yourself, you'll never reach any true success, especially in metal, and especially if you base success off of artistic merit. Pushing oneself as an artist each album will certainly help with artistic integrity.

The thing I really latched on to with this is that he was talking about how Maiden and Metallica built upon what came before them and became unique. Because I feel that for the most part, he's right. Look at both bands, while they were not necessarily unique for their scene, they still stood out and were the pillars of genres that will never see that level of innovation and I can assure you that no other band in this day and age will be able to make a brand new genre through their own influences. That is why I feel like we'll never have another Maiden, Metallica, Death, Mayhem, Sabbath, or any of those types of bands, because they took their influences, crafted them into something new and fresh and got it popular, and we'll never have that again. But you know what, I am completely and totally fine with that, as a genre, metal doesn't need another Metallica in today's metal scene. I'm not saying that I wouldn't welcome one, but I really don't see metal going anywhere beyond where it has been already, but I guess we'll all have to wait and see where metal goes in the next decade. If all else fails, we'll always have some brutal death metal, blistering thrash metal, epic power metal, fun folk metal, depressing doom metal, and atmospheric black metal. But all in all, it'll always stay metal! \m/



Buried Treasure with Michael L.

Here we are yet again with another great article here from the man, the myth, the Michael L. I don't have much to say on this band since I had not heard of them before now, but I judging from the song that he included in the email, they seem pretty solid. So with no further ado, here is Michael L's review of 'Blood and Bullets' by Widowmaker.

----------------------------------------------------------------------------------------------------------------

For many, Dee Snider is seen as an afterthought to the 1980's hard rock scene. Aside from a couple of hits with Twisted Sister, Snider's most notable contribution was serving as the representative of heavy metal during the Senate hearings on lyrics in the music industry. But once the attention faded, and Twisted Sister broke up, many believed Snider to have fallen off the face of the earth.

Not so, as he did engaged in a number of projects, including Widowmaker, a straightforward hard rock band centered around Snider and journeyman guitarist Al Petrelli. The debut album Blood and Bullets served as an effective mission statement that really showed the band's promise, with the kind of anthemic hard rock sound that would have really thrived in the late 80s. From the up-tempo album opner "Emaheevul to the swagger of the band's eponymous track, to the borderline power ballad "Reason to Kill" to the bluesy "Blue for You" to the punch-you-in-the teeth riff of "Snot Nose Kid," this album has something for most fans of the 80's hard rock scene. In particular, Petrelli does a great job of shredding, making the material rise just a bit above many of the mediocre bands of the time. Furthermore, the band has an awesome rhythm section in Marc Russell (bass) and Joe Franco (drums), nicely serving as the backdrop for Snider and Petrelli. And Snider proves to be a very solid vocalist—although at times he does extend himself a bit beyond his range.

Blood and Bullets is a fine album, and one that could have gone very far in shaking fans' image of Snider as the glammed-up figure in "We're Not Gonna Take It." Unfortunately the album was released during the rise of grunge, and thus it pretty much came and went without much of a splash. Still, it's worth tracking down as a symbol of what could have been—as well as being a fine album in its own right.



Proof That Heavy Metal Will Never Die Vol. 28

So first up from the past week we have the ALBUM OF THE WEEK from a few weeks ago, it's Primal Fear's new album, 'Delivering the Black'. I'm really behind in my metal listening over the past few weeks, but I'm still really looking forwards to hearing this album in full. I can see that a lot of people in Germany share the same thoughts because they managed to get all the way up to #13 on the Germany album charts. That's a great number, I know power metal has a home in Germany, but I'm still impressed when an album gets that high up on the charts. They also managed to sell around 1,000 copies, which is even more impressive considering power metal isn't NEARLY as big here in the States.

Also making some waves on the German album charts are Caliban with their new album,'Ghost Empire'. It made it even higher on the charts than Primal Fear, making it all the way to number 7 on the German album charts. Pretty damn cool, and if I get to the album, I'll let you guys know how it is!





MERRY CHRISTMAS, CHEAPASSES!



First up is Lacuna Coil with their new song 'Nothing Stand in our Way'.



Up next is a song that I'm really looking forwards to from a band that are back from the depths of time. Here are Massacre with, "As We Wait to Die".



Finally, here are Mayan with the song, "Human Sacrifice".



I'm actually impressed with the amount of metal that got released this week, to celebrate that impressiveness, come with me to...



THE TEMPLE OF THE DEAD!



'A New Beginning', by Swiss Progressive Metal band, Appearance of Nothing.

'Godless Arrogance', from Netherlands Black Metal band, Sammath.

'Dawn of the Brave', by German A-Capella band, Van Canto.

Now it is time for the ALBUM OF THE WEEK. This week it is coming to us from Greek Progressive Black Rock band, Hail Spirit Noir. Apparently their new album, 'Oi Magoi', is getting rave reviews, so give it a look, because I will, too!



As for what albums I listened to last week, I only listened to one album because I got busy and had to do a podcast. that one album was the new Throwdown album and fuck me it was pretty awful. As I have every week, below is the Spotify playlist updated with last week's music!



Don't hurt yourself thrashing to the awesome metal, or else you couldn't come with me to the place...



WHERE THE RUNES STILL SPEAK!



Our first comment comes to us from the man, the myth, the Michael L!

I'm looking forward to seeing the "final" tour of Motley Crue this summer, although as always, I'll believe it when I see it, as too many bands have taken a retirement lap, only to extend that lap indefinitely--like the Crue's 2012 tourmates KISS. As for Crue, they're an OK live band, especially as you never know whether Vince Neil is going to be giving a shitty performance or not (and even at his best, consonants are optional with VInce's singing). However, they almost always put on an energetic show. Let's hope they branch out a bit and dig deeper in their catalog, so they don't just do another "hits" tour like they often do.

Who I'm really looking forward to see is Alice Cooper, whom I caught twice a few years back--headlining in late 2011 and opening for Maiden in 2012. For both shows, he put on a high-energy effort that spanned much of his catalog, and I expect no less for when he's opening for Crue. I hope Alice gets more time (at least an hour), so that he can show the fans what he and his band can still do. Never has a chant "You've Still Got It" been more appropriate as it would for a Cooper show.

That's true, though I feel like their legal contract that makes it to where they can't legally tour under the Motley Crue name past 2015 makes it to where this is final. But you are right, this is like a retirement in wrestling or a death in comics, it doesn't feel final, and probably never will. While I've never seen the Crue live, I kind of had the feeling that Vince Neil would sound like a bucket of shit singing wise. I know I give him tons of hell, and perhaps I am too harsh on the guy, but he has one of those voices that WILL NOT last with age. I think they'll probably just do hits, I don't see them digging too deep, though I may be wrong.

I've always wanted to see Alice live, the dude seems to full of life and energy in videos of his show. His band is also pretty cool with Orianthi is an awesome guitarist and that time where they covered Lady Gaga's "Born This Way" was nothing short of awesome! I hope they give him a solid third of the concert, because the man deserves it. Alice is one of those guys whose act and music is timeless and I'm glad that he still tours.

The final comment comes to us from glees12

The reason Orion didn't do better was it tried to be a more metal tinged Lollapolooza, trying to be diverse to attract a larger audience. Not everyone cares about Lars' art collection. In Europe the festivals are all metal, and there is a tradition of having those big festivals going back to the Donington days, so it's well established. They'd be better off having something like the Big 4, but expand it to include the next 5 (like Exodus, Death Angel, Forbidden, Testament, Overkill, or whoever they judge that to be), then have a second stage with the new wave of thrash like Battlecross, Evile, 4Arm, etc.

I'd say that you are spot on. That is exactly what they did, and from a certain standpoint, I can see why they did it, they wanted to attract that larger audience, as you said. I think what they missed was the fact that while trying to get everybody there, they slightly alienated both sides by not fully catering to either side. The European festivals are almost always metal, and the more mainstream oriented acts are few and far between. Orion was weird because while the second stage was pretty great, a lot of the main stage acts didn't fit with the overall festival or Metallica, for that matter. In America, we have very few big metal festivals that are weekend events rather than travelling. Mayhem Festival is good usually, but it's not the same as something like Wacken. I think the closest thing to Wacken we have here, and it's pretty great. Your idea would totally work, though! It would do good business, I think, make it a thrash festival. Maybe make the second stage non-thrash, but that is a much better idea for the genre and the band. Imagine the exposure Metallica could bring to bands like Overkill, Testament, Evile, etc. While most people going to that festival would know those names, some might not, and I think that even if only 100 people learn of those bands, it's still a positive.

Before we get to the GLOBAL METAL PICK OF THE WEEK, let me plug a few things. Remember to check out the Radulich in Broadcasting Network for ALL of your podcasting needs. There is, of course the Metal Hammer of Doom podcast where Mark Radulich and I review the new album by bro metal band Throwdown. The reviews are all positive, so give it a go! There also is the new podcast that I have the wonderful honor of hosting, the Cheap Seats! Casual Heroes writer and podcaster Jayson Teasley and I take to task the sports news of the week! Make sure to tune in to blogtalkradio.com every Thursday around 9pm to hear us live and call in!

Finally, tune in to the podcast that out of all the others, is my baby. The Sentai Rider Podcast is your home for reviews on all of your tokusatsu review needs. We reviewed episodes 10-12 of Kamen Rider Gaim last week and this week we will be reviewing 13-15 of Kamen Rider Gaim, AS WELL AS our wrap of of Jyuden Sentai Kyoryuger. Spoiler, we loved the show! If you like our show, go like our facebook page at facebook.com/Sentairiderpodcast.

Also tune into the Co-Operative Multiplayer podcast that is hosted on a carousel wheel between myself, Sean Garmer, and Daniel Anderson, as our host Stephen Randle is on a leave! It's always a fun time, so tune in to us at midnight on Saturday night on the Wrestling 2 the Max podcast page on Spreaker.com.

So with my plugfest over, it is now time for the GLOBAL METAL PICK OF THE WEEK! Seeing as I'll be taking the month of love that is February and touring the British Isles, I guess it's only fitting that the week of Valentine's Day that I go to the land of alcohol, Ireland! Instead of my usual thing where I go and find a random and sometimes obscure band, I'm going to take this opportunity to educate you all on a band that I learned through this website a few years ago (thanks again, Dan), Primordial. They are an absolutely tremendous band that mix celtic folk and black metal, and they are absolutely wonderful! So here is perhaps the best song off of their greatest album, this is "Empire Falls" off of 'To The Nameless Dead'.



Alright,so if you have any opinions on the column, some genre or country that you want me to feature in the global metal column, or if you just want to talk metal you can e-mail me at themetalcoop@gmail.com, tweet me at @themetalcoop or comment below!

So in the words of my idol and yours Chuck Schuldiner, KEEP THE METAL FAITH ALIVE \m/

and one more thing before I go....

comments powered by