SPOTLIGHTS
The Savage Animal 4.23.14 First Impression of St. Vincent
Posted by Mikey MiGo on 04.23.2014

What happens with one dude with ears takes in the music of a critically acclaimed artist?
In the 393rd edition of The Savage Animal Mike listens to the five studio albums of St. Vincent and more!


A few years ago you'd hear douche bag hipster types interrupt your day with shit like "I don't watch TV" or "I don't own a TV" or "I don't have time for TV" or "That stuff rots your brain" or even "I only read books". Fast forward to today and those same shmucks are filling up your twitter and facebook feeds with obnoxious posts about "The Walking Dead", "Game of Thrones", "Breaking Bad", etc. etc. etc.

You're not being "cutting edge" by accepting the fact that we're in a "Golden Age of Television" and that "TV is better than film now!" TV has always been good. Granted AMC didn't rise with "Mad Men", "Breaking Bad", "The Walking Dead", and the like until more recent years… TV has ALWAYS been good. People with the snobbish mindset merely didn't want to give in until critics and their friends told them it was okay.

Shows like "The Shield", "Dexter", "Six Feet Under", "Studio 60 on the Sunset Strip", "The West Wing", "Califonication", and others were always around. They were just ignored because cool people decided to focus on the trash of television like reality shows and bad sitcoms.

Guess what folks? For every "Game of Thrones" there are like ten "Two and Half Mens". Still. To this day. You're just ignoring it or, because you're so damn cool, using the internet to pick and choose what you want to watch. You know… the same functions of a REMOTE CONTROL. Don't like Seinfeld? Turn on Roseanne. Don't like Sopranos? Turn on 20/20. Don't like Entourage? Turn on Weeds. It's all the same. There have ALWAYS been a CHOICE. TiVo and DVR has been around for a long time. You can control your viewing habits and have been able to for like ten years now.

But this doesn't matter. We're supposed to ignore these assholes ever said anything bad about TV because they want to share spoilers on Facebook and talk to their friends about who killed who on "Game of Thrones" or who ate who on "The Walking Dead".

It just sucks to think about shows like "Veronica Mars", "Studio 60", and other quality shows did not survive past a season or few because the people who would genuinely appreciate them were riding their high horse during their time of airing.

It's not just television though. It's the same with everything. Right now there is SO MUCH content out there that if you want to find quality you can. You just have to look for it. Why would you keep listening to a metal radio station if you love pop? You have a choice. Turn the channel, seek out what you like, and support what you like. Don't wait around for the trendy websites and your friends to tell you it's okay.

Don't listen to me though. If you want to stay up on your high horse that's perfectly fine. Just ride that bitch into the sunset and get away from me. I have TV, movies, and music that I genuinely appreciate to enjoy.



---
First Impression of St. Vincent


Good Hype or Good Music? Every so often I'll take a few hours away from life and try to broaden my musical horizons. The way I do this is to find an artist I'm not familiar with for whatever reason and listen to their entire studio discography. Sometimes I come across and iconic band I was never exposed to like a Simon and Garfunkel or The Pixies and other times I take in a newer band like In This Moment or Kings of Leon. Maybe I avoided a band, maybe I just never had the time to listen, and maybe I never heard of them. Regardless, if they have three to six studio albums I'll take a chance. Sometimes it sucks and I want to shoot my speakers by song two of the first album of five and other times I'm delighted by awesome new noise candy to fatten up my love of music. Most music critics and blog writers embrace the bad so they can get in their snarky comments and hate on something. That's NOT what I'm looking for, but it does happen. I don't want to waste my time hating something and would rather be objective and hopefully appreciate something new. That said, if it sucks it's sucks. I won't sugar coat it and will find ways to amuse myself.

Why St. Vincent?
Why Not St. Vincent? I keep seeing the name pop up in reviews and in magazines. I remember first seeing the name a few years back, but as far as I know I never crossed paths with this music. There is a good chance I've heard a song or two and just didn't know. Regardless, I'm going into this with a completely clean palate. I'm under the impression that I'll be listening to artsty moody dark music, but I could be completely wrong. There are five albums so I'm not exactly hoping for music I DON'T like. I'd love to add a new artist to my musical lexicon so I'm optimistic. Let's jump right in…

Marry Me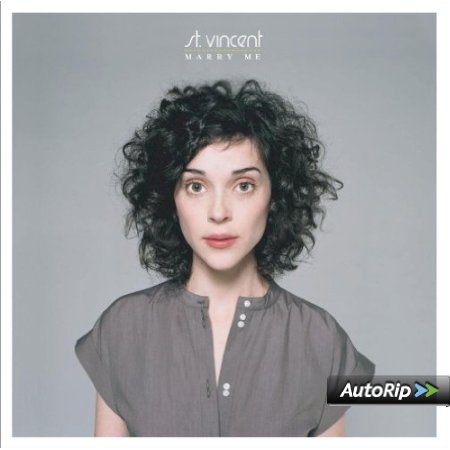 (2007 – 50 minutes) - The album starts off with "Now Now". Off the bat my ears are assaulted with melody and beauty. It doesn't waste any time jumping right into the music. It's a synthy and delicate groover that features really straight forward vocals that are somewhere in between Regina Spektor and Amanda Palmer. It's not them though; it's clearly its own thing. It's almost talking, but with a bit of melodic bounce to it. This is already NOT what I expected. I like it. I had no problem being pulled into the music. It's a really smart album. The lyrics are pretty genius and the music is layered in such a way that it's hard to skip through the album. You just HAVE TO take in everything your ears are being given. The change ups are spectacular. To fresh ears it's almost jarring because you don't know where you're being led next. That is very refreshing. In a world of predicable unpredictability, this is the genuine article. Tracks like "Jesus Saves, I Spend", "Your Lips Are Red" and "Human Racing" are witty and snappy. They provide so many "Oh snap! That's some good shit!" moments that it's hard to really express it. She really shows off her voice in all of the songs, but the slow burning "Marry Me" is almost a lullaby for any possible anger inside me. It just subdues any negativity in the soul. The same is said for "All My Stars Aligned". It's almost as if Adele got into a fist fight with the devil and sang about her obvious victory. I read other critics make Bowie comparisons. I respected their opinion and loved the music, but I didn't really hear it until "Apocalypse Song". Oh man, it's a great song. Her voice is outstanding and the music really spotlights that for her. The base in the music, tone, and voice on "Paris Is Burning" is what I'd expect to hear from a lounge act in coolest night club never. It makes me want to drink and I'm not a big drinker. The album is gripping from start to finish. It doesn't fuck around with any filler. The closer "What Me Worry" drifts afloat like a pair of swanky lovers in a row boat during a really nice day. I'm sad I didn't know of St. Vincent's brilliance earlier. I really dug this album. It's hard to describe with words other than "fucking great". It's going to be hard to top this or even evolve from it on the same level. A lot of artists put out really inspired and great debuts and then start to sound more polished and commercialized. I really hope that's not the direction St. Vincent takes. Regardless, I'm going to appreciate this album for what it is and listen to it A LOT more in the future. One can only hope the follow up carries the same torch.

---
Actor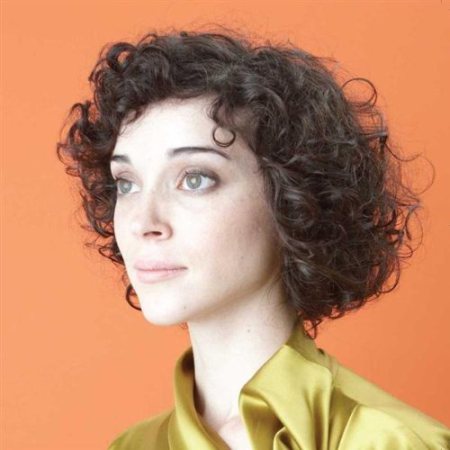 (2009 – 39 minutes) - The sophomore album is a whole new beast. It DOES carry the same "torch" as the debut, but it's more majestic and grander. It doesn't stray into any cutesy or poppy direction. It skips and struts forward toward the happiest black eye possible. It abuses your senses, but when asked you just tell your friends you walked into a door because deep down you want more. That's what happens here. "The Strangers" is similar to the first album, but breaks off into both darker and more soothing areas at the same time. So basically, it's a mind fuck of a good time. "Black Rainbow" is one of a few songs on the album that feels like a Disney soundtrack song taken in all the wrong directions, thankfully. The music is brilliant and the tone is so different that it's very complimentary. It's an enigma of audible enjoyment. It's hard to not LOVE the music and to smile at the lyrics, but this shit is chaos. It's as if it's a track from the villain of a kids movie except it's the last genuine smile the villain has before going completely nuts and trying to kill Simba or every single one of the 101 Dalmatians. The chaos of this album is apparent. Tracks like "Save Me From What I Want", "Marrow", and "Laughing With A Mouth Of Blood" give us the beautiful vocals of St. Vincent, but the music pulls and pushes you into the middle of your own mind. These songs put me into a trance of elation. "The Bed" is a slow and daunting song. I didn't even want to breath all that much while listening because I felt like the song would stop and the musicians in my head would look at me with a "why are you listening to this private song" type of thing. Basically, if Peewee Herman walked into a goth orchestra bar instead of a biker bar in "Big Adventure". "The Party" and "Just The Same But Brand New" is in the same ballpark, but with less restraint on the whole breathing thing. To change things up a little, "Actor Out of Work" is danceable and hard to not air drum to. It's not trying to be silly or anything, but it's the most fun of the tracks I've heard so far. The funkiest track, however, easily goes to "Marrow". I found myself dancing in my desk chair. The industrial breaks really remind me of what I used to love about bands like Nine Inch Nails. There is a sense of humanity to the grizzled groove. Easily my favorite song thus far. This was a very solid second album and gives me a bit more confidence in the direction this awesome artist will take in the next few albums. The first LP was more captivating, while this album was more of a journey. I like where this is going. Hopefully my optimism train isn't derailed.

---
Strange Mercy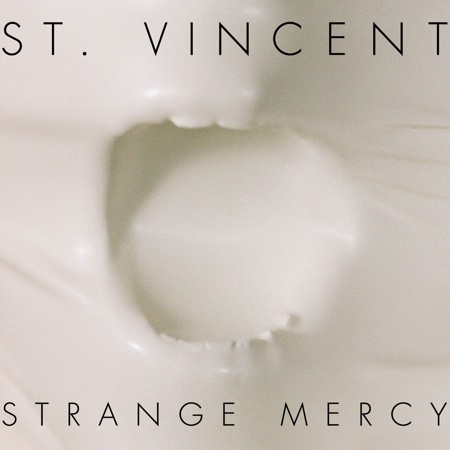 (2011 – 41 minutes) - The third album up is a more conventional album in terms of delivery, but the tone seems way more angry and aggressive. "Chloe In The Afternoon" has a deeper electronic feel to it as there is more of a sonic "awe" within the music. The vocals sound good and the music is like jazz industrial. I like it a lot. The lyrics are a tad hokey. They're witty, but lack the quirk of the earlier stuff. That's not a good thing or a bad thing. It's just a thing. A thing I can honestly get into. It's getting closer to the music style I traditionally patronize and support. "Cruel" feels like a song I've heard before. I didn't even have to look to know this was a single. I was right. There is even a music video for it. It's just a polished tune that has a more traditional structure. Well, as "traditional" as this weird mad genius will go. The synth and bounce of the sound remind me a bit of Talking Heads. Not a bad comparison in the least bit. "Cheerleader" is haunting. Lines like "I've had good times with bad guys" are slowly sung at us as brooding beauty lurks underneath with the music and then BOOM! The song kicks in gear and the thuds dominate your soul. The song changes back up to lurking beauty and thuds again. It's a bad ass song. The music dominates on "Surgeon" too. It's a trippy tune. The synth and break down is ridiculously sick. Mind. Blown. There is some stuff you just shrug at, smile, and take in. "Northern Lights", "Strange Mercy", "Neutered Fruit", and the closer "Year Of The Tiger" are cool songs. They don't quite hit the same spots as other St. Vincent songs I've taken in so far, but they are really enjoyable jams. "Dilettante" is more comparable to the first two albums. It's an awe-inspired tip-toer that gets a big dose of electricity as it goes on. It's a sweet song, but the breakdown at the end is the highlight for me. I don't know if it would be if the rest of the song did't take me there. "Hysterical Strength" feels like it'd be another single too. It has weird up-tempo start that drops into a grizzly vocal pop-rock song. It's not "pop" or "commercial" by normal standards, but it's definitely "clean" and probably one of the most accessible songs of the St. Vincent collection thus far. The best song on this album is most definitely the haunting "Champagne Year". It's a stripped down stumbler that is complimented nicely by easing and calming vocals. The composition builds up to feel almost of what would be the perfect day dream. It's less than 3 and a half minutes, but I wish it would have been at least five. It fades out and leaves you reaching for more. This was another really good album. It's not on par with the first two, but I enjoy what this album is. It's not quite like the other albums, but it's just louder and crisper. It's more aggressive and abrasive, but still balanced the beautiful voice that I've started to really dig. I'm really curious about this next one.

---
Love This Giant (w/David Byrne)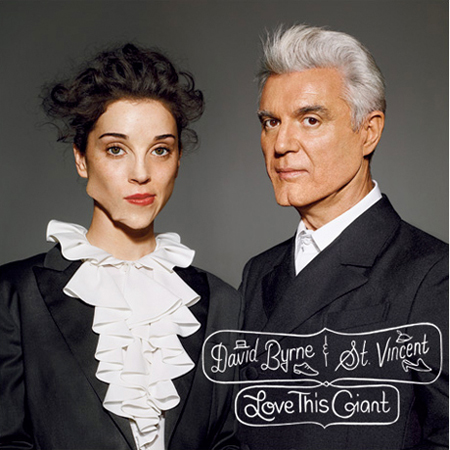 (2012 – 45 minutes) - This is a collaboration album where St. Vincent joins forces with David Byrne. If you're a creative indie rocker and going to collaborate with someone he's the guy you want to collaborate with. The album jumps right in to "Who". It's a funky sounding tune. It sounds like a lot of David Byrne songs, but St. Vincent chimes in with some bonus vocals. This track is really Byrne heavy. If I weren't a fan of his I'd probably be all "what happened to St. Vincent?!" She's back in "Weekend In The Dust", a weird tune. St. Vincent's vocal styling reminds me of Prince in a strange way. The music feels like a Talking Heads/Prince throw back as well. I don't know what to think about it. It doesn't work for me. The next one seems more Byrne aimed and then the next one is back to St. Vincent's stuff. It's again, her vocals on top of what feels like a throwback jam. It's even almost R&B soul. The formula is taking a clear shape by the fifth track. It's another Byrne strong track where Vincent's vocals are basically glorified back-up vocals. A song called "I Am An Ape" is just lame. It's not even fun in an ironic way. It's just an overdone joke track with the pretense of some other meaning. Nope. It's just a lame song. I'm not "hating on it", but both have done MUCH better. Yikes. Going into the sixth track, "The Forest Awakes", I automatically assume the first vocals I hear will be St. Vincent. I am correct. It's a trumpet-centric toot-fest on top of some electronic stuff. She adds some beautiful sounding vocals that turn out to be hokey lyrics. I'm starting to just accept that this album is a joke. I've not heard one song that's engaging or captivating. It's more of a "project" than an actual "album". It's a big ass bummer too. I was really getting into St. Vincent and David Byrne has been one of my favorites for years. Critics loved this album and I'm sure there are indie nerds out there who want to curse me out for trashing on this, but it was a task to get through. Even up until the end I was holding out with optimism that something would grab my ears, but this was a letdown. "Optimist" and "Lightening" were probably the best songs on this release. Both were St. Vincent focused tracks with complimentary atmosphere behind it. It wasn't some choppy sounding song with ironic attempts at irony. They could have almost been reworked outtakes from past albums, but even they weren't all that fascinating. I can't recommend this album to anyone. Even if you want to be a completest and hear ALL of St. Vincent and David Byrnes's work I'd say pass on this. This album was not a fun time. I hope the most recent St. Vincent album recaptures the magic of what she did up until THIS. Yikes. What a fucking bummer.

---
St. Vincent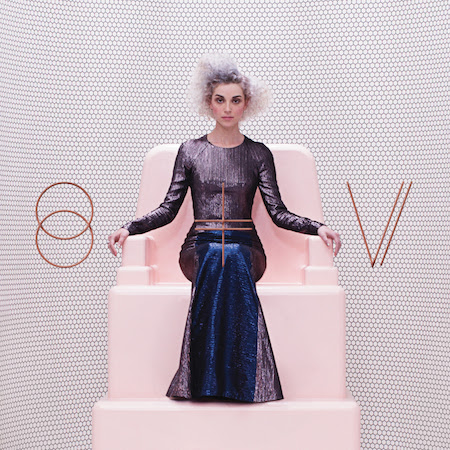 (2012 – 40 minutes) - St. Vincent's official fourth album plays for like 20 seconds and you already know it's going to be better than the collaboration album that came before it. The opening track "Rattlesnake" has music that reminds me of Nine Inch Nails again. It's a pretty danceable tune with interesting and appealing vocals. It's funky, groovy, and frantic at the same time. The swagger of the song is remarkable and would pop back up pretty often. For instance, "Birth in Reverse" is a really unique song. The delivery is cool and not like anything else on the St. Vincent albums thus far. The more subdued and down tempo tunes like "Prince Johnny", "I Prefer Your Love", and "Psychopath" are full sounding and almost psychedelic. Her voice, with the daunting and haunting groove doom music makes for some really intoxicating tunes. "Huey Newton" starts calming and builds up to an attitude infused groaner. I really like it. Her vocals flat out kick ass as the music takes over. It feels a lot like an old classic rock song that I can't put my finger on. It's easily the best song I've heard in a few albums. The chaos is present on this one too. "Bring Me Your Loves" is a mess of cool sounds and sweet vocals. It's not up-tempo, it's not down-tempo… it's just chaos! "Every Tear Disappears" is chaotic too, but more organized and not that good. It feels like a bad remix of a Madonna song. Not in a good way either. I don't know how I feel about "Digital Witness". It's good, but I don't know if it's good because it reminds me of Bowie or it reminds me of Bowie because it's good. That's a hard one to ponder. I want to hear it again so that's something definitely positive. This album was a step back into the right direction, but not fully my cup of tea. It was an enjoyable experience all around, but I didn't feel as involved as the others.

---

THE VERDICT
(2007 – ) - Maybe I just got burnt out after the collaboration album, but I leave this long day of listening to all five albums a bit worn out. The first two, even three albums were really good. I absolutely loved the first album , liked the second, and enjoyed the third. Then that collaboration album really let all the air out of me. I was into the evolution and progression of St. Vincent up until that point. By the time the fourth "official" album hit I was listening with cautious ears. I liked some songs and didn't like others. It wasn't that it was "bad" or anything like that. It was just exhausting. If you were like me and keep hearing about St. Vincent and wanted to check her work out I'd completely recommend the debut and the follow up. If you really like those then move forward with reasonable expectations. Some bands evolve in a way a listener likes and some bands go a different direction. It just happens. Some fans stick with them and some grow out of them. I feel like, in one sitting, that I may have grown out of them. I totally want to go back and listen again and reexamine where I felt the boat was missed because there was some amazing stuff in the early albums that make me wonder if the shift was their music or my mood. I'll find out. Regardless, I'm glad to have added St. Vincent into my own personal musical lexicon. Support the artist because St. Vincent is for damn sure an artist.

What is YOUR favorite St. Vincent album?


---
WATCH THIS!?
"FIRST WORLD ANSWERS"
---
"Neighbors"


I want to be clear here. I do want to see this, but I'm already annoyed by it. The plot of this R-Rated comedy goodness is that Seth Rogan and Rose Byrne are a married couple with a baby. They get a house in a college town and end up living next to a fraternity. The frat is led by Zac Efron and a bunch of douche bag frat boys. They're loud, obnoxious, and well… douche bags. They are bad neighbors which lead to Seth and Rose going to war with them. There looks to be a lot of back and forth in terms of pranks and asshole-ness. I'm sure it'll be funny, but I have a hard time not wanting to destroy the frat kids myself. I can already imagine a lot of flat bill hats and plaid shorts. That stuff irks me in real life so seeing it on screen in such a strong douche bag presence is off-putting. I'm sure this movie will go too far and get extra extreme with its antics. I think the fact that I relate more to the married couple in age and maturity makes this movie almost seem like a task. I know I'll be overly frustrated with the assholes of the movie. The main reasons I'm "in" though are because I do like the cast, Nick Stoller did great stuff with "Forgetting Sarah Marshall" and "Get Him to the Greek", and in general it's an R-rated comedy so I'm open to it. My expectations are low, which will probably be beneficial once I do sit down and watch this.


---
"Worst Case Scenario" is a new take on the concept of "fantasy booking". For years professional wrestling fans would spend endless hours of thinking up the coolest things that could happen. Why waste the energy? This only leads to high expectations. "Worst Case Scenario" flips that. Instead of looking through rose colored glasses, let's take a bi-weekly look at the worst possible scenarios in professional wrestling. I'm not going to be malicious or anything too mean, but I will not refrain from letting my brain come up with the worst possible shit I can. Sadly, it seems the writers and producers of mainstream TV wrestling and the mainstream iPPV level indies are doing the same thing but charging us for it. And now…



"ROH: The Shoot Fighting Fed!"


Ring of Honor was once a really promising company. They showcased amazing talent that would eventually grow and develop into the biggest names in the current era. The product was inspired and was on its way to becoming a mainstream option for wrestling fans everywhere.

Then it just wasn't. Ownership changed, creative minds were replaced with Jim Cornett, good talent left, bad talent stayed, and before we knew it the ROH was just another Indie fed but with above average internet media coverage.

Good and even potentially great wrestlers are there right now but it sadly falls under a whole "if a tree falls in a forest and no is around" category.

I blame the marketing and direction more than anything, but the actual wrestling style. It's been too sterile. It's a hybrid of spots and stiffness. While dudes like Steen and Cole are fantastic, the overall stigma of ROH feels like overly stiff exhibition matches with no soul behind them.

Instead of denying how piss poor the product is on terms of engaging entertainment, let's explore the idea of them embracing it.

ROH announces that in this bizarre mind of mine that they are abandoning the art of professional wrestling and will be a freestyle MMA company from here on out.

The fighters fight for "real" now. So it's even more "grapple-y", even less charismatic, and isolates even more potential fans.

5 three minute rounds, specific weight class mandatory rules, tag MMA matches, ring girls, and the whole thing.

Sadly this is still ROH so even these MMA fights will probably turn out as lackluster as possible.

Whatever happens, happens. ROH is a boring place.


---

"Lone Survivor"
Military movies aren't my thing. I can appreciate a good story and I'll always be thankful for real life people defending my country, but the genre of film is never one I seek out. I recently had a conversation where I had to list my favorite military movies. Me being me, I instantly said "Stripes". It's a comedy and it doesn't jar me too much. Movies like "Apocalypse Now", "Platoon", and "Full Metal Jacket" are undeniable but they're not movies that make me smile or want to rewatch. In a perfect world we'd not have wars and these movies would be more science fiction than actual reality. I don't want to see a young guy shoot at other young guys who are only there because of the pride they have in their country. Right or wrong, that pride is there. I don't want to watch a movie to think about the sacrifices and horrors these people go through. I don't want to think about the family and friends they left at home to be there. I watch and read the news and I have family and friends who have served. Me not watching isn't me avoiding it, it's me not belittling the REAL people who do this. I know a lot of movies are "based on a true story", but even those are over glamourized and written to spotlight a certain side. That said, "Lone Survivor" is "based on a true story". And all the same, it's one of the only movies I've watched more than once in the past six months to a year. It's an engaging and gripping story of a troop of bad asses who find themselves in a horrible situation. They are fighters, warriors, machines, and brothers. They do what they have to do. I don't want to get too deep into the plot because I think it should be seen. It's a movie that leaves you on the edge of your seat and on the cusp of emotional outbursts. The chemistry of the men who were involved in the story is greatly highlighted by awesome acting by Mark Wahlberg, Taylor Kitsch, Emile Hirsch, and Ben Foster. They are all fantastic actors, but you lose that train of thought almost instantly because you're thrown into their world and soon find yourself fighting with them. Wahlberg did a great job, but I give most of the credit to Peter Berg. He has made some movies that I love and has made some movies that I don't care for, but I can never not say that he doesn't go balls out in every project I've seen. His passion for these movies shines through every time. This movie is a great example of that. The title of the movie is a spoiler and it's easy to be a pretentious dick, nit-pick, and brush it all off. Peter Berg is more than a film maker, he's an "experience sharer". Military movies are just about at the bottom of my list of things to watch, but I'll be damned if I didn't find myself enthralled and captivated. Berg did the men justice and gave us a much underappreciated movie. It's A LOT of action, A LOT of emotion, and A LOT of heart. I liked it… A LOT. A-


---
That's 393! This was a really good listening experience. It had ups and downs and I gave my honest opinion on an artist that I'm going to genuinely be interested in in the future. Next week I'm going to take in the music videos of a band I've never given a fair shake to, but have heard a lot of love for. After that I have a few other interesting ideas like a piece on "Bands I Don't Get", where I reveal that I don't understand the appeal of certain artists I never connected with or understood the mass love for. There are a few decent columns coming up in the near future. I've started making a short list of columns I'd like to cover before putting The Savage Animal on the shelf. I think it's safe to say that by early June I'll be done here. I keep saying "I've been writing these columns for six years", but the truth is that my math sucks. I started in June or July of 2006 and haven't looked back. Do the simple math for yourself. You can even use your fingers. 2014 minus 2006 is 8. I have been writing weekly columns for 411mania.com for EIGHT YEARS. There has been absolutely no financial gain from this. Most people realize that websites with banner ads and video ads are making money. My words and work have been surrounded by literally thousands of ads. Seriously, I've written over and participated in over 400 articles on 411mania.com. Anyone who clicks on a link instantly gets four or five ads thrown at them, often invasive and annoying. I've not seen one cent from those ads. I might not get read a ton or anything, but I'm sure my work has made someone enough for a cheap used car. Sure, you can say "But Mike, 411 is a wellknown website and you're getting a lot of exposure". It might be, but I'm not getting much exposure. It's not bleeding over into my other projects. What's better: 1000 people reading a column where you gain nothing or putting your column up on a different website and get 500 people reading who engage while making a few extra cents? It's obvious. Early in my run I got a few CDs mailed to me for review and I got into two or three concerts based on my 411 credentials but that's it. When I would attempt to use my "411 credibility" for my own interests, like covering last year's Lollapalooza or reaching out to a lot of cool people for interviews, there was nothing for me. I'm not bitter or even complaining. I could have stopped writing at any time. It was all because I enjoy rambling about music and sharing my passion for it. My passion is elsewhere now. In all honesty, I have a hard time even coming to this site anymore because of the auto-play video ads and pop ups. I also use an Android phone so attempting to visit the site while out and about often results in unwanted site forwarding to download stuff I don't want, loud media ads, pop ups, and slow connections. I am aware there is a "solution" where I'd have to alter my own settings or I could forward a screen shot of my issues. That is not my job. Why would anyone want to really go that far out of their way to get the same wrestling news that's being reposted from other sites? Don't get me wrong, I'm loyal as fuck to the 411 brand. I've been a fan of 411 since it was 411wrestling.com waaaay back in the day. It used to be a special site with awesome columns and fresh news. That, along with most of the internet, has turned into click-bait fodder. The times have changed. I'd rather take my time and effort elsewhere. No drama needed. As of now, the plan is to end with 399. Why not 400, you ask? Because! That's why! Until next time… Have a Great Week!
comments powered by