SPOTLIGHTS
Tech N9ne/Madchild - Live In Canada Tour - Calgary, AB (09.11.12)
Posted by Bill Wannop on 09.18.2012

Tech N9ne and Madchild embarked on a tour of Canada in support of their upcoming albums. Were the two able to live up to their reputation and put on a great live show or was something lacking?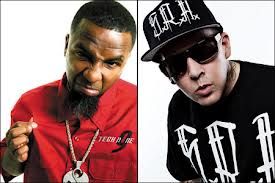 Madchild and Tech N9ne are two of the most popular underground artists in hip hop, however, they have had very different career paths. While Tech N9ne struggled early in his career, he is currently enjoying the most success in his entire career. Madchild on the other hand, had great success early in his career, threw it all away with a downward spiral of drugs, and is currently trying to rebuild his career. The two emcees embarked on a tour of Canada, in support of Madchild's recently released solo album Dope Sick and Tech N9ne's upcoming album, EBAH.

While Madchild has had his share of troubles recently, he truly seems to be trying to make things right, and get back on track in terms of career success. It was evident that his recent troubles have made him realise how much he cherishes his fans, as right from the moment he hit the stage, he seemed to be enjoying himself more then he ever has before. Madchild opened with the track "My Life", which is a fitting song about Madchild messing his life up on drugs.

All throughout the night, Madchild interacted with fans by the stage, giving everyone a high five, even going as far as to pay for water for overheating fans at the front of the stage. Madchild quickly moved through many crowd favorite Swollen Member songs, including the crowd chanting "Warrior" which seems to be a favorite of both Madchild and his fans. On stage Madchild has great presence, as there was no hype man, no DJ just Madchild bouncing around on stage spitting the lyrics. Madchild's delivery was very crisp and clear, providing great vocals and delivering each verse with passion. Madchild eventually moved into some of his solo tracks from Dope Sick including "Monster", the crowd favorite "Dickhead", before finishing with the great track "Judgement Day". While Madchild had the crowd moving and put on a very entertaining set, it was somewhat on the short side. He was on stage for around 35 minutes, and with his vast back catalog, I was hoping that he would stay and play a few more songs. Additionally, he did not play many of tracks off his solo album, instead mainly playing popular Swollen Members songs. I would have preferred to hear some of the new tracks live, instead of half songs of from Swollen Members hits without Prevail. Nonetheless, Madchild is well on his way back to the top, and even stayed after his performance to meet fans, take pictures and sign autographs.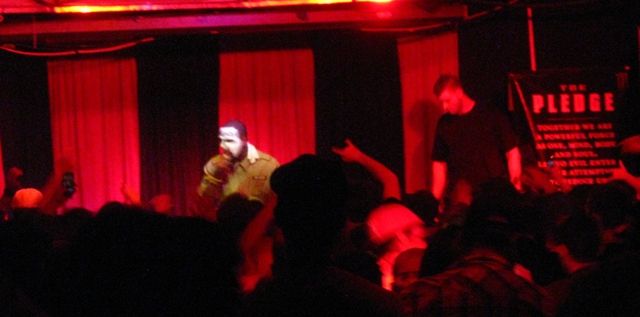 Next up was Tech N9ne and Krizz Kaliko, artists who I have seen before but always manage to put on a great live show. They started out first with Kaliko on stage working his way through his verse from his latest album Kicking and Screaming, "Kill shit", before he was joined on stage by Tech N9ne. While Tech N9ne and Kalkio gave the show a valiant effort, I have to say that this was the worst show of the group I have seen. That is not to say that they were bad per say, but there were some big negatives with the show. The main negatives were mostly due to the venue. The show took place in a small venue called The Distillery, and while the stage was adequate for Madchild, once Tech and Kaliko along with their security took the stage, there was really very little room. Tech and Kaliko usually have a very energetic show to say the least, however due to the small stage, there simply was not a lot of room for them to move around, which really took away from the overall atmosphere of the show. At some points in the show Kaliko would leave the stage and sing/rap his part on a song from backstage. Additionally the sound was horrible. While Madchild came through clear and concise,, for some reason, during Tech's set the sound was not great and somewhat muffled. Making it had to even determine which songs they were playing at certain points.

There were some good parts of the show, specifically when Tech N9ne went through his more popular crowd favorites, such as "He's A Mental giant", the old school tracks "Planet Rock 2K", "This Ring". As well the Psycho Bitch medley that Tech went through was great, in addition to "Am I A Psycho" which had the crowd singing the chorus along with Tech. There was the classic Chopper medley, which started with Kaliko doing his verse from "Midwest Choppers" before asking who can beat that, to which Tech came on stage and went though his verse as well as his verse from "Worldwide Choppers".

There is no debating that hearing Tech and Kaliko spit their rapid fire lines with such precision is a sight to see, the group usually provides a great intricate stage show in support of the verses. Due to the venue limitations this was not possible, and added to the horrible sound quality the show was not all it could have been.

Be sure to check out some of our exclusive interviews as well as follow me on Twitter.

Exclusive 411mania.com Interviews
Tech N9ne
Chino XL
Kottonmouth Kings
M.O.P.
Jedi Mind tricks
Evidence
Slaine
Apathy
Tech N9ne
Atmosphere
Saigon
Swollen Members

The 411: There is no debating that hearing Tech and Kaliko spit their rapid fire lines with such precision is a sight to see, the group usually provides a great intricate stage show in support of the verses. Due to the venue limitations this was not possible, and added to the horrible sound quality the show was not all it could have been. Madchild on the other hand, really left everything he had on stage and really impressed with his clear lyrics and passion on the mic. Although a little short, Madchild definitely left his fans wanting more and really helped to increase the show enjoyment!

Final Score: 8.0

[ Very Good ]

legend
comments powered by