Madchild & Slaine - Calgary, AB (08.27.13)
Posted by Bill Wannop on 09.11.2013

Madchild and Slaine embarked on a tour of Canada in support of their upcoming collab album. Were the two able to live up to their reputation and put on a great live show or was something lacking?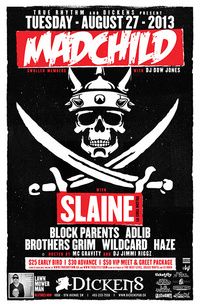 Madchild has had his share of success and failure in his life. Being apart of a top underground group Swollen Members, Madchild had a lot of success early in his career going as far as starting his own label (Battle Axe). However, he would soon hit rock bottom, losing almost everything to drug addiction. Madchild's story may have a happy ending after all, as over the last year his popularity has soared, and he has released 3 albums that have ranked in the Billboard top 200 album charts. With the release of his latest album, Lawnmower Man in the summer, Madchild embarks on a cross Canada tour, supported by Slaine. Would the two man show manage to continue the successful year of Madchild? The answer to that question is a resounding yes.

While Madchild and Slaine were the two headlining acts, I can honestly say that sometimes it is the openers who can make or break a mediocre show. For this show, the opening acts included: Brothers Grim, Haze, Wildcard and Adlib, all of which were fresh names on the local concert tour. However, the fact that they were new, did not necessarily make them good, as all of the opening acts, with the exception of Wildcard were somewhat forgettable, and actually brought the level of the show down. Brothers Grim, played nonsensical rap songs, and were plagued with audio troubles as one of the rappers mics was far too low and the other was far too loud and the duo did not seem to have very much stage presence. The opposite was true for Adlib, who, while he had some stage presence, he seemed to simply shout his songs to the audience and really sounds much better on record then live. Wildcard was the only decent opener, as he provided some good songs with some good chorus work. The only negative for Wildcard was that he seemed to be trying to hard to be like Tech N9ne, spitting double time raps, but he does not really have the clarity in this performance to do so.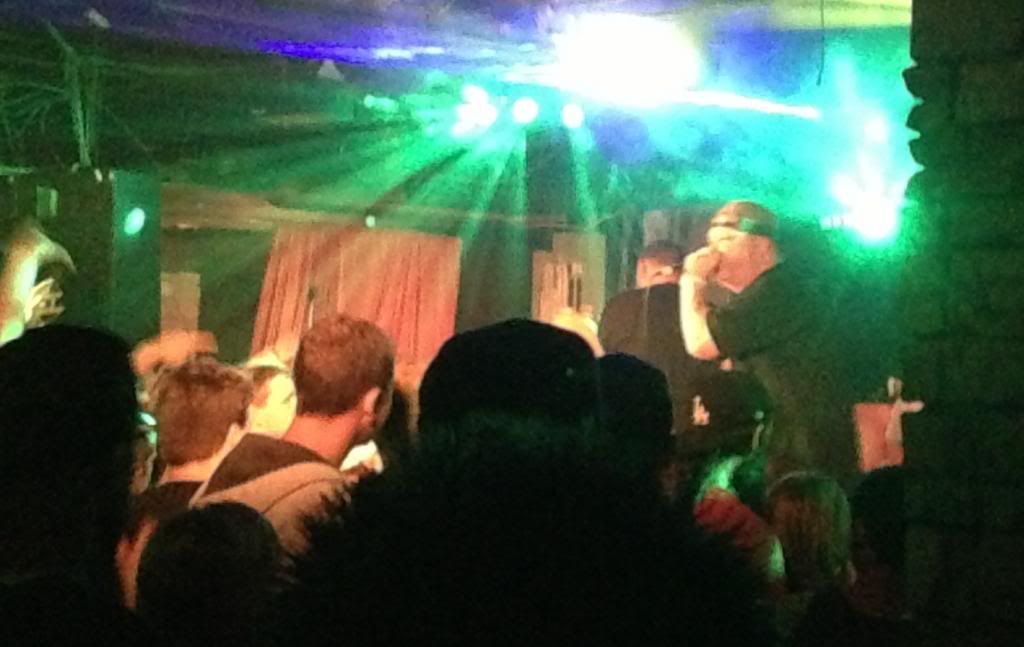 After the openers Slaine hit the stage, coming out to "A World With No Skies", the title track from his debut album. Slaine truly displayed the difference between a veteran artist and an amateur artist in terms of stage presence. Slaine commanded the stage in addition to getting a large amount of audience interaction. Even if you did not come to see Slaine, by the end of his performance you were likely leaving as a fan. With Slaine's last album being The Boston Project being released 6 months ago, not really having a new album to promote can sometimes be a good thing in terms of seeing an artist perform as the artist will play all your favorite tracks instead of the new tracks that you don't really know.

Slaine not only ran through his catalog of hits, but he also took time to play some tracks from the various La Coka Nostra albums that have been released, including the very first La Coka Nostra song, "Fuck Tony Montana". Slaine kept the show moving performing "Cocaine & Whiskey off The Boston Project, before moving into a new track, which will be on Adlib's upcoming album, which features Slaine, titled "Hate My Gutz". Slaine rounded out his set by playing tracks, "99 Bottles" and "Till the Day That We Die", leaving the crowd wanting more after a completely high energy. In your face set.



After Slaine was finished, Madchild immediately took the stage opening up with the first track off his new album, Lawnmower Man, "Crazy". Madchild proceed to go thought he first half of his new album, performing cuts such as "Tiger Style" "Prefontaine" and "Nature of the Beast", in addition to "Little Monster" off his previous album. Madchild is no stranger to the stage, and when he is on stage he commands attention. The highlight of the nigh occurred halfway through Madchilds set as he invited Slaine back on stage and the two announced that they will be putting out an album together with their new group being called Supreme Villainz. The two emcees then went through the handful of tracks that they have made together, such as "Chainsaw", "Death To You" and "Grenade Launcher". The two emcees have great chemistry on stage and really seem to have a sense of comradely. Their joint performance really made the evening and made everyone anticipate their upcoming album release. Once Slaine left the stage, Madchild finished the night off performing old favorites, from his and Swollen members back catalog, ending an enjoyable evening.

To purchase tickets to the remaining dates on the tour visit Madchild's website

For more information on Madchild or to purchase the album Lawnmower Man visit Suburban Noize Records

Additional information on Slaine is also available at Suburban Noize Records

Be for we start, be sure to check out some of our exclusive interviews as well as follow me on Twitter.

Exclusive 411mania.com Interviews
M.O.P.
Jedi Mind tricks
Evidence
Slaine
Apathy
Tech N9ne
Atmosphere
Saigon
Swollen Members

The 411: Madchild and Slaine always put on great solo shows, so there was no denying that when they performed on the same stage that the result would be anything different. The two emcees have so much energy and put so much into their performances with the end result being a good night of hip hop.

Final Score: 8.0

[ Very Good ]

legend
comments powered by