SPOTLIGHTS
Fall Out Boy @ National Indoor Arena, Birmingham, England 3.16.14
Posted by Daniel Wilcox on 03.22.2014

Fall Out Boy hit the road in the UK for the first time in five years, and they're bringing a new found confidence and swagger with them in their attempts to "save rock and roll."




Fall Out Boy is:
Patrick Stump – vocals, guitar
Joe Trohman – guitar
Pete Wentz – bass
Andy Hurley – drums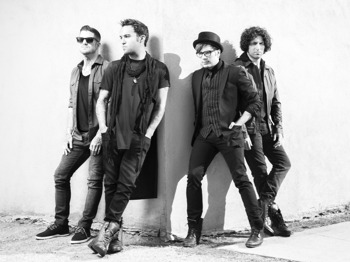 Fall Out Boy – Birmingham National Indoor Arena, Birmingham, England [3.16.14]



Set list:
1. The Phoenix
2. I Slept with Someone in Fall Out Boy and All I Got Was this Stupid Song Written About Me
3. A Little Less Sixteen Candles, A Little More "Touch Me"
4. This Ain't A Scene It's An Arm's Race
5. Alone Together
6. Thriller
7. Death Valley
8. Sugar, We're Going Down
9. Young Volcanoes
10. Beat It
11. Nobody Puts Baby in the Corner
12. Grand Theft Autumn/Where Is Your Boy
13. Dance, Dance
14. Just One Yesterday
15. I Don't Care
16. My Songs Know What You Did in the Dark (Light 'Em Up)
Encore:
17. Save Rock and Roll
18. Thnks fr th Mmrs
19. Saturday

Fall Out Boy's was an unlikely comeback. The band's 2007 record was a monumental triumph, peaking at the top spot in the US and featuring some killer singles that also charted highly. Infinity on High was released at the peak of the "emo" scene's popularity, with My Chemical Romance's vital record The Black Parade preceding it by just a few months. The band released Folie a Deux a year and a half later to middling acclaim and a disappointing bow at number 8 on the Billboard 200. So it was decided the band would take the dreaded "indefinite hiatus" and with the music industry moving on at such a rapid pace it was unclear if we would ever see Fall Out Boy again.

On March 16th 2014, Fall Out Boy emerge from behind a large white curtain sporting balaclavas and demolishing the crowd with an energetic rendition of "The Phoenix." Nineteen songs later, many of which taken from comeback album Save Rock and Roll, it's become pretty clear that Fall Out Boy is better than ever. While "saviours" may be a strong word, it's clear that the band's 2013 return was a major shot in the arm the world of popular rock music needed. Blink-182 attempted a similar comeback a few years ago, and after the hysteria of the original announcement died down, their return was met with general apathy. No such apathy here in amongst the thousands packed into tonight's sold out show at the N.I.A as Fall Out Boy rise from the ashes like their titular phoenix to deliver a string of high-octane hits. The energy and enthusiasm with which their appearance is met is an indication that's it's been five year's since the band last did a full UK tour and an indication that they have been sorely missed.

Following a raucous opening the band delves into firm favourites "I Slept with Some in Fall Out Boy..." and "...Sixteen Candles..." both of which are taken from the band's 2005 breakthrough record From Under the Cork Tree. Both tracks are staples of the band's live shows so it's no surprise they're performed with such precision here. "Alone Together" is next, taking from the band's most recent record, and it's warmly received as if it were an old favourite. In fact, the majority of the new material gets as appreciative a response as the old stuff, a sign first and foremost of how good Save Rock and Roll is, and an indication of how well the record's been marketed through the Young Blood Chronicles series of videos. A rattling rendition of "Thriller" follows, an inclusion in the band's set list that seems somewhat left-field considering some of the omissions. The band are performing with a confidence and gusto that they didn't seem to have prior to their hiatus.




"Death Valley" precedes arguably the band's most recognisable offering in "Sugar, We're Going Down," which is treated with the deserved response. Girls are screaming everywhere at this point. Patrick Stump's vocal absolutely thrives here, as it does throughout, and it's a sign he's changed a lot in five years. Formerly the shy, slight overweight frontman stood in Pete Wentz's shadow, Stump now owns the stage as if he were the only one up there, working the crowd like a real showman should. He looks a hell of a lot healthier and he sounds better than he ever has before. Another cracking new track, "Young Volcanoes," follows. The new tracks are stripped of their electronic elements for the live setting, making them sound a whole hell of a lot beefier on stage than they do on record. It's an interesting contrast though the sound of their comeback record is pretty damn great. A cover of Michael Jackson's "Beat It" is up next and again, it's well-received. Understandably a lot of people have a disdain for the Fall Out Boy version of this track, but they did enough to make a different take that it doesn't back, it's actually really enjoyable and sounds great in a live setting.

After a few moments, Stump, Wentz and Trohman appear on a smaller stage set up in the middle of the arena to perform acoustic versions of old favourites "Nobody Puts Baby in the Corner" and "Grand Theft Autumn/Where Is Your Boy." These are two brilliant tracks that were excluded from the band's set when I saw them at 2013's Reading Festival so it was great firstly to hear them live, and secondly for them to offered to us in such a unique manner. What these performances really emphasized was Patrick Stump's faultless vocal as well as Trohman's chops as a backing vocalist, something that he rarely gets to show. I tend to enjoy these mid-show acoustic pieces as it offers something a little different as well as having the practical advantages of allowing both the audience and the band to catch their collective breath. As the majority of the band make their way back to the main stage, drummer Andy Hurley is given his chance to steal the spotlight with a harrowing drum solo that receives quite the response from the crowd. Again, Hurley doesn't often get much opportunity to show his credentials as a drummer, so this was a nice addition to the set.

"Dance, Dance" gives the audience a chance to show the band its most cringeworthy dance moves and they do just that. Stump and Wentz are all over the stage at this point, prowling left and right inciting the crowd as best they can. The beautiful "Just One Yesterday" follows, before "I Don't Care," the latter being the only track from 2008's Folie a Deux to make the setlist, highlighting just how poorly that record was received. I didn't hate it, but "I Don't Care" was one of the poorest tracks the band could have chosen from that record. The main set is brought to a close with a thunderous rendition of comeback single "My Songs Know What You Did in the Dark (Light 'Em Up)" and it gets one of the bigger reactions of the night. It's the perfect main set closer and an absolute belting anthem. Can't knock that one bit. Following a relatively brief break in comparison to the 45-minutes fans were kept waiting for the band to grace the stage, "Save Rock and Roll" makes for an epic encore performance. Hands, lighters and smart phones punch the air in unison creating wave after wave of appreciation for the band who then dive into "Thnks fr th Mmrs," another crowd favourite before ending the night with stand show-closer "Saturday." The track never gets the reception it deserves – it's one of only two tracks here that pre-dates From Under the Cork Tree but it's an absolute diamond. And after nearly two hours, the band leaves Birmingham in its wake.





Fall Out Boy - "Rat A Tat [feat. Courtney Love]"


After finishing up in the UK this week, Fall Out Boy takes some time off before a couple of dates in South America and a handful of European festivals in June before embarking on the mammoth Monument Tour co-headlining with Paramore with support from New Politics. The massive trek takes the band all around the US from June to mid-August.

SEE FALL OUT BOY LIVE
LIKE FALL OUT BOY ON FACEBOOK
FOLLOW FALL OUT BOY ON TWITTER

LIKE DANIEL WILCOX ON FACEBOOK
FOLLOW DANIEL WILCOX ON TWITTER
The 411: Fall Out Boy has never been known as a great live band. Up to this point I had only seen them at festivals and would have had to agree with that sentiment, but this was a tight performance filled with hits that were played in front of exactly the right sized audience. While the stage banter was kept to a minimum, it allowed more time for hit after hit to keep on coming. The band has steadily built up a wealth of massive anthems over the last decade or so and this was the perfect showcase of that. The fact that so many great songs had to be left off the set list speaks volumes for how far this band has come. Fall Out Boy may not be ready to save rock and roll but the band has proven just the shot in the arm it needed.

Final Score: 8.0

[ Very Good ]

legend
comments powered by