SPOTLIGHTS
Beyonce Projected to Take Third Straight Week At #1 On The Billboard 200
Posted by Larry Csonka on 12.28.2013

A big accomplishment for Beyonce…

According to Billboard, Beyonce's "Beyonce" is projected to take the top spot for the third consecutive week on the Billboard 200. This would be her longest run on top of the Billboard 200. One Direction's "Midnight Memories" is expected to rise fro, #3 to #2, while Eminem's "The Marshall Mathers LP 2" will rise from #6 to #3. Here is how the list looks to break down.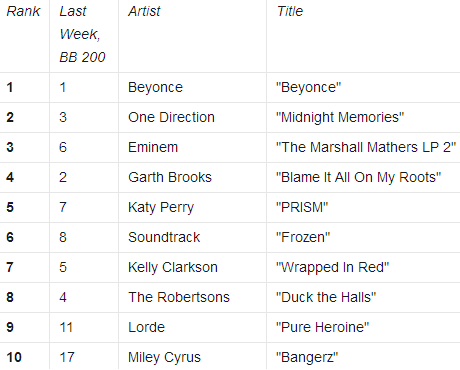 Note: The Building Chart reflects the first four days (Monday through Thursday) of SoundScan's tracking week (which ends Sunday) as reported by six major merchants: iTunes, Trans World Entertainment, Best Buy, Starbucks, Target and Anderson Merchandisers. Billboard estimates that they make up about 85% of all U.S. album sales.
comments powered by