Affluent Babysitters with Paid Summer Vacation on Strike in Chicago
Posted by
Enrique
on 09.12.2012
Enough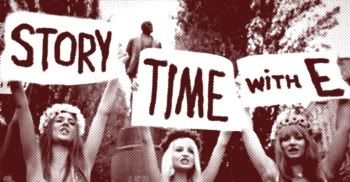 Based on how the Obama/Romney presidential contest has played out so far, it appears Democrats think there's a big electoral advantage in demonizing the rich. But for all their supposed distaste for Americans that have "built that," there are categories of rich people that Democrats are very fond of. Take Hollywood celebrities. (Please.)

Or take unionized public school teachers. (Puh-leeeeeeeeez.) As you may be aware, public school teaching is one of the best compensated professions in the U.S. Even so, for a number of reasons many public school teachers have developed an overweening sense of entitlement. In places where their unsustainable compensation is making local governments bankrupt, few are willing to behave like adults and make concessions.

Take Chicago. (S'il vous plaît.) Chicago public school teachers went on strike earlier this week, refusing to accept their responsibility for the $3 billion budget deficit the school district is facing, and turning down an offer that included generous salary increases. For our story this week, let's marvel at how union teachers' pathological self-absorption has blinded them to the reality that pretty much everyone thinks they suck.

The story so far…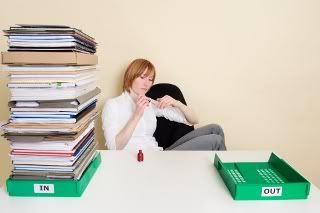 Artist's rendering of typical public school teacher

Apparently Chicago public school teachers didn't learn anything from their Wisconsin counterparts. In early 2011, when the state was a facing a massive budget deficit, Governor Scott Walker and the Republican-controlled legislature pushed through a bill that stripped public employee unions of their collective bargaining privileges. Democrat lawmakers were so desperate to demonstrate loyalty to their union puppet masters that they fled to goddamn Illinois to avoid a quorum vote.

Once collective bargaining had been gutted, unions tried to flex their muscles and recall Walker. They failed. After that smackdown, a prudent course of action for unions might have been to reconsider how they advance their interests, if for no other reason than public relations.

But as anyone who has had their heart broken knows, it can be tough to accept that it's over and you need to let it go. That level of denial appears to be at the root of this incredible strike:


Chicago teachers began walking the picket line for the first time in 25 years Monday morning at the nation's third largest school system, leaving parents to scramble for alternatives for their children. […]

Teachers showed up in force on picket lines Monday morning, as parents dropped their children off at 144 contingency elementary and high schools across the city, as well as at parks, libraries and YMCAs.

Some parents appeared well-prepared and had already set up informal networks for drop-offs and pick-ups with other parents, others were scrambling, while a few had not even heard the news of the strike as they tried to drop their children off. […]

Martina Watts, 38, was one of the parents dropping her kids off at Hefferan Elementary in Garfield Park as teachers marched up and down chanting, "What's disgusting? Union busting!"

Watts said the strike had messed her day up and forced her to stay away from her temporary job as a machinist so that she could pick up her daughter, Trinity, and son, Jayvon, when the school closes early at 12:30 p.m.

"I might be losing my job over this," she said. "As long as they're on strike, I can't work either. I'm not getting paid, either."
I'm reminded of when Wisconsin teachers staged a "sick out" to protest Walker's proposals. When I got coffee at the local gas station that morning, the poor lady had her two young kids behind the counter with her, and she was telling anyone who would listen how put off she was. And she didn't blame Gov. Walker. Despite the reputation that unions have for being down with the struggle and supporting the working man/woman, these labor actions end up hurting regular working folks the most. It's not like these strikes are an inconvenience for the 1%.

Speaking of whom, the typical compensation of Chicago public school teachers is much closer to the 1% than the 99%. Despite the apparently widespread belief on the left – espoused by airheaded celebrities and boneheaded political appointees – that teachers are underpaid, the numbers tell a different story:


A Chicago Public Schools spokesperson said average pay for teachers, without benefits, is $76,000. […]

By comparison, teachers in New York City earn an average of $73,751. That would be less than the average $76,000 average salary for Chicago teachers cited by CPS, but more than the $71,000 average cited by the union. Depending on which is accurate, Chicago would either be first or second in the nation in average teacher salary. However, Los Angeles teachers make $67,600. The number drops to about $54,000 in Dallas, and just over $52,000 in Miami.
Despite compensation that is the envy of most of us schlubs in the private sector (not to mention other public school teachers in other parts of the U.S.), Chicago teachers are striking despite having been offered a 16% pay increase over four years. I'll be thrilled if I get a 16% pay increase over ten years.

To be sure, their fabulous compensation packages aren't the only reason Chicago teachers are striking. They are also protesting new review protocols that would tie teacher performance evaluations to how students score on standardized tests. Chicago public school students tend to be severely disadvantaged, which makes a significant number of them unteachable:


More than 80 percent of Chicago students qualify for free lunches because they come from low-income households, and Chicago students have performed poorly compared with national averages on most reading, math and science tests.

Union officials said more than a quarter of Chicago public school teachers could lose their jobs if they are evaluated based on the tests.

"Evaluate us on what we do, not the lives of our children we do not control," [union President Karen Lewis] said in announcing the strike.
There's certainly an argument to be made that standardized tests are poor instruments for assessing students coming from difficult circumstances. But I have a hard time believing there's no way to come up with an evaluation process that controls for such factors. I often read about economists referring to regression analysis, which I don't understand, but it's supposedly a method of analysis that controls for different variables. Maybe regression analysis can be used to come up with a better evaluation process.

I have no idea really, but at least it's a suggestion. If my 16% pay increase was hanging in the balance, and/or I actually cared about the children as much as I claimed, maybe I would put some energy into suggesting ways to establish a more equitable evaluation process.

It doesn't appear Chicago public school teachers want to make helpful suggestions, probably because they overestimate their standing with the taxpayers that fund their generous compensation schemes. You would think the Wisconsin experience would give them pause, but apparently they don't realize how badly they've squandered public good will. Someone should show them this chart based on Gallup poll data.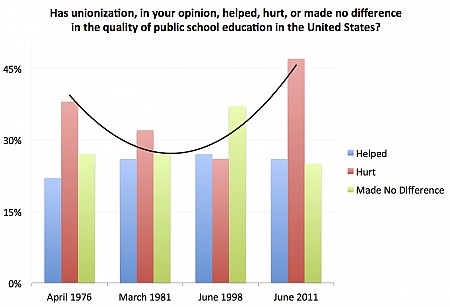 Moreover, even the New York Times ran a critical editorial about the Chicago teachers union. When you've lost the New York Times, you've lost elitist lefty America.

Now that it appears the teachers union has jumped the shark, hopefully America can take some steps toward dismantling what Reason TV refers to below as The Machine. Accountability usually works everywhere else it's tried – it's well past time we used it in public education.


comments powered by
STAY CURRENT