Apparently Blasphemy Against Islam is (Almost) a Crime in Obama's America
Posted by
Enrique
on 09.19.2012
Sacrilege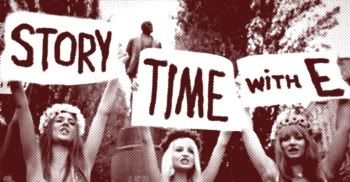 Although we Americans and our leaders like to talk a good game about tolerance, in practice few of us are willing to defend free speech when it conflicts with our personal views. Government officials frequently behave as if this First Amendment thing is a terrible inconvenience to them, but in most cases they at least feel obliged to pretend they care about defending free speech.

Now even that thin veil of fake support for free speech seems to be going by the wayside. In the wake of violent protests all over the world – supposedly over some anti-Islam YouTube video – government officials are not even pretending they support free speech anymore. Given the fact that the U.S. Constitution is regularly ignored anyway, how long will it be before blasphemy against Islam is a crime in America?

The story so far…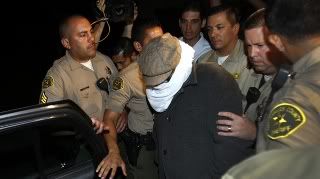 Nakoula Bassely Nakoula, the man supposedly behind anti-Islam YouTube video, on his way to being questioned by federal agents. I assume this image has been the only thing on Fox News for the past week

Okay, it's pretty silly for some random dude writing on the internet to say something like "blasphemy is almost a crime in America." I'm not aware of any actual proposals to make blasphemy against any religion a crime in these here United States. To suggest that America is anywhere near criminalizing sacrilegious speech is just the usual kind of hyperbole you read all the time on the internet, especially in an election year.

On the other hand, there have been anti-blasphemy laws in the United States at various points in history, including some that are still on the books in some states. As recently as 1952 the U.S. Supreme Court overturned a New York law that was used to censor a film judged by authorities to be sacrilegious.

I suppose 1952 may seem like ancient history, but 2010 wasn't too long ago. That was the year a federal judge struck down a Pennsylvania anti-blasphemy law that had been passed in 1977. 2010 was also the year the United Nations most recently considered international anti-blasphemy laws.

Actually, I take it back – there is a decent chance we'll see new anti-blasphemy laws in the U.S. in our lifetimes. Politicians routinely and explicitly say they will restrict free speech of people they don't like. In 2006, the U.S. Senate almost passed an anti-flag burning amendment. And President Obama and most Democrats aren't shy about saying they want to curtail the free speech rights of individuals who voluntarily organize as corporations. By the time federal anti-blasphemy laws are enacted, they'll probably be quaint.

When anti-blasphemy laws do come to pass, they'll probably be sold with the same rhetoric that has been used to condemn the anti-Islam YouTube video that's supposedly at the heart of all these violent protests. Incidentally, why are we assuming one YouTube video is responsible for all this crazyass Muslim rioting? Because White House flack Jay Carney says it is? Because Secretary of State Hillary Clinton says it is?

Of course those clowns are going to blame a YouTube video. It conveniently excuses them from blaming American foreign policy. They don't have to acknowledge that the violence might have something to do with the illegal war in Libya the Obama administration launched last year. Or that the protests might have something to do with American wars regularly killing civilians in Muslim countries. Nope, just some YouTube video.

Of course, Al Jazeera did come up with this handy graphic to illustrate the story…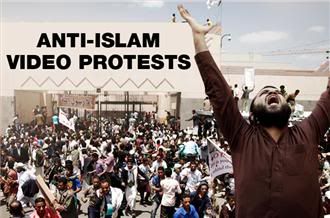 And Hezbollah did organize a protest over the video, presumably encouraged by the White House reaction that they would be taken seriously if they claimed the video was the at the root of their indignation. So let's pretend that all this unrest is over a YouTube video. In America, we supposedly believe in freedom of speech. You wouldn't know it based on how U.S. officials have reacted. Here is how our government has stood up for free speech in the wake of crazyass Muslim rioting, 2012 version.

The Alleged Filmmaker Has Been Interrogated

Nakoula Bassely Nakoula is a California man who apparently made the "film." Last week, in the middle of the night, he was brought in for questioning by Los Angeles county sheriff's deputies. Nakoula was convicted of kiting checks a couple years ago, and the reason he was interrogated was ostensibly related to possible probation violations – he is apparently not allowed to use the internet without supervision.

First of all, that seems like cruel and unusual punishment to restrict anyone's internet use as a condition of probation. But more importantly, a man was questioned by American authorities over a goddamn YouTube video. He has been interrogated on suspicion of putting his thoughts and opinions into a video. No one in America should have to answer to any government agent for making a movie, writing a blog post, or otherwise expressing his/her opinions. This is scandalous state of affairs.

The White House Tried to Get YouTube to Delete the Video

In the course of blaming anything other than American foreign policy for the protests, the Obama administration "asked YouTube to review the video to see if it was in compliance with their terms of use." YouTube's parent company Google has thankfully not caved in to political pressure and announced it will not remove the video – although it did cave in as far as restricting access to it in some countries.

But what if it doesn't end there? What if the protests keep going for another week? Maybe the Obama administration will ask YouTube a second time to review its policies. A couple of years ago, Sen. Joseph Lieberman, as Chair of the Senate Homeland Security Committee, asked companies like Amazon and Visa to cut off services to Wikileaks voluntarily. They all did without argument.

When the government asks you to do something "voluntarily," it does so with the ability to use force to achieve its objectives. It's one step away from saying, "Nice website you have there. Shame if anything were to happen to it."

Government Officials are Criticizing a YouTube Video in Lieu of Defending the Principle of Free Speech

I already mentioned Carney and Clinton's reactions, which included pro forma references to free speech, but were more focused on how awful this YouTube video supposedly is. Clinton's statement included the following:


Now, I know it is hard for some people to understand why the United States cannot or does not just prevent these kinds of reprehensible videos from ever seeing the light of day. Now, I would note that in today's world with today's technologies, that is impossible. But even if it were possible, our country does have a long tradition of free expression, which is enshrined in our Constitution and our law, and we do not stop individual citizens from expressing their views no matter how distasteful they may be.
That's a lot of breath spent on how reprehensible the video is, and no defense of free speech at all – just an explanation that there's this, you know, tradition we have in the U.S. She's practically apologetic about the Constitution. The subtext here is, "Gosh, we'd love to have censored this video, but you gotta understand, what with the technology and our silly antiquated traditions…I mean even if it were possible we couldn't have stopped it without someone suing, see?"

At the first sign that the protests were getting out of hand last week, the U.S. embassy in Cairo issued a statement that went so far to condemn the video outright and explicitly say it doesn't really qualify as free speech: "We firmly reject the actions by those who abuse the universal right of free speech to hurt the religious beliefs of others." I'm not really feeling that the embassy staff thought free speech is universal. The White House subsequently disavowed the statement, but it's not comforting that the first reaction of our government is denounce a goddamn YouTube video, rather than reaffirm America's commitment to free speech.

To paraphrase Matt Welch, what is so hard about saying that the U.S. is not in the business of approving or condemning these kinds of things, and the American government has no official opinion on the matter? Instead we get a lot of bullshit about tolerance and abuse of religious beliefs. This sort of attitude on the part of our leaders makes the possibility of criminalizing blasphemy in America a lot less far-fetched than it ought to be.

In 2006, Christopher Hitchens gave a speech at the University of Toronto about the insidiousness of those who would censor anti-Islam speech in the name of multiculturalism and social justice. Spoken one year after a Danish newspaper published some Mohammed cartoons – which were also blamed for violent riots in the Muslim world – his words seem particularly apt at this moment:


And up go the placards, and up go the yells and the howls and the screams, "Behead those…" – this is in London, this is in Toronto, this is in New York, it is right in our midst now – "Behead those, Behead those who cartoon Islam".

Do they get arrested for hate speech? No. Might I get in trouble for saying what I've just said about the prophet Mohammad? Yes, I might.

Where are your priorities ladies and gentlemen? You're giving away what's most precious in your own society, and you're giving it away without a fight, and you're even praising the people who want to deny you the right to resist it. Shame on you while you do this. Make the best use of the time you've got left. This is really serious.
comments powered by
STAY CURRENT