And Now…Government Tries to Regulate "Jersey Shore"
Posted by
Enrique
on 10.03.2012
Why not?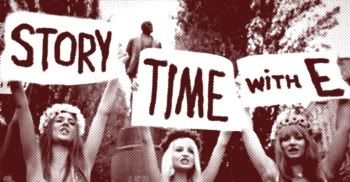 So that was one helluva presidential debate, amirite dear readers? My favorite part was when the one guy acted like the country is going to be much worse off if the other guy wins in November. I mean, who honestly believes that?

Since our presidential candidates aren't serious about addressing the issues facing the country, I don't see why we should be. So for our story this week, let's have a look at one New Jersey lawmaker's efforts to regulate "Jersey Shore." Another example of government overreach? Or a reasonable promotion of the general welfare? We report, you decide.

The story so far…



What democracy looks like

Here's where I pretend to not know anything about MTV's hit reality television show "Jersey Shore." But honestly, I don't know much about it. I'm old enough to remember when MTV played music videos and I lost touch with pop culture trends somewhere around the time people stopped buying music, i.e., when Evanescence and Linkin Park were popular bands. All I can tell you about "Jersey Shore" is that it involves some promiscuous young people who may or not be of Italian heritage, and who seemingly enjoy tanning and shopping for hair product. I'm encouraged that they allegedly really enjoy doing laundry.

My familiarity with "Jersey Shore" is probably in the same ballpark as that of New Jersey Assemblyman Ronald Dancer (pictured above, natch). Dancer has proposed legislation that would pave the way for stricter regulation of shows like "Jersey Shore." This must be what they mean by the phrase all politics is local:


The bill would allow local governments to set specific conditions on the filming of reality TV shows within their community borders. If, for example, additional police may be needed for crowd control—or to handle the bar brawls that result from too much Ron-Ron Juice—Dancer's bill would allow local governments to write in the cost of such an agreement with producers prior to filming. […]

"Basically, this legislation is going to provide New Jersey towns with an option to prevent a situation—pardon the pun—in which taxpayers could get 'snookered' or public safety could get compromised in filming these reality shows," Dancer told Patch. […]

Dancer said his proposal has gotten lots of positive feedback among his fellow lawmakers. Although he claims not to have a favorite reality TV program, he said that he has kept abreast of "the accounts where there have been municipal court appearances of reality TV stars who have been charged with drunkenness and disorderly conduct.

"[Nicole] Snooki [Polizzi] herself has certainly gained national attention, and I think that to a certain degree, naming the law 'the Snookiville law' does provide a branding to this type of legislation," Dancer said.
Yep, it's called the Snookiville law. The actual bill is right here, and sure enough, it says "Snookiville law" right there at the top. I think we've reached a new low point in terms of painfully nicknamed legislation. And to think people honestly believe politics is vehicle for social justice.

By the way, I had to Google Ron-Ron juice. Eh, I'm sure you could mix vodka with worse.

As a Midwesterner, I feel some sympathy for New Jersey based on what I think I know about it. Not only have they had to contend with "Jersey Shore," but apparently they've been victimized by "The Real Housewives of New Jersey" as well as something called "Cake Boss." When you consider that these poor folks aren't even allowed to pump their own gas, my heart goes out to residents of the Garden State.

(Brief aside: Those shows are apparently on Bravo and TLC, which I had no idea were such enthusiastic participants in the degradation of American culture. I assume it won't be long before Animal Planet starts running reality shows like "Loser Eats Fire Ants" and "Adaptive Radiated Marsupials – Who Wants to Fuck One for a Thousand Dollars?")

On the other hand, this seems to be another example of regulation based more on a politician's ability to come up with a cute name for his bill, and not so much on whether the regulation is necessary. As I have written previously, Americans are so over-regulated we routinely commit something like three felonies a day. It's the do-something mentality of pols like Dancer that perpetuates this state of affairs.

As far as I'm aware, the owners of private property like the bars and clubs at the center of shows like "Jersey Shore" can kick out reality television film crews if they want. Maybe they wouldn't want to if they think the publicity is good for business, but that's up to their discretion. What business owner wouldn't want to be able to brag that Snooki got decked at his bar?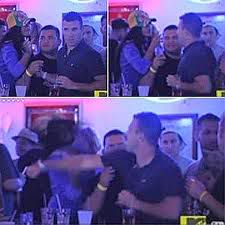 Violence against women is almost never funny

Regarding Dancer's example of extra police being needed for crowd control, I'm skeptical this is enough of a problem that a law is needed to address it. And why isn't responding to unruly patrons at bars and clubs part of a police department's normal operations? Doesn't that happen everywhere? Shouldn't police departments be expected to deal with bar/club fights every now and again? Isn't that part of the normal job description?

And as long as I'm asking rhetorical questions as a compositional device, what's with this Dancer guy? Why should we assume he's got the best interests of New Jerseyans (Jerseyites?) at heart? I've reviewed his official bio at the New Jersey Legislature and his Wikipedia page and I've become aware of some troubling facts.

For one thing, Dancer is part of the Regulatory Oversight and Gaming Committee, which has to be shady. This guy has to have more mob connections than I've had hot dinners.

For another thing, Dancer is mayor of something called Plumsted Township in addition to being a state assemblyman. This joker is probably going to collect two five-figure pensions when he retires, and when anyone asks him about it, he'll get all huffy and talk about what a dedicated public servant he was for all those years.

(Note: I have no evidence to back up my irresponsible speculation about Dancer's possible unethical behavior…but c'mon, this guy's obviously a crook.)

Dancer is the latest example of the activist attitude typical of politicians as they rush to pass needless laws with silly titles. Nothing good can come of the Snookiville law. To rephrase a well-known saying, if something's not worth doing right, it's not worth doing.

To paraphrase a better-known saying – leave Snooki alone.
comments powered by
STAY CURRENT