SPOTLIGHTS
The CHIKARA Special 3.20.10: Spoiler Alert; Lince Dies
Posted by Kevin Ford on 03.20.2010

Two shows this weekend!? King of Trios/Jack of All Trios tournaments? DEE VEE DEE's? Oh yeah!




Welcome back readers to the CHIKARA Special! This week we'll run through all sixteen matches happening this weekend, give the skinny on the King of Trios and the Jack of All Trios tournaments, and talk about the three newest CHIKARA DVDs! So read on, and enjoy my ramblings.


---
"Wit, Verve, and a Bit O' Nerve" – February 20th – Easton, PA


A first time ever tag match comes to Easton as former Campeones de Parejas The Osirian Portal take on Vin Gerard and STIGMA. Vin and STIGMA are coming off a loss to the Throwbacks in Pottsville, PA, where there seemed to have been a slight bit of tension between the UnStable after the match. Needless to say, they'll face an even tougher challenge in Amasis and Ophidian. The Portal celebrated an Atomicos victory in Reading, only to lose a four way elimination match the next night. Both teams look to establish themselves in the CHIKARA tag team scene once again, and the victory here would be a good start.




Tursas may be new, but with three victories under his large belt (two in Atomicos matches, one against Kingston), he is currently undefeated. As the largest member of the roster, it was only natural for him to be opposed to Green Ant, one of the smaller roster members. Tursas' dominance will likely continue by killing Green Ant, but wouldn't it be quite the surprising upset if the little guy were to pull it off? CHIKARA's billing this as a "David vs Goliath" battle, and that seems pretty appropriate.




It's been awhile since we saw Los Ice Creams last, as they appeared just in time to replace The Badd Boyz in a tag match against the Throwbacks back in October. Before that, their only other match in 2009 was a losing effort against The Roughnecks. This time they'll face the femme fatales of the BDK in Sara Del Rey and Daizee Haze. Sara and Daizee lost their one point last month, losing to Incoherence via disqualification. Sara and Daizee have shown they're no joke since the years beginning, so it will be see what their strategy is against a team who uses almost nothing but antics in their matches.




This match was put in place by Dieter VonSteigerwalt, seemingly out of nowhere, in a blog he posted on March 8th: "Perhaps my predecessor, Herr Chikarason, was willing to humor your stupid antics. I am not so inclined. Effective immediately, I am adding a special stipulation bout to our upcoming card of 20 March entitled "Wit, Verve and a Bit o' Nerve". On this card, we will feature a match between the Badd Boyz and the 2.0, and the losers will be barred from future CHIKARA competition."

2.0 haven't been seen in CHIKARA since the Brüderschaft's beat down at "Three Fisted Tales". Before that, they wrestled last in a ten man tag back in September! Meanwhile, The Badd Boyz have been tearing up the tag ranks and picking up points. Well, until they lost them in a tag team elimination match last month.

Brad Badd posted this blog talking about this very match:

3/15/2010: This is gonna be short and sweet, just like all of our fights!

So it seems like wherever we turn, people are always talking to us about these two twerps, Jagged and Shane Matthews, collectively known as 2.0.

Let's get this one straight right here, right now - me and my brother are salivating at the chance to get our hands on theses guys and prove a point. To prove who they really are! Finally, the CHIKARA brass has granted us that opportunity. Has anyone else noticed that since The Badd Boyz have rolled into town, these two punks have been nowhere to be seen? Where are those loveable losers? GONE! Where are those cute little promos they used to do? GONE!

Come March 20 in Easton, it's gonna be more of the same for 2.0. When Brad and Chad finally put our fists through their faces, not only are they never gonna be able to flap their little yaps anymore, they're gonna be gone from CHIKARA…PERMANENTLY!

If you are a fan of nostalgia we suggest you come out to Easton, because it's gonna be the very last chance you'll get to see 2.0 in a CHIKARA ring…that's if they even have the guts to show up! Let's see if they show their true colors…me and my brother know that true color is nothing but a yella streek running down their backs!

I can guarantee you people one thing, Brad and Chad will be there. Brad and Chad will lay down a beating like no other. Brad and Chad will be victorious and that nothing's but fact.

Shane, Jagged…The Badd Boyz are comin!!! Are you?
BB

And so that's that. Will 2.0 show up? And if they do, which team will be ousted from CHIKARA for good? Will this be the last Boo Ya we hear echoed throughout a CHIKARA arena?




The moment in time when Lince turned on CHIKARA to join the BDK is pin-pointed when he tripped his friend Equinox on the CHIKARA steps and proceeded to beat him down outside the ring. Equinox certainly hasn't forgotten. These men became unlikely allies when they were forced to team together back at "La Lotería Letal" in September 2008. Not only that, they won the tournament and decided to become a permanent fixture in CHIKARA teaming with Helios. All that has been thrown away now, and these friends have now turned enemies. Equinox is looking for retribution from the stair incident back in January. Lince wants to prove that he never needed Equinox at all.

Equinox expanded his thoughts in this blog:

3/18/2010: It wasn't all that long ago that I found myself across the ring from Lince Dorado 1-on-1 at Young Lions Cup VI. Quite a different set of circumstances led us to that one. I took your mask, Lince, and then just a short time later, we found ourselves forced to team up. Who would have thought we would have made such a good pairing after all that...and dare I say, a pretty successful trio with Helios?

I guess it's not all that suprising we find ourselves where we are now. I guess you could say I had it coming. I guess we should have taken more notice in your attitude recently, since Jigsaw came into the picture. Hindsight is always 20/20 and that seems to be a running theme around here of late.

I read your last blog here, running down The Future Is Now, that you said all I had was a punch compared to all the great things you can do. Well old friend, you may be capable of a lot of amazing things - but a punch right between your eyes is all I'm going to need to shut that down.

You can whine all you want about how "no one cared" when you almost died twice in a CHIKARA ring. Because come this weekend I won't be looking to take your mask again, I'll be looking for the hat-trick.

Sorry King, but Lince may not make it to Sunday.
J"E"O

Will Equinox exact his revenge, or will Lince get the last laugh?




A really fun and interesting Atomicos match has been signed for Easton. Mike Quackenbush and Jigsaw team with Incoherence to take on F.I.S.T. and The Order of the Neo-Solar Temple. On The Rudos side, three of the four men have failed at capturing the Campeones de Parejas from The Colony since the year started. Interestingly enough though, it was The Order that F.I.S.T defeated to get their third and final point for that title shot. On the other hand, Mantis and Delirious (who as of now may or may not still be in the Order) defeated Incoherence to get their third point. And the big/small dynamic we discussed earlier returns if say, Crossbones and Frightmare came to blows during this match. I could go on for awhile, but the amount of history in this match is vast. Who knows if the Brüderschaft will rear their ugly head into this match? After all, Ultramantis Black is involved. I think for certain though this match will be ridiculously fun.




Create-A-Wrestler is a Young Lions Cup staple. For the past three tournaments, he has emerged as a new character as created by a fan – Moscow, Ultimo Breakfast, and his latest inception, Dasher Hatfield. Due to the outcry of support from the CHIKARMY, Dasher Hatfield is here to stay. Dasher has started off the year with a bang, pinning Colin Delaney (the man who kept him from the YLC finals in 2009) and former YLC holder STIGMA. These wins earned Dasher a shot at the Cup against current YLC holder Tim Donst. Donst had a few words for Dasher in this video:





Donst successfully retained the Cup last month against Dasher's former partner Player Uno, and Donst won the cup from Dasher's former partner Player Dos. Dasher has also not received a shot at the Cup outside of a tournament since challenging Max Boyer as Create-A-Wrestler back in May of 2007. The CHIKARMY will be root, root-rooting for Dasher, but Donst will do anything to keep the Cup in the BDK's possession.




The Brüderschaft wasted no time collecting three points, as it took only one weekend for group-heads Claudio Castagnoli and Ares to amass them. They're wasting no time in cashing them in either, as they will take on current Campeones de Parejas The Colony in the main event of this show. The Colony have been champs since September 13th and have four title defenses under their belts. If they win this match, they then tie with Incoherence as having the most successful title defenses. Claudio and Ares are no joke however. They competed as a duo in the first ever Tag World Grand Prix way back in 2003, taking Mike Quackenbush and Chris Hero to a 30 minute draw and winning their first round match in 22 seconds. Claudio also won the 2005 and 2006 Tag World Grand Prix's (with Arik Cannon and Chris Hero, respectively) and was one half of the first ever Campeones de Parejas. It will be a true test for the Colony, as they will have scored the biggest win over the BDK to date if they can make it through Claudio and Ares.

A video also surfaced with Claudio and Ares making their intentions clear:







---
"Testimony Of Evil" – March 21st – Fairfeld, CT


As mentioned before, Dasher's had a beef with the UnStable since "debuting" in August. Just last month, Dasher pinned STIGMA in a tag team match. In CHIKARA's Fairfield debut, these two will go one-on-one. STIGMA looks to avenge his loss while Dasher looks to keep going forward. This match could serve as a victory lap for Dasher if he wins the Young Lions Cup the night before, or a confidence boost if he loses. Or, STIGMA could beat him. That'd be sad. We'll have to wait till Sunday to find out.




Equinox will be beat after giving it his all against his former friend Lince Dorado in Easton. The next night however he looks to settle another grudge against Pinkie "Pink Ant" Sanchez. Equinox revealed to us in a blog that his ankle was hurt during training by a fellow student. What was then presumed to be an accident, turned out to be a scheme by the hands of Pinkie Sanchez. Sanchez intentionally hurt Equinox's ankle during training to put him out of action for the end of 2009. Pinkie has been on a tear since his reemergence in CHIKARA, and looks to victimize Equinox once again. Will Equinox be able to get two-up on the BDK this weekend, or will Pinkie get the better of him once again?




The Colony faced the BDK trio of Daizee Haze, Pinkie Sanchez, and Lince Dorado last month. The Colony won by disqualification when Sara Del Rey interjected herself into the match. The Colony once again face BDK in Trios action in Fairfield, but this time facing Sara Del Rey, Daizee Haze, and current Young Lions Cup champion Tim Donst. The Colony can use a win here to exact a measure of revenge from last month, as well as gaining a bit of momentum right before King of Trios. Tim Donst is also in King of Trios, and will certainly be taking mental notes of what the Colony brings to the table. This should definitely be an interesting match, especially if the Colony lose the Campeones de Parejas the night before.




Here's a strange match-up: a guy who feels freed by having his mask removed and one who put the mask back on to find himself. Jigsaw and Gerard are quite the opposite in almost every way: attitude, popularity, wrestling style, etc. Jigsaw is considered one of the top students of the Wrestle Factory while Gerard floundered upon graduation as Equinox (lying to make it into the school in the first place). The only similarity to show of is that both men were Young Lions Cup champions. This is a first time singles meeting between these two, and it should be interesting to see just how it plays out.




Always one to pal-up with other companies, CHIKARA has done so once again with Power & Glory Wrestling. PGW will be holding a show that afternoon with CHIKARA talent, and if Arion can make it out of that show with his PGW Championship, he'll be defending it against Brendan Michael Thomas. BMT scored an upset victory in the 2009 Young Lions Cup tournament, beating Frightmare in the opening round. He lost to Frightmare the next month, but still. Now he'll come back to his home turf in New England to try and gain the PGW title. Will he be successful, or will it be Arion who shows the crowd something on his debut?




This match was originally scheduled for "Man Makes Plans, and God Laughs" back in September 2009. Akuma went down with an injury, and missed two months of action. The match finally takes place here. Back in September, the match was supposed to be for the Campeones de Parejas. This time around, the Portal are no longer champs and each team has zero points. The Portal could however be entering this match with one point if they manage to defeat the UnStable the night before. Who will win this first time ever battle of the former Campeones?




2008 served as the year that Eddie Kingston was obsessed with Lince Dorado. After being defeated by Lince in the finals of King of Trios, Kingston left CHIKARA for the next two months. He made a surprise return in May and destroyed Shane Storm and Soldier Ant on subsequent shows. Kingston made it known he wanted to beat on Lince for causing him to lose King of Trios. Kingston defeated Lince in July, but Lince begged for more. The same thing happened again in August and September, and it drove Kingston nuts. Kingston especially couldn't stand how Lince went out there and almost died for the fans, yet none of them cared.

Oh how times have changed!

Fast forward to today. Lince is absolutely hated by the fans (not that that's a huge difference from 2008) and has joined the BDK in spite of them. Lince now wrestles for himself and the purpose of the BDK. Kingston is now defending CHIKARA as the black sheep of the family, serving as the one guy who serves as a serious threat to the BDK's downfall. After 18 months since their last singles meeting, these two foes will go at it once again. The Tecnico and Rudo sides are switched, and much more is at stake then a petty grudge. Will Lince die at the hands of Kingston (he does have nine…okay, like four lives) or will Lince score a major upset at the hands of King of Diamonds?

Eddie Kingston had some words about the match in a YouTube update:








Our main event is a King of Trios preview match of sorts. Two teams entered into the tournament will square off when Team Frightning (Mike Quackenbush, Hallowicked, & Frightmare) take on the Brüderschaft squadron of Claudio Castagnoli, Ares, & Tursas. At last years King of Trios, Claudio's Team Uppercut defeated Quackenbush's Masters of 1000 Holds in the quarter-finals when Claudio gave Quack a Ricola Bomb off the top rope. Wouldn't it be something for Claudio to repeat that feat again? Better yet, wouldn't it be something if Quack were to beat Claudio's team before King of Trios? This is a good place for either team to get solid footing before King of Trios in Philadelphia in April, as well as to scout each other in case they were to cross paths in that tournament.

Speaking of King of Trios…



---
King of Trios News Station


It's roughly two months away, and we now have nine teams confirmed for the biggest tournament/CHIKARA event of the year! For the King of Trios tournament confirmed. So far, we have:

1) F.I.S.T (Icarus, Gran Akuma, & Chuck Taylor) (4th King of Trios; 2009 winners)
2) The Colony (Fire Ant, Soldier Ant, Green Ant) (3rd King of Trios for Fire Ant & Soldier Ant, 1st King of Trios for Green Ant)
3) The UnStable (Vin Gerard, STIGMA, & Colin Delaney) (2nd King of Trios for Vin Gerard and Colin Delaney, 4th for STIGMA who was a 2007 winner)
4) Team Frightning (Mike Quackenbush, Hallowicked, & Frightmare) (4th King of Trios for Quackenbush and Hallowicked, 1st for Frightmare, Quackenbush was a 2007 winner)
5) The Future Is Now (Jigsaw, Helios, & Equinox) (3rd King of Trios for Helios and Equinox, 2nd for Jigsaw who was a 2007 winner)
6) The Brüderschaft (Claudio Castagnoli, Ares, & Tursas) (3rd King of Trios for Claudio, 1st for Ares and Tursas)
7) The Jackson 3 (Nick, Matt, & Malachi Jackson) (2nd King of Trios for Matt & Nick, 1st for Malachi)
8) The Throwbacks (Dasher Hatfield, Sugar Dunkerton, & Matt Classic) (1st King of Trios)
9) The Brüderschaft (Lince Dorado, Tim Donst, & Pinkie Sanchez) (2nd King of Trios for Pinkie and Donst, 4th for Lince Dorado who was a 2008 winner)
10) Team Mexico (Jorge "Skayde" Rivera, Turbo, & Valiente) (3rd King of Trios for Skayde, 1st for Turbo and Valiente)
11) The F1RST Family (Arik Cannon, Darin Corbin, & Ryan Cruz) (3rd King of Trios)
12) Team Perros del Mal (El Oriental, Alebrije, & Cuije) (1st King of Trios)

The teaser for Team 13: Three Big Japan Wrestling logos. Here's hoping for Ryuiji Ito, Yuji Okabayashi, and DAISUKE SEKIMOTO. Make it happen CHIKARA.

We have four more teams to go, two which will be announced, and the third will be decided in…




AIW's Jack of All Trios tournament! 16 teams, 2 nights, winning team gets a spot in the 2010 King of Trios tournament. All sixteen teams have been announced, and they are:

1) Da Soul Touchaz (Marshe Rockette, Acid Jaz, & Willie Richardson)
2) Team IWA: East Coast (Mad Man Pondo, Jon Moxley, & Zac Vincent)
3) Da Latin Crime Syndicate (Luis Diamante, Joey The Snake, & K Fernandez)
4) Jack Of Love (Jefferson Saint, Jack Verville, & Chest Flexor)
5) Alpha Beta Duke (Nick Belushi & Carlton Kaz) and John Thorne
6) Psycho Sexual Panic (Shiima Xion, Façade, & ???)
7) Johnny Gargano and Aeroform (Louis Lyndon & Flip Kendrick)
8) Team LWA Showcase (Evan Gelistico, Pierre Abernathy, & Gary J.)
9) The Homeless-Handicap Connection (Hobo Joe, Gregory Iron, & Robert Paulson)
10) The Young Studs (Bobby Beverly, TJ Dynamite, & Eric Ryan)
11) Pleather Platoon (Dave The Potato, Ben Fruith, & Corey Winters)
12) Marion Fontaine, Johnny Cockstrong, & Super Oprah
13) Team Beyond Wrestling (Davey Vega, Chase Burnett, & Zane Silver)
14) Team Clash (Cameron Skyy and The H3RD)
15) Team Blackballed (Kano, Shawn Blaze, and Lamont Williams)
16) Team AssKickers (Chris Dickinson, Tommy Mercer, Toby Klein)

We also have our first match-up signed for the tournament, as Team LWA Showcase will face Alpha Beta Duke. On top of that, CHIKARA is sending a tag team match for Night Two: Mike Quackenbush & Frightmare vs. The BDK of Lince Dorado & Pinkie Sanchez.

This will be a great tournament to expose some of the younger guys that some fans may not be familiar with. Plus with guys like The Soul Touchaz, Jon Moxley, Johnny Gargano, and Aeroform, new fans should be comfortable enough with guys they know and like to give the other guys a chance (having seen some AIW myself, I think you should).

Be sure to check out all the information about the Jack of All Trios tournament at AIW's official website as well as AIW's Twitter page.




On top of all that, CHIKARA will be holding their 3rd Annual Fan Conclave the afternoon of King of Trios Night 2. It will be at The Arena from 2:30 to 4:30 PM, and will feature most of the stars participating in the Trios tournament, plus more. All the events that will be occurring are listed above in the graphic.

Tickets for the Fan Conclave are $10. Tickets can ONLY be purchased at the door, and not in advance. However, CHIKARMY members get in for free with a valid membership card (i.e. if you've paid your dues any time in 2010). Sadly, no guests are allowed in with a CHIKARMY member (they have to pay the $10). But, as someone who was there last year, the Conclave was one of the highlights of the weekend and is worth every penny. If you're an autograph/picture fiend or just love chattin' up some wrestlers, this is the place for you to be Saturday April 24th.

And that my friends, is your King of Trios 2010 update.


---


The wait is over my friends. Three new CHIKARA DVD's have hit Smart Mark Video! You can pick up both February 2010 shows as well as the first two CHIKARA shows ever on DVD. The February shows are sold individually, but the first two shows are sold together on one DVD. Commentary has even be re-recorded for the first two shows by Mike Quackenbush and Bryce Remsburg.

Here are spoiler-free cards for all three DVDs:

"The Mint Condition" – 2.27.2010
1) Mike Quackenbush and The Future Is Now (Jigsaw, Equinox, & Helios) vs. The UnStable (Vin Gerard, STIGMA, & Colin Delaney) and Brodie Lee
2) Eddie Kingston vs. Tursas
3) Young Lions Cup: Tim Donst (Champion) vs. Player Uno
4) The Throwbacks (Dasher Hatfield & Sugar Dunkerton) vs. The Brüderschaft (Claudio Castagnoli & Ares)
5) Incoherence (Hallowicked & Frightmare) and The Osirian Portal (Amasis & Ophidian) vs. F.I.S.T. (Icarus & Gran Akuma) and The Badd Boyz (Brad & Chad Badd)
6) Player Dos vs. Delirious
7) The Colony (Fire Ant, Soldier Ant, & Green Ant) vs. The Brüderschaft (Lince Dorado, Pinkie "Pink Ant" Sanchez, & Daizee Haze)

"A World of Comforting Illusions" – 2.28.2010
1) Campeonatos de Parejas: The Colony (Fire Ant & Soldier Ant) (Champions) vs. The Order of the Neo-Solar Temple (Ultramantis Black & Delirious)
2) Mike Quackenbush and The Future Is Now (Jigsaw, Equinox, & Helios) vs. The Brüderschaft (Tim Donst, Tursas, Lince Dorado, & Pinkie "Pink Ant" Sanchez)
3) Eddie Kingston vs. Gran Akuma
4) Elimination Match: The Brüderschaft (Claudio Castagnoli & Ares) vs. The Osirian Portal (Amasis & Ophidian) vs. The Badd Boyz (Brad & Chad Badd) vs. The Super Smash Bros. (Player Uno & Player Dos)
5) Incoherence (Hallowicked & Frightmare) vs. The Brüderschaft (Sara Del Rey & Daizee Haze)
6) Green Ant vs. Brodie Lee
7) The Throwbacks (Dasher Hatfield & Sugar Dunkerton) vs. The UnStable (Vin Gerard & STIGMA)

"The Renaissance Dawns" – 5.25.2002 & 5.31.2002
5.25.2002
1) The Black T-Shirt Squad (Mike Quackenbush, Reckless Youth, & Don Montoya) vs. The Gold Bond Mafia (CM Punk, Colt Cabana, & Chris Hero)
2) Ultramantis vs Blind Rage
3) Kid Kruel vs. Zane Madrox
4) The Night Shift (Hallowicked & Ichabod Slayne) vs. Beauty & The Beast (Love Bug & Marshal Law)
5) Dragonfly vs. Mr. ZERO

5.31.2002
1) The Black T-Shirt Squad (Mike Quackenbush, Reckless Youth, & Don Montoya) vs. The Night Shift (Blind Rage, Hallowicked, & Ichabod Slayne)
2) Marshal Law vs. Brock Singleton
3) Mr. ZERO vs. Ultramantis
4) Matt Vandal vs. Zane Madrox
5) Blind Rage vs. Love Bug

You can pick up all three DVD's now at Smart Mark Video

In addition to this, the Big Japan Wrestling shows from June 12th and 13th of last year are coming soon to Smart Mark Video. Leonard F. Chikarason and Ultramantis Black are recording commentary for them, and I would presume they'll be released in one two-disc set. Keep your eyes peeled on this column for more information. But for now, be sure to read Ryan Byers of "Into the Indies" fame reviews of both shows: June 12th and June 13th.



---





Youtube Fun!





The 204th episode of the CHIKARA Podcast-A-Go-Go is on the air! Matches covered are from the "An Optimistic View Of A Pessimistic World" show back in September. It also features some promos with wrestlers talking about their upcoming matches this weekend, and at King of Trios.





A promo from the CLASH Wrestling team from the Jack of All Trios tournament.



---
Shills (I wish) paid the bills


My CHIKARA blog, The CHIKARA Special, is still going strong. I have tons of new reviews of matches from 2002, and entire 2003 shows up there right now. Also, CHIKARA matches from Dragon Gate have been reviewed! Go there, subscribe to the blog (on the right) and continue reading my sweet CHIKARA related reviews. Subscriptions are good because: A) They let me know you're reading and B) They get delivered right to your inbox. It's good times, so check it out and tell your friends about The CHIKARA Special.




Check out all the new podcasts with myself and/or Jerome Cusson at Pro Wrestling Ponderings. This week, a plethora of podcasts have been put up. Myself and Brad Garoon discuss Dragon Gate Gossip in the newest Cool Kids Table podcast. In addition, Jerome Cusson and Ryan Rozanski discuss EVOLVE 1 and 2, TNA, ROH, and even CHIKARA in the latest Pro Wrestling Ponderings podcast. The podcasts, as well as other wrestling goodies, can be found at Pro Wrestling Ponderings.

Brad Garoon's blog, Open The Garoon Gate is all about Dragon Gate and Dragon Gate USA. He reviews every Infinity, PPV, appearance of a Dragon Gate wrestler in the U.S. and other Japanse promotion, etc. You owe it to yourself to check out that blog, as well as his Toryumon and dragondoor/El Dorado/Secret Base blogs which you can find links to on his Dragon Gate blog. Jake Ziegler also blog, JZ Says, which has WWE, TNA, ROH, and even film reviews. Make sure to check out and enjoy both!




This week's Buy Or Sell has myself and Ari Berenstein talking CHIKARA, Ring of Honor, and EVOLVE. If you enjoy controversy…I'm sorry.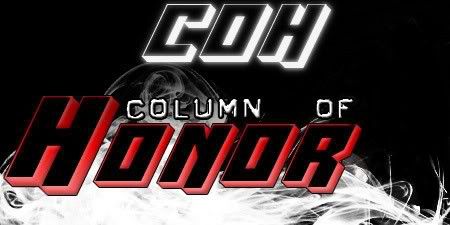 Ari Berenstein is also back with a brand new Column of Honor. It's absolutely worth your time as always, and is a much better way to keep up with ROH than actually watching their shows.




Ari Berenstein also have a very special look at the Money in the Bank Ladder Match. Really, really awesome read.




If you have not begun listening, Mike Quackenbush and Clayton Morris (of FOX News & Friends) host a pop-culture podcast known as The Grizzly Bear Egg Cafe. Clayton and Mike talk about all things geek such as movies, music, television, comic books, tech stuff, and wrestling here and there. I find it wildly entertaining, as Clayton and Mike play off each other very well. It's also really cool to hear Mike talk about non-wrestling stuff as well. So please, check out The Grizzly Bear Egg Cafe and subscribe to their podcast on iTunes.



---



Thanks so much again for reading this weeks CHIKARA Special! Next week I'll be back to talk about all the fall-out from these two shows, more King of Trios happenings, and whatever else I feel like. Definitely keep checking my blog, as updates are happening all the timez. Until then, have a good week!

Links!
The CHIKARA Home Page .
The brand spankin' new official CHIKARA message board.
CHIKARA Fans
Buy CHIKARA DVD's at Smart Mark Video
Follow CHIKARA on Facebook
Follow CHIKARA on Twitter
Follow CHIKARA Fans on Twitter.
CHIKARA on MySpace
CHIKARA on YouTube
CHIKARA 101 on YouTube
comments powered by