SPOTLIGHTS
411's Countdown to WrestleMania 28: WrestleMania 20
Posted by Larry Csonka on 03.25.2012

An event 20-years in the making…and it's back to Madison Square Garden where it all begins again.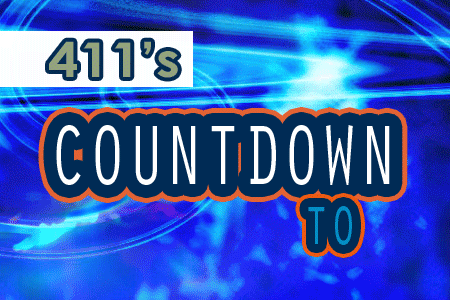 INTRO
WrestleMania 20 would be dubbed "Where it all begins…again," and would return to the event's place of birth, Madison Square Garden. The event was stacked with big names battles like Goldberg vs. Lesnar, in what would be their final matches with the company, Steve Austin returning as a special referee, John Cena looking for his first WrestleMania moment and two fan favorites, one looking to stay champion and one looking to become a champion. This was an event universally praised as a great show, and for a short time remembered for a powerful and emotional closing to the event. Has the tragedy that came after WrestleMania 20 completely tarnished the event for everyone?





* WWE US Title Match: John Cena defeated the Big Show to become the NEW WWE US Champion @ 9:13 via pin
* World Tag Team Title Match: Booker T & RVD © defeated La Resistance, Jindrak and Cade and The Dudley Boyz @ 7:49 via pin to retain the World Tag team Titles
* Christian defeated Chris Jericho @ 14:51 via pin
* Evolution (Flair, Orton and Batista) defeated Mick Foley and The Rock @ 17:09 via pin
* Sable & Torrie Wilson defeated Stacy & Jackie @ 2:21 via pin
* WWE Cruiserweight Title Open: Chavo Guerrero © won the Cruiserweight Open to retain his title @ 10:27, pinning Rey Mysterio
* Goldberg defeated Brock Lesnar @ 13:41 via pin
* WWE Tag Team Title Match: Rikishi & Scotty 2 Hotty © defeated the APA, The Basham Brothers and The World's Greatest Tag Team @ 6:00 via pin to retain the WWE Tag Team Titles
* WWE Women's Title/Hair Match: Victoria © defeated Molly via pin @ 4:53 to retain the Women's Title
* WWE Title Match: Eddie Guerrero © defeated Kurt Angle @ 21:32 via pin to retain the WWE Title
* The Undertaker defeated Kane @ 7:45 via pin
* World Title Match: Chris Benoit defeated HHH and HBK @ 24:46 via submission to become the NEW WORLD CHAMPION


Scott Rutherford


BEST MATCH: HHH vs. Shawn Michaels vs. Chris Benoit [*****] History and real human tragedy taint this match now but at the time it was a huge mark out moment for me and a terrific match to boot. The hard work of all three men involved was nothing short of amazing and images of Shawn Michaels covered in blood calling out HHH still linger in my mind. The clean tap in the middle of the ring was the perfect end to the match as it left no doubt as to who the winner was and proved you didn't need screwy booking to have someone win the title. The image of Eddie Guerrero and Benoit holding the two world titles in the ring at nights end was one of those classic images. We just wont mention HHH's white boots…

WORST MATCH: Both Tag Team title Matches [DUD's] Both were worthless and only served to get guys on the show to get pay-offs.

HIGHLIGHT OF THE SHOW: When the lights dimmed and The Undertakers gong hit…I got shivers. In fact, I got shivers just typing it. Such and awesome moment. Special mention goes to the crowd during the Lesnar/Goldberg match. I lol'd.

MVP OF THE SHOW: Eddie Guerrero. Loved his match with Kurt Angle as it was a contrast to the other matches around it. More psychology based and had greater emphasis on mat wrestling and the timing of the ending and the surprise roll-up for the win was the work of a true master.

OVERALL SHOW RATING: 9/10 - If it wasn't for the fact that it was so long and had so much match-filler, this could have easily been another perfect PPV. Shorten this puppy up by an hour and you would have had gold. Sadly, this PPV gets overlooked now and with good reason. The two main stars died in very different tragedies and have left this show in the dark now. While I would never expect everyone to watch the Benoit match, it doesn't mean you can't enjoy the rest of the show…just remember to have the remote handy to fast forward through he dreck.

Steve Cook


BEST MATCH: Triple H vs. Shawn Michaels vs. Chris Benoit [****¼] Triple Threat matches have a pretty common formula, and this one didn't stray too far from it. That doesn't mean that this wasn't a great match. The fans were rabid to see Benoit achieve his goal of finally becoming World Champion, and they were definitely into this match. All three guys brought their working boots and there was a certain electricity in the air that you couldn't help but feel. I was a huge fan of Benoit's, and I couldn't have been happier to see him win the big title on the grandest stage of them all: WrestleMania at Madison Square Garden.

WORST MATCH: Brock Lesnar vs. Goldberg [DUD] This should have been a spectacle. Lesnar looked like he was going to become one of wrestling's all time greats during this time period, and on paper a match with Goldberg sounded like two big ol' hosses getting it on and throwing down in entertaining fashion. We didn't get that. We got a match with two guys on their way out that had no interest in doing a whole lot of anything. They didn't even lock up until a few minutes into the match, and the "action" afterwards was suspect at best. The only good thing about this match was the Madison Square Garden crowd shitting all over it.

HIGHLIGHT OF THE SHOW: The Undertaker became the American Badass in 2000, and while the biker run was enjoyable, people missed the Dead Man. After Kane buried him alive at the Survivor Series, Undertaker was scheduled to return at WrestleMania to get revenge on his brother. We didn't know what to expect, but most didn't expect what we got, Undertaker going back to his roots and even bringing back Paul Bearer to be in his corner. We hadn't seen this Undertaker in years, and it was great to have him back.

MVP OF THE SHOW: Chris Benoit/Eddie Guerrero. WrestleMania ended with the two men who were probably the most popular wrestlers among smart fans at the time holding the World & WWE Championships. Eddie had won his at No Way Out & had a fantastic match with Kurt Angle on this show where he outsmarted Kurt & cheated to win in classic Guerrero fashion. Benoit's seventeen-year journey to become World Champion came to an end in WrestleMania's main event as he defeated two of WWE's most decorated and respected wrestlers of all time. The celebration with Benoit & Guerrero at the end of the show will always be tainted by events that happened in the future, but at the time it felt so right.

OVERALL SHOW RATING: 8 - This was a really strong show from top to bottom. Your opening match had John Cena winning his first singles' title in WWE, which is a pretty big deal in hindsight. Chris Jericho & Christian had a fine match that ended with Trish Stratus siding with Christian and looking as hot as she ever did. You had two tag team title matches, a Cruiserweight Open, a Women's title match…pretty much everybody on the roster was up to something interesting.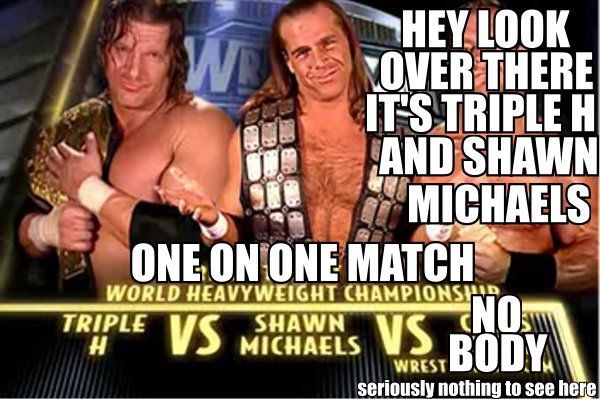 Tony Acero


BEST MATCH: CHRIS BENOIT VS. SHAWN MICHAELS VS HHH: [****1/2] This match has been hyped for years, and has been heralded as the best Triple Threat, ever. I'm here to tell you that I will not deny either claims, as this thing was just bell to bell action. I will not forget the moment I was watching this Mania, definitely a Top 5 Mania, and being on my feet the entire time. I really enjoyed Benoit's work and we, as fans, at the time, knew not of the horrific acts he would commit years later. At that moment, all we saw - and all I saw - was a man with a dream, giving his ALL during an amazing main event that saw the Show Stopper, HBK, show exactly why he's a living legend. An amazing main event that saw The Game, HHH, give one of his greater performances on a big card, and The Wolverine, Chris Benoit, just give a technically, aggressive match that was just...amazing. Seriously, I can't see how anyone could dislike this match. No restholds, no stalling, no bullshit finishes, no paint by the numbers wrestling, no corner-corner-midring-corner platform here (I call it the NXT flow). Just amazing, even 8 years later.

WORST MATCH: GOLDBERG VS. BROCK LESNAR: [*] One would assume that even with the rumors that both these guys were leaving, they'd stick to the script and produce a legitimate match. I don't know what happened here, for sure, but it is apparent that the crowd controlled the match, as they shat all over it from the get-go and demolished any motivation that either of the big men had. I loved the berating of the guys. I wasn't mad that either was leaving, don't get me wrong, because every man is free to do as he pleases, but it was still a spectacle to see the fans essentially telling both men to just get the F out.

HIGHLIGHT OF THE SHOW: For me, the highlight was the return of the Deadman. Being a fan of The Undertaker since the tender, morbid age of four, I was elated to learn that The Undertaker was returning to his gothic roots. When the promo package came on for the show, I recall sittin on the edge of the couch, awaiting the presence of the Deadman. Would he come out in his old fashioned trench coat and big tie? Would there be a raven? Would he have Druids?! Much to my surprise, the high pitched voice of Paul Bearer would fill the arena and Goosebumps arose on my arm! It was a moment in time I'll never forget.

MVP OF THE SHOW - SHAWN MICHAELS: In a main event that saw Chris Benoit have a great showing - and win - it's hard to call anyone else the MVP, but HBK was at Wrestlemania and you can't expect anything less from the man. First, the way he bled was akin to a fucking 70's horror flick, and he didn't miss a beat. Second, he seemed to be the constant thread throughout the match to assure that it was entertaining. I'm sure a match between Benoit and Triple H would have been great, but Michaels brought sooooo much to the match, and it was very, very noticeable. The match was damned near flawless, and I have to assume that it was thanks, in large part, to this man.

OVERALL SHOW RATING: 9.0 - This is, by far, one of my favorite Wrestlemania's. This had everything that we could ask for. Tag team action, Cruiserweight action, technical wrestling, brutes looking stupid, an amazing Main Event, an opener spotlighting a new star, great story telling, a Woman's Match worth watching. This was the 20th Wrestlemania, and it FELT like the 20th Wrestlemania! Seriously, an amazing show with only minor flaws.




-Remember to come back tomorrow for our review of WrestleMania 21…



TWITTER

Your heart is free. Have the courage to follow it…TO CSONKA'S TWITTER!

http://www.twitter.com/411wrestling
http://www.twitter.com/411moviestv
http://www.twitter.com/411music
http://www.twitter.com/411games
http://www.twitter.com/411mma




comments powered by