SPOTLIGHTS
The 411 Wrestling Top 5 6.13.12: Week 175 – Top 5 Tag Team Wrestlers
Posted by Larry Csonka on 06.13.2012

From Edge, Billy Gunn and Arn Anderson to Ricky Morton, James Storm, Bobby Eaton and more, the 411 Wrestling staff ranks their top 5 tag team wrestlers of all-time!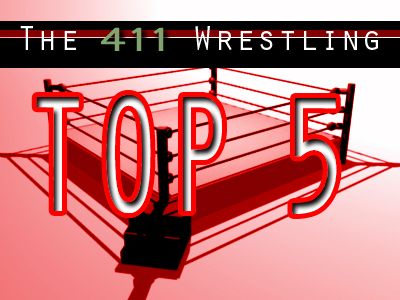 Hello everyone and welcome to 411 Wrestling's Top 5 List. What we are going to is take a topic each week and all the writers here on 411 wrestling will have the ability to give us their Top 5 on said topic, plus up to three honorable mentions.

So, on to this week's topic…



TOP 5 TAG TEAM WRESTLERS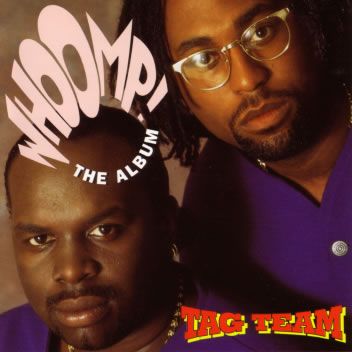 SCOTT RUTHERFORD
HM: Tony Garea - Tony was never good enough to be more than a JTTS as a singles wrestler but certainly had enough about him to be a 5-time WWWF tag team champion back when things like that meant something.
HM: Rey Mysterio - Never usually though of as a tag team wrestler, Rey has won world tag team gold with an eclectic array of partners by integrating his unique lucha-style with that of his partner. Is the perfect guy to use in the heat segments.
HM: Christian - While never being a dominant member of a team he is always the perfect foil for someone else. Interesting fact: all his WWE tag title wins have been with Canadians as his tag partners.

6. Bobby Eaton: - I'm going to cheat and make mine a Top 6 because I did not want this guy to be an HM. Bobby was a spectacular worker that defined what being a tag specialist was and helped shaped modern tag team wrestling as part of the Midnight Express no matter who was his partner. In particular his teaming with Stan Lane rewrote the book on how you wrestle as a team with Brian Pillman famously saying it was like wrestling air traffic controllers because of the use of hand signals and the like. Super talented, he never really got the chance to break out into being a singles star although I think Eaton himself was happy to be where he was...usually having the most exciting matches on the card with a bunch of other talented wrestlers.

5. Billy Gunn - Some guys, no matter how great their look, are just destined to be tag wrestlers. While the WWE tried to make Billy Gunn a singles star it was just meant to be that he was a fantastic tag team wrestler. His ability to morph his look through several different phases (cowboy to gay Adonis if you please) and still stay over with fans shows just how much talent he had. His team with "Road Dogg" Jesse James was the spark that brought relevant tag teams back to the WWF spotlight and a key figure in the "Attitude" era of wrestling thanks to his involvement in Degeneration-X.

4. Edge - Edge has 14 world tag team title reigns. His partners ranged from Hulk Hogan to Rey Mysterio. In those two sentences you get the perfect idea why Edge was such a great tag wrestler. He was a chameleon that could work face or heel, serious or comedy, hardcore or scientific and always get the very best out of any team that he was in. The history books show he was part of one of the most over and entertaining teams in the history of the sport (Edge & Christian) and formed several other teams that had spectacular matches (w/- Rey Mysterio). He also helped relaunch tag team wrestling in the new millennium and redefined the use of gimmick matches in tag team wrestling. Dude is just awesome.

3. Ray Stevens - Ray Stevens is one of those guys that has been lost to history but at his peak he was one of the best workers in the business. So good in fact Nick Bockwinkel voluntarily busted himself back from former-World Champion main eventer to tag wrestler to team with the man and was voted PWI Tag Team of the Year in 1973. Stevens once again was amongst the PWI awards in 1980 thanks to his teaming with Jimmy Snuka and god only knows why his team with Pat Patterson didn't win one as well. Stevens was a large part in the success of the San Francisco territory and usually cited as one of the best heels in the business during the 60's. You could do worse than track down his tag matches with Patterson as a master class on how tag wrestling should really be

2. Arn Anderson - Arn Anderson = tag team wrestling. Seriously, only a few wrestlers ever got the psychology of what tag team wrestling was better than Arn. You could throw him in the ring with just about any partner and he could mesh his style with theirs and make a great match. While never a big man, he could always believably work against the muscle head while at the same time you could totally buy him as the guy that could outwrestle anyone. The fact that he knew he was never going to be THE star probably helped keep his ego in check and always work to service the betterment of the team than himself. His pairing with Tully Blanchard may be the best example of a team of two distinct workers coming together and creating one awesome team.

1. Ricky Morton - Truly the greatest tag wrestler of all time. You tell me any other tag wrestler that has a role in a match named after him? I can't think of any. Up until Ricky came onto the scene you just simply beat up one of the babyfaces and hopefully that guy was good as helping the heel get heat. However after Ricky, if you were the guy getting beat on you were "playing Ricky Morton". Morton redefined what being a babyface-in-peril meant as he managed to garner so much sympathy from the crowd you actually had butch, lesbian biker chicks wanting to come to his defence. Watch any of the Rock 'n Roll Express matches from the early to mid-80's and listen to the crowds during the heat segment…you have never heard anything like it before or since. The man was so good in fact that most people didn't realize that his partner Robert Gibson absolutely sucked.


---



Robert S. Leighty Jr
HM: Kevin Nash - I will always have a soft spot for the Outsiders, not to mention all the other title reigns with partners besides Hall.
HM: Kane - The WWF seeminly just threw Kane into a team when they had nothing for the big man to do and it always seemed to work.
HM: Billy Gunn - He was a cowboy, degenerate, and supposed life partner with Chuck and to his credit he was believable in each team.

5. James Storm - I will show some love to TNA and the man that has defined tag wrestling for the company for the last 10 years. Storm has been part of the 2 greatest teams in TNA history and has done playing the face and cocky heel.

4. Booker T - Harlem Heat were arguably the greatest team in WCW history (not counting the NWA obviously), and big reason was because of Booker T. Stevie Ray served his purpose but everyone knew Booker was the break out star and work horse of the team. When WCW folded, Booker found himself in the WWF and back in various tag teams that he always made successful in some manner. He was paired with Goldust and they produced some hilarious moments during their brief run.

3. Ricky Morton - You know you are an awesome tag wrestler when a term is named after you. Everyone knows that someone getting the shit kicked out of them for the majority of a tag match is playing the Ricky Morton role. It has become a staple of tag wrestling and the basic formula on which all matches should be formed. Morton perfected the role like no other as he took hellacious beatings and drew such great sympathy from the crowd.

2. Edge - Has been a Tag Champion more than any other person in WWE History and is the only man to be tag champions with Hulk Hogan. His glory years were with Christian as they helped usher in a new era of tag wrestling (with the Hardyz, and Dudleys), but was always fun to see him head back to his roots when he teamed with Benoit, Hogan, or Orton.

1. Arn Anderson - Arn Anderson was the backbone of the 4 Horsemen and during that run he was always counted on to help carry some tag gold. Even when the Horsemen faded in the early 90s, Anderson found a new stable with the Dangerous Alliance and again was part of a great tag team. He dominated the 80s and perfected the tag formula with the Rock N Roll Express. Using all that experience he and Tully Blanchard had a great run in the WWF where they helped teams like the Rockers grow.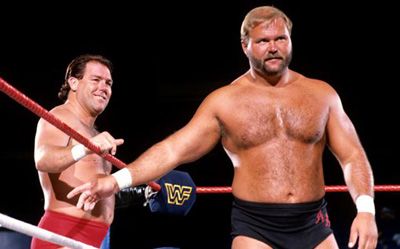 ---



James Wright
HM: Jim Neidhart - One half of arguably the best tag team in wrestling history.
HM: Rick Steiner - Again was part of one of the most memorable tag teams ever.
HM: James Storm - Has been part of two of the best modern tag teams and has as of yet not achieved too much on his own, but that might change in the near future...

5. Matt Hardy - As one half of a tag team with his brother Jeff, Matt Hardy forged a dynamic career in the WWE and is in-part responsible for some of the most memorable moments in recent tag team history. On his own he got as far as the ECW championship, and with all his other problems needless to say he was way better off as part of a team than on his own. Try as he might Matt Hardy will only be remembered positively as part of Team Xtreme, and never really as a singles wrestler.

4. Devon - He may be the current TNA TV champion but I would argue that this only happened because of his success as part of Team 3D with his brother Bubba. One half of the most decorated tag teams in history, Devon is pretty much the definition of a guy who thrived as a tag team wrestler. While Bubba in his new persona as Bully Ray is proving that it is never too late to start a successful singles career, Devon just doesn't seem to have the presence to keep it up, but as part of 3D he is responsible for one of the most memorable tag team phrases around, I think it has something to do with tables.

3. Billy Gunn - A guy who maybe should have had more success as a singles competitor than he did but for some reason that never happened for him and he will always be best remembered as one half of the New Age Outlaws. It seems like the Attitude Era was a breeding ground for these teams who would try solo runs but then always be drawn back together, creating tag team magic when they did. While I think every wrestler wants to eventually be world champion on their own, sometimes it's better to be part of a successful team than be remembered as a non-starter. Despite his stand-out look and attitude, Billy Gunn always gelled well with his partners and brought out the best in them to form a successful team, rather than just being a couple of guys thrown together until they get their singles push.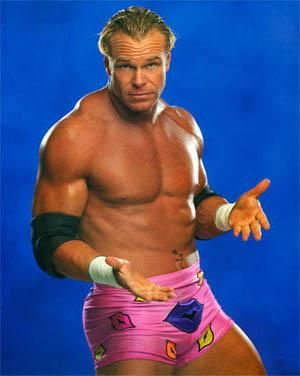 2. Ricky Morton - The creator of the set up for the 'Hot tag', his consistent role in tag matches being a term in and of itself, no one can say that Morton didn't thrive as a tag team wrestler. He is part of tag team history and is responsible for the very nature of how tag team matches can get a crowd worked up into a frenzy to see the man on the apron get in and the poor schlub in the ring get out. So many tag teams and matches have utilized the model that this guy pioneered that it is ridiculous.

1. Arn Anderson - Every truly great tag team needs a backbone, the guy that knows his role and holds things together. You could throw this guy into any team and he would legitimize it, putting over everyone around him and giving it his all no matter what. A truly great tag team wrestler is a guy who keeps himself grounded and wants the best for everyone. Sure Arn might not be the most stand-out wrestler of all time, but he has forged a great legacy in tag team wrestling and the teams of today, especially those who are legitimate brothers like the Usos or The Young Bucks, can learn a lot from his example of not trying to grab the limelight but instead forging a solid presence that will be remembered and respected over time.

---



Gavin Napier
5. Mike Rotunda - Captain Mike didn't make my list when I filled in for the Contentious Ten, but that was a mistake. Rotunda was a solid, reliable grappler whose style worked well with virtually anyone. His success was spread out, capturing WWF gold with Barry Windham, NWA gold with Steve Williams, and then more WWF gold with Ted DiBiase. Across the ocean he captured a World Tag League title with Williams as well. Remarkably, this spanned a period of fifteen years. Rotunda never achieved true superstardom as a singles competitor but was a perfect complimentary piece.

4. Steve Williams - Doc was a bruiser, and a perfect half of a tag team. Outside of the UWF, he never excelled as a singles in North America. A feud with Flair never materialized, he got injured in the WWF, and WCW stuck him in an awful angle. When he was teaming with DiBiase, Rotunda, or Gordy, though, it was golden. Doc and Gordy's matches with the Steiner Brothers are among the hardest hitting American matches of all time. Combine that success with how the Miracle Violence Connection ran roughshod in Japan, and you've got a legitimately underrated tag team performer.

3. Billy Gunn - For no other reason than the fact that Billy Gunn was never truly over unless he was a part of a tag team, he defines "thriving" as a tag team wrestler. Teaming with Road Dogg allowed RockaBilly to become Mr. Ass and one half of the defining tag team of WWE's Attitude Era. He followed that up with a controversial team with Chuck Palumbo that drew mainstream media attention. When the disparity in tag team and singles success is that large, it proves that Billy was made to be a tag team guy.

2. Bobby Eaton - Bobby Eaton is one half of the best tag team of all time. Twice. Eaton and Condrey and Eaton and Lane were both tag team perfection. If you've ever had the pleasure of meeting Bobby Eaton, you'd understand why. The guy is quiet, humble, unassuming, and gracious. In an industry like wrestling, which is so full of politics and cutthroats, guys like Eaton are rare. Walton understood that he would be much better off in a tag team at the top of the card as opposed to being stuck in the TV Title picture in the NWA. Both versions of the Midnight Express occupy my top two spots on the all time tag team list. His all too brief runs with Arn Anderson and William Regal are just icing on the cake.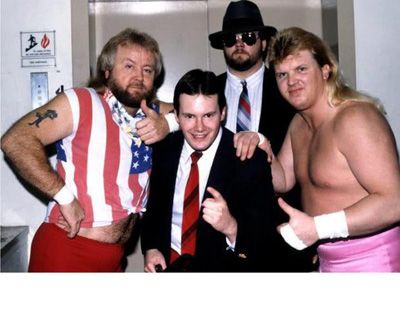 1. Ricky Morton - On the Contentious Ten list, this was Arn Anderson's spot. I approached this list a little differently, and looked more at guys that never were truly viable singles stars. Morton had brief runs against Ric Flair in the mid-80's, and as a member of the York Foundation, but nobody thinks of those when they think of Morton. Arn was viable in tag teams or singles, as versatile of a performer as there's ever been. Ricky Morton defined the term "face in peril" and his selling made teams like Tully and Arn and the Midnight Express look even better than they already were. There have been a lot of truly great tag team wrestlers, but nobody thrived as one quite like Ricky Morton.

---





YOUR TURN KNOW IT ALLS
List your Top Five for this week's topic in the comment section using the following format:

5. CHOICE: Explanation
4. CHOICE: Explanation
3. CHOICE: Explanation
2. CHOICE: Explanation
1. CHOICE: Explanation






NEW PODCASTS


The 411 on Wrestling returned on Friday. 411's Larry Csonka was joined by Steve Cook to discuss the latest editions of IMPACT Wrestling and WWE Smackdown. The guys will also discuss Christian and the situation with TNA, the thrown together Slammiversary PPV, the dread of three hour Monday Night Raw shows, the top 5 WCW wrestlers of all time, the Cook Hot 100 and much more! You can check out that show here.

Offtheteam.com's OCHO sports show also returned on Saturday. This week Steve and Trent discuss NBA and NHL playoff news, The return of Tiger Woods, Horse racing, the NFL, College Football, Baseball and the top five hottest female athletes! Give the latest show and listen and share it with your friends! Remember, if it's the OCHO, it's a sports podcast with almost sports analysts! You can check out that show here.

The 411 on Wrestling returned on Monday. 411's Larry Csonka was joined by Steve Cook to discuss the latest edition of WWE Monday Night Raw as well as the TNA Slammiversary PPV. Are three hours going to be bad for the company? Is anyone buying Dolph Ziggler as a main eventer? Can TNA actually follow up on the momentum from Slammiversary? These topics and more are discussed on the show. You can listen to the show here.

Thoughts From the Man Cave returned on Wednesday. A vacationing Samer Kadi joins the Man Cave to look back at UFC on FX 3 and talk about various news items in the sport of MMA. We'll review UFC on FX 3 and discuss the performance of Demetrious Johnson and why so many people picked against him, the rise of Erick Silva, the fall of Josh Neer, and the overratedness of Scott Jorgensen. Plus we'll talk about UFC running too many events and how that can be fixed and Samer rants about this notion that "Shogun" Rua is ducking Glover Texeria. You can check out the show here.


TWITTER

Your heart is free. Have the courage to follow it…TO CSONKA'S TWITTER!

http://www.twitter.com/411wrestling
http://www.twitter.com/411moviestv
http://www.twitter.com/411music
http://www.twitter.com/411games
http://www.twitter.com/411mma

comments powered by