SPOTLIGHTS
Hidden in Plain Sight 06.10.12: Chikara iPPV Review, ROH iPPV Predictions, More
Posted by TJ Hawke on 06.10.2012

The first edition of this column sees the recent Chikara iPPV reviewed, previews for the upcoming ROH iPPV, interviews with three wrestling related personalities, and much, much more!

Welcome to the first issue of Hidden in Plain Sight. This will be a monthly column that will take an in-depth look at independent wrestling. Each issue will tackle several topics, organized by the promotion that the topic is most related too. By clicking on the banner of each promotion, you will be taken to the promotion's website where you can learn more about said promotion.

In Issue #1, I review Chikara's recent iPPV, Chikarasaurus Rex: How to Hatch a Dinosaur. This issue also has interviews with people in the business and previews of four shows. Also, there will be several videos of full matches from the independent wrestling world spread throughout the issue. Please discuss your thoughts on any of the topics or matches in the comments section.



Chikarasaurus Rex iPPV Delivers Big Time
Going into Chikara's second iPPV, I couldn't help but feel underwhelmed by the build to the show. All the storylines were logical on paper and featured sound booking, but this season of Chikara is definitely missing a big spark. I think this is a result of the Gekido storyline not really connecting with the majority of fans. The Gekido 10 men tag match, which featured the most build from 2012 shows, was not a selling point at all for this show, and I strongly believe that when the most hyped match (in terms of recent build) is not "hot," the whole show will seem less important as a result.

Compare that to Chikara's first iPPV, High Noon, which had seven plus months of hype for its main event (the conclusion of the 12 Large Summit). That show was far from stacked by any definition of the word. That show was so much about the conclusion to the 12 Large Summit, that the build to the whole show seemed magnificent as a result. The fact that the main event of High Noon delivered in such spectatular fashion, made the whole show seem that much more important and special. That, in a nutshell, is what makes Chikara such a great promotion to me. The whole almost always is greater than the sum of its parts. Chikarasaurus Rex succeeded in almost the complete opposite way. While Chikarasaurus Rex severely missed having a hyped main event, it made up for it by having matches and feuds over-deliver up and down the card. I highly recommend that you buy this show at SmartMarkVideo.com.

Some thoughts on all the matches:

- The opener between UltraMantis Black and Ophidian was solid. UltraMantis continues to be over wherever Chikara goes, and if for no other reason, his matches will always make for good openers. I have no idea what's going on with Ophidian. His newest look is an improvement from what he had started this season with, but I guess it can't be the final stage of his transformation since he lost here. Ophidian was one of the best wrestlers on the roster last year, and he has seemingly fallen off a cliff since he turned heel. I hope he turns arounds in a big way during the second half of 2012.
Match Rating: **1/2

- The Loser Leaves Town match was always going to end disappointingly because none of these four men should be banned from Chikara for life. Having said that, everything about this match and feud has been executed to near perfection, and I cannot wait to see where the Veronica/Mr. Touchdown storyline goes next. The Throwbacks are due for a title shot now, and I would have to imagine that if the Throwbacks lose, Dasher Hatfield may decide that Touchdown's cheating ways weren't so wrong after all.

I can't imagine that Chikara would be foolish enough to not bring back Archibald Peck in some fashion. Peck has mentioned his travels to Mexico on several occasions, so hopefully El Bandolero will be gracing Chikara with his presence soon enough. I was slightly disappointed that Sugar Dunkerton never actually appeared in the ring, but with his return to the Chikara Roster Page, I am confident that he will soon be heavily involved in this storyline. It was also kind of amazing how much of an afterthought Colt Cabana was in all of this. That just goes to show the strength of the characters of Chikara that the most famous man in the ring was who the crowd cared the least about .
Match Rating: ***

- The ladder match between Gran Akuma and Icarus was almost flawlessly executed, and the match definitely put an excalmation mark on what had been an underwhelming feud. I think the story for Akuma's re-entry into Chikara always made logical sense, but it never really gripped me. However, this performance made me much more excited for his return to the promotion. This match also showed why Icarus is arguably one of the more underappreciated performers in independent wrestling today.
Match Rating: ***3/4

- The handicap match between The Batiri and Sara Del Rey/Saturyne (like everything seemingly) was much more heated than I expected consisering that this feud mostly revolved around the Batiri trolling the two of them on Twitter. It's also kind of fitting that the least inspired feud of Chikara's 2012 had a crap finish on iPPV. I think Chikara's biggest shortcoming in 2012 has been not capitalizing on the momentum that Del Rey had accumulated by the end of 2011. She should have been positioned as the most obvious challenger to Kingston for the Grand Championship. That's not to say I don't like the Batiri (because I do), but this feud did nothing for any of the competitors when it was all said and done. I am curious to see how The Batiri fit into Delirious's plans going forward.
Match Rating: **1/2

- The Hair vs. Mask match between Tim Donst and Hallowicked was a fun brawl and a nice conclusion to this feud. I wasn't really invested in this feud, but clearly a lot more Chikara fans were. I'm hoping that Donst's destruction of his Young Lion's Cup trophy is a sign that his character will go in a different direction. Ideally, Donst will try to be more cerebral character that uses his intelligence to win matches and doesn't let his immaturity get in the way. The end of this feud seemed to be designed to humble Donst's character, and I am very curious to see what is in store for him in the coming months.
Match Rating: ***1/2

- As I wrote, I really did not care all that much about the Gekido match going into the iPPV. I thought the story was logical at best, but uninspired at its worst. With that being said, the ten men match was an excellent semi-main event. Mike Quackenbush returning took me (and the crowd by the sounds of it) completely off guard. He looked to be in great shape, and his presence really added to the drama of the match. Soldier Ant and Eddie Kingston also looked great in this match, as the brawling structure of the Gekido matches played into their strengths. With 17's fingers being broken (or was it his wrist?) by Quack after the match, I wouldn't be surprised if we didn't see him again for a long time (if ever). I think the Gekido will be back however, and I hope my idea of some mastermind manipulating them to do his/her bidding comes to fruition. Much like a lot of the other feuds on this show, the iPPV match ended up being a great exclamation point on an otherwise uninspired story.
Match Rating: ***3/4

- The Young Bucks defeating Chuck Taylor and Johnny Gargano in the main event to win the Campeonatos de Parejas surprised me on a number of levels. For starters, I never seriously thought this match would be the main event, considering how it was not a storyline based match at all. I also was shocked to see the Bucks win the titles, because they have always been used sparingly in Chikara, and with the Young Lion's Cup stuck in Osaka Pro since last August, I would have thought that Chikara would have wanted to keep all of their other titles on Chikara regulars (then again, maybe this is a storyline). Finally, this is the third straight tag title match in Chikara where the tag titles change hands (I'm not necessarily opposed to a title being switched a few times in a row, especially since the Chikara tag titles have been so well-protected over the years).

With all of that out of the way, I obviously need to mention what a great main event this was. This was pretty much a bonafide dream match that has somehow did not happen in PWG or DGUSA first. I give Chikara a lot of credit for going out of their way to make this match happened when those previously mentioned companies had not. In some ways, this match was a perfect representation of a lot of independent tag team wrestling today. A lot of teams seem to try to pull a match like this off all the time, but these two teams showed why they are so talented by pulling off a much better version of the match on their first attempt together. This match or Sara Del Rey vs. El Generico from Hot Off the Griddle is the Chikara match of the year so far (Although I hear that the Eddie Kingston vs. Jigsaw match from the anniversary weekend may exceed both of those matches).
Match Rating: ****

For more information on Chikara, check out their:
Facebook
Twitter
DVD Store
Youtube Page





An Early Look at the Best in the World iPPV

Ring of Honor is presenting the Best in the World: Hostage Crisis iPPV on June 24th Here is a preview of the card.


ROH World Champion Kevin Steen defends against Davey Richards in a No DQ Match
Steen promised ROH to be recreated in his image, but apparently ROH didn't get the memo, because Steen's first three challengers are Eddie Edwards, Davey Richards and Roderick Strong, ie: the three men constantly around the belt for almost two years. At one point, I was pretty pessimistic that ROH would switch the belt right back to Davey here, but I'm feeling strangely confident that ROH is not that stupid. I hope that confidence doesn't go unrewarded. NYC will be hot for Steen, so I expect this to be great. Their last match was far more subdued than I expected (not in a bad way), but I expect this to be a wild brawl now that Davey is acting more heelish. Steen must win this match, unless ROH wants to kill off more of its most loyal fans.
Prediction: Kevin Steen

ROH World Tag Champions Charlie Haas and Shelton Benjamin defend against Kenny King and Rhett Titus
I cannot stress how much King and Titus need to not fail to win the titles again. They were perfectly positioned to take the belts after defeating the Briscoes in the 2011 Ladder War, but it didn't happen for reasons beyond me. With the Young Bucks on a ROH hiatus, ROH can't even make an argument that there is a better team to carry the division. Haas tries hard and WGTT can still have good matches, but they have proven to be stale and they are in no way fit to carry the tag team division of Ring of Honor. Pessimistic TJ is back though, so...
Prediction: Haas and Benjamin retain via nefarious means

ROH Television Champion Roderick Strong defends against Tomasso Ciampa and Jay Lethal
This is a strange match for multiple reasons. Ciampa, besides having an awesome white beard, had seemingly decided that he no longer was interested in the TV title. I guess Jay Lethal ending his undefeated streak changed that. Jay Lethal is probably going to be set up as a serious challenger to Steen for the World Title, so I don't think he should win this title (or take the pinfall). Finally, the House of Truth and Embassy Limited seem to have some sort of working agreement. I don't know what the plan is for this match or any of these men going forward. More importantly than that though is that I am not invested in any of these men, so I care very little about this match. Hopefully R.D. Evans is there so I get entertained.
Prediction: Roderick retains via House of Truth interference

Michael Elgin vs. Finlay
When I heard ROH was finally bringing Finlay in, this was the match that I absolutely wanted to see most. While this could be a cool win for Elgin, I'm guessing that Truth Martini will accidentally cost Elgin match. Elgin's babyface push is surely on the way, and I expect this match to continue that story. Hopefully they are allowed to have a great match before any storyline stuff gets in the way.
Prediction: Finlay

Eddie Edwards vs. Homicide
They set up this match on TV. I assume Homicide is getting booked again, because ROH is hoping that he will sell a few extra tickets (because all indications are that this show is not anywhere close to being sold out). Homicide has lost all of his recent ROH matches, so I am just going to say he gets the win here. I can't justify that prediction in any reasonable way. It's just a gut feeling. Match should be fine if not good.
Prediction: Homicide

The Briscoes vs. House of Truth
The House of Truth for this match are supposed to be new members of the stable. I'll guess they will be from OVW. Match should be fine, as Briscoes undercard matches rarely exceed that these days.
Prediction: The Briscoes

Kyle O'Reilly vs. Adam Cole
Here are the incredibly convoluted rules for a Hybrid Rules match. I know it's stupid. You know it's stupid. O'Reilly and Cole probably know it's stupid. Luckily for us, they are both talented enough to hopefully overcome the stupidity to put on an entertaining match. I don't want to talk about this match anymore. The way ROH has handled Future Shock over the last 8 months has frustrated me to no end.
Prediction: O'Reilly wins because Cole commits too many fouls

Overall thoughts: This card is 2012 ROH to me. You will get a lot of good wrestling, and if you just want good wrestling, you will get your $15 worth. However, ROH is severely lacking in charismatic characters and engaging stories. There are often several booking decisions per show that raise my eyebrows, and at this point, I assume that's what will happen here as well. Also, rollups. There will be lots and lots of rollup finishes. When you add the uncertainty that comes with ROH producing this iPPV on their own, I can't help but feel indifferent towards this card. Also, the subtitle "Hostage Crisis" is stupid. However, you should expect to see a review of this show in Issue 2, which will be published in July.


HIPS TV: Watch this online exclusive match that set up a ROH World Championship challenger for the June 30th house show in Pittsburgh.

Maria and "Brutal" Bob Evans came out with Bennett. Truth Martini came out with Roddy. Roddy was the TV Champion at the time of this match. The winner of this match gets a ROH World Title match at a house show.

Crowd did not seem very lively during the ring introductions. It's a one fall match, but two of the guys are starting on the ring apron, which is something that has always annoyed me. Cole and Bennett start the match. Lethal and Roddy were in soon enough. Bennett distracted Lethal from the outside, which allowed Roddy to take down Lethal with a dropkick. Roddy and Bennett worked over Lethal, until Lethal hit Roddy with the Lethal Combination. Lethal tagged in Cole, who essentially made a hot tag. Cole hit a running knee on Bennett for a nearfall. On the outside, Bennett gave Lethal a spinebuster on the edge of the ring apron. Bob Evans attacked Cole from the outside. Roddy tossed Bennett from the ring. Then, Roddy gave Cole a suplex-450 gutbuster.

In a bubble, this match was fine. It was too short to mean much, but it had an awesome finish (seriously, that finish ruled). However, ROH specifically booked this match to be given away for free over the internet. So, my question is, why not put your best foot forward? This match was booked to seemingly not give anything away for free. Then why give it away for free? Did this match excite anybody? Did this match sell one ticket to the house show? ROH can make free content mean something, but instead, as usual per ROH's entire history: free content is essentially worthless to them.
Match Rating: **1/2

For more information on ROH, check out their:
Facebook
Twitter
Youtube Page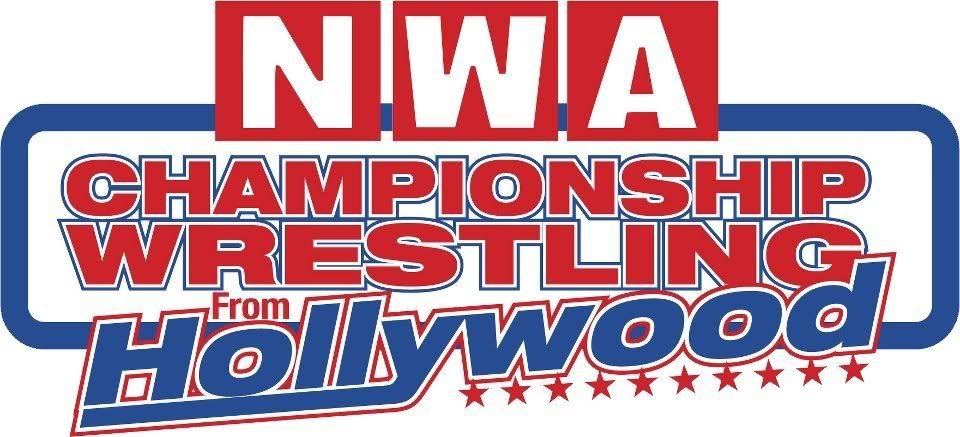 HIPS Interview: Nick Madrid of NWA Hollywood

TJ Hawke: Since last we talked, NWA Hollywood has started to run house shows in the California, instead of just taping TV. Has the house show experience been a little bit more relaxed for you and the other performers? Do you know if NWA Hollywood plans on expanding in others way like iPPV, etc.?

Nick Madrid: I think the house show experience has the same feel as our TV tapings from top to bottom with the exception of the more intimate setting. At Glendale Studios, where we film Championship Wrestling From Hollywood, we seat anywhere from 200-400 fans compared to about 100 plus standing room for the house shows. So far, we have had two sold out shows with amazing matches, some of which you will probably never see unless you were there.

NWA Hollywood is growing with each and every show. We have been running every month for just under 2 years now and have come a long way since that first show at the Galaxy in Santa Ana (not Hollywood) CA. I believe that using a resource like iPPV is in our future. We are already fortunate enough to have fans watching all over the world on NWAHollywood.com for our weekly show, and I believe those same fans would love to see a monthly huge iPPV event.

TJ: You recently challenged Scorpio Sky for the NWA International TV Title twice. What was it like to work with Sky? Is winning the TV Title a goal for you going forward in NWA Hollywood?

NM: Twice, but no cigar! Wrestling Scorpio Sky was always a dream of mine since I started wrestling. I have watched and admired him for so long and knew that if I ever wanted to see a "next level" in Professional Wrestling, it would be through an athlete like Sky.

Sky is excellent. I don't think there is anyone out there that doesn't already know that fact. Getting to finally wrestle him, and for the NWA International TV Title at that was like taking an honors course in Professional Wrestling.

Winning the TV Title is absolutely a goal of mine. Winning an NWA Championship and being able to defend it all over the world has always been a dream of mine. These last few months have seen me go one on one with two of our great champions in Kevin Douglas for his Junior Heavyweight Championship and Sky for his TV Title and despite coming up short, I believe it is just a matter of time before you see some NWA gold around my waist.

TJ Hawke: You recently defeated Adam Pearce in WCWC, which was a part of Pearce's "One Last Ride" tour (which is a quasi retirement tour). I believe you also worked with Pearce once in NWA Hollywood. Pearce tends to be polarizing figure amongst independent wrestling fans, but it cannot be denied that he has had a very successful career. What was it like to work with Pearce both behind the scenes when he was booker of NWA Hollywood and in the ring?

NM: Adam is, and whenever he finishes his "One Last Ride" tour, will always be remembered as one of Professional Wrestling's greats. I cannot say enough about how much I respect and look up to him and how grateful I am for the way that he has personally helped my career. I believe myself to be very fortunate to not only have had the honor of working with and learning from him inside inside the ring, but as you mentioned, "behind the scenes" as well. I know everyone has an opinion about Adam, but I believe that he has an undeniable wealth of knowledge that you don't see everyday and is invaluable to our sport.

Contact Madrid on his Twitter or his Facebook


HIPS TV: Nick Madrid vs. Scorpio Sky from a NWA Hollywood House Show (this is the first footage released from a NWA Hollywood house show)

Sky came to the ring with Christian Cole & Big Duke. This match is for the International Television Championship that Sky holds. Rick Knox is the referee!

Sky went for an arm submission early. Madrid escaped, but Sky hit him with a standing somersault splash. They got to their feet, but Madrid took him down with a nifty headscissors. Madrid got a nearfall with a butterfly suplex. Sky seemed to get a Coquina Clutch, but Madrid made the ropes. Sky was in control after that and said, "Who is effing man?" Madrid came back with step-up enzugiri that Sky took a sweet bump for. Madrid hit a dropkick, a Stinger Splash and a leg lariat. Madrid got a nearfall with a running knee. Sky came back with a back suplex for a nearfall. They got to their feet and traded some forearms. Sky went for a springboard move, but Madrid caught him and hit a Finlay roll. Madrid then hit a Superfly splash: 1...2...NO! Good nearfall. SKy then drove Madrid right into Rick Knox, which knocked him out. Madrid avoided Sky's big Brogue Knee and hit Sky with a Running with the Bulls (swinging DDT). One of Sky's stablematches came in and gave Madrid a gutwrentch powerbomb. Sky made the cover: 1...2...NO! Sky then hit the Brogue Knee and a TKO: 1...2...3!

The ring announced then said he was informed that due to the questionable tactics of Scorpio Sky, Madrid will receive another TV Title shot on TV.

I enjoyed this match. In terms of conveying personality, Sky seems to be a natural heel, but it's a shame that his exciting in-ring stuff has to be diminished as a result. I really believe he would be a mainstay of several promotions on the east coast if it didn't cost so much to fly him out. Madrid's improvement from year to year is quite evident.
Match Rating: ***1/4


For more infor on NWA Hollywood, check out their:
Facebook
Twitter
Youtube Channel




HIPS Interview: Aaron Epic of Beyond Wrestling and Resistance Pro
TJ Hawke: On June 15th, you and Sugar Dunkerton finally return to Resistance Pro to compete in the second round of the tag title tournament. What has it been like to compete for Resistance Pro? How do they do things differently than other independent promotions? Have you been told who you will be facing yet?

Aaron Epic: June 15th is right around the corner and me and my Danny Glover (Sugar Dunkerton) to my Mel Gibson return to Resistance Pro for the second round of the tag team tournament and are very excited. We were set back a month because of a injury but can not wait to get back. When it comes to competing for Resistance Pro it has been a amazing chance for me. Having some people who have been there and done that for the WWE, WCW, ECW give positive feedback is amazing. Along with Billy who has performed in front of some of the largest crowds in the world liking what he has seen from us also.They have been very supportive and hope that me and Sugar will be there for a long time. At the present time we do not know who we are facing but it will be business as usual and we know that a win is all we can aim for so we can advance.


TJ: That is actually the start of a big weekend for you and Sugar, as you two will both be on the Beyond Wrestling/St. Louis Anarchy joined show, Double Trouble, the next day. The two of you and Pinkie Sanchez, known as the #KOA, will be taking on KJ Crush, Jack Verville, and Masaratti Rick. What do you think of this matchup?

AE: June 16th Beyond / SLA present Double Trouble in Cleveland, OH which I am looking forward too. There are a lot of very high profile matches including the SLA Main Event with ACH vs Johnny Gargano along with the Beyond Main Event with Drew Gulak takes on the Wins Leader Mark Angel. That evening I will be with #KOA, Sugar Dunkerton and Pinkie Sanchez, to take on The Michigan Crew of KJ Crush, Jack Verville and Masaratti Rick, 3 guys who I think have fallen a little under the radar with other Michigan stand outs who have been on the Beyond roster in the past in Team Beyond and Jarek 1:20. Masaratti Rick can flat out go and I believe he needs to featured on more shows throughout the Mid-West. KJ Crush has come to impress me with a few matches I have seen live lately. Then Jack Verville showed he can hang and had a very good showing last time Beyond was in Cleveland vs Dave Cole. This match is going to show why the #KOA is not a joke and that we are going to go out there and kill it. We may not be the main event of the show but hope people leave Double Trouble talking about that match.


TJ: You are getting closer and closer to being the top ranked wrestler in Beyond Wrestling. You are currently at +8 (eight more wins than losses), while the leader, Mark Angel, is at +14. Is becoming the Wins Leader your number one goal in Beyond Wrestling? Is there anything else you are looking to achieve in your time at Beyond Wrestling?

AE: I have 3 goals with Beyond Wrestling 1) Have fun with my friends in the #KOA 2) Help in anyway to help elevate the Beyond product to a larger level, I truly believe that Beyond can become a top indy promotion in the US with the talent on the roster and in just over the year I have been there I have seen it grow. Now with Double Trouble this will be there 5th live show and July will be there 6th live show and I am just happy to be along for the ride. 3) To be the points leader, I know that I have been labeled a Beyond guy and to me that is complement because at Beyond you just go out and bust your ass and show what you can do in the ring and that is what matters. One day soon if it isn't Mark Angel who is a top the mountain when I get there whoever it is that is the spot I want and the spot I hope to have one day.


TJ: Finally Aaron, I would be remiss if I did not bring up the recent "controversy" that you were involved in. For the fans out there who don't know, several fans and other publications sent tweets out supporting the idea that you should be booked for the upcoming Evolve Wrestling triple shot. This resulted in a somewhat major backlash from some in the industry. What have you learned from this experience? For the promotions out there that have not used you yet, why should they be using you?

AE: I had a feeling this question was going to be asked but the simplest answer to the question is that wrestling is truly like ice cream there are a ton of flavors out there and everyone has the one's they like. All I can hope is that if you don't like chocolate chip mint today maybe you will tomorrow. I learned that every person runs there business different which is what I should expect and that the only thing I can do is keep pushing forward. When it comes to companies that do not use me and why should they, I really do not have a answer for other than I work hard. There are thousands of wrestlers in the world and just have to hope that one day I am the flavor the promoter wants to have one day.


TJ: Despite the heavy backlash you got about how you sought to get attention, you have decided to start another Twitter campaign to get into Chikara's 2012 Young Lion's Cup. Why did you decide to do something like this again?

AE: I do not look as it as a campaign, I look at it as a indy wrestler self promoting. Promoters do it when they are trying to sell there product to fans to either purchase there live events, DVD's, or IPPV. All I am doing is selling myself through social media which is what every wrestler does or promotion does. If you tweet you want your followers to see it, if you put something on youtube you want people to see it, if you write a interview or a blog you want people to see it. We are not benefited with weekly tv that reaches out to millions of people to become a household name. All we have is ourselves and the support of those who want to see you succeed.


You can contact Epic on his Twitter, his Facebook, and his Youtube Channel. Tweet out #EpicYLC to show your support.



Preview for Beyond Wrestling & St. Louis Anarchy's show: Double Trouble



Beyond Wrestling's #1 Ranked Wrestler Mark Angel with Nick Talent vs. Drew Gulak
Gulak, most famous for his work in CZW (but he's not a cliche CZW wrestler) has started having rematches with all the guys who beat him in 2011. He's already avenged his losses to Darius Carter and Jonny Mangue, and now he's going up against Mark Angel. These two are arguably the two best wrestlers in all of Beyond, and they already had a great match towards the end of 2011. I'm expecting this to be one of the better matches of the night. Angel has recently turned heel, as he is willing to do anything to keep the top spot in Beyond. With Nick Talent at his side, the question is whether Gulak will be able to overcome any shady tactics to get his win back. I say he can.
Prediction: Drew Gulak

A Year In The Making: RD Evans vs. Johnny Cockstrong
If you know Johnny Cockstrong at all, then you know that this definitely a dream comedy matchup. Having said that, this matchup is a part of a year-long feud, so I don't know if it will be an outright comedy match. Either way though, Cockstrong is one of Beyond's most talented roster members, and Evans is one of the most talented men in all of wrestling so this has a good chance of being awesome. With Evans being the official lawyer for Davey Vega and the Submission Squad, I'm thinking...
Prediction: RD Evans via Submission Squad interference

Team Beyond (Corvis Fear, Jonny Mangue, Chase Burnett, & Zane Silver) vs. The Pitboss, Matthew Justice, dany only, & Stryknyn
Mangue has teamed up with his former enemies when he was in the Doom Patrol to take on his ex-stablemate's new stable. Pitboss's new group has not really made their intentions clear yet, but they no doubt want to cause some major destruction in the vain of the Doom Patrol. Mangue is teaming with his former enemies to put a stop to this "new" Doom Patrol before they get too much of a foothold in Beyond. I would imagine that Pitboss's team won't see any comeuppance until Chris Dickinson gets involved.
Prediction: Team Pitboss

#KOA (Aaron Epic, Sugar Dunkerton, & Pinkie Sanchez vs. KJ Crush, Jack Verville, & Maserati Rick
This is pretty much a straight up exhibition match between Beyond's most popular trio and a group of wrestlers on the rise. I'm expecting a good match, depending on how long it goes. #KOA are three of Beyond's biggest stars, so it doesn't make sense to me that they lose here.
Prediction: #KOA

School Of Roc Summit for the School of Roc Cup
Remi Wilkins(c), Dale Patricks, Miss Heidi vs. Reed Bentley, Tripp Cassidy, Nate Stone

With "Big" Sue Jackson out with a broken wrist (suffered during his Chikara debut), Nate Stone was randomly chosen as a replacement for the league. Stone and Reed Bentley were mortal enemies during the first season of Class Wars. Logan Williams was originally announced to be teaming with Wilkins and Patricks, but he's been forced out and replaced by Miss Heidi. This is s Summit match where eliminations will occur until there is only one man standing. The winner of the match will be the holder of the School of Roc Cup. Wilkins won the cup in the Class Wars Season 1 Finale. This is his first defense. I expect this to be a good match, and there are some interesting storyline possibilities with Bentley and Stone on the same team.
Prediction: Remi Wilkins retains the Cup by eliminating Tripp Cassidy last.


The St. Louis Anarchy portion of the card (Since I don't know the SLA product well, I won't bother to make uneducated predictions).

DGUSA Open The Freedom Gate Champion Johnny Gargano vs. Anarchy Championship Wrestling Champion ACH

St. Louis Anarchy Championship Match: St. Louis Anarchy Champion Dan Walsh vs. Rickey Shane Page

Arik Cannon, Darin Corbin, Christian Rose vs. Pierre Abernathy, Evan Gelistico, Gary Jay

Davey Vega & Mat Fitchet vs. Alex Castle & Mat Cage vs. Devin Cutter & Mason Cutter


You can buy tickets for this event here.

HIPS TV: The Throwbacks vs, The Washing Bullets from Burst the Bubble 2012


Dasher Hatfield and Mr. Touchdown cut a promo before the match. The Throwbacks won a match the night before at the live Burst the Bubble show. This is Dasher's second weekend in Beyond. He and Sugar Dunkerton defeated Darius Carter and T.J. Marconi back at Beyond's first live show, About Time. Mr. Touchdown says he was introduced to Beyond by Mark Angel (who is actually Mr. Touchdown without the gimmick). Touchdown says he is going surpass Angel as the wins leader. Dasher says he wants some wins too, but Touchdown says no, it's only about him.

The Bullets debuted in Beyond the night before in a losing effort to the Hate Junkies. Trey starts off with Dasher. They traded a couple of armdrags and hip tosses. Trey got a very close nearfall with an O'Connor Roll. Dasher then got a nearfall with an O'Connor Roll of his own. Touchdown blind tagged in, but the Bullets immediately got the advantage. Trey got a nearfall after a superkick. Touchdown gouged Trey's eyes, and he then tagged out. Dasher reprimanded him for using an illegal tactic. Touchdown tagged back in and started working over Trey. Touchdown was still arguing with Dasher, but Touchdown hit an awesome POUNCE on Trey for a nearfall that Jon had to break up. Dasher didn't like Touchdown's attitude, so he SWITCHED TEAMS! Awesome. Touchdown continued to work over Trey. Touchdown even tagged himself at one point to rub it in. Trey elbowed his way free and tagged in Dasher who made a hot tag against his own partner. Dasher applied an abdominal stretch and made Touchdown swear to tag him back in. Touchdown agreed, and then the Bullets hit Touchdown with stereo dropkicks. Jon then made a big comeback on Touchdown. The Bullets hit a big double team FameAsser style move. Dasher made the save. Touchdown finally tagged out and the Throwbacks hit a High and Low. The Throwbacks then hit a double team neckbreaker: 1…2…JON MAKES THE SAVE! Jon superkicked Touchdown out of the ring. The Bullets then hit a big double team move on Dasher. Touchdown sent Jon to the outside. Dasher and Touchdown hit an assisted stunner on Trey: 1…2…3! Touchdown and Dasher Hatfield shook hands after the match.

This was a really good match that basically served as a way to continue a Chikara storyline in Beyond. The Touchdown/Dasher/Veronica/Archibald Peck stuff may be my favorite storyline in Chikara right now, so I may enjoy this more than some people. However, the match still had a lot of good action for those not invested in Chikara at the moment. The Bullets did very well for themselves here and hopefully they return to Beyond in 2012.
Match Rating: ***1/4

Facebook
Twitter
DVD Store
Youtube Page



AAW Starts Off Summer with Big Matchups Announced and a New Online Media Push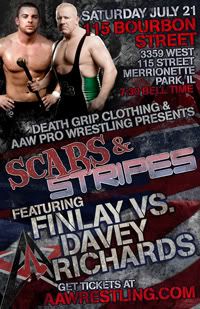 AAW announced two big matches to kick off their summer season: Davey Richards vs. Sami Callihan for June's Bound by Hate event and Davey Richards vs. Finlay for July's annual Scars and Stripes event. AAW is clearly looking to get some new eyes on their product by promoting these matchups with name value, while at the same time trying to put on the best shows possible. AAW has seemed on the verge of "breaking out" for a while now, but (with hindsight being 20/20) I think they took some big missteps in 2011.

While AAW made some attempts in 2011 to get new eyes on their product, they did themselves a disservice by consistently putting aging veterans/ECW relics in the main events of some high profile shows. Silas Young, the AAW champion and one of the most under-appreciated wrestlers going today, faced Raven, Stevie Richards and Rhyno last year in three separate main events. In fact, those three matches were the main events of all three shows that AAW put on GoFightLive in 2011. I understand the need to have a name here and there to get attention, draw a solid live crowd and maybe do some good autograph business, but the independent wrestling promotions that thrived the most in the last ten years (ie: grew in DVD sales) were promotions like ROH, Chikara, and PWG that balanced making their own guys into stars with bringing name talent that could still deliver fantastic results. I don't want to assume without direct knowledge that AAW has made a conscience decision to market their shows with talent known more for their in-ring talent, but it seems quite evident that is what is happening.

AAW's apparent shift in strategy is illustrated best by their Scars and Stripes event. That event was initially marketed around Diamond Dallas Page showing up, signing autographs and presumably making an appearance in the ring. Instead, DDP is out (I don't honestly know why), and he was replaced (they pushed it as a replacement anyway) with the Finlay vs. Davey match. I hope it works out for them financially because companies that attempt to produce the best possible product for their fans deserve to be rewarded. AAW has certainly gotten my attention when it comes to what shows I purchase this summer.


AAW's attempts to widen their fanbase is also evident based on their recent attempts to expand their social media/online presence. AAW has started a second Twitter account that engages their fans in new ways by presenting "backstage scoops" (I'm cynical towards the value of this, but oh well), trivia contests, and other contests where fans can win prizes such as DVDs, T-Shirts, etc. AAW has also started a new web show that will attempt to bridge the gap between shows, make their main storylines more accessible, and expose footage from their shows to a wider audience. AAW also took a page out of my site's book, by running a fan poll to pick a match that they released for free. I briefly discusses AAW's increased online presence with their producer, Michael Petkovich.

TJ Hawke: AAW has seemingly kicked off several new interactive/social media initiatives all at the same time recently. How did the company decide to make online promotion/interaction a priority going forward?

Michael Petkovich: It was always a priority, we just needed to focus on what we were doing with it and put a few key people in place. Our staff has grown with some new key marketing people that are on the ball with Facebook, Twitter, and Youtube.

TJ: Was there a promotion out there that inspired you to be more active in this area of promotion? Were there aspects of social media that you felt you were severely lacking in?

MP: It wasn't really one company that inspired us, more or less just catch up with the curve of being interactive. We were honestly just lacking consistency online. AAW has always had a presence on Facebook, Youtube, and Twitter. You could just see that we weren't staying as active as we should have been. The guys helping us right now have really turned it around and the @AAWLeaks on Twitter is doing some great stuff right now for the fans.

TJ: AAW had an old Youtube channel for a while. Why did you decide that the time was now to start an online show? What does this show add to the AAW fan experience that you think was possibly lacking before?

MP: We have always given away matches or showed videos for the fans in between events on Youtube to help tie the shows together. We feel that at this point, we can tell a better story with the new web show. It's a place where you can see some exclusive footage and keep up with the main things going on in AAW. It will help bridge the gap between events.

TJ: Is there anything you can tell us about future plans for your online presence?

MP: As of right now, we are just focused on making a consistent presence online and to keep putting out a quality wrestling product.


HIPS TV: BJ Whitmer vs. Mat Fitchett from The Chaos Theory 2012


They started out trading holds. Whitmer got a cross armbreaker, but Fitchett was near the ropes, so Whitmer had to break the hold almost right away. Fitchett took Whitmer down with a headscissors, and he then sent Whitmer to the outside. Fitchett hit a somersault plancha. Back in the ring, Fitchett was in control after hitting a big, risky dive. Yes! That is the easiest way to make me love a match. Whitmer cut him off shortly after this and started to work over Fitchett. Fitchett came back with a hurricanrana and an enzugiri, Fitchett connected on a middle rope moonsault to a standing Whitmer. Whitmer came back with a vertical suplex and a northern lights suplex: 1…2…NO! Fitchett came back with a standing shooting star press: 1…2…NO! Whitmer came back with an exploder. Fitchett came back with a kick to the head for another nearfall. Whitmer came back with a fisherman neckbreaker and a fisherman suplex: 1…2…NO! Fitchett hit a reverse hurricanrana: 1…2…NO!!! Ficthett went to the top rope and went for a shooting star press, but Whitmer rolled out of the way. Whitmer hit an exploder and locked in the Peruvian Necktie! Fitchett taps!

This was a very enjoyable match that made both competitors look good. The second half of the match was all trading moves, which works great with a hot crowd, but the crowd was kind of weak here until the very end. All and all though, a fun match that is worth watching, especially if you haven't seen Fitchett or Whitmer during his comeback.
Match Rating: ***1/4

For more information on AAW, check out their:
Facebook
Twitter
DVD Store
Youtube Channel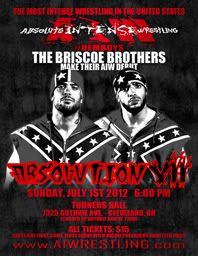 On July 1st, AIW will present their annual Absolution card, which is pretty much their Wrestlemania (They even do a Rumble match early in the year to set up the title match). Here is an early look at the main matches based on what has been officially announced so far.

Absolute Champion, Eric Ryan, defends the belt against Johnny Gargano and Tim Donst
Eric Ryan won the Absolute Belt, by winning the JT Lightening Invitational Tournament back in May. That tournament was originally shceduled to be for an Absolute Title shot, but the previous champion, Zema Ion, was stripped of the title after not appearing on the last three AIW shows due to TNA commitments. After the two day JLIT tournament, I am five shows behind on AIW, but I should be able to catch up soon. I say that because I seemed to be the only one who didn't love the idea of Eric Ryan winning the tournament, much less the championship. While I think it would be great for AIW to continue to establish Ryan as a homegrown champion, I am still personally hoping that Tim Donst wins the belt here. He's always had a little bit more of an edge to him in AIW (their fans refer to him as Tim "Fucking" Donst), and I expect the edge to be increased after he lost his hair on the Chikara iPPV. Gargano is somewhat of an afterthought in this match. He won the 2012 Gauntlet for the Gold match to earn this title shot, but I can't help but feel that AIW would be taking a step back by moving the belt to him now, instead of making a different guy into a star.
Prediction: Tim Donst turns heel and wins the belt with the assistance of The Batiri

ACH vs. Adam Cole
If ROH scouted talent outside of OVW, they would know that ACH should already be in their promotion. Lucky for us, AIW does recognize ACH's potential, and he has been on a tear in AIW. This match features two of the most talented guys on the independent scene, and I am expecting them to tear the house down. With Cole just being a guest, with no guarantee that he will be back, he probably should not win the match. I'm also hoping that ACH will win the Intense Title soon, so I'm going with...
Prediction: ACH

The Briscoes vs. The Irish Airborne
This is the Briscoes' debut in AIW. Mat Fitchett and Davey were originally being set up to challenge the Briscoes, but Fitchett is out with a torn quad, so the Airborne get the match instead. I expect this match to be quite good. I hope the Briscoes get the win, so they can come back and challenge for the tag titles.
Prediction: The Briscoes


The rest of the card announced so far:
- Archibald Peck vs. Davey Vega vs. Ethan Page vs. Facade vs. Drake Younger vs. ?
- Colin Delaney vs. Marion Fontaine in a Bare Knuckle Brawl (Aren't all pro-wrestling matches bare knuckle brawls?)

For more information on AIW, check out their:
Facebook
Twitter
Online Store
Youtube Page





Evolve's First Tripleshot: An Early Preview

The last two Evolve shows were announced a month out for a new market (North Carolina) and predictably drew very, very poorly. Learning their lesson, Evolve announced three shows a month out for a new market (Florida), and they will of course do gangbusters. Something, something, something, definition of insanity. Regardless, as usual, Evolve has put together some cards that have a lot of potential. The announced matches of each card are discussed below. Without the full cards announced, I am not going to bother to give an overall recommendation as to whether you should buy the shows.

Evolve 14

Colt Cabana vs. Chuck Taylor: I assume Chuck is winning because he has a title shot the next day. However, I would not be opposed to having Colt win, and then building him up as a challenger to Gargano. Cabana vs. Gargano could be a really fun match.
El Generico vs. Samuray Del Sol: This a huge test for Del Sol (even more so now that it has been announced as the main event of the show). He has been protected so far in DGUSA/Evolve, so as to hide his weaknesses (long-form singles matches) and to highlight his strengths (doing cool shit in low pressure situations). Generico is arguably the best in-ring performer in the world right now, and he is almost definitely the best at making his opponent look as good as possible. This match could make Del Sol a star, but it could also expose him as someone not ready to be a big player in a major independent group. I am hoping for the former. I assume Generico will win.
Sara Del Rey vs. Santana Garrett: This is a showcase match to promote the SHINE wrestling promotion that will be based in Florida and will be broadcast on iPPV through WWNLive.com. I would like to think Del Rey will end up on the other shows for this weekend, but I won't bet on it.

Evolve 15

Johnny Gargano defends the Freedom Gate Title against Chuck Taylor: I have no fucking idea why this match is happening here instead of at the DGUSA Anniversary weekend in July. As much as I don't want a bullshit finish in a title match, I can't help but think this matchup needs a screwy finish so they can have a rematch in July. DGUSA very rarely does title rematches straight away (actually, they may have never done that), so they can probably get away with it here, especially if they have a great card below this match. If DGUSA/Evolve spent 10 months slowly building up this matchup (with a very crapy story as far as I am concerned), just to blow it off with three weeks notice in a new market, I will probably mock them on Twitter (Yea, it's that serious). Then again, that's what they did for Fox/Callihan, so I shouldn't expect anything different.
El Generico vs. Silas Young: If you haven't seen Young in the last couple of years, you may think this is a waste of Generico. However, Young has really become a great all-around performer in the last couple of years outside of the major indies, so I am very excited for this match. If given enough time, this could be the best match of the triple-shot.

Evolve 16

Chuck Taylor vs. Samuray Del Sol: This is a grude match because Chuck Taylor said he hates luchadores. Whatever. Should be fine. I'm guessing Del Sol wins unless Taylor wins the belt the night before.

Evolve 14-16

The second Style Battle: Evolve 8 was a show dedicated entirely to the first Style Battle last year. The show was far from critically heralded, so that may be part of the reason the format has been changed this year. There will be four wrestlers competing over the course of the three Evolve shows in a round robin style tournament to determine the "BEST STYLE." The biggest problem with marketing the Style Battle is that concept of "different wrestling styles" being a strength or weakness in terms of winning matches is not promoted in wrestling or even in Evolve itself. Basically, the tournament is always going to seem random and pointless until Evolves makes an effort to invest in the gimmick throughout the year, show to show. In the meantime, we could get some cool matches. Lince Dorado and AR Fox (the 2011 Style Battle winner) were the first two announced. I would assume Jon Davis and Tony Nese will be the next two announced. I have no idea if that is going to happen, but if it did, I can honestly say I would look forward to watching all the matches.

For more information on Evolve, check out their:
Facebook
Twitter
DVD Store
Youtube Page



Thanks for reading! Look for the next issue to come out around July 16th. There should be reviews of the ROH/Evolve iPPVs, a preview of the PWG 9th Anniversary show, a preview of the DGUSA 3rd Anniversary Weekend, and much more!


Besides 411mania, there are some other places around the interwebs that you should check out for great independent wrestling coverage. I definitely recommend that you check Pro Wrestling Ponderings and Free Admission (For Real!) for great articles and podcasts.

411's Kevin Ford also has two great Chikara resources that you should check out: The Chikara Special Blog and a Chikara Tumblr.

Here are some great, must-read sites to help you with all things Dragon Gate:
Open the Garoon Gate: Reviews of every single Dragon Gate related show/match.
I Heart Dragon Gate: The absolute best coverage of Dragon Gate news and information.
Open the Tumblr Gate: The Tumblr that collects great Dragon Gate and DGUSA related links and photos. Good times are had here.

Over at my own site, FreeProWrestling.com, we post a legally free wrestling match every weekday. Some of our most popular recent posts include:
Sin Cara vs. Averno from NJPW 2011
Zema Ion vs. Nobutaka Moribe with Ion's written thoughts on the match
Ricochet vs. Mike Cruz from DGUSA 2012
Bryan Danielson vs. Tommy End (from the period after Bryan was fired by the WWE in 2010)
comments powered by