SPOTLIGHTS
News From Cook's Corner 08.28.12: One Last Ride
Posted by Steve Cook on 08.28.2012

Brock vs. Triple H rumors, Mysterio update, Raw Thoughts, Claire Lynch leaves TNA & Cook leaves wrestling news reporting! (Those last two are unrelated.)

Hi, hello & welcome to News From Cook's Corner! I'm Steve Cook, and as those of you that listened to the 411 on Wrestling this weekend know, this is a very special edition of News From Cook's Corner. As a matter of fact, this is the last edition of News From Cook's Corner.

Increased responsibilities & desire to spend more time on other endeavors on & offline have led me to the decision to step down from my news reporting duties here at 411mania.com. I know many of you will be disappointed, as this column is what introduced you to me. You clicked on this column expecting wrestling news, views and complete nonsense in an entertaining fashion, and I've done my best over the past few years to provide exactly that. I'm especially proud of the work I've done with this column since returning to news reporting in 2009, and I feel that the column has been better than ever during this time period. Unfortunately with my work schedule being what it is, I know that I wouldn't have the proper time to dedicate to giving you guys the best column that I can give you each and every week. Rather than half-ass my way through a series of columns that would dilute the reputation of News From Cook's Corner, I feel that it is for the best if I step aside and allow the next generation of wrestling news reporters to do their thing.

I will still be around here to host the 411 Wrestling Fact or Fiction, serve as Larry Csonka's co-host on the 411 on Wrestling and probably take part in group type columns, so it's not like I'm leaving the site or anything. You'll still get your Cook fix here at the 411, it just won't be quite as much as you're used to. Think of it as Diet Cook. Speaking of diets, I really need to go on one.

Hopefully Adam Pearce won't mind my stealing his "One Last Ride" tagline for this column. I just found it really fitting.

And now, the fake news!



Maryse & Eve, two of the three women that have gotten the top spot in the 411 Wrestling Hot 100. Velvet Sky is the other. And yes, the 411 Wrestling Hot 100 will be back next year.

The Brock Lesnar vs. Triple H rematch that had been rumored for Survivor Series now may be taking place at the Hell in a Cell PPV. The reports don't say it would be a HIAC match, but I would assume that would go without saying. WWE is said to be interested in renewing Brock's contract, and Brock is said to be very happy making lots of money and not appearing very much. It's great work if you can get it, no doubt about it. The Lesnar thing is kind of weird…it feels like they could have done a lot more with him, but it might be a good thing that they haven't totally run him into the ground. I guess it's one of those things where the jury is still out, but nobody wants to say that because it's important to have a strong opinion one way or the other. I'm willing to wait and see how the rest of the Year of Brock plays out.

It was reported last week on various websites that the booking of Brock Lesnar vs. Triple H was done to keep the door open to a potential Lesnar vs. Undertaker match at WrestleMania 29. Lesnar announced in his Tout retirement that he had done everything he ever set out to do in WWE, so I guess Undertaker will be all like "YOU HAVEN'T BEAT ME AT WRESTLEMANIA" and we'll get that match. Their Hell in a Cell match at No Mercy 2002 was pretty awesome and Undertaker brings the goods for his one match a year, so Lesnar vs. Undertaker should be a good match and draw interest for WrestleMania 29.

No, I don't know what it does for long-term business involving people not named Brock Lesnar, Undertaker or Triple H, but I doubt WWE knows that either.

Rey Mysterio suffered a concussion during his match with The Miz at SummerSlam and was held out of this weekend's house shows. He will return to action once he passes concussion tests, WWE officials are expecting him to be out for several weeks. Mysterio just returned to action after being out almost a year to recover from a knee injury, and while obviously head & knee injuries aren't exactly related, it's clear that Rey's had a really bad string of luck with injuries over the past several years. I think we can expect this pattern to continue until Rey can no longer step into the ring, as he has no intention of retiring as long as he can make some of that WWE money.

The Rock noted on his Twitta Machine that he tore his right hamstring during his match with John Cena at WrestleMania 28. Apparently it happened when Cena did his Rocker Dropper off the top rope on Rock, landing on his back. Adrenaline is a heck of a thing so it wouldn't surprise me if Rock did in fact tear his hamstring and not notice until the next morning. I have a feeling if John Cena tore his hamstring in that match we would still be hearing about it on WWE television today.

On the Cena/Rock topic, I watched the NBC show featuring their match this weekend, and while it was better than anything on NBC's schedule these days, I was stunned that they couldn't find a camera angle of Rock kipping up just before the finish to use for this special during the almost five months that have passed since the match. It's a minor complaint in the grand scheme of things, but you expect WWE to be on the ball with stuff like that.

Tensai had a pretty rough go of it at a Raw live event in Cape Girardeau, MO on Friday night. He started things off by losing to Tyson Kidd, then he decided that he'd issue an open challenge to get things back on the right track. The challenge was answered by Big E. Langston, a former power lifter that debuted on NXT earlier this month. Langston got the win over Tensai. Remember when Tensai was going to get a huge push? His push has made Zack Ryder's push look pretty good. Not that I'm complaining, because Tensai's matches & reaction from the crowd certainly don't warrant any sort of push. It's too bad for Tensai, as he's shown great potential elsewhere, but this whole thing just isn't working out for him.

In other house show news, Naomi, one of Brodus Clay's Funkadactyls, defeated Natalya at a SmackDown live event in Sioux Falls. Kaitlyn was originally scheduled to wrestle Natalya, but couldn't make it due to travel problems. The Naomi/Natalya match was called "one of the best Diva matches of the year", which of course is damning with faint praise. Naomi did show some potential during her time in FCW, which may be why she's dancing with Brodus instead of wrestling.

Ric Flair's non-compete clause in his TNA contract expires on September 6. Can we expect to see him back with WWE then? Maybe not, as WWE is wary of making moves concerning guys like Flair & Matt Morgan due to TNA's lawsuit against them. Considering the lawsuit is keeping WWE from hiring a senior citizen and a guy that only gets work because of his height, maybe there's a bright side here.

Actually, Flair would be great to have under contract just to do WWE Network & Home Video stuff. I don't think he really needs to be on TV regularly at this point. I've seen people suggest that he be used as a manager for Dolph Ziggler or some other young talent, but I remember him as a manager for AJ Styles in TNA and that didn't seem to work out so well.

Speaking of Dolph, he got some good press last week thanks to his ex-girlfriend Amy Schumer. Amy, who has been on Last Comic Standing and other stuff I don't watch, appeared on the Howard Stern Show and revealed that she broke up with Dolph because the sex was too much for her to handle. I fully expect Dolph to cash in his Money in the Bank any day now, as this is definitely the sort of thing that would win Vince McMahon over.

Tyler Reks asked for his release from WWE and has announced his retirement from professional wrestling. He wishes to spend more time with his wife & daughter, which is something he didn't get to do a whole lot of while on the road. Reks had been with WWE since 2008, spending the first year or so in FCW before moving up to ECW, then spent most of his tenure working dark matches & matches on B shows.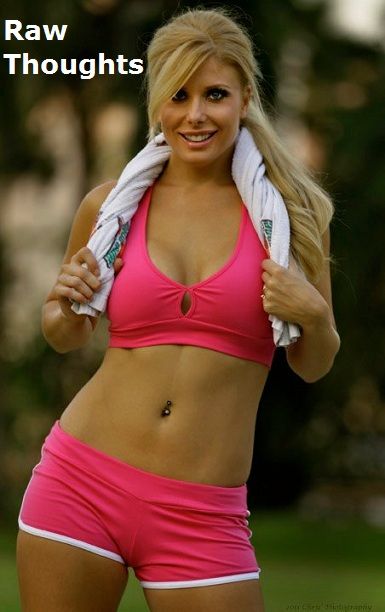 Kristin Astara, former 411 on Wrestling guest & current model on the Home Shopping Network.

-The new Raw theme doesn't bother me yet.

-Cole reads Lawler's tweet directed towards CM Punk last week, so Lawler hops right into the ring to get the topic off his chest.

-Lawler wants an apology from the Punker!

-Milwaukee is still solidly behind CM Punk. They usually don't like things from Chicago so this is fairly impressive.

-Damn, Punk is pulling Lawler's punk card! My friends at offtheteam.com's vitriol towards Lawler doesn't hold a candle to his.

-I don't expect much from a Punk vs. Lawler match, but they're definitely making me want to see it.

-Ryback takes on Jack Swagger.

-I believe Ryback is trying to give Swagger a concussion. It's like the reverse of Saturday Morning Slam.

-And I wrote that before Ryback dropped Swagger on his head on a backdrop attempt. Good Lord, man.

-Swagger looks frustrated after the match. Not sure if that's storyline or if it's because Ryback tried to kill him. At least TNA didn't just hire one of his psychotic exes.

-You know, that Divas Battle Royal wasn't so bad when you chop it down to a minute of replays. Hopefully they won't replay Kaitlyn's commentary performance from SmackDown.

-Vickie Guerrero comes down to make an announcement and stands on the steps while Layla & Natalya wrestle. Don't worry Vickie, this can't take too long.

-Layla wins. That did take longer than I thought…but not much longer.

THAT'S WHAT SHE SAID

-Nice of the Divas Champion to back down from Vickie Guerrero.

-Well, it's been a few weeks so it's time for another feud over who's General Manager of this show.

-AJ attacks Vickie while the announcers complain that the GM of the show shouldn't act like that. Oh when hasn't the GM of this show been insane?

-I'm sure there's a reason to have a DX video package. Oh…we're going to have a series of video packages chronicling the career of Triple H. Glossing over the whole Connecticut Blueblood time period is some BS.

-Daniel Bryan attends anger management class. Some nice looking ladies in anger management class, I must say. Perhaps therapy has its benefits.

-Lawler runs through the list of nobodies he beat in Memphis. Quite the list. How many times has Bill Dundee been mentioned on Raw?

-Cena vs. Miz. Remember when this main evented WrestleMania? That was one heck of an acid trip, man.

-You know, Cena was never the Intercontinental Champion. If he chose to challenge for it (and we know he'd beat Miz), he'd add that to his collection already including the WWE, World, US & Tag Team titles. This could have been a storyline back in 1982.

-Ryan Byers notes on Twitter that Miz & John Morrison both ended up being the Marty Jannetty of their team. At this rate that might end up being an insult to Jannetty.

-Fans get to vote on the stipulation for Punk vs. Lawler. I think I've seen one vote on my Twitter feed that's an actual vote and not people voting for the worst possible match stips.

-Kane joins D-Bry at anger management class. Well, if anybody needs it…

-Who told Santino that haircut was a good idea?

-Milwaukee is not too high on the wrestling here tonight.

-OK, Santino's Cobra puppet has a thing for Aksana. I…I'm just going to ignore all of this. Last week of the Raw Thoughts.

-Punk vs. Lawler in a bloody cage match Memphis style would be a pretty awesome thing. I'm not one of those guys that thinks WWE is lame just because there's no blood, but it sure would add to a match like that.

-Funkadactyls are looking good tonight!

-Cody Rhodes & Damien Sandow seems like a pretty awesome tag team, so I'm going to be very disappointed when they lose to Sin Cara & the Funkasaurus.

-And of course they did.

-Sin Cara does not have much funk. He didn't botch the dance, but he didn't do it right either.

-Kane tells his life story to the anger management group, including his unhealthy obsession with torturing Pete Rose. They immediately call it a day. Next week they'll present their anger collages!

-Ah, I thought "Harold" there looked familiar, and Bobby informs me that it's Scorpio Sky. Guess that report about him skipping out on a WWE tryout was a load of BS.

-I think if they made 30 minutes of this show the "Kane & Daniel Bryan go to Anger Management Show", people would like it a lot better.

-Who knew Kofi was such a dapper dresser?

-Daniel's anger management training appears to be working so far.

-A pre-match fist bump? Did D-Bry ever do that one in ROH?

-At least R-Truth knows what town he's in this time.

-And he's gotten D-Bry to lose it and get counted out.

-Is that "Brock Lesnar Guy" that Bryan's getting in the face of?

-I know there are still some of you out there that can't agree with this, but Daniel Bryan is the most interesting person on this show. And it's not even close.

-Triple H comes out to tell us he's not going to retire.

-Has Triple H ever "cut to the chase"?

-Triple H announces that he doesn't know if he's going to retire or not. Well this was productive.

-The crowd is chanting "You Can Do It". Christ, and I thought WWE's pop culture references were dated.

-This segment benefited from being in Wisconsin. As Scott Slimmer points out, these are the same people that bought in every time Brett Favre said he was retiring.

-Dolph Ziggler does the old "play the guy that won't be here's music" deal. It doesn't get over nearly as well as the time that Shawn Michaels played Bret Hart's music in Canada. Or even as much as the time Edge played Matt Hardy's music.

-Sheamus & Orton team up against Ziggler & ADR. I don't like the odds of either of these teams co-existing, honestly. Heck, I'm fairly certain they had a match before and one of the teams turned against each other. Maybe they both did. SmackDown does this sort of thing a lot thanks to years of Teddy Long booking.

-Somebody needs to do a count of how many Brogue Kicks Ziggler's eaten this year. It's gotta be high double-digits, right?

-Kane joins commentary for the Zack Ryder vs. David Otunga match. Yes, the Zack Ryder vs. David Otunga match. At least it will result in Kane killing them.

-Kane spares Ryder & chokeslams Otunga. I guess that does qualify as progress as far as Kane's anger management goes.

-The RawActive poll decides that Punk & Lawler will face off in a…cage match. Well, it would have been a shame if they didn't use the cage hanging from the rafters.

-AJ announces that Punk will defend the WWE title against John Cena at Night of Champions. I guess they hadn't made that official yet.

-Lawler takes the first shot, just as Punk promised! There's a man of his word right there.

-I love the fact that CM Punk is singing a song to Jerry Lawler that Andy Kaufman sung about the King thirty years ago. Less than 5% of WWE's audience will get it, but I am marking out.


Here's Andy!

-Lawler taps out to the Anaconda Vice, as he should.

-Punk is locking the cage. Now we've gone a little forward to 1987. If he rams Lawler's testicles into the ringpost we'll really know that Punk's been watching his Memphis wrestling lately.

-Cena runs down and begs the people at ringside to raise the cage. Have we ever figured out who presses that button?

-Cena obviously has stroke since somebody pushes the button so he doesn't have to try and climb in. Laziest top babyface ever.

-The take on 3 Hour Raw remains the same: Three hours is just too much. The show definitely had its highlights, like D-Bry & Kane in anger management & the Punk/Lawler stuff. Unfortunately there was two and a half hours of other stuff. I'm not sure what WWE can do to combat this, since the odds of them presenting three hours of all killer & no filler aren't very good. At least it didn't seem so recap heavy this week.

-Of course, I was ignoring all of the Triple H videos. So I guess that could have been an issue.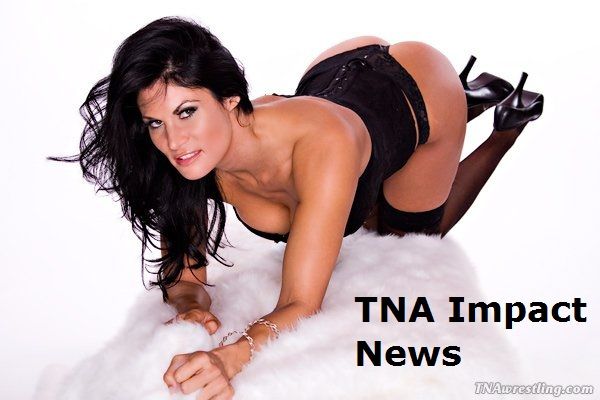 Traci Brooks, my first interview here at 411 just under eight years ago.

TNA viewers were happy to see the Claire Lynch storyline finally come to an end on Thursday night's edition of Impact. Sure, the conclusion was hardly satisfying, but I think it's just one of those things that you never speak of again and just move on. Like The Wrestling News Experience.

Julia Reilly, who played the role of Claire Lynch, immediately quit TNA after her identity was discovered online and wrestling fans began bombarding her various social media sites with hateful messages about her acting & her character. Apparently Julia was shocked that wrestling fans figured out who she was, and was also surprised that they wouldn't think much of her acting ability. That's what happens when you enter the wrestling business and don't know how wrestling fans roll. Honestly, we don't like much of anything. Reilly could have been the next Jennifer Lawrence and there still would have been plenty of haters.

I'm not defending the people that felt it was necessary to bombard her with hateful messages, but something tells me she's not going to make it very far in acting if she can't handle some Internet vitriol. Well, actually, the fact that she's been acting for fifteen years and her biggest break so far was playing a crack whore on a wrestling show tells me that she's not going to make it very far in acting.

TNA management was shocked that Taryn "Tiffany" Terrell didn't get much of a reaction from the Impact Zone audience when she made her debut. Their reasoning for this was the fact that most ex-WWE people get a great ovation whenever they make their first appearance in the Impact Zone. I think they failed to realize that nobody watched WWECW when she was the General Manager, and when she became a wrestler later people used her matches to go to the bathroom. Of course nobody recognized her! It didn't help that the crowd had been lulled to sleep by Brooke Hogan just before her entrance.

Heck, the wrestlers backstage didn't know who she was! Apparently that led to a series of conversations where people would ask who she was, ask "Wasn't she the crazy one?", and then say "She's still hot." It's true, ladies. Be as crazy as you want and as long as you're hot we'll put up with it. Of course I'm sure you realized this sometime around puberty, so it's not like I'm breaking news here.

Christian will be appearing at TNA's Bound For Glory PPV. He will be inducting Sting into the TNA Hall of Fame and appearing on the PPV event in some capacity. This is part of the deal that WWE & TNA made in order for Ric Flair to appear at the WWE Hall of Fame ceremony earlier this year. Christian must think it's cool that he's considered equal to Ric Flair in somebody's eyes, but he's probably also wondering where his push went since this whole thing went down.

Some people within TNA thought they should have gotten Flair to induct Sting, and that would have been a smashing idea when he was still with the company. Since he's not last I checked, that ain't happening.

TNA's newest broadcast journalist is none other than Eric the Midget of the Howard Stern Show Wack Pack. Eric will be part of the TNA Today web series as a pay-per-view analyst. I was reading Eric's Wikipedia page, and was pretty amazed at some of the physical issues he's had in his life. He's got dwarfism, a club foot, stork bite & gnarled fingers. The man has to suffer through each and every day.

No, I wasn't going to say anything about how that suffering would have prepared him to watch TNA pay per view events! That wouldn't be very nice! How dare you think I would stoop so low…

I still have to question the idea since Eric has a halting voice pattern and was disallowed to host shows on Stern's Sirius radio channel due to the fact that he couldn't sustain a discussion or express thoughts. Obviously TNA's not too concerned about this, and it's tough to blame them since he's just doing a segment on their online show that doesn't reach nearly the audience that Impact does. If they put him in the booth to replace Taz, then they've got some problems.

Mickie James will not be on Impact this week because she's doing a concert in her hometown of Richmond, Virginia to celebrate her birthday. I don't know why she's not on Impact other weeks, unless it's part of my theory that TNA is trying to make their Knockout matches worse so when Brooke Hogan wrestles at Bound For Glory it won't be as bad in comparison. It'll still be bad, but peoples' standards will be lowered so much that they won't mind.

I have a similar theory about the WWE Divas matches getting worse and worse so that when Sara Del Rey comes in she'll look 10,000 times better in comparison. I consider this more wishful thinking than a theory.



Trina Michaels, who is determined to prove my statement that she probably won't make it in one of the major promotions wrong. I certainly wish her luck.

Masakatsu Funaki defeated Jun Akiyama on Sunday in Tokyo to become the All Japan Triple Crown Champion. Funaki, the founder of Pancrease Fighting Championships and a man that had his first pro wrestling match in 1985, is the fourth person to win world championships in pro wrestling & mixed martial-arts, joining Brock Lesnar, Dan Severn & Ken Shamrock. The forty-three year old Funaki had been out of action for six months this year following an injury to his orbital bone, but came back strong in June and vaulted his way to the championship. The guy thinks he's Melky Cabrera or Bartolo Colon or something.

Ken Shamrock, one of those men who have won a pro wrestling (NWA) & a mixed martial-arts (UFC & King of Pancrease) world championship, wound up in the news for not so great reasons last week. He has been accused of beating up a woman at the mall. It happened when Shamrock saw two women fighting & tried to pull them apart. Somebody jumped on Shamrock's back, so he threw them off his back and knocked them to the ground. At that point, he realized it was a woman.

Yup, when I read this story the first thing that popped into my mind was Peter Griffin:



The woman suffered a slight knee abrasion. Prosecution is unexpected as police believe that Shamrock was acting in self-defense and they figure that everybody thinks they can beat up Ken Shamrock these days so they're taking their shot. OK, I made up that last part. The woman is claiming that there is no way that Shamrock could have thought she was a man, but I suspect that she's fighting the allegation because no woman wants people to think that they look like a man.

Pro Wrestling Guerrilla holds their biggest shows of the year this weekend, as the Battle of Los Angeles goes down on Saturday & Sunday in Reseda, California. You can look forward to all sorts of PWG coverage on the 411 this week, as Greg DeMarco is writing something up for his column & TJ Hawke is organizing a Roundtable of 411's finest to cover the event. Pretty much anybody that's anybody in the indies will be there, but the smart money seems to be on one of the SoCal locals to take the title. Me, I always bet on black.

What do you mean there are no BLKOUT members in this thing? Son of a gun…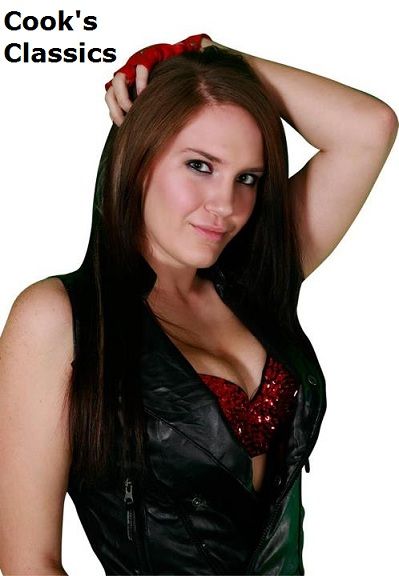 Terra Calaway, former 411 on Wrestling guest & current DeMarcette.

One of my favorite things to do during my time here at 411 has been to give some coverage to people that mainstream wrestling fans don't know a whole heck of a lot about. 411 trends more mainstream than most wrestling sites do, and we have tons of readers that don't watch wrestling that isn't on television. There are writers like Ryan Byers, Ari Bernstein & Greg DeMarco that specialize in indy wrestling more than I do and do a better job of it, but I enjoy getting the chance to write about attending an ROH or CHIKARA show every once in awhile and hope that it exposes my audience to new wrestlers that they might enjoy.

Back on August 29, 2006 I filled in for a writer on a weekly Top 10 column and decided to use the platform to name the Top 10 wrestlers that you couldn't see on television. Since it's almost been six years to the day that I did this column, I thought it would be interesting to see what the men that made the list were up to now. I include some fun quotes from back then to either make myself look good or incredibly dumb, depending on what the situation calls for.

Honorable Mentions: Matt Sydal, Jack Evans, Ian Rotten, Milano Collection AT, Karl "Machine Gun" Anderson

Now: Matt Sydal was the only one of these men to get a permanent gig with WWE or TNA…he had a good run going in WWE until he started flunking Wellness tests. Evans has been in AAA for the past few years while Anderson has been very successful in NJPW. Milano retired in 2010, and Ian Rotten has mostly been inactive as of late while trying to avoid people that he owes money to.

10. Davey Richards

Then: "The one thing holding him back might be his lack of size, but I wouldn't be surprised to see him either in TNA or among the tippy top guys in independent wrestling sooner rather than later."

Now: Davey's been at the top of ROH & has had success in Japan, but is currently more known for holding up a promoter than anything else. He will be back at ROH's Death Before Dishonor show, and it'll be interesting to see how the ROH fans react to him since he'd already been getting a backlash over the past few months.

9. "Sweet N' Sour" Larry Sweeney

Then: "Sweeney has the charisma to go a long way in wrestling before he's done."

Now: Sweeney saddened the independent wrestling scene by taking his own life in April 2011. His greatest exposure took place in Ring of Honor as a manager from December 2006 to April 2009, and many thought that he could help lead a resurgence of the role of the manager. Out of all the wrestling deaths over the history of this column (and there have been way too many), Sweeney's hit me harder than most because he had yet to realize his great potential.

8. Delirious

Then: "ROH seems like a strange fit for a lizard that speaks gibberish, but eventually the hardcore smarks that populate most ROH venues accepted Delirious even if he couldn't do 55 variations of a wristlock."

Now: The guy that people thought was a strange fit for Ring of Honor now spends most of his time as a booker for the promotion. Funny how things work out sometimes.

7. Tracy Smothers & Chris Hamrick

Then: "With these two in the ring, you're guaranteed to get either great wrestling or great entertainment, and usually you end up with both."

Now: Southern Comfort is no more, as Smothers has left the business and Hamrick wrestles in the Carolinas.

6. Nigel McGuinness

Then: "Nigel had a total of one match with TNA and also had a short stint with OVW before leaving, but he's got the skills and charisma to make it big in either of the big two within the next five years. He's in it to win it!"

Now Nigel became one of ROH's top stars and parlayed that into a TNA contract, but medical issues forced him into retirement last year. He is now a commentator for ROH.

5. Mike Quackenbush

Then: "Quackenbush's style combining elements of lucha libre with puroseu and American style wrestling has become associated with the CHIKARA promotion and will be carried on as long as his trainees continue to compete."

Now: Quack continues to train new wrestlers to help CHIKARA grow and it has become one of the most popular indy promotions among diehard wrestling fans.

4. Steve Corino

Then: "Corino isn't the flashiest guy in the sport, and he doesn't have the best physique, but he knows how to put on a damn good match. Which is really all one can ask for."

Now: Corino is a commentator/wrestler for ROH and has been part of some of their best moments over the past couple of years, including the Kevin Steen/El Generico feud & currently being part of Steen's entourage.

3. Necro Butcher

Then: "Necro is often tossed aside by "smart" wrestling fans as just another death match worker, which really isn't fair to him because he's probably the best death match worker in the States right now."

Now: Necro had a stint with Ring of Honor from 2006-2010, but his career has been highlighted by his appearance in the 2008 filmThe Wrestler. His hardcore match with Randy "The Ram" Robinson was one of the turning points in the film and his performance got praise from critics.

2. Chris Hero & Claudio Castagnoli

Then: "Both of these men deserve spots on this list by themselves, but they are listed together because they are the best tag team currently competing in North America."

Now: These men split up for a time, but re-formed their tag team in 2009 and were even better than ever. They both signed with WWE and assumed new names (Kassius Ohno & Antonio Cesaro), and while there are currently not plans for them to perform as a tag team in WWE they did team at last week's NXT tapings in a dark match against CM Punk & Seth Rollins that everybody is dying to see. Perhaps the Kings will reign supreme in WWE.

1. Bryan Danielson

Then: "Danielson's style isn't everybody's cup of tea, as some find his technical wrestling to be a little bit boring. But hell, this is the Internet, where technical wrestling gives us wet dreams and other things too disgusting to talk about in a family column. If you were on the "Benoit is God" bandwagon in the mid-90s, certainly you should be on the "Danielson is God" bandwagon now. It's not a question of should Bryan Danielson get a chance to shine on a national stage…it's if he'll get the proper chance to."

Now: Daniel Bryan is a former World Heavyweight Champion and one of the most over heels in World Wrestling Entertainment. His "YES!" battle cry has become the new "WHAT?". As great as I thought he was in 2006, I didn't think he'd get the chance to do what he's done. Bryan's rise to prominence has been one of the best things I've gotten to witness as a fan of professional wrestling.

Overall Thoughts: I obviously nailed it towards the top of the list. Bryan, Hero & Claudio have all caught on with WWE & Necro Butcher was a freaking movie star. Corino & Quack are happy doing what they've been doing for years. Delirious has become a backstage force, and Davey has become one of the most talked about wrestlers recently, although for not so great reasons. I expected Smothers & Hamrick to not be around wrestling much longer, but the end of Nigel's career was disappointing and there's not much to be said about Larry Sweeney that hasn't already been said.

Who are the ten best wrestlers not on TV now? That sounds like a question for one of the many list writers we have!



Taeler Hendrix, multi-time 411 on Wrestling guest & current developmental TNA Knockout, along with fellow OVW wrestler Heidi Lovelace.

You can write for 411mania.com! Yes, you!

The Ocho featured Trent Howell & I talking baseball with Andy Critchell & the cancellation of UFC 151 with Mark Raudlich! We'll be back this Thursday at 8:30 with one last general sports show, then we'll be going fantasy football-heavy throughout the NFL season. The success of the show has exceeded our expectations thus far, and we're hopeful that will continue.

I stepped back into the MMA Fact or Fiction cage to take on host Wyatt Beougher!

Wrestling Fact or Fiction featured Michael Ornelas & James Wright talking about the latest & greatest wrestling topics!

Sforcina mentions boobs in the title to get attention. He learned from the best!

Weyer shines a spotlight on SummerSlam.

The staff ranks their top 5 TNA stars. LOL Byers.

Jeremy Lambert & I will be doing an NFL Preview Podcast tonight! It should be up on mancavethoughts.com sometime tomorrow, and while you're there you should check out all of Lambert's columns & podcasts with other people too. They're…good times!

Well, that's a wrap for this run of News From Cook's Corner! Nick Marsico will be in tomorrow with the Wed Wi, and I'll still be around 411 with Wrestling Fact or Fiction, the 411 on Wrestling and probably other things as well! Until then…


The Voodoo Penguin made us a video. I can't think of a better way to go out.
comments powered by