SPOTLIGHTS
411 Roundtable Preview - PWG Battle of Los Angeles 2012
Posted by TJ Hawke on 08.31.2012

The 411 Staff sit down to predict one of the biggest independent wrestling tournaments of year! Will someone like El Generico or Davey Richards win the tournament again, or will we see someone new like Willie Mack, Brian Cage, or Sami Callihan take home the big trophy?




Introduction
While there are many major annual independent wrestling tournaments, perhaps the most prestigious singles tournament is the Battle of Los Angeles promoted by Pro Wrestling Guerrilla. Started in 2005, the tournament has been won by some of the top names in all of wrestling, including Davey Richards (2006), CIMA (2007), Low Ki (2008), Kenny Omega (2009), and El Generico (2011). This year's tournament, as usual, is stacked with some of the top names in independent wrestling. This staff preview features predictions for all the first round matches that take place on Night 1, and then there are some general questions about Night 2.

This year's tournament takes place on September 1st and September 2nd in Reseda, California. You can still buy tickets for the events right here.

The Staff

Ari Berenstein, The Column of Honor

Jake St. Pierre, Guerrilla Reviewfare & Zen Arcade Reviews

TJ Hawke, Views from the Hawke's Nest

Steve Cook, 411 Wrestling Fact or Fiction

Dimitri Dorlis, Hidden Highlights & TV Rants & Raves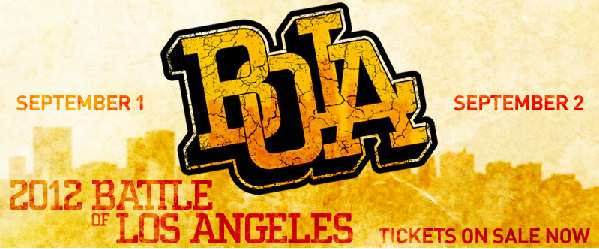 Adam Cole vs. El Generico


Ari Berenstein: This match sounds great on paper and will likely be even better in reality. Adam Cole is taking a more heel approach during his 2012 PWG dates and that is arguably his stronger performance role despite taking on the white-bread babyface role in ROH. He has a great person to play off against PWG's beloved El Generico, who almost never has a bad match, especially in Reseda. Both men have great athleticism and joined with Cole's swagger and heel tactics it would be a good estimation that anything they do will be well received by the Reseda faithful. Heck, it's good odds they would be well received if this was the only match announced as taking place on this show and these guys went at it for three hours.. An Adam Cole win would be a huge upset in PWG, but while I wouldn't rule it out, Generico has a lot of great potential match-ups in follow-up rounds, so I see him advancing into the Quarter-Finals.

Winner: El Generico

Jake St-Pierre: Adam Cole has been tearing it up in PWG with partner Kyle O'Reilly (RESPECT!~!) but hasn't wrestled on his own in PWG yet. Due to his lack of establishment in the PWG singles climate, you'd have to think that Generico picks this one up, albeit in a great match.

Winner: El Generico

TJ Hawke: It's amazing that this match never once happened in Ring of Honor when both men were on the roster together for about 18 months. I've seen these two have one good match at IWC, but I expect this to be a great match. I also expect a Future Shock tag match on Night 2, and it's probably for the best that Generico have as many matches as possible this weekend.

Winner: El Generico

Steve Cook: Generico has been on fire this year from all accounts, even though he doesn't have a contract with anybody and seems to prefer it that way. Cole has been one of the fastest rising stars in the indies this year and I'd expect him to have a fantastic showing against Generico. I'm taking Generico here because he's been one of PWG's top stars for ages and Cole hasn't really been pushed on that level.

Winner: El Generico

Dimitri Dorlis: Cole has yet to be in a singles match in PWG so far, and the fact that it will be the Panama City Playboy rather than Future Shock Cole that comes to this tournament should be exciting, and I think he'll get over like gangbusters. That being said, Generico is a three-time PWG Champion, and one of the most popular wrestlers in the company. Cole will put up a hell of a fight, but I have to go with the Generic Luchador here.

Winner: El Generico

Staff Pick: El Generico (5-0)



Davey Richards vs. Michael Elgin





Ari Berenstein: Well, well, well. This is Davey's first major appearance for PWG since his recent Mid-West controversy with him and the rest of his crew walking out of an independent show after taking the pay. That stunt backfired on them big time and my estimation of Richards definitely took a spill because of it. I guess the big question, as with any future Richards appearance in 2012, will be if PWG decides to use that notoriety in the booking of the match. Moreover, it should be interesting to see if the fans will bring it up or if Richards himself will address the issue either before the match in a promo or during the match by working heel against Elgin. The events of last month takes a match that has already delivered in Ring of Honor (what some called a five-star match at Showdown in the Sun) and changes the context-instead of refocusing on delivering the in-ring work that worked so well in that ROH match, both might choose to take the psychology of recent months and incorporate that into their match. Whether or not that would be appropriate is a debate one could have as well.

Winner: Davey Richards

Jake St-Pierre: I know it won't be Showdown in the Sun, but these two have great chemistry with each other and will obviously put on a great match. As much as I've soured on Davey ever since that stupid Team Ambition (ugh) thing and his shoot interview, he still can tear it up in the ring with a lot of guys. Elgin could be a surprise advance here, so let's go with him...mainly out of bias, but also out of a hunch.

Winner: Michael Elgin

TJ Hawke : I can't help but be slightly disappointed by this booking. While I expect this match to be great, ROH rematches are the PWG matches that I usually get the least excited for (besides Joey Ryan matches obviously). These guys had a genuine MOTYC in Ring of Honor this year, and I don't see them topping themselves here. I think there is a possibility that Davey wins this match, but I'm going with my gut.

Winner: Michael Elgin

Steve Cook: We all know that these two delivered one of the indy matches of the year, but can they deliver on that again? I have a feeling the hype will be a bit too high, and we don't really know what to expect out of Davey or his crowd reaction. This should be an interesting one to watch though it won't get as many snowflakes. I think Elgin gets the nod in this rematch of a match in another promotion.

Winner: Michael Elgin

Dimitri Dorlis: This is Davey's first match in PWG since Kurt Russellreunion back in January. He was scheduled to face O'Reilly at World's Finest, but left for Japan a week before the event and got replaced by Alex Kozlov (that seems to be a theme for Richards on the indies this year, but that's another story). Meanwhile, Elgin picked up a victory over Callihan at Threemendous III, and I see him being a player in PWG in the future. A win over a former PWG champion, and the man who beat him in that five-star match during Wrestlemania weekend, should help get him over tremendously.

Winner: Michael Elgin

Staff Pick: Michael Elgin (4-1)



Kevin Steen vs. Ricochet





Ari Berenstein: This match in 2012 means a lot, especially considering Steen is at the top of the charts right now in multiple promotions including PWG and Ricochet has essentially matured into a more complete wrestler who still has a penchant for completely stealing the show. The in-ring (and out-of-ring) action could be very insane--Steen's penchant for physical and brutal violence and Ricochet's speed and high-flying insanity gelling together to form perhaps THE ultimate big-man vs. small-man style match that isn't Steen vs. Generico.

Kevin Steen's status as current PWG champion needs to be considered in the equation, so one should expect either one of two things to happen—Steen runs through the field to get to the finals again, or he loses a match in an upset fashion and finds himself a new challenger for the title. I think Ricochet could be that potential new and exciting challenger, even though PWG has been pushing the likes of Willie Mack and Brian Cage as the local talent rising up to try to get to that main-event spot. This is actually one of the more difficult predictions, because Steen going through could lead to a rematch versus Generico and that never disappoints. However, Ricochet winning here could mean a lot for him in PWG-but it would have to be followed up by him getting to at least the finals, and I don't know if that will happen.

Winner: Kevin Steen

Jake St-Pierre: If you ever wanted a clash of styles, this match is your friend. It's certainly not a match I've seen before, but the intrigue wears off when you figure out how predictable the result is. It'll still be insanely fun, so no harm done.

Winner: Kevin Steen

TJ Hawke : Now, these are the types of matchups that make me love PWG. With ROH and DGUSA still in a bitter WB TV show feud, these types of matchups are rare to come by (at least in any prominent place). I envision these two have insane chemistry, and I would not at all be surprised to see these two have the best match on Night 1. I wouldn't mind if Ricochet won, but Steen should probably only lose to his very next World Title challenger (which will likely not be Ricochet).

Winner: Kevin Steen

Steve Cook: Poor, poor Ricochet. He isn't sure what the name of this tournament is, and he drew Kevin Steen in the first round. At least if he survives with his life he's got that Dragon Gate stuff to fall back on.

Winner: Kevin Steen

Dimitri Dorlis: Man, I love both people in this match, but I'm not sure I can get into this match like I can in the other ones. Yeah, it should be an amazing match, but I can't see Kevin Steen losing this, what with him being the current PWG Champion and having a current storyline with Willie Mack and Brian Cage. Actually, that storyline might be the only way Ricochet wins this match, especially if Brian Cage comes out and screws Steen over, but I'd say a Steen victory is more likely here.

Winner: Kevin Steen

Staff Pick: Kevin Steen (5-0)



Kyle O'Reilly vs. Eddie "Eddie Edwards" Edwards





Ari Berenstein: I think by now most independent wrestling fans who have checked out matches involving these two know what they are capable of in terms of their in-ring style. They gelled very well together in some ROH matches in late 2011-early 2012 and I have no doubt they will bring it here in this tournament as well.

Winner: Eddie Edwards

Jake St-Pierre: These two had a pretty crappy feud in ROH, but they both are varying degrees of good, especially Eddie. Both of these guys know how to turn out a good match when needed, but I doubt they'll go as hard as I want them too. You can't win 'em all. I think since Adam Cole is going to lose his match, it'd be good for O'Reilly to advance, since Eddie isn't doing shit in PWG and O'Reilly has been on fire.

Winner: Kyle O'Reilly

TJ Hawke : Much like Davey/Elgin, I'm a little disappointed that PWG booked this matchup. I'm sure the match will be very good, but it's not a matchup that excites me very much. As I said earlier, I expect Future Shock to have a tag match on Night 2, so I'm going with EEEE.

Winner: Eddie "Eddie Edwards" Edwards

Steve Cook: It's a shame both of these guys are in the same match, because Richards/Edwards/Cole/O'Reilly would be a perfect team for the Night 2 8-Man Tag Team Match. Can't say I'm a huge fan of either guy, but Edwards has more experience and better business sense.

Winner: Eddie Edwards

Dimitri Dorlis: I can't stand O'Reilly. No idea why, but I think it's mostly because he comes off as a poor Davey Richards clone. Judging from their previous encounters, this match should be pretty good, but Edwards is the obvious choice here.

Winner: Eddie Edwards

Staff Pick: Eddie "Eddie Edwards" Edwards (4-1)



Sami Callihan vs. Willie Mack





Ari Berenstein: This combination brings fans the Indie darling of the Northeast and the Mid-West (and specifically DGUSA and EVOLVE) matching up against the indie darling of West Coast, specifically PWG. Some question the praise both men receive, but when they deliver again and again in matches over the last year, that questioning tends to have its answer given loud and clear. I am a big fan of Mack, in particular, and he has quickly become one of the better big men on the independent scene by fusing that style with a more aggressive impact and flying offense. What Mack can do has amazed and turned non-believers around quickly. Sami has taken some sickeningly stiff shots in his matches and keeps on going. Put them together and you have a hell of an in-ring story to tell. These going at it blow-for-blow is going to be damned exciting to see.

Winner: Willie Mack

Jake St-Pierre: Another obvious (for me, at least) result in this tournament, but given how great Sami Callihan has been, he'll turn out an amazing performance even in defeat. Willie Mack just lost a PWG World Title match and is looking to get back in the hunt, and having a barnburner with Sami Callihan all while winning is the way to go about it.

Winner: Willie Mack

TJ Hawke : Unless Callihan's signing with the WWE is imminent, I will be very disappointed if he loses this match. Willie Mack just got a World Title shot, and he doesn't need to win BOLA in any way, shape or form, to be considered a main eventer in the company going forward. He just needs to have better singles matches, and he will be just fine. Callihan has lost his first three matches in PWG, and I think this weekend should be all about setting him up for a rematch with Kevin Steen for the PWG Title.

Winner: Sami Callihan

Steve Cook: I haven't seen a whole lot of Willie Mack but apparently this guy's supposed to be the next big star of the West Coast and should go far in this tournament. A win over Sami will help establish him further as a threat.

Winner: Willie Mack

Dimitri Dorlis: I'll admit that I wasn't much of a Sami Callihan fan, but his two appearances in PWG have turned me around. The only sad thing is that he hasn't picked up a win thus far in the promotion, and unfortunately, I can't see it being here. Willie Mack has been on an absolute tear since last year (you can probably point at his upset win over Chris Hero at last year's BoLA as the start) and finds himself in a high-profile feud with Brian Cage and Kevin Steen revolving around the PWG Championship. Mack wins here, but I wouldn't rule out an appearance by one Brian Cage before the match is over.

Winner: Willie Mack

Staff Pick: Willie Mack (4-1)



Joey Ryan vs. TJ Perkins





Ari Berenstein: Perkins has been MIA from ROH in recent months, but PWG has been a home to him going back almost to the beginnings of the promotion, when he wrestled under the mask as Puma and later took on the nickname of "Pinoy Boy". Joey Ryan is very entertaining in all of his heel glory, whether as the slimy Magnum P.I.-inspired sleazy man, the "technical wizard" or his "Hollywood" personas. Together these two should put together a very good match even if it doesn't have the "luster" of other more "big name" pairings in the opening round. I have a feeling there should be an upset in the opening rounds, and TJP taking out a former BoLA tournament winner in Ryan sounds like just the ticket.

Winner: TJ Perkins

Jake St-Pierre: I love Joey Ryan, but since every indy company in existence seems to love TJP, I'm inclined to think he'll win. It will more than likely be the weakest match of the tournament due to both men not being as good as the other participants, but don't expect to dislike it. Let's just say TJP wins and does something worthwhile.

Winner: TJ Perkins

TJ Hawke : In 2012, it's nearly impossible for me to get excited for Joey Ryan matches. These guys have probably worked together a lot before though, so I expect this to be just fine. I'm just not interested in it. My prediction is probably wishful thinking, but I'm an eternal optimist.

Winner: TJ Perkins

Steve Cook: Both of these guys have been around PWG for ages and the fans know exactly what to get with them. Ryan is higher on the food chain so he has to be considered the favorite here, and it gives him a chance to win a match with a Tazmission or a Snow Plow to continue his TNA Gutcheck storyline.

Winner: Joey Ryan

Dimitri Dorlis: Joey Ryan is the worst wrestler god why is this company still employing him. All kidding aside, I love Joey Ryan (dude did me a solid and saved me a Legalize Sleaze t-shirt during Threemendous III) but between his looming date with TNA and his current losing streak, this seems like the perfect spot for an upset. On the other side is TJ Perkins, who has put on some impressive matches in the promotion as of late, and even managed to win me over, as I used to hate the guy. I think Perkins pulls off the upset and moves on to round 2.

Winner: TJ Perkins

Staff Pick: TJ Perkins (4-1)



Roderick Strong vs. Drake Younger





Ari Berenstein: Drake Younger doesn't get as much run and attention as he did a few years ago when he was making waves with CZW, but he may actually be a more "complete" package now. Strong is Strong, and at this point he has just as strong (did it again) a history with PWG as he does working with ROH. He is a perennial contender at DDT4 and BoLA tournaments and his incredibly strong (one more time) efforts in the ring bear that out. I am actually heavily looking forward to this bracket and really look to see the physical styles of these two mesh well against each other. It should be entertaining, and if it sets up at a good pace, one of the highlights of the evening.

Winner: Drake Younger

Jake St-Pierre: I'm in a bit of an odd position with this one, as I've not yet seen Drake Younger wrestle. At the time of this writing, my pre-order of Threemendous III has not been shipped yet, so my exposure to him is non-existent. However, I heard great things about his match with B-Boy so I'm willing to bet he'll have another barnburner, but then again I've heard bad things about Drake Younger as well, so who knows. Roddy wins in another no-brainer.

Winner: Roderick Strong

TJ Hawke : Roderick Strong needs to be freshened up as far as I am concerned. He's still having "good" matches wherever he goes, but he's definitely missing something right now. Younger meanwhile is becoming something of a hot name again, but I've somehow still not seen any of his matches since November 2010 (Evolve 6). Younger reportedly got over big time in his PWG debut in July, but until I see this new and improved Younger for myself, it's hard for me to get excited for his matches.

Winner: Roderick Strong

Steve Cook: Strong has a long history of coming up short in this tournament and I think it happens again to him here, but not before he gets a first round victory. Given Strong's tendency to chop people really hard & Younger's ultraviolent past, this has some sleeper potential for the hardest-hitting match of Night 1.

Winner: Roderick Strong

Dimitri Dorlis: It's hard to bet against Roderick Strong in PWG tournaments - he's been to the finals of BoLA twice, and the finals of DDT4 three times. He's been on a bit of a slump as of late, with loses to Willie Mack, Masaaki Mochizuki, and a first round exit in last year's BoLA at the hands of Eddie Edwards. Meanwhile, Drake Younger put on a hell of a showing in his first appearance in Reseda, California, and I mean a HELL of a showing. The dude was taking all sorts of insane bumps and got over like gangbusters. That being said, I think Strong goes over here, but look for Younger to look like a million bucks.

Winner: Roderick Strong

Staff Pick: Roderick Strong (4-1)



B-Boy vs. Brian Cage





Ari Berenstein: B-Boy is another stalwart of PWG shows and like TJ Perkins his appearances have been off-and-on going back to the promotion's early years. He's solid enough in the ring, but has always missed the x-factor with a "b-boy" or gangsta-influence character that a guy like Homicide brought to the table. Again though, a solid guy to use and there is nothing wrong with booking him as a part of the tournament. Meanwhile, Brian Cage has been a journeyman for much of his career, including stints in OVW and other WWE developmental promotions. However, he has been praised as of late for picking up his game this past year in PWG. His Wolverine-influenced mutton chops and X-Men tributes do not go overlooked or unappreciated with me. Some of the PWG faithful I've consulted with seem to think this could be his tournament to win or at least place very well. All that thrown into consideration he should make it through the opening round.

Winner: Brian Cage

Jake St-Pierre: I don't know if this match is going to hold up to the rest of the show, but damned if it isn't going to be entertaining. Cage is an absolutely insane athlete and B-Boy can bring it too, so I have high-ish expectations. I don't see a logical reason for B-Boy to advance here, given how hard Cage has been pushed this year.

Winner: Brian Cage

TJ Hawke : These are two guys that everyone else is seemingly much higher on than me. Both are good wrestlers, but they just aren't guys I am especially excited to see in singles matches yet. They're both much more over in Reseda than they are with me though, so I imagine the match will have to be fun.

Winner: Brian Cage

Steve Cook: I'm not all that familiar with Cage, but PWG fans seem sold on him as a future star in the company. Will that be enough to overcome a veteran like B-Boy that's making his first BOLA appearance? Probably, but for the sake of my predictions later I'm going against that logic.

Winner: B-Boy

Dimitri Dorlis: This is probably the most intriguing matchup in the first round, and one with possibly the most amount of hype. After Threemendous III, Brian Cage became one of the favorites to win the tournament, but B-Boy cut an amazing promo discussing the fact that this is his first BoLA, and suddenly you have what will, most likely, main event night one. B-Boy has been with PWG since the first show, and it looks like he's going to be on a mission to try and capture the PWG Championship in the future. That being said, Brian Cage has been on a meteoric rise ever since his attempt at the title at Death to All But Metal. At the time, having Cage challenge so suddenly seemed like a weird choice, but it's paid off brilliantly, and PWG suddenly has a hot feud to carry through the rest of the year. Cage wins here, but I wouldn't be surprised if there are shenanigans aplenty.

Winner: Brian Cage

Staff Pick: "Mr. Get My Shit In" Brian Cage(-Taylor) (4-1)



Overall Thoughts on Night 1



Ari Berenstein: First of all, I look at this roster line-up for Battle of Los Angeles 2012 and think to myself, therefore but the booking team this could be a great roster for Ring of Honor. Let's face it, right now PWG is everything ROH used to be and should be right now, and guys like Willie Mack, Drake Younger, Joey Ryan (putting aside his TNA commitments), Brian Cage and others on the PWG roster (Super Smash Brothers) deserve at least to be looked at if not considered for usage in that promotion. However, that's not the case and instead they are booked for this weekend in Reseda, and the result should be yet another successful tournament for a promotion that always seems to do tournaments well. In fact, it could be argued that PWG does tournaments better than anyone on the independent scene, even more so than CHIKARA.

I look at the opening round tournament bracket for this year's Battle of Los Angeles tournament and think to myself—wow, this is match-after-match featuring combinations of wrestlers that I want to see on a wrestling show. At least six of the eight matches, on paper, are exciting "buzzworthy" combinations that seem guaranteed to deliver on the promise of the talent involved in the ring. The other two matches, Ryan vs. Perkins and B-Boy vs. Cage, are more typical pairings of what I would expect from previous PWG shows, but even now in 2012 have the potential to be at least very good if not as great as the others. Overall, the strength of the brackets, which does lie in a majority booking of the "dream match" pairings that we haven't seen too much of these days around the independent scene, could lead to one of the single best opening rounds in BoLA history.

Jake St-Pierre: This is going to be an awesome start to the tournament, as you have several new, fresh matches between the best workers on the independent circuit. Add that on with a usually rabid Reseda crowd and you've got another $15 to spend.

TJ Hawke : While there are a couple of first round matchups that I am not excited for, overall, this looks like a tremendous night of professional wrestling. Every match should at least be good, and there are a couple of matchups that sound great on paper. I cannot wait to watch this show.

Steve Cook: On paper this looks like one of the best indy cards of 2012. The BOLA usually delivers and I expect the same here. Generico vs. Cole feels like the strongest choice for MOTN, though Richards vs. Elgin could catch lightning in a bottle again.

Dimitri Dorlis: If there's one thing you can say about PWG shows for the past few years, it's that they're rich in quality, and this is no exception. There are a few matches that will be technical wonders (Richards/Elgin, Edwards/O'Reilly), some hard-hitting brawls (Callihan/Mack, Strong/Younger) and some outright fun matches (Cole/Generico, Steen/Ricochet). The weakest match looks like Joey Ryan and TJ Perkins, and even that should be great. But the best part is the fact that every single competitor in this tournament deserves to be here. In the past there has been some filling in with lesser names, while last year the tournament was trimmed down to 8 competitors. This year there's 16 people, and each one of them makes sense. Yeah, I'm bummed that Reseda favorites like Chuck Taylor and Scorpio Sky aren't on the show, but I don't know who I would take out to put them in (I mean besides TJP, who hasn't won a match in forever, but still).



Night 2 Match You Would Most Want to See (Doesn't have to be a tournament match)



Ari Berenstein: Of the eight men I have left in the tournament, the most interesting and freshest match I could think of would be either El Generico vs. Drake Younger, or Willie Mack vs. TJ Perkins, both of them more "mid-card" bouts given the likes of Richards, Steen and Edwards in the field, both also unique and interesting combinations of wrestlers. I think either of those matches would be a lot of fun and entertaining, which is the name of the game. Also, put me in for the traditional eight-Man PWG tag match involving the non-advancing tournament participants, with Sami Callahan and Adam Cole heading up respective teams.

The Match: Generico vs. Younger; Mack vs. Perkins

Jake St-Pierre: Since I predicted that both Sami Callihan and Adam Cole would lose their matches, my pick for special match at Stage 2 of BOLA would be a single's match between the two. They know each other extremely well (watch Wrestleholics) and have wrestled numerous times, so it's a surefire cracker (that's not a pale skin joke to Sami) of a match.

The Match: Adam Cole defeats Sami Callihan

TJ Hawke : If you don't know much about PWG, they really aren't into doing storylines or even rivalries (they average maybe one per year). So, one of the reasons I love the promotion is that they put on unique independent wrestling matchups that for one reason or another, can't easily happen anywhere else. I'm sure Davey and Ricochet have wrestled each other somewhere in the last 18 months (ie: since Ricochet became great), but I haven't seen it anywhere, and I would love to see what would happen if these two met in front of the molten PWG crowd. I wouldn't say this match is likely to happen as a non-tournament match though, so my expectations for this match happening are pretty much non-existent.

The Match: Davey Richards vs. Ricochet

Steve Cook: PWG has the chance to put on a match that will likely main event ROH's next show in Canada, as Michael Elgin will be receiving a title shot then and Kevin Steen should still be the ROH Champion unless somebody in ROH management loses their mind (always a possibility). The prospect of Steen vs. Elgin intrigues me because Michael Elgin is one of the few guys on the indy circuit that can easily be sold as a physical threat to Steen.

The Match: Kevin Steen vs. Michael Elgin

Dimitri Dorlis: I'll go with the obvious answer to the folks in Reseda, but I'd also like to see a number one contenders match to the Tag Titles involving the RockNES Monsters, to further their new heel personas in the company. Anyway, ever since Threemendous III, one of the biggest matches the folks in Reseda have been clamoring for is Willie Mack vs Brian Cage. They're both up-and-comers with relatively similar career paths in PWG, and suddenly find themselves in a feud against each other while they both go after Kevin Steen's PWG title. PWG doesn't do feuds very often, but the ones they do tend to be very good, and these two have the potential for something that could turn into a blood feud of the highest quality.

The Match: Brian Cage vs Willie Mack



The Wrestler that SHOULD Win BOLA



Ari Berenstein: Willie Mack is the homegrown PWG talent that is fan-friendly, exciting and entertaining to watch in action. He has risen from opening card talent to a feature-attraction in the promotion. Absolutely, he should be featured in other major independent promotions. It should be interesting to see if Mack and Steen cross paths again in this tournament, and if he defeats Steen during the Semi-Final round or the Finals then it will help add credibility to a future title match (the winner of the tournament receives as a prize the ability to request any match of their choosing, usually a title bout).

Winner: Willie Mack

Jake St-Pierre: Willie Mack is the only choice to win this. I'm sorry, but it's true. The Chocolate Juggalo (ugh) has been pushed harder than anyone in PWG and just lost a title match, so the best way for him to gain one more shot (and win said title at year-end show) is to go through a grueling tournament like BOLA and prove he isn't a joke. Mack is something special and this tournament will prove it to any doubters.

Winner: Willie Mack

TJ Hawke : Another thing that I love about PWG is that they often take advantage of Ring of Honor's shortcomings when it comes to who gets booked or who gets pushed. Well, Ring of Honor has been completely dropping the ball with Michael Elgin since he got a tremendous amount of buzz from his main event against Davey last April. This slow burn bullshit feud with Roderick Strong (which hasn't officially started yet!) is so fucking stupid. I would love for PWG just to shoot a rocket up Elgin's ass this weekend and let him show what he's capable of when a booker just gets out of his way.

Winner: Michael Elgin

Steve Cook: Can you believe this is B-Boy's first BOLA appearance? I can't, the guy's been one of the top West Coast indy wrestlers for at least a decade and regularly competed in PWG in the mid-2000s. What better way for B-Boy to finally debut on this stage than by winning the whole shebang?

Winner: B-Boy

Dimitri Dorlis: The crazy thing about this year's BoLA field is that I can think of a way for any of the competitors to win the tournament. Certainly there are some names that don't have as much of a chance (TJP, Ricochet, past winners such as Joey Ryan, Davey Richards, and El Generico) but the chance is still there. Meanwhile, some of the new faces like Callihan, Elgin, and Younger could use a BoLA win to solidify their place in the promotion. In my fantasy booking, though, Mack and Cage take each other out in the first round, opening the door for the wildcard B-Boy to take BoLA and upset Kevin Steen later on down the line, throwing a new wrinkle in the storyline surrounding the PWG title.

Winner: B-Boy

Staff Pick: Willie Mack (2 Votes), B-Boy (2 Vote), Michael Elgin (1 Vote)



The Wrestler that WILL Win BOLA



Ari Berenstein: Though there are many good possible options I think the PWG bookers know what they have right now in Willie Mack and will follow through on that to make him the winner of the 2012 Battle of Los Angeles.

Winner: Willie Mack

Jake St-Pierre: For a promotion that has so little story to actually book, this is the one thing they need to do right.

Winner: Willie Mack

TJ Hawke : While I am disappointed that Elgin is likely not going to win this tournament, my official prediction for the winner has me quite excited too. PWG likes to be unpredictable, and while everyone seems to be expecting Brian Cage or Willie Mack winning this tournament, I just don't think (OK, and I also hope) that is not going to happen. While I have not been driving the Sami Callihan bandwagon these last couple of years, I do think he's turned into a very good wrestler and he could have lots of great/unique matches this weekend. I also think his match with Steen left plenty of room for a rematch this year, and I would love to see this weekend lead to that happening.

Winner: Sami Callihan

Steve Cook: Kevin Steen skipped out on a Louis C.K. comedy show to wrestle in this tournament. Do you think he would have agreed to that if he wasn't winning? Child please. Add in his general dominance of the indy scene over the past year or two, and this is a pretty easy choice.

Winner: Kevin Steen

Dimitri Dorlis: But even though I said everyone has a shot at winning, only three people really have the best opportunity, and that's Willie Mack, Brian Cage, and Kevin Steen. Of the three, Steen needs the win the least, but if he puts his PWG Title on the line throughout the tournament (note: he didn't do this last year, so I don't see him doing it this year) then he probably has the best shot at winning. But since I don't think he will, I'll go with Mack defeating Steen in the semifinals, only to lose to Brian Cage in the finals. That way everyone gets a big win, Cage gets a win that really proves he belongs in the top spot of the promotion, and Willie has some motivation to earn a title shot by the end of the year.

Winner: Brian Cage

Staff Pick: Willie Mack (2 Votes), Sami Callihan (1 Vote), Kevin Steen (1 Vote), Brian Cage (1 Vote)




Thanks everybody for reading and thanks to all the staff that participated! You can send feedback to my Twitter or at my email address: Shabang728@gmail.com. Also, check out my site: FreeProWrestling.com .







For more information on PWG, check out their:
Facebook
Twitter
DVD Store
Youtube Page


comments powered by