SPOTLIGHTS
The 411 Pro and Con 9.02.12: CM Punk's Heel Turn
Posted by JP West on 09.02.2012

CM Punk is a changed man, and according to Jerry Lawler, he has turned his back on the WWE Universe. But what have you thought of CM Punk's heel turn thus far? 411's JP West examines…

What's up Internet peeps? Starting a new weekly article on 411 where I'll be breaking down a major angle(s) happening in the world of pro wrestling. It'll likely evolve each week as I get into a groove. Hope you all find it enlightening, if not, screw you! Jokes, jokes. Right now, it's a pretty easy concept to wrap your brain around. Nothing in WWE or TNA is ever perfect (except for Mr. Perfect), so I'll point out why I think it's awesome, and why I think it might suck.

Chapter 1: Punk's Heel Turn

THE CONS (WHY IT SUCKS…)




To start this off, I'm a big time C.M. Punk fan. Face, heel, tweener, he's a talented dude. His in-ring work is off the charts, and his mic ability is second to none in the WWE. I also think his best works comes as a heel. All that said, I'm not buying into the current Punk heel turn concocted by the E.

It just feels forced so far. He went from savior to the masses (sup Sandow?), to voice of the voiceless, to typical WWE babyface… to respect demanding heel? It's like John Cena becoming the Miz, thus far it hasn't sit well for me. I'm not entirely against a heel turn, but the progression for it doesn't make a whole lot of sense. Michael Cole reminds us every week about how far along his WWE title reign is… 274 days, 12th longest all-time, blah, blah, blah. So he's on top of the world, beaten everybody from Bryan to Cena, had all of the fans behind him, and now he's out seeking respect? It just doesn't seem to be coming from a place of logical thought.

It worked when he was discussing never main eventing PPV's, I always thought that was being written for a purpose. However, I assumed the reason would be that there's still puppeteers behind the scenes, pulling the evil heel strings in the WWE… but rather than look at it from that perspective, they had him single out John Cena. Hey, I'm not going to argue against anyone hating on Cena (the character), screw 'em! But, for me to seriously believe that Punk would blame him for not being booked in main event spots makes you think Punk has no idea how the business works.




And despite him, "turning his back on the WWE Universe", he was still getting cheered! And not just by marks, but by seemingly the majority. So rather than take advantage of a tweener role (which WWE seldom does anymore) and directing him down an Austin 3:16 route… they had him beat up on Jerry Lawler. Not just beat up, freaking demolish. It's like written into the E's holy scripture, if all else fails in a heel turn, have the guy destroy J.R. or The King. Now, there can be no doubt, Punk is 100% dastardly villain.




So now what? Does he drop the title to Cena in coming months? Will he make it to Royal Rumble to face The Rock? I can't see this version of heel Punk keeping the title for more than 2-3 more months. Really doubting he holds the strap until Rumble time. My biggest fear in all of this, is what WWE does with every single major heel after a Cena feud. He'll lose the belt, then run a few programs with guys like Sheamus, Randy Orton, then be completely lost in the shuffle of the hundred other heels they have.

----------------------

THE PROS (WHY IT'S AWESOME...)




Stated earlier, I believe Punk's best work comes from his mic abilities when playing the heel. Faces never get to have any real fun, and when Punk's having fun, he really might be "The Best in the World". See any of his promos during his time in the Straight-Edge Society, and he's evolved so much all around the board since then.

Truthfully, I've been hoping for a Randy Orton heel turn for quite some time. I was really surprised that Punk was the guy they decided to make the bad guy considering he's only really been a face for about a year. I wonder if he requested to go that route or if it came down from above. Either way, Punk's the kind of guy that I'd think would rather be the bad guy. Being Batman's cool and all, but being the Joker is infinitely more rewarding.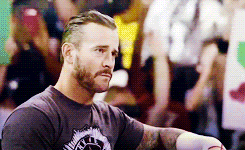 A lot of people on the interwebs had been starting to turn on Punk. Citing that he was becoming stale. I'd argue against that, but it's hard to with much conviction, considering all faces in the E are booked as tame, cookie-cutter good guys. When was the last time Punk legitimately dropped a "pipe-bomb"? It's been a pretty, long while. His time as a face really hit its peak during the Daniel Bryan feud. So a heel turn could avoid us having to witness his going down hill.

The other heels around right now aren't exactly fresh. Del Rio, Miz, Ziggler, Show, Bryan… these guys have been in their shticks for a while. Adding Punk to the mix completely changes the game. Who doesn't want to see what a badass heel Punk can do with guys like Sheamus and Orton? Hell, I'd much rather see a heel Punk vs. The Rock down the line, then a face Punk. I enjoyed Cena-Rock last year, but I'm not sure I could take another face vs. face matchup. Too much lovin' going on, not enough anger and hatred. Oooohhh, you called me a fruity pebble… now I REALLY hate you! (ugh…)




And this could lead to his best work yet. Punk's time as the champion so far has really painted him as a major threat in WWE. He's cleanly defeated most of the roster, and as he's upped his in-ring game and persona, he's likely also upped his confidence. Not a fan of The Lawler Massacre, but now that it's in the rearview, I'm really intrigued to see what's next. My greatest hope is that he would cleanly defeat Cena and evolve into potentially, one of the biggest and best heels we've seen in a long, long time.

-----------------------

Other Random Thoughts:




- Daniel Bryan in anger management is awesome. Nothing sucks about it. Kane's confessions were a hilarious highlight.

- How many times do we need to see Del Rio - Sheamus? Those 2 guys have about as much chemistry as vinegar and baking soda.

- I hate random tag matches (Del Rio/Zigger vs. Orton/Sheamus, Clay/Sin vs. Sandow/Rhodes). Some people might not mind them, but it's just lazy booking to me.




- Where's K2? I'm a fan of the divas. I know most e-fans loathe Kelly, but c'mon fellas, how can you hate somebody that hot? After being gone for the summer, Kelly's only had one match since returning. Step your game up WWE, I need my K2 fix (she's like crack).




- Who did Jack Swagger piss off? He was an awful world champ, but he had attained a decent push once. Now he's losing to Ryback in 2 minutes? Ouch. Wonder what his TNA name will be? Johnny Swaggs? And can he take Ryback with him?

- Triple H's "retirement" was hard to watch. Not from an emotional standpoint, but I kept thinking "this is stupid." He's obviously not retiring. We all know he's going to face Lesnar again, and likely have many more matches after that. Shedding some tears doesn't fool anybody (except for live audiences apparently).

- You know who'd make a great heel? Randy Orton. I know it's been done before, but it's been YEARS already. If WWE is really worried about him getting a third strike, wouldn't a more appropriate route for his character be to make him a heel? It'd definitely make him more interesting.

That's all peeps. Check it out next week!

comments powered by