SPOTLIGHTS
The 411 Wrestling Top 5 10.03.12: Week 190 – Top 5 Best Triple H Feuds
Posted by Larry Csonka on 10.03.2012

From his the recent wars with the Undertaker and long rivalry with Shawn Michaels to his feud with Batista, the brutal clashes with Mick Foley and more, the 411 staff ranks their top five Triple H feuds of all time!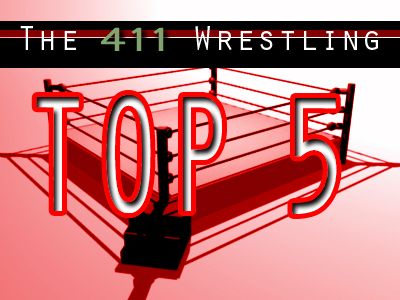 Hello everyone and welcome to 411 Wrestling's Top 5 List. What we are going to is take a topic each week and all the writers here on 411 wrestling will have the ability to give us their Top 5 on said topic, plus up to three honorable mentions.

So, on to this week's topic…



TOP 5 BEST TRIPLE H FEUDS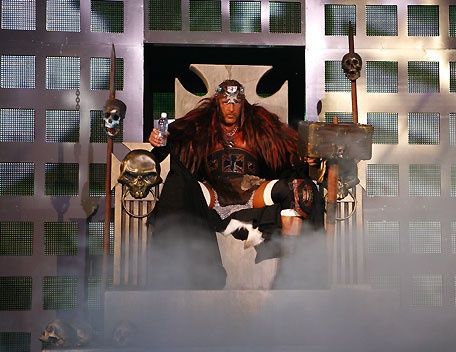 TJ Hawke
HM: vs. Scott Steiner - Would you rather live in a world where they had two classically bad matches or two OK matches? The choice is clear!
HM: & Shawn Michaels vs. Randy Orton & Edge - I really remember enjoying the feud at the time (I haven't gone back and watched any of it), but unfortunately the feud got cut off when Hunter tore a quad again. The PPV match where he tore his quad completely broke down and became one of the most delightful train wrecks that WWE has ever produced. Highlights include Orton running into the ring with a steel chair after the injury, but then sprinting right back out as soon as he realized that Rated RKO getting DQed was not going to be the finish. Also, I loved HBK just doing a tope suicida out of nowhere on Orton (who didn't seem prepared for it), when I don't think I saw him do that one other time in my life (at least during his second run with the company).
HM: vs. Shawn Michaels - Honorable Mention is the perfect phrase for this feud in my mind. They had some great matches. They had some good matches. I just never have been passionate for these two feuding against one another.

5. vs. Batista - I didn't really care for their main event of Wrestlemania, but this feud was nearly perfect in making Batista a bone fide main eventer for the WWE for five years. While Batista obviously did his part, I think HHH deserves a ton of credit for helping to make Big Dave such a big player.

4. vs. Kurt Angle - Over the last fifteen-twenty years, WWE has become much more of television show, as opposed to a traditional wrestling promotion that needs to draw people to the building if they want to survive. As such, WWE producing entertaining television is pretty much what I want from them at this point. The HHH/Angle/Stephanie saga from 2000 was one of the most entertaining TV angles that they have ever done.

3. vs. The Undertaker - These two told an amazing story from the 2011 Road to Wrestlemania all the way through the 2012 Wrestlemania that lead to two "classic" Wrestlemania matches. Both matches were so good, and I honestly would have been fine if neither man ever appeared on WWE TV again except to pick up their Hall of Fame rings.

2. vs. The Rock - HHH vs. The Rock in 2000 is what I think about when I think of main event wrestling of my childhood. These two had classic matches that year, and both men became bigger stars because of their feud. 2000 is one of the most fondly remember years in WWE/WWF/WWWF history, and these two men being in the main event picture for most of that year was the biggest reason why.

1. vs. Mick Foley - The feud with the Rock was probably more important to the WWF, but I am personally biased towards HHH's feud with Cactus Jack in 2000. Their Street Fight in Madison Square Garden at the 2000 Royal Rumble is one of the best WWE/WWF/WWWF main eventers ever. Their Hell in a Cell rematch at the next PPV wasn't quite as good, but it was another great match. This feud and those two matches solidified HHH as one of the guys of the company, and it cemented Foley's legacy as one of the best wrestlers in the last 20-30 years.


---



Robert S. Leighty Jr
HM: Ric Flair - I enjoyed their brief run against each other that produced a great old school cage match, and a tremendous death match.
HM: Randy Orton - This feud seemed destined from day Orton was in Evolution, and while it always seemed to be just off for some reason they finally got everything right heading to WrestleMania XXV before the blow-off blew up in their faces, but we were so close to getting everything we wanted.
HM: Kurt Angle - The battle for Stephanie's affections was tremendous, but just lacked a true blow-off.

5. The Undertaker - These two have had a few stinkers against each other, but their recent Mania to Mania feud will forever link these two together.

4. Batista - The HHH/Batista feud seemingly came out of nowhere as everyone was expecting HHH/Orton for Mania 21, but Big Dave got over huge and basically took Orton's spot. The great thing about this feud is HHH put Batista over in each of their 3 PPV matches including a brutal, bloody war inside Hell in a Cell. HHH gets a bad rap for burying guys and while true, he also deserves credit for putting Batista over into a massive star.

3. Shawn Michaels - This was probably the most personal feud as it had more history behind it than any other. They have been friends and enemies, and while currently friends, you wouldn't bat an eye if HHH hit Michaels with the Pedigree to bring him out of retirement and set-up another match between the two at WrestleMania. Their 1st match at SummerSlam was probably the best of the feud (though they damn near topped in on an episode of RAW), but you always expected something great each time they stepped in the ring against each other.

2. Mick Foley - The feud with follow in late 99/early 2000 is what made HHH into a Main Event star. They had 2 classic matches at the Rumble and inside Hell in a Cell at No Way Out, and Foley went above and beyond to turn HHH into the next big thing.

1. The Rock - This feud was a case where you had two guys battling each other in the mid card, then upper card, and then Main Event as they helped each other along the way. They had a classic Ladder Match at SummerSlam 98 that made both guys careers, and then they had classic matches for the WWF Title in 2000 when the WWF was at it's peak.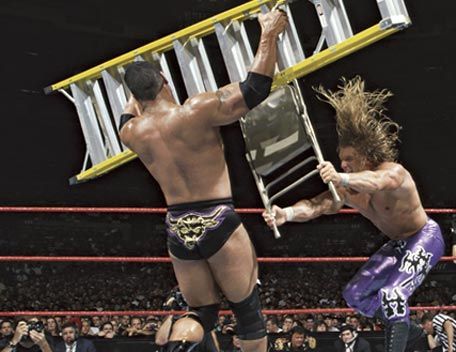 ---



Jack Bramma
HM: His entire run in the fall of 99 including Stone Cold, The Rock, Vince McMahon, Mick Foley, The Big Show, Undertaker, etc. - In a run that gets neglected in looking over Triple H's career, he won his first world title the night after Summerslam 99 and then went on to feud with all of the listed in various ways but mostly involving hitting everyone in the head with sledgehammers or faking snake bites. It's the reign that most closely resembles Punk's current "I demand respect" gimmick and feuding in different forms with Cena, Jerry Lawler, Sheamus, AJ, and Bret Hart.
HM: Ric Flair - Before HBK and Flair had their feud going into WM XXIV, Flair and Triple H had a nearly identical rivalry after Trips turned on his long-time Evolution confidante on the WWE Homecoming episode of RAW where they returned to the USA network. Built on the idea of their one night in Greenville, Triple H wanted to see if Ric still had it and he found out.
HM: The Undertaker - I'm referring to their back-to-back WM "classics" and their battle over the end of an era.

5. Kurt Angle - While this feud didn't deliver great matches on the wrestling front, it did produce compelling television for months on-end. This was the highlight of the Kreski writing as Kurt tried for months to woo away Stephanie McMahon from the Cerebral Assassin and had many fans on the edge of their seats anticipating the twists and turns of the saga. Other than Macho/Liz/Hogan, this has been the WWE's best soap opera writing ever.

4. Shawn Michaels/Chris Benoit - This is really two different feuds bridging into one – the great HBK/Triple H series that started at Summerslam 02 with the classic street fight then continuing into the first ever Elimination Chamber, and the Three Stages of Hell in 2003. The WWE would wait a full year before having the two continue in a classic near-win for HBK on Raw for the belt and follow that up with the Last Man Standing match at the RR 04. Once Benoit won the Royal Rumble, it was full-steam ahead with the 3-way feud that produced two of the best triple threat matches of all time.

3. Batista - After the Orton title experiment floundered in mid to late 2004, the WWE put all their marbles in Batista's basket planning an old-school, slow burn, face turn that catapulted him into superstardom. The slow, "will he/won't he" build for Batista generated terrific episodic television including the best elimination chamber match so far with the best storylines at New Year's Revolution 2005. After Batista gave Trips the thumbs down to choose his world title to challenge at WM, The Game put over Batista THREE STRAIGHT TIMES to show that even he can help create new stars.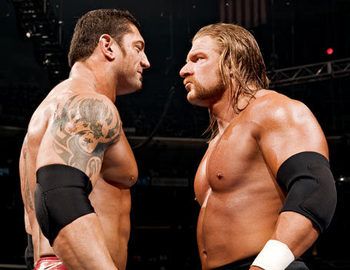 2. The Rock - Rather than referring to one specific feud between the two in 97, 98, 99, 2000, or 2002, this entry covers all of their respective feuds in one total sum. Rock is Triple H's best opponent bar none and they have the better chemistry with each other than they have with anyone else. It would take you 1000 words to detail the great promos, great matches, and great angles the two have had together and I wouldn't be disappointed if we got one more Triple H/Rock match at WM within the next few years before both call it quits.

1. Cactus Jack - While I'll forever maintain that Rock was Triple H's best opponent and his 99 run through the fall helped make him, it's undeniable that Cactus Jack was his best single feud. The rebirth and re-emergence of Cactus Jack to battle the deliriously evil Trips and the McMahon-Helmsley regime is some of the best storytelling either Foley or Triple H ever have or ever will do. My only regret is that Foley couldn't have won the belt at least once in the feud but in losing three times in a row, Foley helped make Triple H.

---



Gavin Napier
HM: Kurt Angle - As with most Kurt Angle feuds, great matches mixed in with occasional comedy gold
HM: Batista - By far Triple H's best job of using a feud to put someone else over
HM: Legacy - If I had told you in August of 2009 that the only person within sniffing distance of the main event from the DX vs. Legacy feud would be Randy Orton, you'd have thought I was high.

5. Henry Godwinn - Were the matches great? Absolutely not. This program helped Hunter become a true professional, though. He caught the hell that should have gone to Nash, Hall, and/or Michaels. However, circumstances dictated that one Hunter Hearst Helmsley was going to be the unfortunate recipient of the punishment for the Kliq's "farewell party." A push was abruptly derailed, and Triple H found himself in Hog Pen matches. He kept his mouth shut, paid his dues, and came out tougher, smarter, and better all around.

4. Ric Flair - In virtually any sport, when someone has the chance to work with an idol, it brings out the best in them. Terrell Suggs has said in multiple interviews that he hung on every word Ray Lewis said once he was drafted by the Baltimore Ravens. Young pitchers that shared a bullpen with men like Greg Maddux and Mariano Rivera became better pitchers because of it. Triple H had the opportunity to work with one of his idols. The two gelled naturally as allies in Evolution. Ric Flair was a perfect mouthpiece and hype man for The Game, even if Triple H didn't necessarily need one. Time and again, though, these two proved they had plenty of magic as opponents, too. The feud wasn't all that long, but while it lasted it was red hot and allowed Ric Flair to prove that even at an extraordinarily advanced age, he still had it. Flair was a sympathetic face, and had been built as a legend (rightfully so), and so the heat that fell Hunter's way during these matches was incredible. Cage matches, death matches, and some of the greatest promos you'll find in the modern era make this easily some of Triple H's best work.

3. Shawn Michaels - As Jack already touched on, the beauty of this feud was it's fluidity. What started as a rivalry between friends turned bitter, then turned violent. As egos and tempers flared, Shawn and Triple H went to war in various gimmick matches that suited the abilities of both men. Just as it seemed things were in the process of cooling off, He Who Shall Not Be Named won the Royal Rumble and stood between Shawn and Hunter. Then Shawn decided to stand between Benoit and Hunter. The solution? Two of the four best three way matches of all time (HBK vs. HHH vs. Benoit 1 and 2, AJ vs. Daniels vs. Joe 1 and 2) and an extra few months of this rivalry. As good as he was before "retiring" for a few years, Shawn was even better when he came back. His feud with Triple H was an early indication that he did in fact still have it. Kudos to Hunter for not only keeping up with one of the greatest of all time, but for forcing him to step up his game as things drew on as well.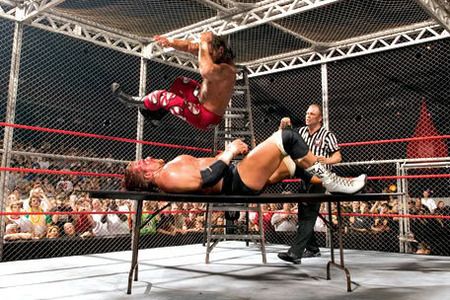 2. The Rock - Triple H and The Rock were the foundation of the Attitude Era, along with Steve Austin. That much is undeniable. The Rock shoved Farooq out of the way to take the lead in the Nation of Domination before excelling as a solo star, and Triple H did the same to Shawn Michaels in Degeneration X. Neither man was going to be denied. They were natural rivals because of their age and position in the company. They needed each other to push themselves to the next level. The byproduct of this natural rivalry was a handful of classic matches and getting to watch the new main event players establish themselves against each other before our eyes. Rarely do midcard feuds work well enough that both men end up ascending to the main event scene, but that's exactly what happened with these two.

1. Mick Foley - Maybe more than any other modern superstar, Mick Foley understands what it takes to make another wrestler look good. It's a bit ironic that it's the very man that doesn't look like a wrestler at all that makes other wrestlers look better than they ever have. Mick Foley has always been a little more portly than typical wrestlers, much less WWE Superstars. He also happens to be much more intelligent than most. He understands that the better his opponents look, the better he looks. He understands that new stars are needed for the future of the business. When he and Triple H squared off, and Mick shifted gears into Cactus Jack mode, everyone knew that a wild ride was about to ensue. For my personal tastes, the flaming barbed wire 2x4 bit was a bit hokey, but everything that these two did together worked. Triple H never looked better, and he never felt like a bigger deal than during and immediately after this feud.

---
YOUR TURN KNOW IT ALLS
List your Top Five for this week's topic in the comment section using the following format:

5. CHOICE: Explanation
4. CHOICE: Explanation
3. CHOICE: Explanation
2. CHOICE: Explanation
1. CHOICE: Explanation
TWITTER
Your heart is free. Have the courage to follow it…TO CSONKA'S TWITTER!
http://www.twitter.com/411wrestling
http://www.twitter.com/411moviestv
http://www.twitter.com/411music
http://www.twitter.com/411games
http://www.twitter.com/411mma
comments powered by