SPOTLIGHTS
411 Fact or Fiction 10.11.12: Gewirtz, Lawler, Cornette, More
Posted by Steve Cook on 10.11.2012

Should Jerry Lawler's heart attack be used for storylines? Will Bound For Glory be TNA's best PPV of the year? Were the big creative changes in WWE & ROH necessary? 411's Jeremy Lambert and Tony Sly debate these topics and more!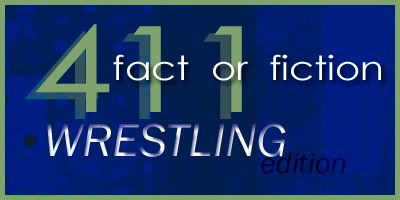 Hi, hello & welcome to 411 Fact or Fiction! I'm Steve Cook, and it's been another crazy week in the world of professional wrestling! We've had lots of changes on the creative teams of wrestling companies, as Brian Gewirtz was removed from his post as Raw's head writer on Monday while Jim Cornette was demoted from his perch on top of Ring of Honor's creative team over the weekend. Raw featured CM Punk being given a choice between John Cena & Ryback, and he can contemplate this choice while watching his new DVD set. (He also punched a fan, but of course that wasn't reported until after I sent these questions.) Jim Ross's mention of Jerry "The King" Lawler's heart attack during a promo with Vince McMahon prompted many people on my Twitter feed to quit watching Raw…for about five minutes or so. TNA is having its biggest show of the year on Sunday, and many wonder if there's any chance that Sting won't get turned against by his tag team partner Bully Ray in their match with Aces & Eights. Austin Aries will defend the TNA title against Jeff Hardy, and has been displaying some tendencies of late that make people wonder if he will turn heel.

I've invited two of the 411 Universe's more interesting folks to discuss these topics. First of all, the host of the Man Cave Podcast, co-writer of the MMA Zone's Occupy The Throne, Taylor Swift's future husband & the world's biggest Cincinnati Reds fan (who picked the San Francisco Giants to win the World Series…yeah, this whole NLDS thing is his fault.)…Jeremy Lambert!

His opponent fancies himself as one of the more cerebral folks you'll find on the independent wrestling scene. A student of the game, this man knows all there is to know about pro wrestling & Jersey Shore…the Intellectual Punk Tony Sly!


Questions were sent out Monday.


Participants were told to expect wrestling-related questions.

1. 1. Brian Gewirtz was not doing a good job as head writer of Raw & deserved to be removed from the position.




Jeremy Lambert: FICTION. Was he doing a great job? No, but look who he's working for. No matter what he does, Vince isn't going to be happy and given the circumstances, the ratings are going to be down. Raw is up against football, this three hour thing is way too much, and John Cena has been hurt for the last few weeks. When it comes down to it, Vince has final say in everything that makes air and if he's not happy with the way things are going, he only has himself to blame. If I'm Gewirtz, I'd be thrilled because he's no longer the whipping boy when things go wrong.

Tony Sly: FACT. It's one thing to assert that RAW has been creatively stagnant or lacking as of late, but it's completely different to conclude that these inadequacies are solely due to the creative direction of Brian Gewirtz. Although Vince McMahon has the ultimate authority in the creative direction of RAW, as the head writer for RAW, Gewirtz had significant input in the creative direction of RAW. As a result, Gewirtz's long tenure has likely resulted in burnout and a creative rut that has had enough of a negative impact on RAW's success in both the ratings and entertainment value that it was time for a change if for no other reason than to introduce new ideas, strategies, and direction that has a better chance of connecting with the WWE Universe.

Score: 0 for 1

2. You have no problem with Jerry Lawler's heart attack being used to further angles.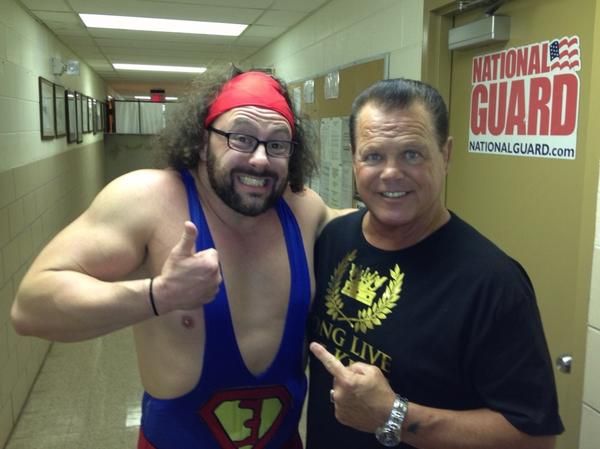 Jeremy Lambert: FACT. My guess is that Lawler himself signed off on this. This isn't an Eddie Guerrero situation where it's completely over the top and unnecessary, this is just a couple of mentions by CM Punk, who was in the middle of a feud with Lawler when he had his unfortunate heart attack. Maybe Punk doesn't need to do it, but this whole thing will have a happy ending when Lawler eventually returns and delivers the big fist drop.

Tony Sly: FICTION. I do have a problem with Jerry Lawler's heart attack being used in angles because I am not confident that WWE can use it tastefully and in moderation. I did not have an issue with CM Punk's off-handed reference to causing the heart attack on RAW, but I believe if it is utilized in an angle going forward, it will be done in a more offensive and over the top manner, which is an insult to the fans who were legitimately scared and concerned for Jerry Lawler's wellbeing the night he suffered a heart attack live on RAW. All too often professional wrestling is about creating drama utilizing exaggerated storylines that in this case would be unnecessary and inappropriate.

Score: 0 for 2

3. CM Punk will choose to face John Cena at Hell in a Cell instead of Ryback.




Jeremy Lambert: FICTION. I don't think Punk is going to choose either. He'll talk about being disrespected by being put in this situation and say he's not going to compete against either of them. Then Vince will announce that Punk will face both of them in a triple threat match or he'll be stripped of the belt. Ryback isn't ready for a big time one on one back and Cena isn't healthy enough to take big bumps. So Cena takes some pressure off Ryback by working the slower spots and Ryback takes the pressure off Cena by doing the more high impact stuff. Everyone wins.

Tony Sly: FACT. From a storyline perspective, CM Punk will choose John Cena because he is the devil he knows whereas Ryback is the devil he doesn't know. CM Punk fully believes he has and can defeat John Cena at Hell in a Cell because he is the Best in the World. On the other hand, Ryback is still a mysterious brute that Punk is untested against. CM Punk also realizes that to further persuade skeptics that he is the Best in the World; he must defeat the face of the WWE and like it or not, that man is John Cena. From a creative perspective, it is obviously in WWE's best interest to pair CM Punk with John Cena at Hell in a Cell and main event the PPV with a match that has a high probability of delivering and one that fans will pay money to see. WWE feels their back is up against the wall, and although new stars like Ryback need to be pushed, the main event of a PPV is not the place to provide an unproven talent with such an incredible test.

Score: 0 for 3

4. You will purchase CM Punk's new DVD/Bluray.



Jeremy Lambert: FICTION. I don't buy wrestling DVDs anymore. They're on Netflix instant streaming in like a month. I'm sure the Punk DVD will be great, but I haven't bought a wrestling DVD since the first Ric Flair collection that came out in 2003 and I don't plan on starting now.

Tony Sly: FACT. Stellar reviews for this DVD notwithstanding, I intend to purchase it because I am a fan of CM Punk, but moreover I am a fan of WWE's compelling documentary storytelling. From all indications, the documentary portion of the DVD will set itself apart from previous WWE releases by taking an accurate (and non-revisionist) approach to telling CM Punk's story by including interviews with non-WWE talent who will paint an in-depth and un-biased picture of who CM Punk is and what his journey to becoming the Best in the World has entailed.

Score: 0 for 4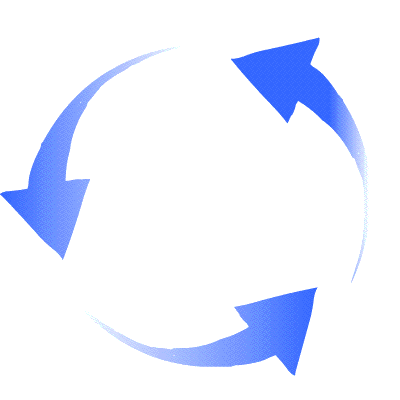 SWITCH!
5. Austin Aries turning heel during his feud with Jeff Hardy would be a good idea.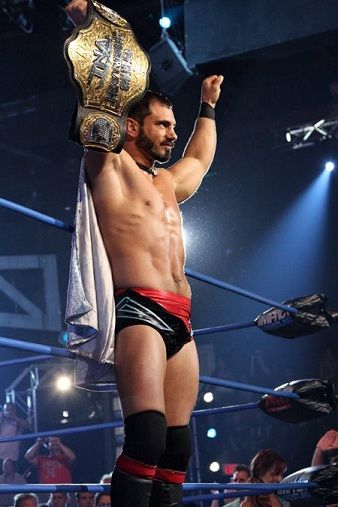 Tony Sly: FACT. Since returning to Impact Wrestling TV a little more than a year ago Hardy has consistently been pushed as a top face in the promotion. In addition, the fans have responded to this with top merchandise sales and a strong reaction live, so he is the superior face and logical choice for that role. Equally, considering the pervasive smug and bitter nature of Austin Aries, he has consistently been a more effective and compelling heel throughout his career. There appears to be a logical story to tell here with Aries being jealous of the admiration the fans have for Hardy, so it makes sense to turn him heel, so TNA gives itself the best opportunity to make this an effective feud that fans want to see.

Jeremy Lambert: FICTION. Not if the feud is going to continue past Bound For Glory, which I don't think it will. Aries has been fantastic as a face and a breath of fresh air in TNA and it would kind of be a shame to see him turn heel to continue this feud with Jeff Hardy, who I'm kind of over at this point, even though he does seem rejuvenated in this last few months. Aries can still feud with Aces and Eights or Bully Ray after he finishes up with Hardy.

Score: 0 for 5

6. Bully Ray will not turn against Sting at Bound For Glory.



Tony Sly: FICTION. Bully Ray has proven to be one of TNA's most effective and entertaining heels over the last year, so it only makes sense that he will solidify that status by turning on one of the most popular talents in the company. It is also necessary that Aces and Eights defeat Sting and Bully Ray in order to prolong their storyline, so logic would suggest that TNA will utilize a revival of Bully Ray's full-on heel persona to assist in Aces and Eights' victory.

Jeremy Lambert: FACT. I don't think he'll outright turn on Sting. Maybe he leaves him hanging on a tag, but I don't think we'll see Bully Ray put the boots to Sting or anything. He's most effective as a heel, so I can't see him outright turning face, so it seems like they have to keep him heel without having him align with Aces and Eights. Leaving during the match or even leaving after the match would be the way to accomplish that. If you consider that a turn then so be it, but I think that's just him being who he is at this point.

Score: 0 for 6

7. Bound For Glory will be TNA's best PPV event of the year.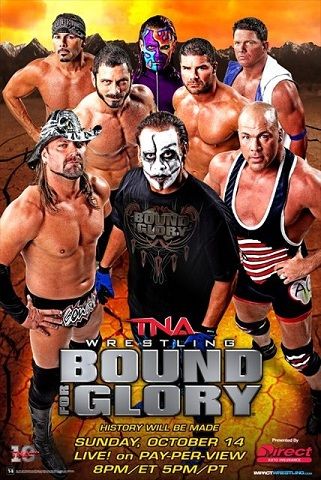 Tony Sly: FICTION. TNA has dropped the ball in making BFG its best and most promoted PPV of the year. The storylines that built to Lockdown and even Slammiversary were more compelling and better produced (i.e. the in-depth vignettes done for James Storm and Bobby Roode leading into Lockdown). There also seems to be a lack of high profile or "big time" feel matches on the PPV, so that contributes to a minimal buzz leading into the PPV and ultimately fewer buys. The bottom line is that one co-main event features a team whose identity is unknown and the other features a very talented Austin Aries who unfortunately is not a "household name" or someone that TNA has properly built up since he won the World Title in July. In addition, one of TNA's "go to" methods for PPV promotion is mainstream media interviews with Hulk Hogan the week of the PPV, but those will be dominated by sex tape talk and Bound For Glory will likely get little, if any, relevant promotion.

Jeremy Lambert: FICTION. This is tough. On paper the card doesn't look that bad and since everyone in the company knows that TNA treats this event like their Wrestlemania, they work a little harder. That said, I don't see this show topping Destination X or Hardcore Justice. Aries vs. Hardy should be good, but I don't expect it to be better than either Aries/Roode bout and I don't see a match on the card that can top Angle/Joe and Styles/Daniels from Destination X or the ladder match and tables match from Hardcore Justice. Roode vs. Storm should be good but I worry about them involving King Mo too much and the triple threat tag should be good but I'm not sure it'll quite reach great territory. I'm expecting a very good show this Sunday, but TNA has put on a few good shows this year that'll be tough to top.

Score: 1 for 7

8. Jim Cornette being demoted & taken off of television will make the Ring of Honor product better.




Tony Sly: FACT. Despite Jim Cornette's success in pro wrestling, his booking in ROH has seemed to have grown both stale and stubborn. ROH booking needs to be (and has needed to be) taken in a direction that is fresh, compelling, and cutting edge so as to appeal to veteran fans and draw in new fans who now have access to ROH TV. This task has been made particularly more difficult by the departure of charismatic talents such as Colt Cabana, El Generico, the Kings of Wrestling, etc. As a result, the booker needs to utilize more cutting edge, unique, and non-traditional storylines that are not indicative of an old school booker like Jim Cornette. In short, ROH needs some sizzle in the booking department to make up for the lack of larger than life personalities on the roster like the Briscoes and Kevin Steen. However, only time will tell how much better the product will be with a reduced role from Jim Cornette.

Jeremy Lambert: FACT. I admittedly don't watch ROH so I don't even know what Cornette's role backstage or onstage was, but Cornette is a guy that just seems to wear out his welcome because it's too much too soon. He has a brilliant wrestling mind, but it's like he tries so hard and is so passionate that things end up working against him. Honestly, ROH just seems to be in the same holding pattern they've been in for years now. It's like they've tried everything and nothing put them over the top so whether Cornette plays a big role, a small role, or no role in the company, it really doesn't seem to matter at this point.

Final Score: 2 for 8

Dang, these guys were further apart on the issues than Joe Biden & Paul Ryan! One of our more disagreeable editions of the column, but those are the ones that I like best. Who did you agree with more? What are your opinions on these topics? Let us know in the new & improved comment section! Thanks so much to Tony & Jeremy for participating this week, and we'll be back next week with more Fact or Fiction!


Remember to go to TigerFlashGames.com and play addictive, free flash games when you're bored at work, school, or whenever!


comments powered by