SPOTLIGHTS
The 411 Wrestling Top 5 3.06.13: Week 210 – Top 5 Wrestlemania Dream Matches
Posted by Ken Hill on 03.06.2013

From John Cena vs. Undertaker and Hulk Hogan vs. Roddy Piper to Shawn Michaels vs. Randy Savage, Ric Flair Vs. Ricky Steamboat and more, the 411 staff counts down the top 5 WrestleMania dream matches of all time!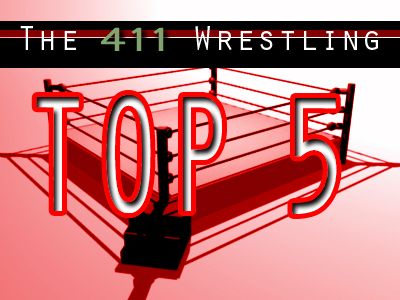 Hello everyone, I'm your man with the plan, YOUR "Kennection to All Things Wrestling" Ken Hill, and welcome to 411 Wrestling's Top 5 List! What we are going to is take a topic each week and all the writers here on 411 wrestling will have the ability to give us their Top 5 on said topic, plus up to three honorable mentions.

So, on to this week's topic…



THE TOP FIVE WRESTLEMANIA MATCHES WE WISH HAPPENED!


---


Ken Hill
5. Team Hell No vs. Book-Dust - Whispers about Booker at WM 29 aside, this is purely fantasy booking. The two most offbeat, random tandems of their respective eras. It's not even the match or the nostalgia of seeing Booker and Goldie team up again, it's the interactions between Bryan and Goldust I'd look forward to the most. "We are the gol-go-go-GOATFACE! gold standard of bizarre pairs!" Priceless.

4. John Cena vs. Undertaker - This match is more or less born out of attrition; there's really no one else left prominent enough who would seem a believable enough threat to end Taker's streak. You have the face of the WWE versus possibly the greatest icon WWE's had to offer in the last two decades. That alone is a great enough selling point for this Wrestlemania main event. If Punk doesn't defeat Taker this year (and he pretty likely won't), Cena's the only viable option I see before Taker finally retires in full.

3. Edge vs. Christian - This was the original plan going into last year's Wrestlemania before Edge's career-ending announcement: Christian would turn on Edge at WM 27, costing him the World Title and they would feud on and off throughout the year, resulting in what would've been Edge's retirement match, effectively passing the torch to Christian.




I imagine it would've been full of continuity, references to their personal and professional lives, careers in both the singles and tag division; it could've been a multilayered feud that would have spread out over the year, culminating in the match both men made famous: Tables, Ladders & Chairs.

2. Undertaker vs. Triple H vs. Shawn Michaels - I have all the respect in the world for HBK sticking to his word and staying retired, unlike a majority of veteran wrestlers who strive for "one more shot." However, the Attitude Era fan in me would love to see this. While seeing Shawn in the ref position provided an emotional and mental story for Hell in the Cell, I'd still like to see a more direct conflict between him, HHH, and Undertaker. The question would be whether HBK and HHH team up and want to end the streak purely for Taker's sake, or for one of them to forever be immortalized by going over the other to end it themselves.

1. John Cena vs. CM Punk - Maybe it's the recency effect, maybe it's because they can't not have a good match, or maybe, just maybe, it's because they had one of the best TV matches I've seen since Cena-HBK in 2006.

I mentioned this in the comments on the Raw Report this past Monday: If Rock wasn't in the scenario, I'd put full money down on Cena-Punk V headlining WM 29. It's been the most prominent feud in the last two years, they have immeasurable chemistry in the ring and on the mic, and Wrestlemania's the one prime big stage they haven't competed against each other on...SHUT UP...AND...TAKE...MY...MONEY!


---


SCOTT RUTHERFORD
5. Hulk Hogan vs. Ric Flair - This match gets a lot of play as a missed 'Mania match and rightly so, I just think it gets a little too much and further more the year it should have happened as well.. Viewing this with today's eyes you wonder what funny stuff Vince was smoking to not make this match happen but that's missing the point completely as to why it didn't. Flair and Hogan had been doing matches at house shows and they did not draw that well. Why you ask? Even though WWF had gone national it still stuck to its strongholds while the NWA/WCW did the same. Simply put the Ric Flair name did not translate to ticket sales as well as Vince had wanted and was forced to change his 'Mania main event. In my mind they missed a prime chance to do this match at WM19 instead of Vince/Hogan. Given how both men were truly national wrestling legends by that time, they could have easily done Hogan/Flair and the dynamic would have been off the charts awesome.

4. Hulk Hogan vs. Roddy Piper - I've always maintained that Piper should have headed into WM1 as the champion Mr. T was brought in as a special enforcer for Hogan because Bob Orton was the difference maker in Piper winning the title and Hogan being unable to win it back. Firstly I want to loudly shout down the bullshit myth that guys like Piper was so over they didn't need the title. I have never heard anything so ludicrous in my life when it comes to pro wrestling. If this was the case, the three most popular wrestlers of the modern era (Hogan, Austin, Rock) should never have been given a run with the championship. Shit, any wrestler that was massively over either as a heel or face should never have gotten the title. They didn't need it because people loved them already.

It's impossible to describe just how absurd it is to even think that way. People pay to see wrestlers, hordes of people pay to see your most over talent and that talent fights over the title. It's what draws you money and the most proven big money matches are when your top face chases your top heel titleholder. Piper should have won the title at a house show in MSG or Boston Gardens (when world title wins were still done that way) a couple months prior to War To Settle The Score, keep the title by DQ on that MTV special, thus setting up a title match at WM with Mr. T covering Hogan's back and Hogan recaptures the title in utter pandemonium.

So the time line goes…

• Hogan jumps from AWA and beats the Iron Sheik.

• Runs wild for close to a year to massive house shows to establish himself at the new face of wrestling before dropping the title to Piper in typical screw job fashion.

• Piper kicks the shit of Cindy Lauper as per history, Hogan makes the save setting up War To Settle The Score.

• Piper denies Hogan again by DQ because of cheating.

• Hogan brings in Mr. T to help fuel the WWF publicity machine.

• WM goes through the fucking roof as Hogan recaptures the WWF title at the biggest wrestling event in history at that point.

• Hogan and Piper create massive piles of cash for the return matches at house shows

3. The Hart Foundation vs. The Midnight Express - Jim Cornette's team never made it to the WWF but what I would have given to see these two teams match up on any card, WM just would have been sweeter. I think we can agree that in the 80's these two tandems were the flag bearers for their respective promotions in terms of quality, long-term tag teams that could work their magic with literally anyone. Each side had a muscle guy, each side had a technical wrestling wizard and they both had mouthy managers. Unlike my first three picks this match never happened at all so all we can do is speculate as to how great it may/could/would have been but any long term wrestling watcher just knows this would have been a sublime match-up.

2. Daniel Bryan vs. Sheamus - Yes, the wounds are still raw from last year! Seeing how next month they had a supremely awesome 2/3 falls match that was a legit MOTYC…it makes me sad. I get that Vince wanted Sheamus to kick off his title reign with a bang I just think a 17-20 minutes barnburner opener would have done the job just as well. My guess was the fact that these two could potentially have a match that may have toped the Cena/Rock, HHH/UT and Punk/Jericho matches in terms of quality and doing the shitty 18 second match was a safeguard. We all though it was going to be the death of Bryan but he came out of this OK, yes?





1. The Rock & Steve Austin vs. HHH & Shawn Michaels - SHUT UP AND TAKE MY MONEY!!! Sorry, reflex reaction there. The great thing is that no matter how remote, this match still has a tiny little hope of happening depending on Austin and Michaels. We are talking about the four most central figures in the Attitude era, all in one ring, all going at it. Could you imagine the heat for this? Off the charts just wouldn't describe it. The set-up is so simple…Rock claims he and Austin are the reason the Attitude era was big, Dx attacks because they think Rocky is full of shit, Austin comes out to back up Rocky and we're on our way. Considering how over all four of these guys are, you know they could work a smart match that hides the fact all four are basically retired or semi-retired.


---


Francisco Ramirez
5. Legion of Doom Vs. Demolition - The WWE pissed this feud away. Regardless if Demolition was an L.O.D clone or not, they grew onto their own and became completely different. When the Roadwarriors arrived to the WWE they were basically booked to squash Demolition, at times partnering with the Ultimate Warrior in three-on-three matches. The booking should have been simple, L.O.D. interfered at SummerSlam, costing Demolition the Tag-Team Championship against the Hart Foundation, have them antagonize each other during Survivor Series and the Royal Rumble, put them together at Wrestlemania, career match, hell they got rid of Demolition anyways, and give the feud the proper respect it deserves.

4. Stone Cold Steve Austin Vs. John Cena - Not because I would have wanted to see the match itself. While Austin is a great wrestler, and Cena can put on a show when face to face with the right person, the reason this should have happened is simple, I'm a sucker for a "passing of the torch" moment. It kinda sorta happened when Austin handed Cena a beer at his Hall of Fame induction, but it would have meant so much more if it occurred after a match at Wrestlemania.

3. Rey Mysterio Vs. Psicosis - It might not seem like a big name match but there is reasoning behind it. Both men are close friends, we are talking best man at the wedding close. They came up together, they elevated each other, and one would possibly not be around without the other. The Psicosis and Rey match has been done in promotions worldwide. They have classics over the WWA World Welterweight Championship in Mexico, they stole the show in the 2nd Super J Cup, they had a series of show stealing matches in ECW, even when people told Paul Heyman lucha would not work in ECW, they wrestled each other numerous times in WCW, and once in the WWE they faced each other in ECW One Night Stand. The ultimate culmination to this global feud could have occurred at Wrestlemania, it's unfortunate it never did.



<



2. Ric Flair Vs. Ricky The Dragon Steamboat - It comes down to this, these two had multiple classic matches, yet the big three matches these two had occurred at Chi-Town Rumble, Clash of the Champions VI, and Wrestlewar. Not exactly big shows, one can argue, hell at the very least put them on a Starrcade. I hate to sound sour, regardless of the show, both men worked their asses off. What if Flair and Steamboat were pitted against each other at the biggest stage of them all? Steamboat and Savage is talked about to this day, and Flair and Savage is fondly remembered. So why not Flair and Steamboat, possibly an easy guarantee for match of the night, hell with the big stage feel of Wrestlemania, Match of the Year.

1. Shawn Michaels Vs. Macho Man Randy Savage - I watched the Kayfabe Commentaries Lanny Poffo shoot interview. In it he explains how prior to leaving for WCW, Randy Savage proposed a two year feud with Shawn Michaels. It would start with champagne, Savage and Michaels toasting, then Savage cracks the champagne bottle in the back of Michaels head. This would lead to a feud that would span numerous twists and turns. I don't know about the longevity of two years, but have that happen, and lead to a Wrestlemania match and I would have been one happy mark. Allegedly the answer to his proposal was "Sorry Randy, but we are having a "youth" movement". Fucking WWE!


---


MICHAEL WEYER
5. Vince McMahon vs Eric Bischoff Yeah, it wouldn't have been a real "match" per se as everyone openly ackowledges Vince to be one of the worst guys to be in a ring with and Bischoff isn't much better. But the massive history between them would have made a Mania fight natural. Just bring up how badly they hated each other for years, stir it up with promos and then let them fight it out. I think this actually could have been a fun brawl with both guys taking nasty hits en route to Vince winning (of course) and finally put the capper to the Monday Night War that had us all enthralled for so long.

4. Hogan vs Warrior II Their horrific rematch in 1998 has clouded many to the fact that thier Wrestlemania VI battle remains one of the greatest Mania main events ever. True, that's due to Pat Patterson's great help planning it all out but you can't deny the power Hogan and Warrior had over the fans. With hindsight 20/20, maybe Vince wishes he'd had the Warrior lose the belt to Slaughter in late 1990, get it back at the Rumble, then set up the big rematch with Hogan getting the title back. Maybe with that main event, Mania VII really would have sold the L.A. Collisum much better and fans did want to see that battle take place. Sad we only got to see it in a terrible way to lose what could have been a saving grace for WWF.





3. Rockers vs Hart Foundation Back in 1990, the plan was apparantly for the Hart Foundation to lose the tag titles to the Rockers, who'd then lose them to Power & Glory. But the TV match was a mess due to a broken rope so the belts were kept on the Harts and backstage politics soon led them to drop the titles to the Nasty Boys at Wrestlemania VII. It's a shame as the Rockers are the greatest WWF tag team never to hold the titles, absolute genius in the ring with double-team moves no one before or since has come up with. I get the reasoning of putting the titles on the Nasties but Rockers vs Harts would have been a MOTY canidate for 1991 and given the Rockers the gold they deserved and the fans a true tag team classic.

2. Stone Cold Steve Austin vs Hulk Hogan On his 2011 DVD, Austin says that Wrestlemania 18 should have been him against Hogan instead of the Rock. It's a debatable point given Austin's health at the time but you can see where he's coming from. No one besides Austin had taken WWF and wrestling itself to the heights that Hogan had and ignited the fans like no one else. It was a clash of styles, the hero of the '80's against the anti-hero of the '90's, fighter against brawler on the big stage. Yes, Rock vs Hogan was a great match but you have to wonder how Austin could have taken it to another level and show the clash of legends we never got before or since.

1. Hulk Hogan vs Ric Flair I get the politics and all that, Vince not wanting to give Hogan the belt if he was about to leave. But come on, this was the dream match fans had been wanting for years, the two biggest stars of the decade going at it on the big show. It's ironic WCW managed to do more with their feud than WCW did (although they did end up driving it into the ground) and showed WWF the payday they would have missed. Yes, they fought so many times but to see them both in their prime headlining a Wrestlemania would have been a true dream come true for the entire wrestling fandom.


---


Nick Sellers
5. Eddie Guerrero vs Shawn Michaels - From a pure-wrestling perspective this would've been superb, and rumor has it that there were actually plans to make this happen for Wrestlemania 22 before Eddie's tragic death. This could've been a potential show stealer.

4. Stone Cold vs Brock Lesnar - I've heard Austin get a lot of criticism before for walking out on the WWE for refusing to put over Brock Lesnar, but reading up on the actual way in which he was expected to lose I don't blame him. The plan was to have them meet in the first round of the King of the Ring tournament, which was a midcard gimmick at best at that time, in a match with no build up. Austin/Lesnar should've been saved for something much, MUCH bigger than a throwaway match on Raw. Austin shouldn't even have been in KOTR in the first place because he would've looked pretty out of place really. I'd have given Austin a rest anyway to get over his neck issues and gradually build this up for Wrestlemania when fans are clamoring for Austin to come back and Brock's still had his mega-push. THEN you put him over after months of build and solidify his star status.





3. John Cena vs Undertaker - There's only one person who has any credible shot at breaking the streak in the eyes of the fans now, and that's John Cena. We know Cena is the golden goose, the poster boy and so on, so if anyone is going to be booked to claim the streak it'll be him. They know Cena's sticking around for the long haul, so all the more reason to give him such a rub. Granted, he doesn't need putting over now, but it might just immortalize him if he actually did it. It might even signal a heel turn in the process, not that I think he needs it. If it happens next year too, what a match that would be for 'Taker to retire from!

2. Hulk Hogan vs Ric Flair - Arguably the two biggest icons in the industry, a match of this magnitude was tailor made for something like Wrestlemania. I'm not sure why this never got off the ground in 1992, where instead they went with Flair/Savage and Hogan/Justice, because they'd already been paired up in house show matches which seemed to indicate they were going through some trial runs. Alas, it just wasn't to be. But having these two standard bearers for their respective styles would've been something else on the biggest stage if booked correctly.

1. Stone Cold vs Goldberg - The WWF and WCW's biggest stars of the 90's, this would've been mind-blowing with both men at their peak. It's one of the ultimate fantasy matches from the time, with fans of both promotions arguing that their guy would win, that their guy was tougher, etc. We got a small sample of it at Wrestlemania XX when Austin was a guest ref for the hilarious Brock/Goldberg bout, but otherwise this was never going to come off. It would've meant Goldberg sacrificing the big bucks down South to come to the WWF, and neither would want to do the job for the other by all accounts. Austin wouldn't have wanted to work one of Goldberg's shorter, more chaotic and action packed matches while Goldberg probably wouldn't have wanted to go 20-30 minutes with someone of Austin's in-ring ability. Still, it's one of wrestling's ultimate "What if?" scenarios.


---
YOUR TURN KNOW IT ALLS
List your Top Five for this week's topic in the comment section using the following format:

5. CHOICE: Explanation
4. CHOICE: Explanation
3. CHOICE: Explanation
2. CHOICE: Explanation
1. CHOICE: Explanation
comments powered by