SPOTLIGHTS
Tremendous Tirades 3.04.13: Old School Raw
Posted by Larry Csonka on 03.04.2013

"I think I see Blue… he looks glorious…"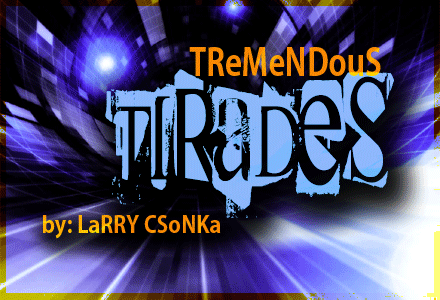 Introduction
It's the road to WrestleMania, and with that being the case, I have dusted off the old Tremendous Tirades name for new alternate recap to the main shows that will air each week (Raw, Impact and Smackdown). This will not be another traditional recap, but instead it will be a mash up of the Rs, Instant Analysis and my usual Twitter ramblings I would do during the shows; completely uncensored and as the ideas flow unfiltered to the old keyboard.

I felt that last week's Raw was a very good show, highlighted by the "predictable" Triple H vs. Brock Lesnar confrontation. Note to some people, predictable is NOT always bad. I have often said the quickest way to get somewhere is the straight line, and they did the right thing here. But that's cool, because why not bitch about Triple H and Brock rematching even if they did write it to make sense. The writing was fine, if you don't want the rematch that is something completely different. There are many other things to complain about that could be noted:


Lawler mailing it in on commentary

Antonio Cesaro losing again

Ryback losing all steam

Fandango

Henry vs. Khali part 43

Triple H shitting his pants

See how easy that was! On the bright side, the John Cena vs. CM Punk main event was almost universally praised, and well it should have been. It was a tremendous effort by both men (especially Punk who was reportedly sick all week and including during the match) and I felt that the match was so good (****½) that it not only added importance to the WrestleMania main event, but also to the WWE Title. When you can do that with a match, that's a good piece of business.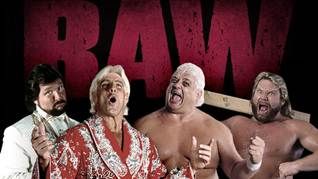 Tonight's edition of the show comes to you live from the First Niagara Center Buffalo, NY.




THE UNDERTAKER'S DONG IS HERE: Normally I really hate the whole opening promo segment of the show, because it is tired and WWE especially relies on this on a weekly basis instead of trying new stuff or just kicking things off with a match. But this time it was the return of the Undertaker…




But then he used his mystical powers and disappeared. WWE did the small touches with the old school stuff, the open, the pyro and King and Cole wearing some old school stuff. If you're going to do it, do it right. Punk and Heyman came to the ring, and Punk was into pure asshole mode and blamed the fans for his title loss and the fact that they mocked his title reign. Since the fans stole from him, he will steal from them by challenging and beating the Undertaker and stealing the streak and ending it.

Unfortunately we just couldn't end things there, because that would be too simple. Randy Orton came out to discuss challenging the Undertaker at WrestleMania eight years ago, coincidentally it was eight years ago Randy Orton last wore pants on WWE TV, and stated that he wanted a piece of the Undertaker.

But then again, instead of stopping when things made sense, we complicated things further by having Big Show coming out to make his case to face the Undertaker. Big Show apparently didn't have a right hand when he first fought the Undertaker, and now that he has his new Skywalker approved hand, he is ready to end the streak.

BUT WAIT….THERE'S MORE! It's a shameful thing lobster head, because Sheamus says there are too many limes and that he never had a shot at the Undertaker, he never lost to him, and he should get the chance. Not a horrible argument there to be honest with you.

Oh my God what the hell now Vicky is out. We're going to get a four-way match later to determine the Undertaker's opponent. In general a fine idea as they made the streak out to be something very important, but the fact that Mark Henry didn't come out to do what he does and get a chance was very saddening.

On a side note, if they were really going old school, they would not have the damn authority figure on TV.

Rating (1-10): 7.0


WWE HAS A US CHAMPION – GIVES ZERO FUCKS: Much love for the little box promo from Cesaro. I used to love those things. I also noticed we have the old school barricades at ringside instead of the back dasher boards, again, I appreciate this. Cesaro is working his Bruno Sammartino ring gear tonight, tremendous. Now far be it from be to argue about getting wrestling on a wrestling show, but who asked for a Ryback match to go through the commercial break? Don't get me wrong, Cesaro works well enough with him, but with how Ryback has been booked as of late against the Shied, they would have been better off booking him in a match to kill some jobber to get him some heat back. But hey, let's job out the US Champion once again.





"FAAAAAAAAAAAKING BULLSHIT!"



Once again, WWE decides to completely kill off any heat their secondary champions have by having them constantly lose. This sends a very bad message, a message that Cesaro isn't good enough to be a star. It also sends a message not to care about Cesaro, because if Ryback doesn't care about the title, why would fans care about the title or the guy holding it?

Rating (1-10): 1.0


HEY ZACK RYDER GOT ON TV – MARK HENRY KILLED HIM: Mark Henry. Arrive. Do what he does. Leave.

Rating (1-10): 10.0



You just get the feeling that Vince likes messing with Ryder at this point.




"I do!"




DOLPH vs. MIZ: It's amazing that Miz can bring out Flair and people still do not care about him at all during his face turn. Also, the man does one of the worst struts I have ever seen. Stop, just stop man. This whole thing is a bad idea, it was a bad idea when TNA tried to make AJ Styles the new Flair, and it is a bad idea with Miz. I do not care what anyone says, there is not another Ric Flair out there so stop. It isn't Ziggler either, so stop that shit. They had a good match as they seem to work well together, but as usual, Dolph lost the match. Ziggler as MITB has been booked into oblivion, since they believe the MITB case entitles Ziggler's career to Tabula Rasa. Of course when he wins the title and "isn't over" like they want, they will wonder why. This is simply more of the same bullshit booking from WWE, where they cut off the nose to spite the face. But I suppose since it is old school Raw, it is more important to allow Miz to win so that Flair can bounce around like an idiot to earn a payday. Hey, you have to pay the alimony somehow. Also, as I watch this, we are 53 minutes into the show, and I am feeling like we haven't even been looking at booking the mid-card. We have Rock vs. Cena, we have Brock vs. Triple H "unofficially," and a match setting up the Undertaker's yearly deal. That is all well and good, because those are the matches that will sell the PPV, but I wish we had something going on for the mid-card.

Rating (1-10): 5.0


ROCK vs. CENA – AT LAST WE MEET, FOR THE FIRST TIME, FOR THE LAST TIME: One of the big knocks on Cena I that when he goes out there to cut promos for matches that should be money matches is that he dicks around and does comedy and or acts as if he doesn't care. That is one thing that I absolutely hate about the John Cena character. And thankfully he did not do that here, as he was completely serious in his promo. He broke down the shitty year, the fact that he worked to get back to the main event of WM and the fact that he was destined to be redeemed in a rematch with the Rock, that was good shit. No dick jokes, no Rock is poopy, just business. Rock came back with fire, putting over Cena, but also at the same time promising to stop the redemption. Cena fired back with a Tyson quote, and stated that Rock's time was up because it would be his time again. Some good back and forth, some mind games by Rock; overall I felt that they did a very nice job here to build to the rematch. I won't go overboard like some may and cal this an all time great money promo, but it was the exact kind of promo that they needed to cut to get the heat on the match. In closing, how many people laughed when Rock had the sack to make a Lance Armstrong joke?

Rating (1-10): 8.0


SWAGGER vs. HACKSAW: Dear God it was all American, American overload with Swagger, Hacksaw, Slaughter and Dusty out there. Hacksaw better watch his mouth, he was a Canadian turncoat at one time. Instead of having a match, Swagger just laid out the legends with the 2x4 and pointed at the WrestleMania sign (take a drink). The crowd didn't seem to care all that much and there was no save from Del Rio either. I think that they were hoping that the crowd would shit al over Swagger for attacking such "beloved legends," but since they tend to show up every time legends show up and are also made to look foolish a lot of the time, it came off as Swagger beating down three old men. Now before you jump all over me here, these men have a lot of credibility to a lot of us as legends, but I do not feel that WWE presents them that way when they have them constantly do wacky backstage dancing parties and such. So why would an audience, who is younger than ever according to WWE's own data and has very little invested in these guys, actually care? In theory this was a good idea, it just didn't click. The Del Rio confrontation after the commercial also felt tacked on and half assed. I also want to add that Cody is a dick. Dusty helped him set up Rey Mysterio back in the day, you'd think he could help his dad out.

Rating (1-10): 2.0



HELL NO vs. PTP + MILLION DOLLAR MAN CAMEO: So the Million Dollar Man has enough pull to get himself on Raw, but apparently doesn't have enough coin to get his son a match on Raw. Sucks for Ted Jr. They had a fine little match here, since they thankfully weren't doing a bunch of stupid shit like blindfolds and arms tied behind their backs. I really wish I knew what happened with the PTPs, because they were on a roll, even after the Abe Washington deal, and then they just got jobbed into oblivion. Anyway, they continue to work hard despite that, and work well with Bryan and Kane. The champions pick up the win here, and DiBiase got to stuff the money in Young's mouth, because he is a loser, and wouldn't be going to the pay window. Daniel Bryan stealing the Benjamin on the way out after the match was great. The main complaint here is that this is the third time in three shows I have watched these guys. Could we perhaps work on a tag title feud for WM, or even finally pull the trigger on the Kane and Bryan split? Something and or anything will be appreciated here, but stop spinning your wheels.

Rating (1-10): 6.0


DANCING BEARS, 3MB and HONKY: the 3MB made the mistake of cutting off the Honky Tonk Man before he could talk or sing. You just knew that this would not end well. Nothing of a match here, under a minute, with "Sweet T" and Clay winning with a quick roll up. This segment was enjoyable for three reasons. Slater eating the guitar, Cameron and Naomi. It was filler, but fun filler. Also, I think that Tensai and Clay offer much more as a fun team than as singles doing nothing. Of course, they actually have to book the tag team division.

Rating (1-10): 6.5



Honky Tonk Man's appearance made me think of something, and it does regard my rants about the IC Title and secondary titles in general. In 2011, Cody Rhodes held the title for something like 230 days, give or take a day or two. People acted like it was some big accomplishment, when in reality he was constantly losing to guys like Randy Orton and only had the title because the writers didn't have any idea what to do with him, so they just kept the title on him. For al the shit people like to give Honky Tonk Man, when he held the title, he won matches, people cared and he drew money as the main event on the "B house sow" loop. Food for thought.


Fandango came, he didn't wrestle, and I for one do not care. I mean, this has to be a giant rib on this guy. They give him the dancing gimmick and they make him pronounce his name in a completely ridiculous fashion. The good news? Kofi Kingston didn't lose a match!


BEHOLD THE KING OF KINGS: Bam, and that is how it is done. Often times it is hard to do a solo promo like that, no one to play off of, to set up a big match, but Triple H did a fantastic job here. He addressed his exit, his contemplating returning, the attack on Vince, how it affected his family, and why he attacked Brock last week. It was a more streamlined promo than Triple H usually cuts, which also helped the quality. "I'm callin you out Brock, are you gonna fight? Or are you just gonna sit there… and bleed?" it was simple it as to the point, it had emotion and I liked it. Again, I can understand people being upset about the top two matches being rematches, and I have no problem if that upsets you. But fundamentally, the booking is sound, and I appreciate that. I really liked this promo, but I feel that the crowd didn't react as much to what he had to say as they had wanted too.

Rating (1-10): 8.0


WADE BARRETT AND HIS JOBBER'S ENTRANCE vs. ALBERTO DEL RIO: Nothing says important champion guy like getting the "already in the ring" treatment. This match seems so familiar, likely because WWE burns out these "champion v. champion" matches way too often, making them mean jack and shit. Don't believe me? Back on February 22nd, we got to see the same exact match on Smackdown. And Del Rio won that match the same way he won this match, via submission. Look above or in any column I have written in the past eight years about the constant devaluing of the secondary champions to know my thoughts on that. And don't bitch about me pointing out the fact that they keep making the same mistake, maybe hold WE accountable for that. This was a good match, Swagger and Dirty Dutch watching on was fine, but the crowd just does not seem into Del Rio or Swagger. It could get really quiet at WM.

Rating (1-10): 5.0


OH YOU DIDN'T KNOW?: Dear pro wrestling crowds, just because people haven't been around for a while, does not mean that you have to chant you still got it. Also, they don't always still have it, like Jim Neidhart in TNA, or have never lost it, like Jericho at the Rumble. It was old school Raw, you knew what you were in for here. Thankfully it was Epico and Primo, who always lose, instead of the Rhodes Scholars as rumored. It was fun for what it was, and not bad tasting filler.

Rating (1-10): 6.0



Wrestling fans using TOUT is possibly the worst thing ever put on WWE TV, and that covers a lot of territory.


CM Punk is a complete asshole, and he knows it. That's a compliment kids, who doesn't hate a man that ruins birthdays. First Rey's daughter, now Mae Young, when will the madness stop?


Dear everyone, stop using "I'm Comin Home" to promote things. It is beyond played out at this point.


THE FIGHT FOR THE RIGHT TO LOSE TO THE UNDERTAKER AT WRESTLEMANIA: All kidding aside, I do really like that they put the streak on a pedestal and made it out to be this iconic accomplishment that they all wanted. I will say tat while some of the earlier stuff was fun, the stuff I stated was filler really could have and should have been cut for this match. I felt that, while solidly worked, that the match felt very rushed and just wasn't given the time needed. This match had a high level of importance, and while I didn't need it to be 30-minutes long, I did feel that they short changed it, and that happens when you are a slave to the themed show. I'm not going to lie, I think it looks awesome every time Sheamus lands white noise on Big Show. While I felt the match got a bit cheated on time, I did like the finisher buffet to end the match. Punk takes the win as expected, and also got to do the big staredown with Taker. Punk was the right guy here, regardless of predictability, because I feel that at this stage, he has the best chance of giving Taker that "big WM match" he wants to have. Taker's matches with Batista, Edge, HBK and HHH have been great, and to a point, everyone has an ego, and I don't think the guy wants to have a shit match at WM. Punk's the right guy for the job, both literally and figuratively.

Rating (1-10): 7.5





The Tirade


I find it funny, because everyone told me once Elimination Chamber PPV was over to get ready, because on the road to WrestleMania, WWE produces their best TV of the year. That may have been the case in past years when the shows were not all three hours, but as for this year, I don't feel it. I feel that planning an Old School Raw during the build to WrestleMania was a mistake, because this kind of show lends itself to be silly and fun filled; and the build to the biggest show of the year isn't that. This had that, "just another show, move along, nothing to see here" feeling for most of the show.

I said this last week, and it needs to be repeated. There are still a lot of the same issues on the show, like the Cesaro, Barrett and Ziggler things. People wonder why WWE has to bring in Lensar, Rock, Taker, HHH and Jericho; and that isn't because the current crop "can't draw," it's because they are booked like shit and people don't care about them, which leads to them not drawing. They care about Lensar, Rock, Taker, HHH and Jericho; because those guys have control over things, and don't allow themselves to be booked stupidly. People hate to hear that, but it's the truth.

But that isn't to say that it was all worthless. I liked the back and forth promo with Rock and Cena. I liked the Triple H promo to set up the Brock Lesnar match. And I really liked using the show to reintroduce Undertaker, and the fact that they are treating the streak like it is something that everyone important wants the chance to break. The way WWE has built that up over the last six to seven years makes it work. They have the money matches set for the biggest show of the year, and Swagger vs. Del Rio, now they need to put some actual effort into building the rest of the card.

Show Rating: 6.5

As a reminder, I will be going by the 411 scale…

0 - 0.9: Torture
1 - 1.9: Extremely Horrendous
2 - 2.9: Very Bad
3 - 3.9: Bad
4 - 4.9: Poor
5 - 5.9: Not So Good
6 - 6.9: Average
7 - 7.9: Good
8 - 8.9:Very Good
9 - 9.9: Amazing
10: Virtually Perfect




---
Your heart is free. Have the courage to follow it…TO CSONKA'S TWITTER!
http://www.twitter.com/411wrestling
http://www.twitter.com/411moviestv
http://www.twitter.com/411music
http://www.twitter.com/411games
http://www.twitter.com/411mma
Larry Csonka is a Pisces and enjoys rolling at jiu jitsu class with Hotty McBrownbelt, cooking, long walks on the beach, Slingo and the occasional trip to Jack in the Box. He is married to a soulless ginger and has two beautiful daughters who are thankfully not soulless gingers; and is legally allowed to marry people in 35 states. He has been a wrestling fan since 1982 and has been writing for 411 since May 24th, 2004; contributing over 3,000 columns, TV reports and video reviews to the site.
comments powered by